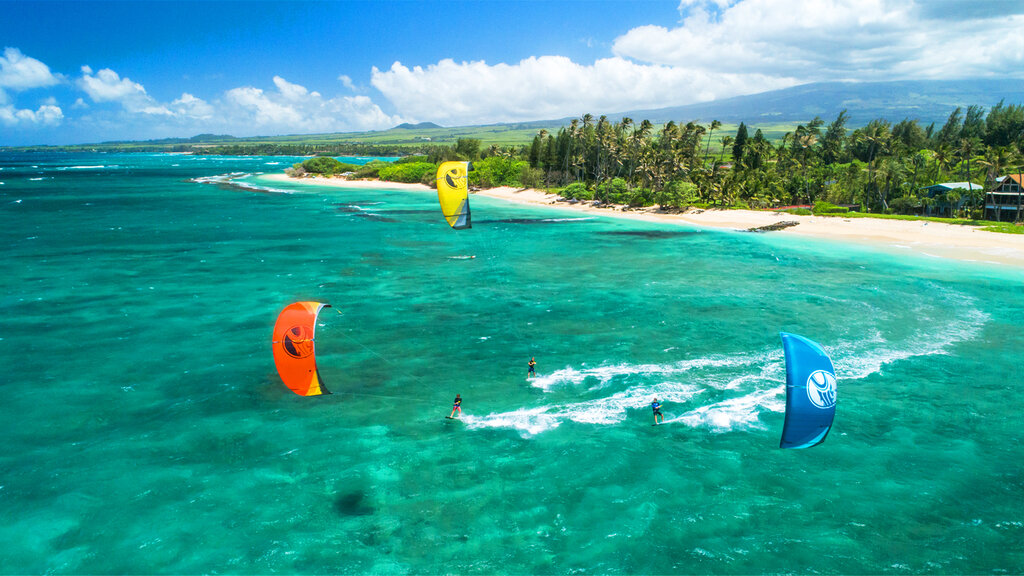 How Much Does It Cost To Start Kitesurfing?
There is no better time to get into kitesurfing than now and one of the first questions I get asked when instructing students at my IKO Center is "how much does it cost, all in?". Well, I'm here to help break down the costs for you and provide some comparison to alternative sports such as windsurfing, wakeboarding or snowboarding.
How Much Does It Cost To Learn Kitesurfing?
The price of lessons vary in many countries, here are some examples from around the world to give you a rough idea of the cost.  
I have been instructing for many years and from my experience, getting to an independent level of kitesurfing takes on average between 6 to 12 hours of private lessons. Therefore, you can expect to spend more or less $400 to $800 USD on learning to kitesurf depending on how many hours you need.
Some schools have a fixed rate for lessons and no matter how many lessons you take, the price stays the same. Others offer a reduced rate depending on the number of hours taken (e.g. the hourly rate drops by $10 after every 5 hours of tuition).
By the way, you may sometimes find a kite school offering slightly cheaper tuition than others, but are they affiliated? If not, the level of quality and safety may not be comparable to an IKO Center.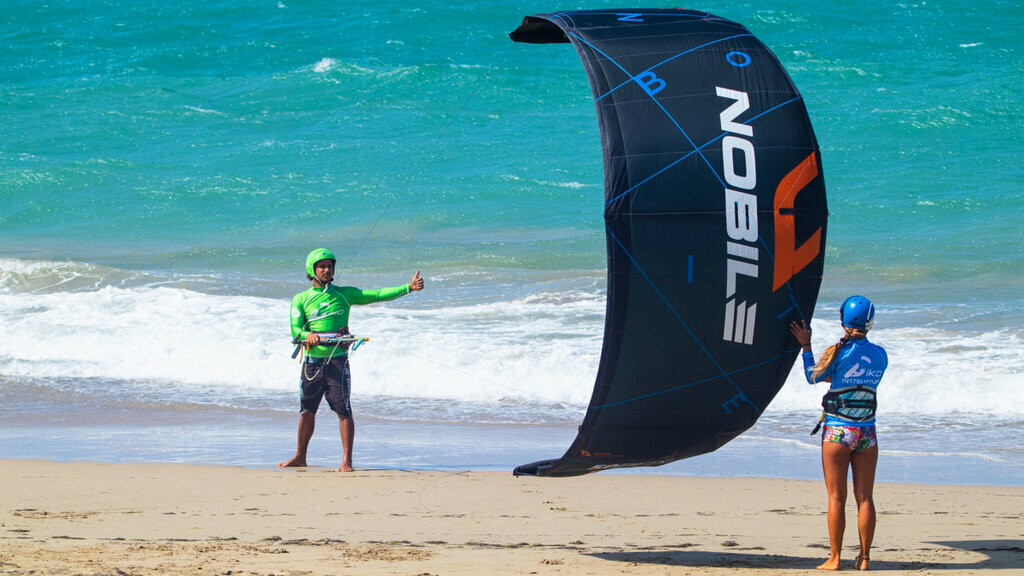 How Much Does It Cost To Buy Your First Kite Quiver?
Buying your first kitesurf quiver is one of the most exciting moments in the life of a kitesurfer. I can't explain the joy I still feel every time I open new equipment, and I've been doing it for a long time! So what kind of kiteboarding quiver do you need to own after you have completed your lessons up to the independent level? 
Here is some of the equipment you will need to buy and the average prices. For the complete list and for more information on this topic, make sure to check out the Equipment Buyer's Guide, a free ebook resource that will help you spend your money wisely!
Kite(s)
For most people, one kite might be enough especially if the spot where you practice offers stable and consistent conditions. For others, you might need to consider buying 2 different sized kites to allow you to get on the water most days within a season.
New: $1000-$2000 (€800-€1800) per kite (depends on kite size)
Used: $600-$1000 (€500-€800)
Control Bar/Lines
You most probably will only need one bar. Top tip; ensure the line connections are compatible with the kite connection points as these differ with some kite brands. Also, make sure the safety system will allow the kite to flag out once activated. 
New: $350-$650 (€300-€600)
Used: $100-$400 (€100-€300)
Board
Boards come in a variety of different shapes and sizes depending on what discipline you are into and also your kitesurfing level. For a beginner, the boards to keep an eye out for will be fairly large and have a gentle flat rocker making it easy to get riding..
New: around $600 (€500)
Used: around $400 (€300)
Harness
Harnesses have been developed hugely in recent years with the introduction of hard shell harnesses. These are quickly becoming a popular choice as they provide more support. This technology doesn't come cheap therefore meaning the prices can change quite drastically.
New: $100-$400 (€90-€300)
Should You Buy New Or Used Kitesurfing Equipment?
This is one of the most common questions I get asked by my students. 
If you have the budget to purchase new equipment, I recommend doing so. The newly developed equipment will aid your kitesurfing progression. The latest beginner kites are very easy and predictable to fly whereas you may find an old model kite to be unstable and hard to relaunch. As a beginner, you need a predictable kite that boasts an easy relaunch. 
However, if you don't have the budget to purchase the latest kit, there are some cracking deals on the second-hand market! A used kite, if fairly recent (3-4 years old maximum), can still be in good shape and serve you to learn and progress enough to buy yourself a high-performance kite later down the road. 
(Check out the Equipment's Buyers Guide for a checklist with pictures of everything you need to pay attention to when buying second-hand equipment.)
Kitesurf equipment is reasonably durable and a kite should easily last for 2 or 3 years of normal and regular use. The longevity of your kite not only depends on the amount of use but also the amount of care you take with them. Don't leave your kite exposed to UV rays or flapping on the beach for a long period and make sure it's dry and sand-free before storing away.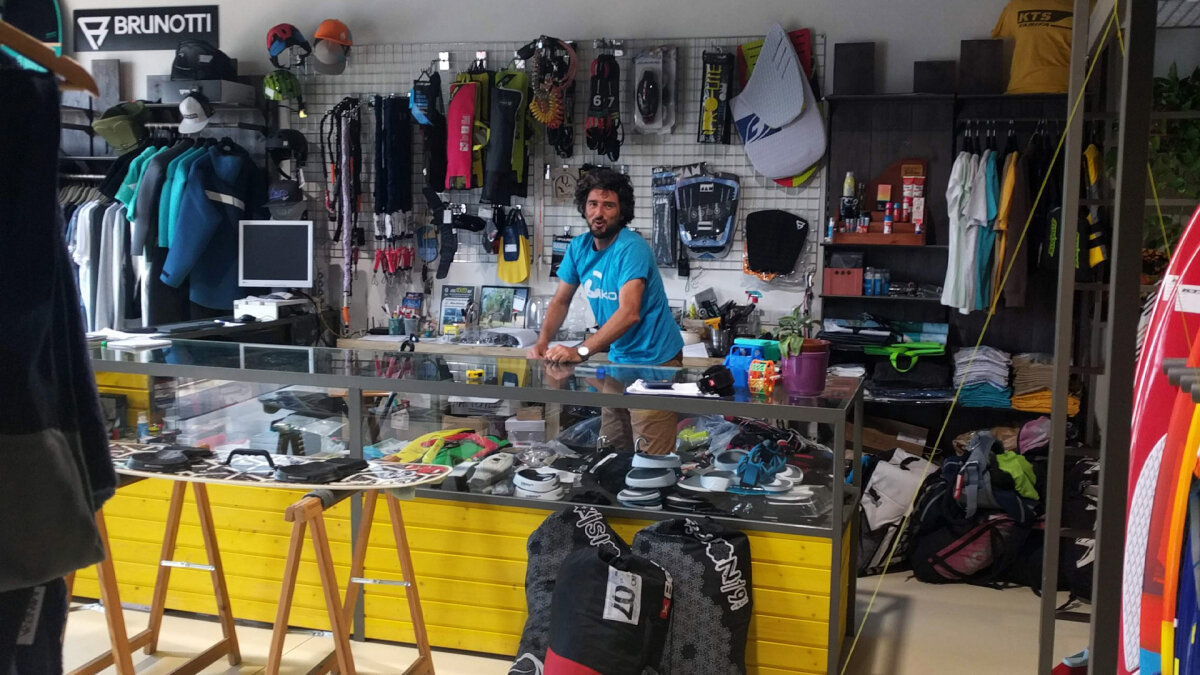 The Cost Of Kitesurfing Compared To Other Sports
If you add everything up, you will soon realize that kitesurfing has a fairly large initial investment. This might scare you off at first but in perspective, keep in mind that kitesurfing is also cheaper in the long term than many other action sports such as windsurfing, wakeboarding or snowboarding to name a few.
Take snowboarding, for example. The cost of snowboard lessons is almost identical to kitesurf lessons. The equipment may be slightly cheaper, but add on the cost of the lift pass and access to the mountain and a weekend trip to your favorite slopes can easily cost a few hundred dollars. 
With Kitesurfing, once you have learned and purchased your equipment, the rest is free (most of the time)! We kitesurf using the wind and the seas (or lakes and rivers and such) and there is no charge for shredding the waves or getting a few extra knots of wind.
Moreover, most spots at popular kitesurfing destinations around the world have no membership costs, no access fees, no limitations or time restrictions with when or even where we can kitesurf (although sometimes, a kiteboarder certification such as the vCard might be required). 
At the end of the day, the investment to get into kiteboarding is comparable to many other sports and in the long run, it may even prove to be cheaper (and much more fun if you ask me!).
5 Tips To Save You Money When Learning Kitesurfing!
Go with private tuition. The instructor can tailor the lesson to your level and progression. Although it may seem more expensive at first, I guarantee you'll have fewer lessons than in groups, meaning the cost works out about the same but chances are you'll be up and riding sooner with one-to-one coaching!
Ask the school for lesson packages! Most schools will offer discounts if you complete a certain number of hours with them or if you buy the whole course in advance.
When buying new gear, keep an eye out for kit bundles. These include everything you need to get set up as a kitesurfer: a kite with its bag, a control bar and a board complete with straps. This is the most cost-effective way of buying a new kitesurf quiver.
A safety leash may come with your control bar. Yes, that's right when buying a bar the majority of kite brands include a leash too, therefore, saving you $25-$40 (€20-€35). Also,  most brands now include a safety knife with the harness. This will save you an extra $15 (€10)!
Want to speed up your lessons and save money? Upgrade to the IKO Kiter Premium membership. Not only does this give you access to huge industry-insider member deals on kitesurfing equipment and travel, but you will also gain access to the IKO Kiteboarder's handbooks, tutorial videos and eCourses allowing you to get familiar with the theory in advance and maybe save time on your lessons!
---
---
Written by: Bradley Mackelden