Contribute information about spots
Add Spot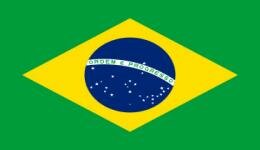 Kitesurfing in Brazil
Beginner, Supervision, Advanced, Evolution
Wind: Moderate, Strong
Spot: Flat, Small Waves, Medium Waves
A country of stark contrasts—tropical jungles, an atmosphere saturated with the buzz of megalopolises, feverish carnivals, a luxury that is hard to imagine, football victories, strong coffee, and the sounds of samba echoing on sun-kissed beaches. All of this is true. And yet, Brazil has so much more!
HIGHLIGHTS OF BRAZIL
THE RIO CARNIVAL
The business card of Brazil is the Rio Carnival. Considered the most spectacular show on earth, the carnival, with its rules and hidden meanings, hosts millions of participants, hundreds of street concerts, and the "crown jewel"—the samba parades, which are larger than the Olympic Games. And even when the carnival comes to an end, the echo of the samba music and dance doesn't fade away. 
NATURAL BEAUTY
Apart from the iconic Rio carnival festival, Brazil is a country rich in natural beauty and ​​spectacular panoramic views. From white sand beaches and large sand dunes by the ocean where people skate on boards to deeper inland beautiful rainfirsts forests, labyrinths of rivers and a spectacular world of waterfalls also await you. 
COFFEE EMPIRE
Brazil has been the world's largest coffee exporter for more than a century. Visiting coffee farms gives visitors an opportunity to see Brazil's boundless coffee plantations, meet the local workers, learn about the farm's values and culture, see how the quality of the coffee is maintained on the farm and, of course, taste diverse types of top-notch coffee.  
SPORTS
Sport is deeply rooted in Brazilian culture, especially in coastal cities like Rio de Janeiro, where the sport is part of everyday life. Whether it is watching the games, cheering on their country or practicing the sport themselves, Brazilians find a way to enjoy sport. Football is worshiped in Brazil, with volleyball, motorsports, surfing, and kitesurfing following closely behind. 
KITESURFING IN BRAZIL
Brazil—a seemingly endless playground for kitesurfing enthusiasts, offering spots all over the country and adrenaline-pumping action, allowing one to soak up some sun and take in beautiful views all at once while flying a hard-pulling kite. Endless kitesurfing downwind through completely wild places, river mouths, and lagoons hidden amongst immense sand dunes, Brazil provides all the conditions any kitesurfer could imagine. Whether you're a beginner wishing to take the next step in kitesurfing or have years of experience and are seeking to further push your limits, Brazil is a perfect location to achieve it.The northeastern parts of Brazil have more than a thousand kilometers of navigable coastline stretching through the states of Rio Grande do Norte, Ceará, Piaui, and Maranhão. For that reason, combined with the favorable side-shore wind direction, kite safaris are getting a great deal of attention. Kitesurfing downwind along the coast, you can stop at an interval of 30km-60km in remote fisherman spots for an overnight stay to entirely immerse yourself in the local culture and recharge your batteries for the following downwinder. Different downwind routes exist, and yet it isn't easy to pick the finest. All of them are incomparable and offer something extra special and adventurous. The most well-known freeride routes are from Cumbucu/Taiba to Jericoacoara, Barra Grande to Atins, and Icaraizinho to Atins. As the water sport is gaining immense popularity in Brazil, so is the number of high-level events and competitions being held there. Brazil aroused interest from a few of the most prominent organizations like Global Kitesports Association (GKA), Global Wingsports Association (GWA), and Big Air Kite League (BAKL), who annually arrange a number of competitions across the country for different disciplines like kitesurfing, freestyle, and hydrofoil freestyle. 
WHEN IS THE BEST TIME TO KITESURF IN BRAZIL? 
The Atlantic coast of northern Brazil has nine months of windy weather and, thanks to the constant wind between the months of July and February (high season), it is feasible to kitesurf almost anywhere—which means that there is enough space for everyone and there will certainly be many places to find yourself practically alone with nature enjoying spectacular landscapes. During the high season, the wind blows between nearly 15-25 knots without gusts. The rest of the year (from February/March to May/June) it blows too, although not with the same strength and frequency. On top of that, the rainy season occurs during the months of April, May, and June, so it isn't recommended for kitesurfers to travel during the off-peak season. It is important to consider the tides, as some lagoons are only navigable at high tide during specific hours during the day.  As it concerns the south of Brazil, take for instance Florianopolis, the best months for kitesurfing are September, October, and November. But those who can only come in the other months have nothing to worry about. As mentioned, the Atlantic winds offer favorable conditions until March. The annual average of days suitable for kitesurfing is 250 days, almost 70% of the year.
WHAT ARE THE BEST KITESURF SPOTS IN BRAZIL?
Jericoacoara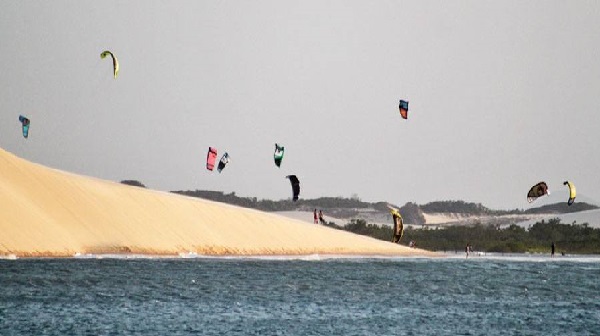 Photo: Club Ventos
Jericoacoara is a place untouched by time, modern technology, traffic jams, unnecessary sounds, stupid advertisements, and boring mobile phones. It is a place where the streets are paved with sand and where a stretch of beach is visible for as far as the eye can see. But recently kite and windsurfers have had a hand in putting Jerico on the map and helping it transform from an undisturbed fishing village to a mecca of kitesurfing and windsurfing—not only in Brazil, but globally. 
Tatajuba
Another small natural paradise a couple of hours west of Jericoacoara. It combines wave spots with flat water spots. The waves are located a little behind the river mouth and can reach heights between 1 and 2 meters. At high tide, the river mouth itself serves as a lagoon and offers shallow, flat, waist-deep water.
Lagoinha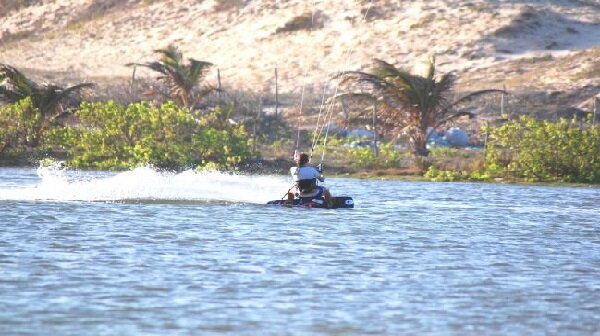 Foto: Kite On
A quiet town just a few hours away from Fortaleza by car with perfect waves, beach breaks, and a large flatwater lagoon 3 kilometers downwind. Truly a complete menu with all the conditions to combine your passion for traveling and kitesurfing, as well as a chance to get to know some of the most beautiful wave spots in the region
Praia Brava, Itajaí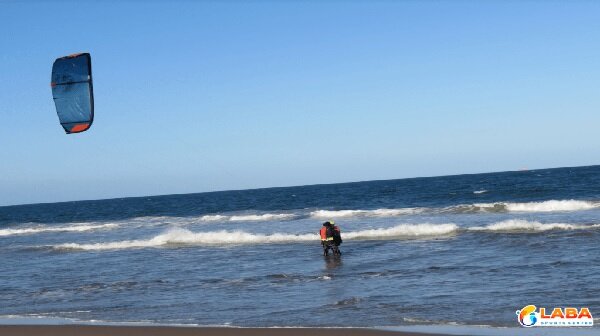 Foto: Laba Sports
The region is increasingly standing out among surfers and kitesurfers who are seeking to catch some perfect waves. Brava Beach has already hosted kitesurfing championships such as Kite Day in 2021 (for the fourth time), attracting athletes from all over Brazil. Additionally, Praia Brava, Itajaí charms visitors with its nature and lifestyle.
Praia da Pontinha, Araruama
The Araruama Lagoon, with its length of 160 kilometers and breezy winds, attracts kitesurfers from various corners of Brazil and the world. The beaches formed by the Araruama Lagoon unite the calm and warm waters with the clear sands and coconut tree vegetation forming beautiful scenery. A small Praia da Pontinha beach (less than 1km long) is widely known as the meeting point for kitesurfing fans.
Porto Alegre
Even in the deep south of Brazil, Rio Grande do Sul may also be the land of good winds!Porto Alegre is the confluence of five rivers and serves as the gateway to several enormous lagoons. Porto Alegre, while also a great kitesurfing spot, will also offer all the perks of big city life. 
Arpoador Beach, Tutóia
A century-old community of fishermen right next to Tutóia and at the beginning of the famous Pequenos Lençóis Maranhenses. It's a rustic place, untouched and remote, and is predicted to be another prime location for downwinders in the near future.
Ilha do Guajiru, Itarema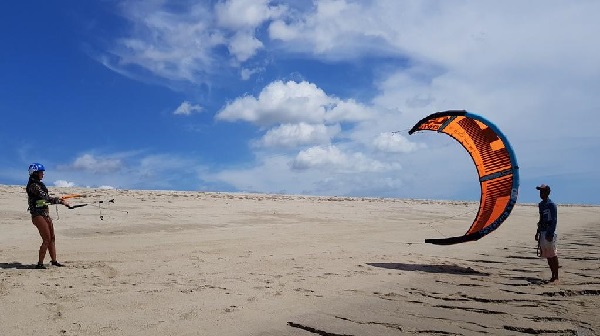 Foto: Kite Bliss
A two-hour drive from Fortaleza, Ilha do Guajiru is a very characteristic kitesurf spot. Beloved by freestyle and flatwater kitesurfers, Ilha do Guajiru is, in essence, a long tongue of sand that divides the open ocean with a massive lagoon—one of the largest in the northeast of Brazil.
ABOUT THE COUNTRY
A Brief History of Brazil
Brazil was inhabited by numerous tribal nations before its discovery in 1500 by the explorer Pedro Álvares Cabral, who declared the area for the Portuguese Empire. It remained a Portuguese colony for a few hundred years until the capital of the empire was transferred from Lisbon to Rio de Janeiro. Independence was achieved in 1822 with the creation of the Empire of Brazil, a unitary state governed under a constitutional monarchy and a parliamentary system. The country became a presidential republic in 1889. Brazil's current constitution, formulated in 1988, defines it as a democratic federal republic. Due to its rich culture and history, the country now ranks 13th in the world for its number of UNESCO World Heritage sites. Today, Brazil is considered an advanced emerging economy and is the largest producer of coffee of the last 150 years.
Other Attractions in Brazil
Brazil is a country with great cultural and landscape diversity, which is why it has become a key destination in South America and the world in general. Rio de Janeiro city has many places to visit and is an ideal location to enjoy a vacation in Brazil. It has beaches, good local food restaurants, and emblematic monuments such as Christ the Redeemer—one of the new 7 wonders of the world—which is also located in the city.
The Amazon is another place to see in Brazil, especially if you want to get out of the conventional tourist areas. It is an immense territory that covers most of Brazil and is home to the greatest biodiversity on the planet. Take, for instance, Manaus, where you can see a good number of flora and fauna species, as well as take a dip in the cool waters of its rivers.The beaches of Brazil are no less impressive: from the hustle and bustle of beaches in Florianopolis, Praia de Copacabana, and Ipanema in Rio de Janeiro, to pristine beaches in the northeast fisherman villages, you can enjoy total relaxation nearly everywhere. From nightlife, to buggy rides, to surfing, Brazilian beaches are quintessential fun.
Getting to Brazil
You can travel to Brazil by air, land, rail, or river. Rio de Janeiro and Sao Paulo airports concentrate the greatest demand for flights from Africa, Europe, Asia, and America. As a result, they are the major international airports. Similarly, Fortaleza, Natal, Brasilia, Belo Horizonte, Salvador, and Recife receive plenty of international flights too.
Buses are available to travel to Brazil from the metropolitan centers of Paraguay, Argentina, Uruguay, and Bolivia.
The main port of Brazil is located in Rio de Janeiro, where a large number of international cruise ships and yachts arrive.
Additionally, Brazil is linked to the countries of Chile, Argentina, and Bolivia through some fine railroad connections. Therefore, people traveling from these countries might choose the train as a form of transport. The two major railway stations are located in Rio de Janeiro and Sao Paulo.
USEFUL RESOURCES
SIMILAR KITESURFING DESTINATIONS
SPOT
JERICOACOARA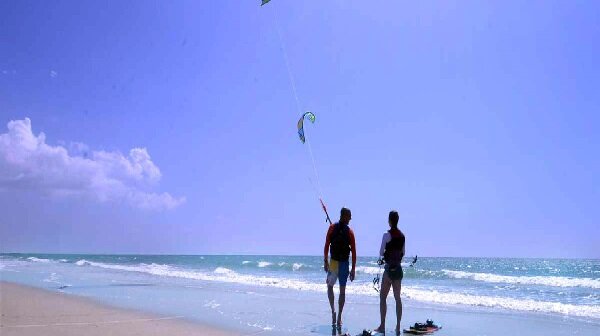 Foto: Club Ventos
About 20 years ago, Jericoacoara was a remote and simple fishing village. However, due to its unique nature, beaches, and perfect conditions for watersports, Jeri received lots of attention—which brought infrastructure and growth of inns and restaurants. Although today Jeri has modernized and grown a lot, it still has not lost its wilderness, essence, and charm.
HIGHLIGHTS
BEAUTIFUL SUNSETS
One of the most popular postcards in Jericoacoara, Ceará, is the Duna por do Sol. Watching the sunset and sunrise at Duna por do Sol has become a daily ritual. Every late afternoon, from 5 pm on, a crowd of people goes to watch the Jericoacoara classic—the sunset in front of the sea on the top of the dune. It doesn't cost anything and is an adventure that will mark your trip forever. At the top, there are some vendors selling drinks for those enjoying the sunset.
STARGAZING
The sky at night in Jeri is unique and very bright, as a result of the very clear air. It's a great place for astronomy enthusiasts or romantic travelers. Nowhere else will you see a sky so clearly filled with light.
NATIONAL PARK AND BEACHES
Getting to know Jericoacoara, its National Park, and the surrounding beaches is something that can be done in different ways. Choosing the one that best suits the level of adventure you are willing to embark on is up to you. You can even rent a buggy or a quad.  
SURFING
Surfing is a very popular pastime in Jeri. Beginners and professionals alike will find a place for themselves here. Different types of waves can be found here. For more experienced surfers, Malhada beach is the recommended spot. The best time to surf is from December to April when the waves are bigger and the wind is weaker.
KITESURFING IN JERICOACOARA
Jericoacoara is one of the best places in the world for wind lovers. Whether windsurfing or kitesurfing, virtually the entire coast of Jeri offers idyllic conditions for much of the year. Jericoacoara offers constant winds, a 4-kilometer sandy beach, and safety for kiters of all levels, as there are no natural or artificial obstacles to avoid while flying the kite.
The kitesurfing spot is located next to the famous "Por do Sol" Dune which is a bay that offers a clean wind and ideal flat water and is only a 10-minute walk from the town of Jericoacoara.
In Jeri you can kitesurf almost all day long and forget about whether or not the wind comes in because in this spot there is always a fan plugged in, so you can enjoy several sessions a day or just until your body says enough is enough. 
Wind, weather and water
In Jeri, the wind blows constantly from June to February, with nearly 95% of constancy between the months of September and December. The wind direction is always sideshore or side-onshore, and although on the main beach of Jeri the wind can be somewhat gusty, the main spots around Jericoacoara offer everlasting winds of between 18 and 35 knots. 
Jericoacoara has a tropical savanna climate. It is hot every month, both in the dry and wet seasons. The temperature in this region does not drop below 28˚C year-around and, in the summer season, it reaches a peak of 35˚C. Water temperatures rarely drop below 28˚C. So, hang up your wetsuits and come lightly dressed. It does not rain for 146 days per year. However, it is recommended to avoid the heavy rainfall season, which is from February to June. This time is considered low season for kitesurfers and windsurfers alike because the wind probability drops to 55%, blowing between 10 to 18 knots. 
WHAT ARE THE BEST BEACHES FOR KITESURFING IN THE JERICOACOARA AREA?
Praia do Prea
As Jeri in the high season gets super crowded, the neighboring Praia do Preá (15 km to the east) has been branding itself as a quieter kitesurfing spot. It is even discussed that Praia do Preá offers better winds than Jericoacoara, as they're more constant and stronger most of the year. The wind that passes by here is without interruption every day from August to January.  In Preá, the wind is side-onshore to the right and the beach is without rocks, obstacles, or dangerous objects. It's a great spot for beginners, as there are a few schools at the beach ready to give classes. The waves are affected by the wind, swell, and phase of the moon. The largest waves may reach up to 2 meters, a true joy for experienced kitesurfers. The downwinders are absolutely spectacular because there are kilometers and kilometers of deserted beaches.
Wind direction: E/ESE/SE, side-onshore, 20-30 knots
Water conditions: Choppy water, medium waves, an average water temperature of 26ºCDiscipline(s): Wingfoil, kitesurf 
Skill level: All levels: from beginner to advanced. 
Watch out for: Some places are tide dependent. 
Getting there: From Fortaleza airport making the rest of the route (about 250 km) via ground transportation (car, bus).
Tip: Remember that the size of kites indicated would be 8-12 square meters. Also, be aware of the number of vehicles and motorcycles on the beach when launching or landing the kite. 
Barrinha Beach
Barrinha beach, a short upwind distance away from Prea, is another alternative spot with an extremely high wind probability. More than 15 kilometers of coast with stable wind between 20 and 35 knots. One must be aware of the low tides as Barrinha beach may get relatively shallow, turning into a flat water spot. As the tide rises, waves of 1 or 2 meters are starting to form.
Once again, it's most common to organize downwinders from Barrinha to Jericoacoara. It takes about 1 hour to do it (depending on the level) and you can stop just before reaching Jeri or continue to the famous Duna por do sol (sunset dune), where a 4×4 or buggy can pick you up.
Wind direction: E/ESE/SE, side-onshore, 20-35 knots
Water conditions: Flatwater, small to medium waves, and an average water temperature of 26ºC.Discipline(s): Wingfoil, kitesurf 
Skill level: All levels: from first-timers to professionals.
Watch out for: the rise and fall of tides
Getting there:From Fortaleza airport, driving by car or taking a bus, is a three and a half hour journey.
Tip: The wind typically turns into the main wind direction from 11 a.m. at the latest and remains reliably side-onshore for the rest of the day.
Duna por do Sol
Kiting at Jeri Beach has its limitations and can be busy with others in the water.However, behind the well-known dune Duna por do Sol it is possible to kite without renting a buggy or a 4×4. Because of the dune shelter, the wind is relatively gusty, thus it is advised to move away from it to the west for a more constant wind. The sunset sessions when the tide is high are nothing less than spectacular. And yet, the waves near the shore and the small lagoon just behind the dune, with a small entrance to the sea, make the backdrop even more supernatural. 
Wind direction: E/ESE/SE, side-onshore, 18-35 knots
Water conditions: Flatwater, small to medium waves, an average water temperature of 26ºC
Discipline(s): Wingfoil, kitesurf
Skill level: All levels
Watch out for: Windsurfers and crowds of people
Getting there: Walking distance from Jericoacoara
Tip: The wind can be gusty
Laguna de Guriú
Just half an hour downwind from behind the dune of Jericoacoara, there is a Guriú lagoon with perfectly shallow water conditions. Since the entire kite spot is knee-deep, beginner courses from Jeri take place here regularly. Yet, when the tide is higher it is possible to kite out of the Guriu lagoon to the open ocean where there are some pleasant little waves.
Wind direction: E/ESE/SE, onshore, 20-30 knots
Water conditions: from flat to choppy water, sometimes wind waves
Discipline(s): Wingfoil, kitesurf 
Skill level: All levels 
Watch out for: The spot offers a tiny kiteable area at low tide—therefore, it might quickly become overcrowded.
Getting there: By 4x4 or buggy on the beach. Coming from Jeri, it is necessary to cross the river by ferry.Tip: It can sometimes be a bit smelly
TRAVELING TO JERICOACOARA AS A KITER
Getting There
Getting to Jericoacoara is not the easiest of tasks, as the isolation is what helps maintain the mystique of the village as well as its simplicity and charm, and to preserve the natural park. The easiest way is to drive with a 4x4 car, quad, or buggy through the beach between gigantic dunes until you reach the parking lot right at the entrance of the village of Jeri. From Prea it is around a 40-minute drive. Once at the parking lot, it is obligatory to leave your vehicle there and pay a fee for the parking and the shuttle service inside Jeri village. In case you do not have your own vehicle, shared transfer options are available as well. That takes you from Prea to Jeri at certain times for a charge. 
Accommodation
As Jericoacoara is located inside a national park and surrounded by dunes and warm-water lagoons, the accommodation options are limited and in high demand all year round. On the seafront are the ultra-fine, most comfortable and, in fact, most expensive pousadas (inns).Another point to take into account is the proximity to the main street. That's where all the bars are, and people tend to circulate until two in the morning. To avoid annoying noises,  it's best to look for an inn in one of the two points of the beach or at least look at the location of the rooms to be further away from the busy street.An alternative option would be to find accommodation in the nearby villages like Jijoca or Vila do Preá and drive to Jeri by 4x4 car or quad through the beach. 
Getting Around
Only authorized vehicles can circulate in Jeri, other than that, cars are forbidden in the center, so it is essential to use the local buses (which are free of charge), walk, and also make the most of the buggies and quads. Note that Jeri itself is very small, therefore everything is within walking distance. The most important streets are São Francisco, Forró, and Principal. From there you will get to know all the local bars, stores, and restaurants. As mentioned, it is highly recommended to rent a quadricycle or a buggy, which can also take you to the main tourist points in Jericoacoara. It is not only a cool and exciting option but a very comfortable and enjoyable way to drive through the coast! 
Food and Drink
There are a variety of gastronomic options, from restaurants specializing in seafood and Italian food to a variety of Brazilian food and street stalls—all accompanied by bands playing live music every night. There are also some ice cream parlors, tapiocarias, açai stands, and stalls that prepare caipirinhas and exotic drinks with special regional fruits on the go.
Things to do when there's No Wind
If there is a place in the northeast of Brazil where there are crowds of people who do not practice kitesurfing, windsurfing or any other water sport, it is certainly Jericoacoara. The town is popular not only as a kitesurfing paradise but also thanks to a multitude of other thrilling activities. Take for instance diverse gastronomic offerings as well as a great variety of fashionable stores. Buggy or quad excursions inside the dune park, excursions to lagoons such as Lagoa do Paraiso or Lagoa Azul, horseback riding, capoeira dance classes, wellness spas, live concerts, Brazilian music beach parties (samba, forro, reggae), surfing, and stand-up paddle are amongst many of the activities that make Jeri stand out as a destination. 
Best Season
When considering to travel to Brazil for kiteboarding avoid March and April. Rest of the year around that you will get wind. June till January you will experience the high season. February till June is the low season where prices drop and over crowdedness at popular lagoons is not an issue.
Spots