Contribute information about spots
Add Spot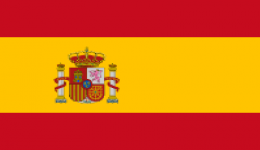 Kitesurfing in Spain
Adventure, Beginner, Supervision, Advanced, Evolution
Wind: Light, Moderate, Strong
Spot: Flat, Shallow, Small Waves, Medium Waves, Big Waves
Kitesurfing in Spain is one of those holidays from which you will come back with renewed energy, plenty of discoveries, and maybe even a new you! It's a place where the wind and sun and the mountains and lagoons meet. It's easy to see yourself in the midst of it all; so real and unvarnished, like a part of all this nature—a piece of ordered chaos. 
HIGHLIGHTS OF SPAIN
FOR BEGINNERS AND PRO KITERS ALIKE
As Spain is windy all year round, with its thermal winds during hot summer months and strong storm winds during winter, it will not only allow you to take your practice to the next level but will give you that adrenaline rush you've been looking for. From choppy to flatwater lagoons, Spain is ideal for all levels of kitesurfing. 
A WEALTH OF SEAFOOD DISHES
Nearly every kitesurfing spot in Spain will treat you to a large variety of sea delicacies. What can be better than feasting on fresh seafood and recovering after hours spent harnessing the wind? From tuna, lobsters, and scallops to traditional paella, it is the protein every athlete needs to power their game for the next day in the water. 
CLASSIC FLAMENCO PERFORMANCE
Do not miss out on various artists of the local area offering live flamenco shows at intimate beach clubs and bars. It is one of those must-do things in Spain while your kite is packed at the end of the day. 
WINERIES TO TOUR
As Spain is a leading producer of wine, it would be close to a crime not to have a stroll through a vineyard. How often do you get an opportunity to walk into the grounds of a historic winery? So make the best of your time in Spain and immerse yourself in a tub of wine.
KITESURFING IN SPAIN
Spain is one of the best places to practice kitesurfing in Europe, endowed with a perfect combination of extensive coastlines, waves, and favorable winds to practice the water sport in complete safety. Therefore, no matter the style or level of riding (whether you are taking the first steps or if you are a seasoned kitesurfer), Spain has got you covered. Shallow lagoon and flatwater destinations such as South Fuerteventura, Denia, La Manga, Tarragona, and Sant Pere Pescador are known as perfect spots for beginners and intermediate-level riders to have loads of fun. Whereas Tarifa, North Fuerteventura, and Tenerife are known for their strong winds and waves.  As such, it's a playground for more advanced, freestyle, and strapless riders.
WHEN IS THE BEST TIME TO KITESURF IN SPAIN?
Due to the large number of kite spots in Spain, wind is practically guaranteed year-round. In warm countries like Spain, winds are caused by temperature differences when very high temperatures prevail. As a result, the high kitesurfing season starts in summer. Generally speaking, the wind is more consistent between May and October. In spots like Denia and La Manga, by the end of March the thermal winds start to pick up to 8-14 knots and, as the months go by and the temperature rises, the wind also picks up in strength. In case you're going in the late spring, consider taking a wetsuit. From September 1st the beaches start to clear and are less crowded than in the high season. Take, for instance, Tarifa. No matter the season, it is practically open all year round. That is why it is a favorite among kite enthusiasts. In contrast, Fuerteventura and Tenerife, with average temperatures above 20°C throughout the year, are more relaxed—and from April to August it's the best time to kitesurf. Tarragona, as it happens, is considered a spot of winter harvest time, as it is when the wind reaches up to 40 knots and kitesurfers are required to use smaller kites.
WHAT ARE THE BEST KITESURF SPOTS IN SPAIN?
Tarifa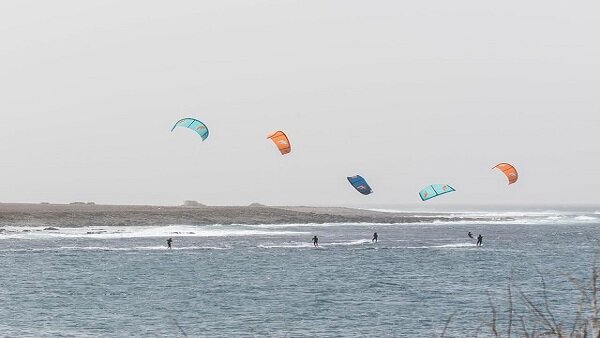 Photo: KTS Tarifa
Tarifa is a windswept town in the southernmost province in Spain also known as the "adventure capital of Europe" where the (GKA) Kite World Cup events often take place. The Strait of Gibraltar forms a natural funnel that offers strong winds, waves, and a fast current. It's a spot where the Mediterranean Sea meets the Atlantic Ocean. There is a real mix of nationalities -. Life in Tarifa is also moving at a fast pace. Sun, waves, kitesurfing, and tanned and smiling people trying to catch the wind and luck.On a sunny day, you can kitesurf while admiring the hazy African coastline, which is just a few kilometers away.
Tenerife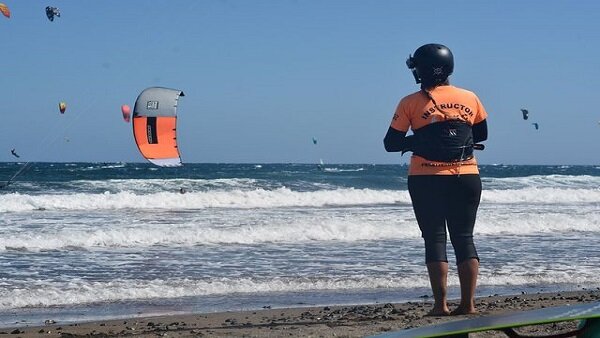 Photo: PKS Tenerife
Tenerife (the largest of the Canary Islands) offers kitesurfers high waves, great beaches, and strong winds. The town of El Medano is famous for its winds and is a favorite among many windsurfers and kiters from all over the world. Note that the wind is stronger and more reliable in the summer. The northern bay of El Medano offers excellent conditions for jumping through 1-2 meters and throwing some kite loops.
Fuerteventura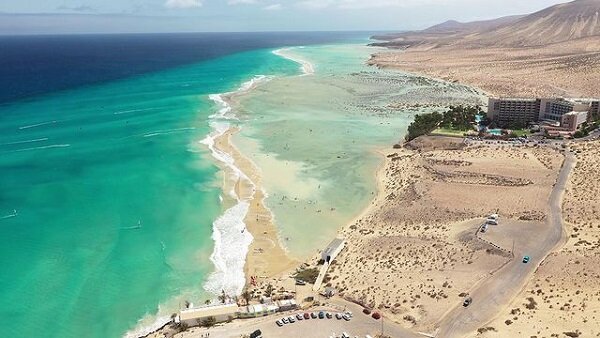 Photo: reneeglifuerteventura and @photoservice_spot_shot 
No wonder why the island in Spanish is named el Fuerte Viento (strong winds), as the island is particularly popular because of them. Like the rest of the Canary Islands, the weather in Fuerteventura is fantastic in all seasons! The northern area (Corralejo) has a wide variety of wave spots, while in the southern part of the island (Sotavento), the conditions are more freeride, with strong winds and some waves for beginners.
Gran Canaria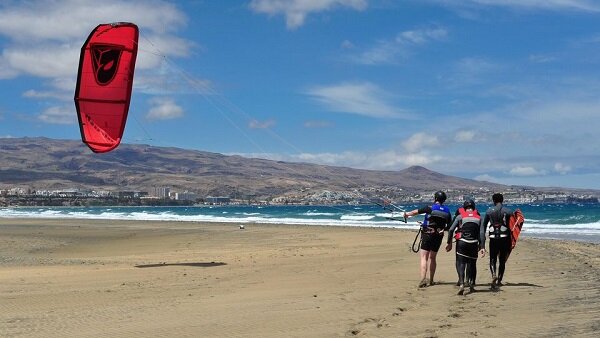 Photo: Pro Surfing Company
Gran Canaria is a privileged place for kitesurfing with 300 days of wind per year. Its geographical position means that the strong and constant trade winds are predominant most of the year, with ideal temperatures no matter the season. The best Canarian kitesurfing spots, famous for their kilometers of white sandy beaches and turquoise water, are Las Palmas, Caleta de Famara, La Oliva, and Playa del Inglés.
Dénia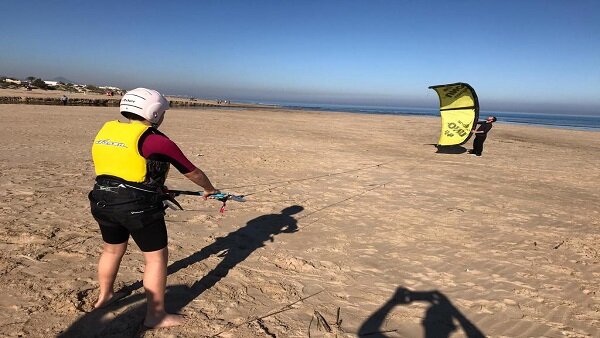 Photo:Denisurf
In the last few years, Denia has become a kiting hub in the Valencia community. The spot is unique due to its flatwater, which makes it a paradise for freestyle lovers and hydrofoil surfers. Thermal constant winds are dominant from the start of April to September, blowing between 12 and 25 knots. Among the popular beaches in Denia are Pèrenollet, Patacona, Pobla de Farnals, and the seashore of Molins. 
Sant Pere Pescador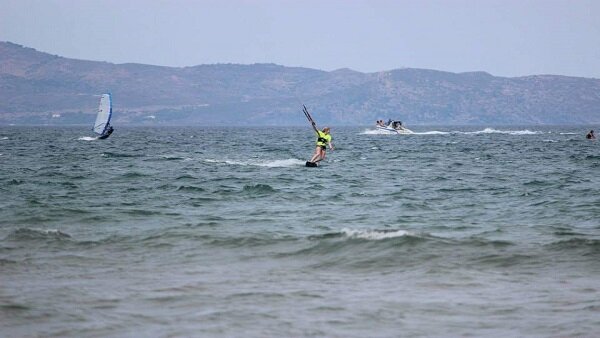 Photo:Maureen Hofman
A few hours away from Barcelona, the Costa Brava region has some of the best beaches for kitesurfing in both the spring and summer months. A town such as Sant Pere Pescador is well-trafficked. There, the water is mostly choppy and shallow next to the shore, the thermal wind typically picks up in the afternoon, and the water temperature stays between 20ºC and 26ºC.  
La Manga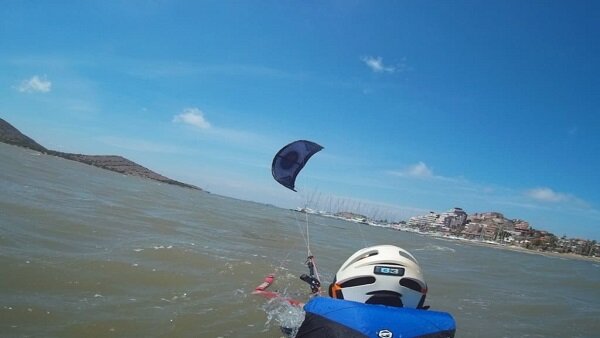 Photo: Maskite-maswind
La Manga in Murcia is an exceptional area for beginners, as it is distinguished by the absence of waves and the shallow depth of its waters. It is undoubtedly a great spot for first-timers to make fast progress without encountering excessive dangers. La Manga del Mar Menor is the largest saltwater lagoon in Europe, typically with onshore or offshore winds. 
Tarragona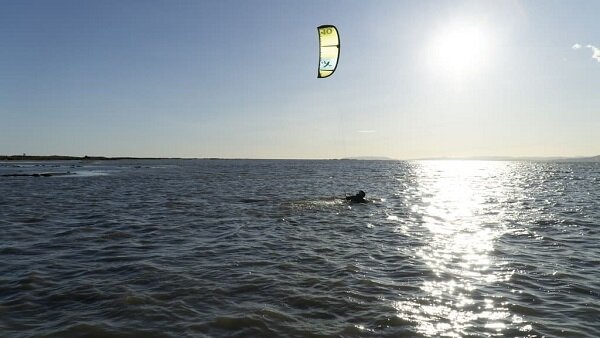 Photo: Surf-ferIn
Tarragona, the Ebro Delta is a site that attracts considerable attention of nearby riders, both from the Catalan coast and the Valencian community. A sandy tongue at the tip of the delta allows for adequate space to launch the kite, and the delta itself has no waves. The water is shallow, therefore, the conditions are optimal for beginner riders. To get the most out of this spot, it is recommended to kitesurf in the winter season.
ABOUT THE COUNTRY
Brief History of Spain
Spain is a country with deep historical roots in Europe and has gone through periods of conflict and great glory. During the seven centuries of which the Iberian Peninsula was occupied, the early Roman presence and settlement have left an important legacy of constructions in Hispania, such as amphitheaters, and temples—although their aqueducts are probably one of their most emblematic works that have survived to the present day.Another notable period was when almost the entire Iberian Peninsula was conquered by Arab Muslim armies from North Africa. During the period of Muslim domination, the city of Cordoba in the South of Spain was the largest, most prosperous, and sophisticated city in Western Europe. As a result, Muslims left a very important mark on Hispanic culture: in music, cuisine, language, and, above all, architecture.Spain became a democracy in the late 1970's, after the dictatorship had fallen. Today, Spain is fairly equated with the best Western democracies and finally well-placed in the European Community, seen as one of the best countries in the world. 
Other attractions in Spain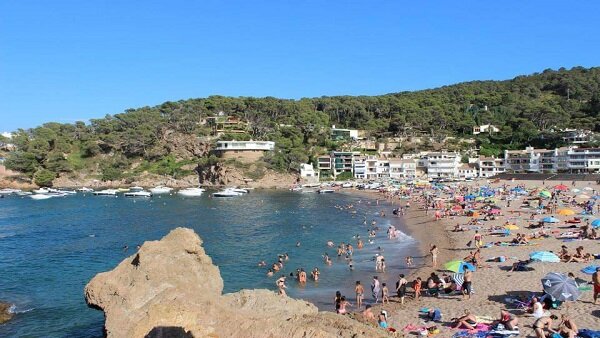 Photo: Maureen Hofman
Beaches, mountains, landscapes, monuments, enviable climate, cultural diversity, and exquisite cuisine—Spain packs everything into a modest expanse of land. Visiting the Alhambra (in Granada) is an almost mandatory trip if you'd like to fully understand the eccentricity of Spanish culture and art. If you are spending time in Tarifa, Alhambra palace is just a few hours drive away by car or bus.Kitesurfers at Tarragona are close by Siurana—a fairytale village next to the river that evokes the memory of the Middle Ages. It is also one of the most important climbing destinations in the country and the world. For those kitesurfing in Denia, arriving early in the morning at the Central Market to browse more than 300 stalls at your leisure is one of the best things to do in Valencia. Due to the quality of its products, modern Valencian architecture, and its size, this market is considered one of the best in Europe.
Getting to Spain
Spain is a country that currently has 13 major airports that operate on both domestic and international routes. However, the main international gateway to Spain is Madrid. The Adolfo Suárez Madrid-Barajas airport receives millions of tourists a year. It is known as the busiest airport in the country and is the main link between Europe and Latin America. There are different ways to travel around Spain from Madrid: by plane, train, or by renting a car. Freeways, railways, and domestic air transport allow a quick connection from Madrid to other important cities in Spain and main kitesurfing destinations. The railway network, managed by Renfe, offers long-distance, regional, high-speed services. If you have any  concerns about renting a car and driving, take note that the roads are wide and well connected. The average trip by car may take around 4 hours depending on your chosen destination. 
USEFUL RESOURCES
SIMILAR KITESURFING DESTINATIONS
SPOT
Canary Islands
The Canary Islands in the Atlantic Ocean are a true paradise for watersport lovers, with wind most days of the year and a multitude of alternatives for leisure. The islands have many spots to practice kitesurfing. Some are suitable for beginners and others only for advanced kiters.
HIGHLIGHTS
NATURAL BEAUTY 
The vibrant, volcanic origin of this archipelago caused a gorgeous, rich terrain with fertile farmlands and steep coastal cliffs, and beaches of all types and colors (500 of them), as well as a lush biodiversity. 
HISTORIC SITES 
What can be better than beautiful landscapes mixing with a great cultural heritage? The Canary Islands have plenty of archaeological sites, museums, and historical sites situated in inland valleys far from the coast and surrounded by mountains to better facilitate defense and protection.
FESTIVALS 
Similarly, the Canary Islands are known for their festivals. If you want an extra thing to do on your trip, during February you can enjoy the Carnival of Santa Cruz de Tenerife when the streets of the island are filled with music and dance, or the Indianos party that is celebrated in La Palma. What most characterizes this party is the throwing of talcum powder and the dress of the all-white attire of the attendees.
KITESURF COMPETITIONS
 Fuerteventura, Gran Canaria hosts one of the most exciting kitesurfing and wing foil championships in the world every year. For any kitesurfer enthusiast, it is a spectacular event where you get to see globally famous athletes uniting in one place and showing off their highly-refined skills.
KITESURFING IN THE CANARY ISLANDS
The Canary Islands prove that you can go to so-called "windy all-year-round" destinations even in the low season and have an action-packed week. The Canary archipelago has eight islands where you can practice your favorite kitesurfing sport. From Tenerife, with its golden sandy beach of Las Americas, to Caleta de Fuste in Fuerteventura, through Las Canteras in Gran Canaria—the wind never fails. The islands also offer a series of spots for various levels and kitesurfing styles. There are plenty of lagoons, chopped waters and big waves. The Canary Islands are also blessed with good waves for surfing, so if that's your thing, you can certainly combine the two sports. Essentially, all eight islands offer a good combination of everything you want; good weather, good nightlife, and decent kite spots as well as wind stats for most of the year. It is affordable and easily accessible, and it is a great place to come back to whenever you need a getaway. 
Wind, Weather and Water
The wind, weather and water are the big three "Ws" that keep any kitesurfer awake at night. Yet, the islands of the Canaries won't leave you with a troubled state of mind. Here's why: The climate in the Canary Islands is pleasant year-round, with no rainy periods and an average temperature of 21°C. This makes travel to the Canary Islands ideal whenever you choose to make the trip. Just note that the constant north/northeasterly trade winds season are particularly intense during the summer months when it is the peak season. In winter, the winds are not as strong, but the waves are better. Locals say you can kitesurf in the Canary Islands any day if you have a car and know where to go. All these islands offer rental schools and equipment for kitesurfers. As a result, it suits anyone who wants to try to learn the sport. WHAT ARE THE BEST BEACHES FOR KITESURFING IN THE CANARY ISLANDS?
El Médano, Tenerife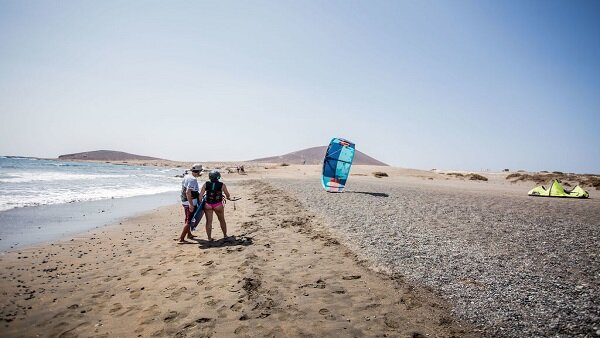 Photo: Duotone Pro Center
El Medano beach, located in the southern part of Tenerife right in the nature reserve of Montaña Roja volcano has ideal wind conditions for kitesurfing. Although it can be enjoyed year round, it's during the summer when this spot becomes a playground for kitesurfing lovers. Wind direction is, typically, side onshore and the spot is beginner-friendly with many schools and equipment rental shops to choose from. 
Wind direction: N - NE (15-35 knots)
Water conditions: Small waves, choppy water, average temperature—between 19 to 22C.
Discipline(s): All disciplinesSkill level: All levels, from beginners to professionals
Watch out for: (hazards) rocks on the beach
Getting there: Fly to airport Tenerife Sur. El Medano. It's a five minute drive.
Tip: During January-April, it's good to wear a 3/2mm wetsuit with long sleeves.
Playa del Inglés, Gran Canaria 
Maspalomas is the biggest beach on the island, which makes it an ideal meeting point for water sport enthusiasts looking for optimal sea and wind conditions. The tradewind season is from May-September, pumping the wind up to 45 knots. Playa del Inglés is a great attraction for tourists who come in search of good weather. That said, you can kitesurf only in the area designated for kitesurfers, respecting the rest of the beach reserved for other beachgoers.
Wind direction: N-NE (25-40 knots)
Water conditions: Choppy water, medium waves, big waves, average water temperature of 20º. 
Discipline(s): Freeride and freestyle Skill level: Semi-beginner, intermediate level, advanced level
Watch out for: (Hazards) rocks or pebbles 
Getting there: The trip from Gran Canaria airport to Playa del Ingles is around 21 km. The quickest way is to take a taxi or to drive by car, which will take around 20 minutes.
Tip: Small kites of 7m down to 5m are required in the high (summer) season.
Corralejo, Fuertaventura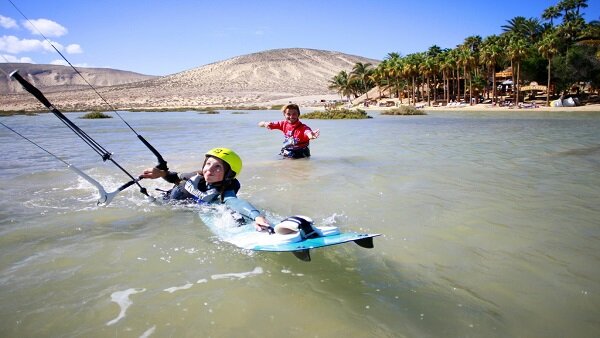 Photo: Rene Egli Fuerteventura
Whether you are a beginner or an expert, Corralejo is the perfect area for kitesurfing in Fuerteventura. It is located on Flag Beach, which is known for its constant wind and dynamic waves that offer great versatility to athletes. Corralejo in North of Fuerteventura offers seven kilometers of beautiful white, sandy beaches, half of which are for kitesurfing. Besides that, on the beaches of Corralejo, you can rent equipment for your kitesurfing practice and hire the experts that will instruct you when it comes to improving your technique.
Wind direction: N-NE (15-20 knots)
Water conditions: Flat, chop water, lagoon, small waves, water temperature on average - 22º.
Discipline(s): Freeride and freestyle Skill level: All levels
Watch out for: (Hazards) be aware of swimmers, reefs, and sharp rocks
Getting there: It's advisable to take a rental car to reach the spot or to go by taxi, as the nearest bus stop is quite far away from the beach.
Tip: High season is between March and late October. Bring bigger kites and check the latest tide tables.
TRAVELING TO THE CANARY ISLANDS AS A KITER
Getting There
The Canary Islands are the southernmost point of Europe. The main form of travel to the islands is by air. All the islands that make up the Canary Islands have airports. Every day there are frequent flights connecting with most EU countries, Latin America, and Russia within a few hours. Yet some of them, such as Gran Canaria and Tenerife, can be reached by ferry from the mainland of Spain (Huelva and Cádiz). That trip can last between 31 and 43 hours. 
Accommodation
Due to a large number of visitors each year, there's an impressive increase in accommodation options across the islands. From all-inclusive resorts, boutique hotels, vacation homes, apartments, and B&Bs, to camping and motorhome sites.Luxury beach hotel resorts are for those seeking maximum comfort. They usually include on-site restaurants, spas, sports facilities, swimming pools, and organized events. Leading hotel chains such as Radisson Blu, The Ritz-Carlton, and others are located on the islands. For a real feel of island life and for something out of the way, it is best to stay in a campground or an RV park site. Some of the islands (Gran Canaria) are state-run free campsites, meaning you won't be charged for an overnight stay. Self-catering rental properties, vacation homes, and apartments are for those who are likely to travel with a group of friends or a family, as it provides far more privacy and convenience. The Canary Islands offer a wide range of beautiful villas and beach apartments to rent.
Getting Around
Several islands that make up the Canary Islands (Tenerife, Fuerteventura, and Gran Canaria) have public transportation such as cabs and buses (called guaguas) that are, in general, excellent: punctual, fast, and cheap. Although, if you want the freedom to move around at ease on each island, it is advisable to use the services of a car rental company. Renting a bicycle is also very easy, but considering the mountainous terrain, it is only recommended for very brave and fit tourists. Furthermore, it is possible to travel between the islands by charter flights or ferry, which is most convenient. 
Food and Drink
To truly get to know the Canary Islands, one must delve into its gastronomy and try out some of its most delicious traditional dishes. Some of the most traditional and ancient Canarian recipes are gofio, sancocho, las papas arrugadas, and puchero canario, to name a few. There are a great number of restaurants, even those with vegetarian options, takeaway, and street food markets. Country food, seafood, snacks, and even high-end cuisine are available. Additionally, Canary tropical fruits are some of the most outstanding fruits, and they come in all colors and flavors around the islands. 
Things to Do When there's No Wind
If you are a nature lover, on Tenerife island you can find more than 40 protected natural environments and Teide National Park listed as a World Heritage Site—the most visited in Spain. It's not surprising that it has long been considered the most important thing to see in Tenerife, as the volcano is the highest peak in Spain.  For city dwellers, Gran Canaria is the most cosmopolitan of the Canary Islands with a variety of shopping malls, museums, cinemas, theaters, restaurants, hotels, and spaces for leisure and nightlife that would be a shame not to explore on your visit during windless days.As for those who still do not want to separate from their boards, The island of Fuerteventura is also known as the "Hawaii of Europe" for surfing hot spots and waves of all sizes. 
USEFUL RESOURCES
OTHER KITESURFING SPOTS IN SPAIN
Best Season
Generally speaking, the wind is more consistent between May and October