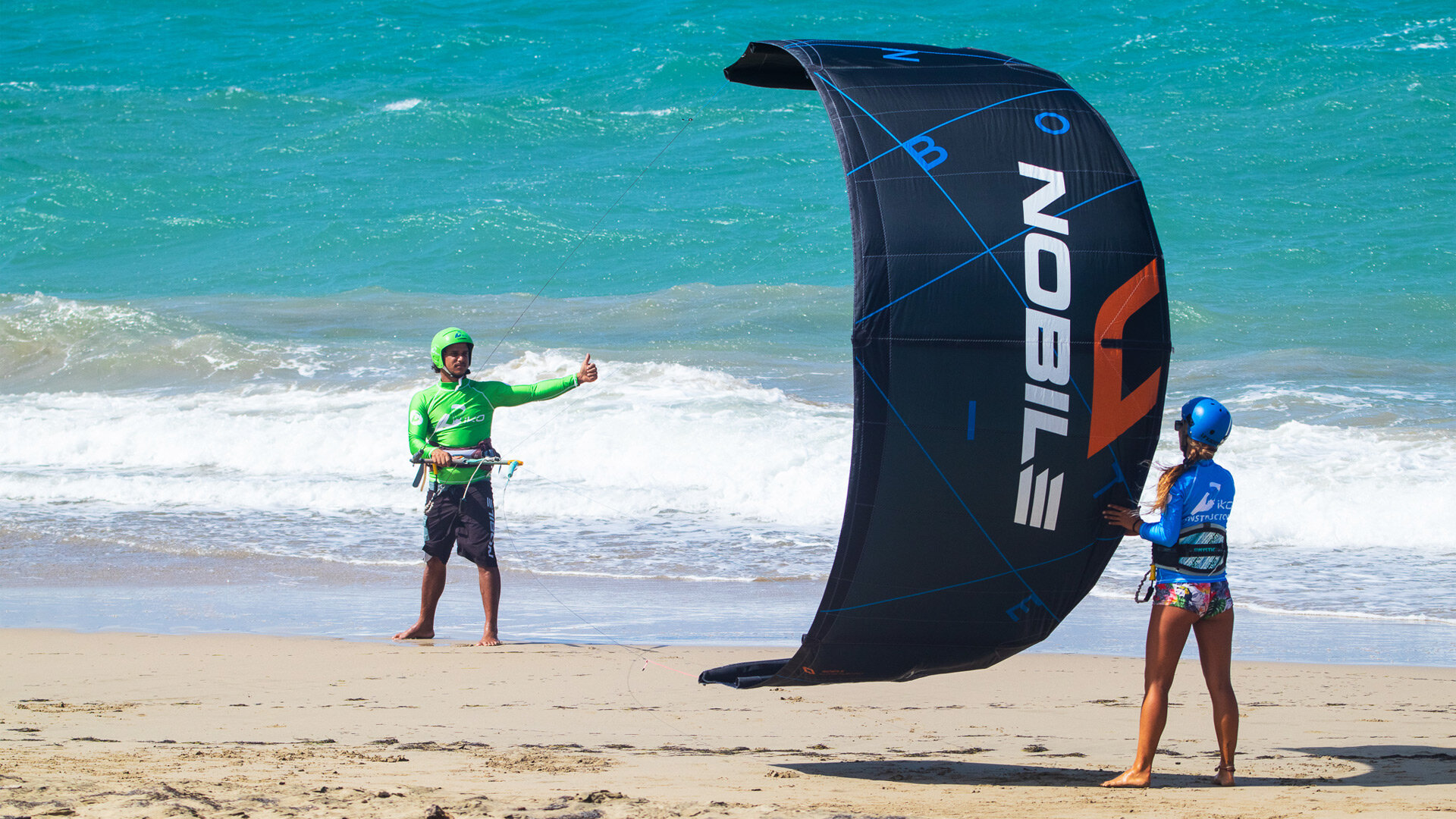 How Long Does It (Really) Take To Learn To Kitesurf?
In my experience as an IKO instructor, one thing I've learned is to never assume how fast or slow a new student will pick up the sport. One time, I taught a twelve-year-old kid to get up and ride the board after just two lessons. In another case, I had a former wakeboarder who still couldn't water-start after spending twenty-four hours with our school. As you can see, it's tricky and you never quite know how these things are going to play out.
Regardless of how long it takes you to learn, don't expect to be done with kiteboarding in one day. For the vast majority of students, it will take many hours of lessons to learn the basics of the sport. Schools often teach lessons in two to three-hour blocks. Learning to kitesurf might take between 6 to 12 hours of lessons – but take this with a grain of salt. It often takes more than 12 hours and it rarely takes less than 6. 
But don't let this discourage you! After all, no one is born with the ability to fly a kite. And keep in mind that every single kiteboarder has to go through this sometimes challenging, yet highly rewarding learning process.
Why does it take a certain amount of time to learn to kite?
At first, getting control over the kite, the board, and your body is a complex task. Once you try it, you will see how fun and addictive this sport is but you will soon understand how learning can take a considerable amount of time and effort. Kiting requires cognitive and physical processes such as hand/eye coordination, reaction time, balance, muscle memory, and strength, just to name just a few. 
You will want to take your time working on these skills in the hands of a qualified instructor to keep you safe and speed up your learning. 
But overall, one of the biggest reasons why learning to kiteboard takes time is because you need to develop timing and coordination in addition to all of the skills just mentioned. Piloting the kite is an amazing experience, however, it requires you to steer left and right while simultaneously pushing and pulling the control bar in and out to get the right kite angle. 
Also, getting up out of the water – a maneuver called the water-start – requires you to pilot the kite, balance with the board, and maintain your body position all in one coordinated motion. As you will see, kiteboarding asks you to learn different skills and then to put them all together to experience the unique sensation of flying over the water.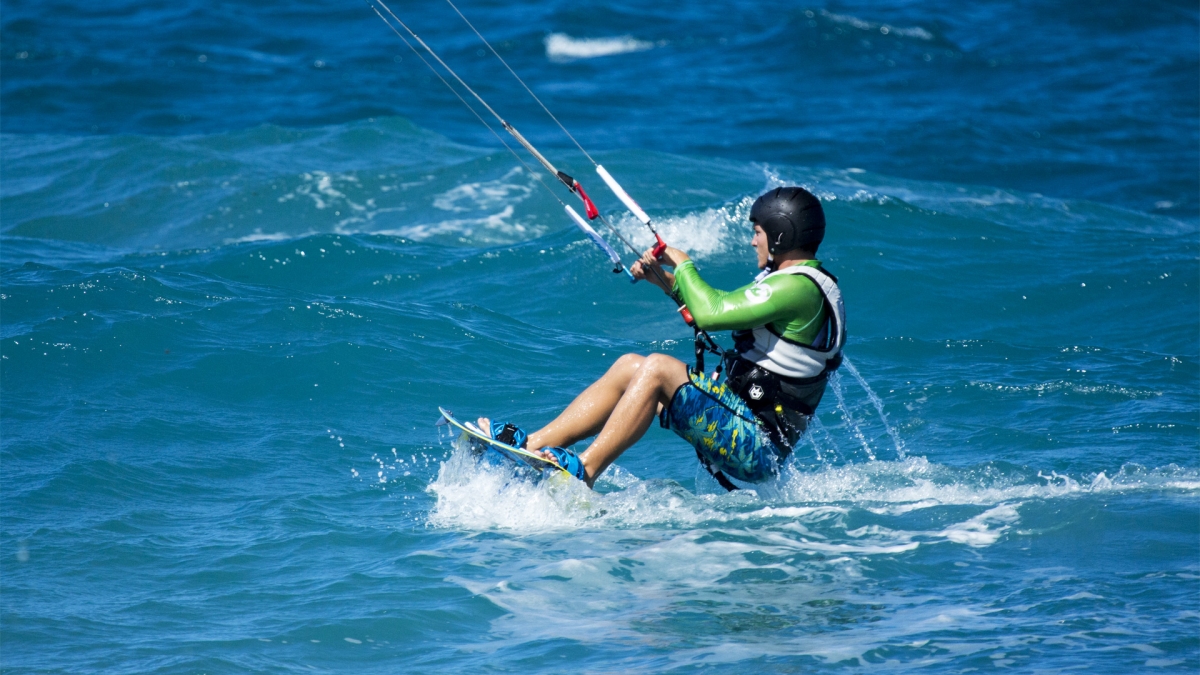 Breakdown of your kiteboarding lessons step by step
When you start with lessons, your first session will introduce you to the sport. You begin by spending time on land learning the basics of piloting the kite, using the control bar, practicing safety measures, launching/landing the kite, and other important skills. Early on, there is a fair bit of theory to cover in terms of both technique and safety. This part will take the time needed until you develop reliable kite control before moving on.
In the second part of your course, you will be the water piloting the kite! You start by using the kite to pull yourself around – called body dragging – and then finish with learning to water start. Water starting usually takes extra time because as we discussed earlier, you need to put various skills together in order to successfully ride. Learning to water start is a great opportunity to practice your other newly acquired skills such as body dragging to retrieve the board so you can reset after any attempts.
In the third part of the course, you learn to become an independent kiteboarder. Here, you work on board riding, turning, and most importantly, how to stay upwind. At this point, you might spend some time doing the "walk of shame" back up the beach because you are mostly riding downwind.
Sometimes, we need to be patient with the wind!
Another element that may cause delays is mother nature. Kiteboarding is wind-dependent, so get as much out of lessons even if the wind is a bit stronger or lighter. Often times, it also feels like the wind doesn't want to cooperate with our work schedules, but we can always find a way to squeeze a lesson here or there. 
While it's best not to take long breaks in between lessons, a well-qualified instructor will quickly assess your skills and can bring you up to speed if you've been out of the game for a bit of time.
Mastering the sport at higher levels
After lessons, it then takes additional time to progress on to higher levels in the sport. For starters, you can begin to learn freestyle tricks such as jumps and grabs in your first full season (a season being 3-4 months of good wind conditions). 
Learning to ride a directional surfboard for wave riding can also happen relatively quickly after learning to ride a twin tip. Surfing in smaller waves (< 1-meter height) is then within reach however going out in bigger conditions (2+ meters) can take two or more seasons to build up to, especially if you are riding strapless. 
Learning to hydrofoil gets easier and easier due to improvement in the gear, but it usually takes one to two seasons of dedicated learning for water starting and basic riding. To get to more advanced maneuvers like jibes and foot switches, it might take two to three additional seasons-worth of practice.
Each discipline in kiteboarding has different skill progressions which take time to master.  For some of these, you might even consider going back to lessons with an IKO Coach to save time and attain your riding goals (see the Kiteboarder Level 5 - Evolution courses).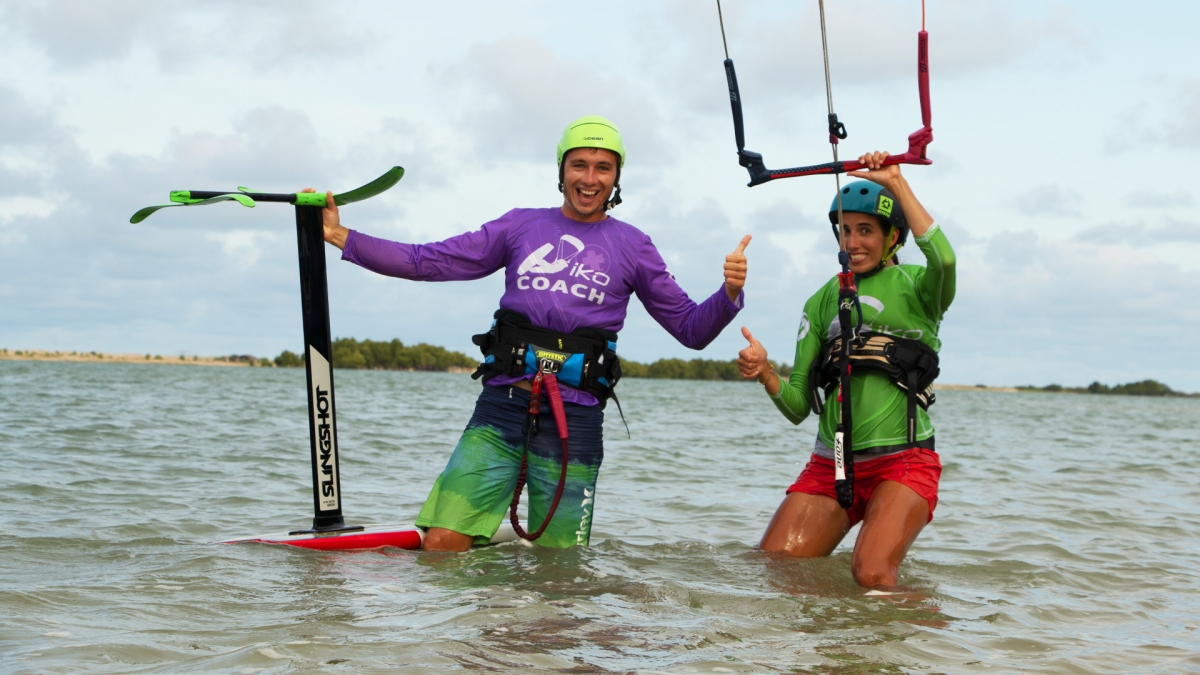 Do you want to speed up your kite learning?
A lot of students ask me how to speed up the learning process. One tip is to pick a friendly learning environment. Ideally, you want steady wind with an average strength in the range of 15-20 knots. Avoid crowded areas, shallow areas with underwater reefs, and also any land hazards. 
A second tip is to focus on your physical fitness. Trying yoga, stretching, or other forms of functional mobility training will make lessons easier. Having good aerobic fitness is also important. 
Lastly, have a good mindset. Always go into lessons with a positive outlook. Sometimes, your first attempts at learning won't go as planned. Don't allow failure to discourage you!
Get on it now and start learning kiteboarding!
One aspect of kiteboarding I love the most is that it has such a high ceiling for how far you can push yourself. Although I've kited for over ten years, there are many new ways I can keep "learning" the sport. The main takeaway is that kiting is fairly quick to learn but takes years upon years to master. Kiteboarding is a lifelong journey.
As a kiteboarding instructor, I define "mastering a skill" as the ability to perform something over and over regardless of the conditions. My goal as an IKO Instructor is to help my students master all the skills they need to enjoy this sport to the fullest and become truly independent. 
Do you want to get there too? Well, the ultimate way to speed up your learning is to start your lessons right now! So make sure to check out the IKO Training Calendar for all the available courses with an IKO Instructor near you.
---
Written by: Daniel Plautz