Contribute information about spots
Add Spot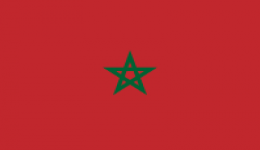 Kitesurfing in Morocco
Wind:
Spot:
World-class kitesurfing conditions, gorgeous landscapes, an awesome kiting community and amazing food is what you'll get in Morocco. This is a bucket list kitesurfing spot for every level of kiter!
HIGHLIGHTS OF MOROCCO
A VARIETY OF KITESURFING CONDITIONS FOR EVERY LEVEL OF KITER
Morocco offers oceanside wave kitesurfing good enough for the GKA to host its World Cup competitions there every year. But if you're looking for flatter water for big air boosting, this is also the spot to be. Morocco's main kiting spots are Dakhla and Essaouira.
GREAT SHOPPING EXPERIENCE IN OLD WORLD SETTING
On your way to or from Dakhla or Essaouira, Morocco offers visitors some great shopping options. Marrakech is a must for any tourist in Morocco. The town offers a true taste of Morocco, and the Medina feels like a doorway into another world. Wandering through this labyrinth of shops, you'll understand immediately why Morocco has captured the hearts of visitors for years. The medina in Fez has attracted tourists for decades for the same reason.
MOUNTAINS AND SEA 
If you're both a water and land lover, the Atlas Mountains in Morocco offer visitors some great hiking amidst the highest mountain peak in Northwestern Africa. Even a drive across these mountains to get from the water to the Sahara desert can be an adventure. 
UNESCO WORLD HERITAGE SITES
If you like to mix a little history into your present, Morocco is home to 10 UNESCO World Heritage sites. Not all of them are on the way to your kitesurfing destination, but they definitely offer visitors a serving of culture with their sports adventure.
KITESURFING IN MOROCCO
Kitesurfing in Morocco is as good as it gets for a kitesurfer! The country has a different landscape than any other popular location. The juxtaposition of the extreme Sahara desert and the wild ocean is a treat for the eyes and the senses. Nowhere else will you be able to see camels on your way back from an ocean or lagoon-side downwinder. 
The wind and surf in Morocco will satisfy any hungry kitesurfer, and the country is drenched in history and culture for sports travelers. As a kitesurfer, you don't have to choose one paradise. You can explore the world through this sport, and you don't want to miss out on a place like Morocco. 
WHEN IS THE BEST TIME TO KITESURF IN MOROCCO? 
The very best time to visit Morocco for kitesurfing is between April and September. That's when the strongest winds blow, and you can expect 30+ knots each day. However, the winds blow in Morocco all year round, so you can really kite there any time. If you're kiting in the September through February, you can expect winds of 15 to 25 knots.  
For you waver chasers, Dakhla has something for you all year long. The waves are the biggest in October through December, and June through August offer nice smaller swells.
With the increased popularity of lighter wind kiting disciplines like hydrofoil, you can increase your window of time on the water in Morocco. Many IKO Centers offer hydrofoiling lessons, so if you're interested, check out the IKO courses available at our centers or online here.
WHAT ARE THE BEST KITESURF SPOTS IN MOROCCO?
Dakhla Oceanside and Lagoon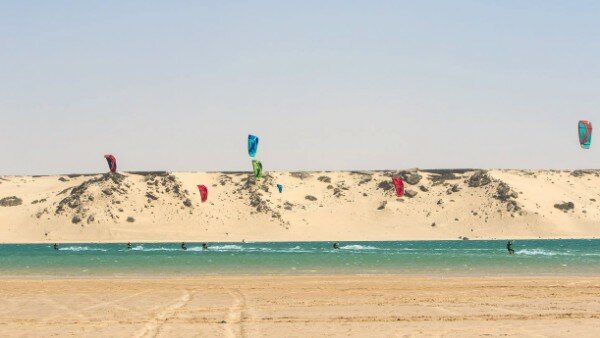 Photo: Dakhla Evasion
Dakhla hosts year after year a stop of the biggest kitesurfing wave competitions. Does that say it all? The spot has great waves for kiters who enjoy the dynamic conditions that ocean riding has to offer. If you're not an expert wave kiter, but you aspire to be one, ask your IKO Center about their wave riding lessons.
The Dakhla lagoon is a great spot for kiters of every level. The wind blows from sun up to sundown, so you can choose when you want to kite. The lagoon has a lot of space for beginner kiters to take lessons and practice while staying clear of the experts who kite the lagoon for the flatter water and strong winds. Most of the accommodations are right on the lagoon, so you are just steps away from the water.
Essaouira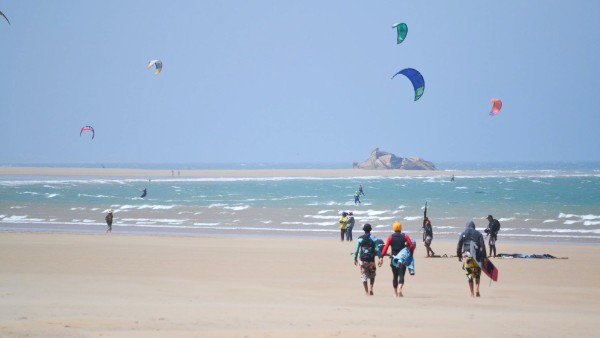 Photo: Bluekite Kitesurfing
The main kiting area in Essaouira is actually a bay with flat water and small kickers for jumping. It's a friendly spot for both beginners and expert kitesurfers looking for great twintip conditions, but the winter months bring bigger, kiteable waves. The proximity to the charming town makes kitesurfing in Essaouira great for your non-kiting travel companions.
Sidi Kaouki and Moulay Bouzerktoun
Located just 25 kilometers north and south of Essaouira, these spots are for expert wave riders only! If you're up for the challenge, ask your IKO Center about getting to these spots.
ABOUT THE COUNTRY
Brief History of Morocco
Archeologists determined that humans have inhabited Morocco for over 40,000 years, although the recorded history began with the Phoenician colonization of the country's coastline in the 8th century BCE. Since then, the country has been ruled by the city-state of Carthage, indigenous Berber monarchs, the Roman Empire, the Byzantine Empire, the Muslims, and eventually the French and the Spanish. In 1956, Morocco regained independence from France and shortly afterward regained most of the territories that were previously under Spanish control.
We can see why everyone wanted to own this piece of beautiful land. The country's landscape is as diverse as the people that still thrive there today. Bordered by both coastline and desert, and containing some of the largest mountains in Northwestern Africa, Morocco is a geographically and culturally dynamic country. With cities ranging in size from 3.4 million to just over 100,000, Morocco is a country with one foot in the modern world and one in the past.
Other Attractions in Morocco
In addition to great kitesurfing spots, Morocco offers travelers a rich cultural experience. You can roam about in the major cities of Casablanca, Fez and Marrakech for shopping, eating, and historical tours, or you can venture to smaller towns like Essaouira, Agadir and Taghazout to see visit UNESCO sites in a more natural, seaside environment. 
You can also leave the city altogether and take a tour through the Atlas Mountains on your way to the small section of the Sahara Desert that resides in the south and east of the country. The sand in the Sahara is not like any sand you've stepped on at a kitesurfing beach. It's more like cake flour -- soft and silky.
Getting to Morocco 
Getting to Morocco is very easy. Most major airlines fly direct from New York and London to Casablanca, and Dakhla is just a short 2 hour and 20 minutes flight from there. 
Getting to Essaouira is equally easy. You can take a direct flight from New York or London to Marrakech and then a 2.5-hour shuttle from the airport. If you rent a car, you'll save some time, but incur the additional cost of the rental.
When booking tickets to Dakhla, check out your layover time. Some flights from the states end up with an 8-10 hours layover in Casablanca, as many flights to Dakhla leave in the late afternoon or evening.
USEFUL RESOURCES
General Morocco
Travel Advisories for US Citizens
Travel Advisories for Europeans
SIMILAR KITESURFING DESTINATIONS
Best Season
In many of the spots in Morocco, you will always have a 40%+ chance of wind. If you want to be sure then go down between March and October. This is when you will get the most consistently strong winds Morocco has to offer.