Contribute information about spots
Add Spot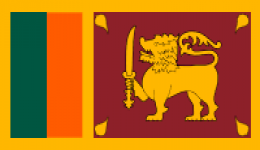 Kitesurfing in Sri Lanka
Beginner, Supervision, Advanced, Evolution
Wind: Moderate
Spot: Flat, Medium Waves
Sri Lanka is known as the most exotic kiteboarding destinations in Asia. It is the perfect kiteboarding spot for anyone. It doesn't matter what you prefer, there is something for everyone; flat water, waves, and lagoons.
In the summertime, you'll find the perfect kiting conditions. If you're there in the winter on the windless days, you can enjoy the amazing excursions that Sri Lanka has to offer. A few of the most popular things to do, other than kiteboarding, is visiting some of their beautiful national parks, diving, dolphin and whale watching, or even just getting a massage after a long day.
One of the funnest parts of planning your trip is choosing where to stay; there are many beautiful boutique hotels; our favorites are those with bungalows on the sand. The Kalpitiya area is perfect for those looking for a more quiet and relaxed time, here you will find endless beaches and not too many tourists.
Capital: Colombo and Sri Jayawardenepura Kotte
Currency: Sri Lankan Rupee
Level: Beginner to Experienced
Winds: 18-20 knots from May to October
Kite Sizes: Summer season 5-10m; Winter season 9-17m
Flat Water Spots: Yes
Beach Break Spots: Yes
Wetsuit Needed?: No
Water Temperatures: Average of 26-29 °C
Uncrowded Waters: Yes; mostly lagoons
Kiteboarding Lessons Average: 40 - 75 USD Per Hour +/- depending if solo or group lessons and package
Daily Food Budget Average: 29 USD
Downwinder Spots: Yes
Best Season
The best season for kitesurfing is their summer season which is from May to October where the wind averages at 18- 20 knots.
In the Winter season, December to March, the wind is not as consistent though you may experience some afternoons winds. On the days there is no wind you can plan other fun activities; this way you make your time in Sri Lanka more memorable.