Contribute information about spots
Add Spot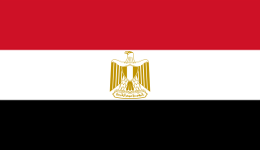 Kitesurfing in Egypt
Beginner, Supervision, Advanced, Evolution
Wind: Light, Moderate
Spot: Flat, Small Waves
Egypt is well-known for its wide sandy beaches and shallow, flat water. With pleasant temperatures year-round and steady winds between April and October, Egypt is a great kiteboarding holiday destination, to say the least! 
HIGHLIGHTS OF EGYPT 
FLAT WATER LAGOONS
Egypt has some amazing flat water lagoons with perfect conditions if you like kiteboarding in warm temperatures and steady winds. Freestyle kiteboarders can play their hearts out in Egypt, because flat water makes this a perfect place to kite. 
COLORFUL CORAL REEFS
Don't just stay above water, take a look under the water, too. Go swimming, snorkeling, and diving with exotic fish. The Red Sea is a world-class diving destination. 
RELAXATION
Many of the hotels located on the waterfront of kitesurf spots offer wellness packages. From massages to facials, allow yourself to relax after a kite session. 
KITE CRUISES
Imagine waking up in the middle of the Red Sea with a jaw-dropping sunrise and clear, blue water. Goal of the day: chasing the best wind for another ultimate session. Freedom combined with luxury and, of course, every single day you get to visit the most beautiful kitespots Egypt has to offer. 
KITESURFING IN EGYPT 
Egypt is a destination where sunshine is guaranteed, perfect for kitesurfers who are mainly looking for an eat-kite-sleep kitesurfing holiday.The desert and its sand dunes, the space on the water, the steady winds which blow during the greater part of the year, and the underwater world make Egypt a wonderful destination for a kitesurfing vacation!
WHEN IS THE BEST TIME TO KITESURF IN EGYPT? 
You'll experience wind throughout the year, but the best time to visit Egypt for kitesurfing is between April and October when the wind is the most consistent. 
WHAT ARE THE BEST KITESURF SPOTS IN EGYPT?
Hurghada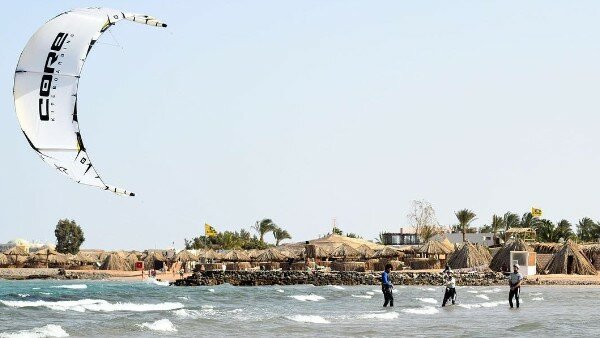 Photo: Colona Watersports
You've probably heard of this place, and there's good reason for that.  Hurghada is one of Egypt's most popular beach resorts. 
Diving, snorkeling. and of course kitesurfing! In Hurghada you'll find shallow waters near the beach, but a bit further out you'll find deeper waters perfect for practicing new tricks. 
El Gouna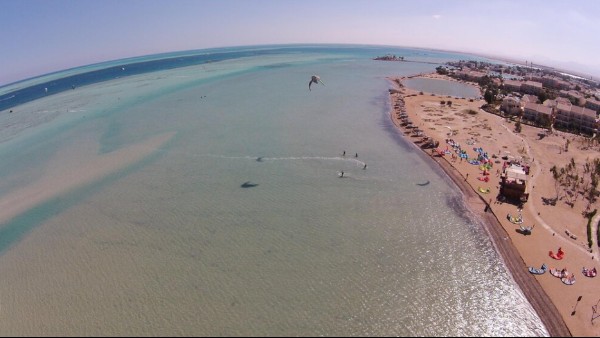 Photo: Kite People
A short drive (20km) from Hurghada, El Gouna is a place that is increasing in popularity. From there you can see the many villas and luxury hotels that have been built here in recent years. But don't let that fool you, because El Gouna is still best known for its beautiful coral reefs and flat, shallow waters—perfect for learning to kitesurf.  
Safaga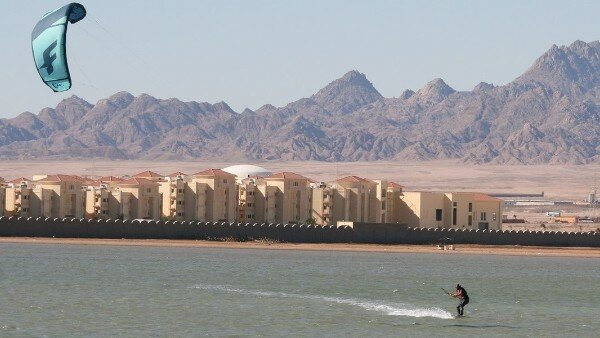 Photo: Tornado Surf 
South of Hurghada lies Safaga, which once was a quiet fishing village. Safaga boasts a unique desert landscape—wide, sandy beaches and clear, turquoise waters surrounded by mountains. There is not much to do beyond kitesurfing, but who needs more than kiting if you opt for a kitesurfing holiday!?
Ras Sedr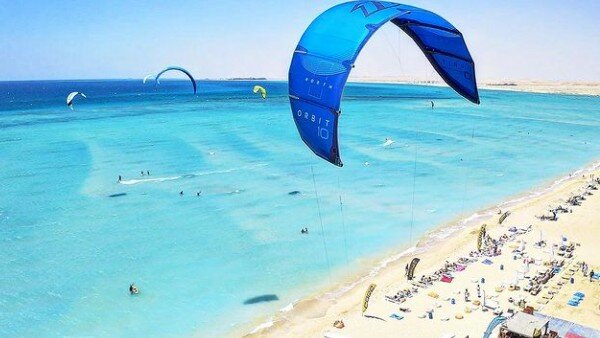 Photo: Soul Kitesurfing Center
Ras Sedr has almost 100 km of coastline with waters great for kitesurfing. The shallow waters here are increasingly popular among kiters. Aside from watersports, you can enjoy bird watching, as Ras Sidr is a hub for migrating birds. 
Sharm El Sheikh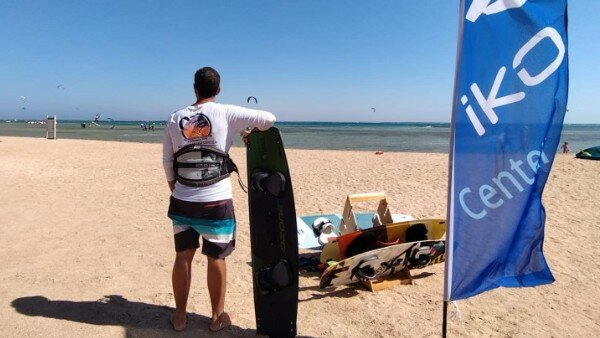 Photo: The Kite Bubble
A short taxi ride from the airport with a wide range of luxury hotels to choose from, Sharm El Sheikh is popular among kitesurfers who like to bring their non-kitesurfing partners too. 
Marsa Alam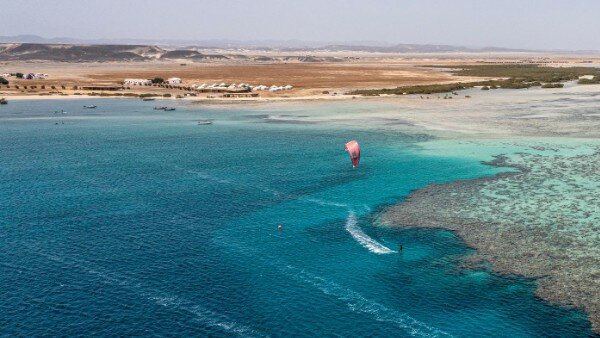 Photo: Wadi Lahmi Kitesurfing Center
Another windy pearl, Marsa Alam is a large kite spot with flat water shielded by a reef (nice for snorkeling, too). You'll find a lot of all-inclusive hotels here which offer on-the-kitespot accommodations that are near the water.  
ABOUT THE COUNTRY
A Brief History of Egypt 
The ancient Egyptian civilization, well-known for its mummies, tombs, and pyramids, flourished for thousands of years. Between 2200 BCE and 332 BCE Ancient Egypt was sometimes united into one empire led by one king called the pharaoh. It was the custom of these kings to have a pyramid or two built as a tomb for themselves. Fun fact: did you know Cleopatra wasn't actually Egyptian? She was born in Egypt, but her family was originally from Macedonia. In the 7th century, the Arabs conquered Egypt and it became part of an Islamic empire ruled by Baghdad.  
The Nile River has been a natural lifeline and important economic engine since ancient times. Egypt has been dominated over the years by several colonial powers including the British. In 1952, a group of Egyptian military officers ("the free officers") deposed the king, and with him, the British. The country has been unstable at times. Mubarak—the president ruling with absolute power—was deposed in 2011, after which elections followed. These parliamentary elections led to a presidential election in which a president elected from the Muslim Brotherhood was chosen to rule. 
Other Attractions in Egypt 
Aside from kitesurfing, diving, and snorkeling, you should definitely visit Cairo's impressive Egyptian Museum. There you can admire an amazing collection of ancient Egyptian artifacts that take you back to the fascinating world of the ancient Egyptians, including the death mask of Tutankhamun!The Pyramids of Giza and the Sphinx are fairly close to Cairo too, and worth visiting. Last but not least, a quad bike or 4x4 Jeep trip through the desert is a rad day-trip option if you're an adventurous spirit.
Getting to Egypt
Many tour operators offer all-inclusive kitesurfing holiday packages to Egypt: flight plus hotel directly on the waterfront of one of the amazing kitesurfing spots Egypt has to offer, such as El Gouna or Marsa Alam. Transavia, Swiss Austrian, Easyjet, and Saudi Arabian Airlines offer direct flights to Cairo where you can hop in a cab to your final destination. 
USEFUL RESOURCES
SIMILAR KITESURFING DESTINATIONS
SPOT
WORLD > AFRICA > EGYPT > HURGHADA 
HURGHADA 
Hurghada is a perfect kitesurfing spot for a comfortable holiday where you'll find yourself enjoying shallow, flat water, and enjoying the sun and steady wind of Egypt. Hurghada has a number of IKO Centers, some of which include kite equipment storage, compressors, beach assistance, purewater showers, changing rooms, bathrooms, and bars/restaurants onsite where you can chill out after your session using the free Wi-Fi while letting your kids play in the kids area.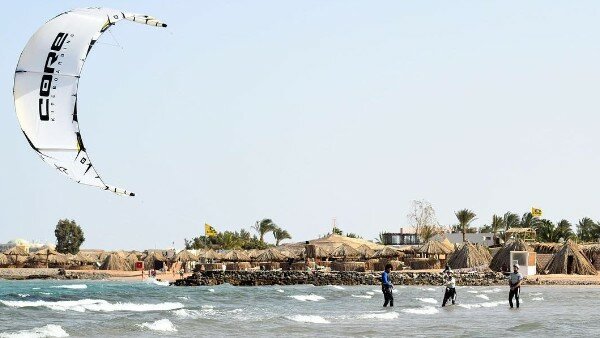 Photo: Colona Watersports
HIGHLIGHTS
VACATION PACKAGES
Lots of cheap package deals to visit this clear water kitesurfing holiday gem. You can stay in an all-inclusive beachfront hotel which makes for a hassle-free destination—even for families or groups with some non-kitesurfers amongst them! 
NIGHTLIFE
Hurghada town has many bars and clubs, so this Egyptian kitesurfing destination is perfect if you want to loosen up your muscles by dancing after hours. 
WATERSPORTS 
Hurghada is a prime watersports holiday destination due to the many options on (and under) the beautiful turquoise surface. Try snorkeling, diving, or hopping on a jet ski. 
FLAT AND SHALLOW WATER 
The flat water—shallow for a few dozen meters—offers perfect conditions for beginners, freeriders, and freestyle kitesurfers. It's a perfect destination to learn about kitesurfing and to progress in the sport. You might even spot a dolphin or two during your kitesurfing course!  
KITESURFING IN HURGHADA 
You'll be afforded turquoise water, sunny days, and wind for most of the year, too! This Egyptian kitesurfing destination is popular for many reasons. 
The thermal wind in Egypt is perfect for kitesurfing because it's dependable and stable. The wind blows from the northwest in the morning and by the time you might be having your second cup of coffee, it becomes a perfectly stable northwind! Hit the water and come back for lunch around 1 p.m. because the wind usually has a dip around that time. In the afternoon, it will pick up again for you to enjoy a second session with (usually) stronger winds. 
Wind, weather and water
With an average of 15 to 25 knots of wind, Egypt offers some great conditions due to its pleasant weather and water temperatures which vary between 20 degrees celsius during winter and 29 degrees celsius during the summer months. Therefore, a wetsuit (3/2mm) is recommended from December to April. During spring and fall you can easily wear a shorty wetsuit and, if you are looking for a kitesurfing holiday destination where you can kite in shorts or bikini, the best time for you to visit is during the summer when you can find the strongest winds and most favorable weather. March to November is Egypt's peak-season for kitesurfing holidays. 
WHAT ARE THE BEST BEACHES FOR KITESURFING IN HURGHADA?
Megawish Beach
This 2km long sandy beach is split into two areas: the school bay, which is basically a training bay for beginner kiters (and also for those who are not yet independent and confident enough to kite alone). The second spot (bay) is an intermediate area for riders who can go up-wind confidently.  
Wind direction: Side-shore & side-offshore. 
Water conditions: Flat, shallow water with deeper choppy parts. 
Discipline(s): Beginners, freestyle, freeride. 
Skill level: Beginners, freestyle and freeride. 
Watch out for: (hazards) Mind the fishing boats and the reef.
Getting there: Fly to Cairo or book an all-inclusive flight and hotel.  Walking distance from Hurghada town.
Tip: Your best option might be to stay in one of the beachfront hotels such as Aqua Marine. 
Aqua Marine Private Beach (Megawish District)
At Jaz Aqua Marine—just minutes away from the airport—you can hit the water directly, whereas this hotel has its own private beach from where IKO Center Kite Marine operates. 
Wind direction: Side-shore & side-offshore. 
Water conditions: Flat, shallow water with deeper choppy parts too.
Discipline(s): Beginners, freestyle, freeride. 
Skill level: Beginner, freeride/ freestyle.
Watch out for: (hazards)
Getting there: Fly to Cairo or book an all-inclusive flight and hotel. 
Royal Beach Hurghada 
Another great sandy beach spot with shallow water and a clean bottom. This spot is a perfect place to learn kitesurfing or improve your skills while freestyling or free riding the beautiful turquoise waters. 
Wind direction: Side-shore
Water conditions: Flat, shallow water with deeper choppy parts too.
Discipline(s): Beginners, freeride and freestyle. 
Skill level: Beginner to intermediate/ advanced (freestyle). 
Watch out for: (hazards) Mind the fishing boats and the reef.Getting there: fly to Cairo or book an all-inclusive flight and hotel. 
TRAVELING TO HURGHADA AS A KITER
Getting There
If you want to go kitesurfing in Egypt, book your flight to Cairo. Hurghada is a popular spot for a kitesurfing holiday because of the cheap (but good) package deals: you can book a flight and hotel (including airport transfers) to one of the many beachfront all-inclusive resorts. Taxis are affordable and can bring you to your hotel, the kitespot, or to one of the must-visit tourist sights such as the Great Pyramid of Giza.
Accommodation
There are plenty of choices for your stay in Hurghada. Options include many luxurious beachfront hotels, but also some smaller hotels in town. A lot of accommodations are all-inclusive which is pretty convenient for kitesurfers who want to focus on spending as much time on the water as possible. 
Getting Around
Taxis are common in and around Hurghada. Many hotels offer airport transfers and you likely won't need transport to go kitesurfing since many accommodations are situated near the water. Some of the IKO Centers offer kitesurfing storage options in order to make your kitesurfing holiday easy and relaxed! 
Food and Drink
The all-inclusive concept is very popular in Egypt. But if you want to go out for lunch or dinner elsewhere, you'll have good options in Hurghada. Some of the kite schools have a lagoon-view bar/restaurant. If you'd like to eat in town, we recommend Granada restaurant and pub as well as Bongoyo. 
No Wind?
The resorts and hotels often offer a wide range of wellness experiences, such as soothing massages and body wraps. This is perfect for a day off the water to relax the muscles and recharge for your next kitesurf session. Of course, you can also indulge yourself in the rich Egyption culture by visiting the Great Pyramid of Giza. A quad bike or 4x4 Jeep tour is a cool option if you're adventurous. 
Useful Resources 
Best Season
May - October
Many places have kiting all year round, depending on the month there is either more consistent winds or just a few days of the week with wind.