Contribute information about spots
Add Spot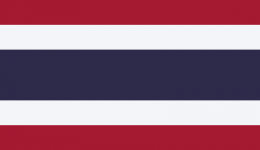 Kitesurfing in Thailand
Beginner, Supervision, Advanced, Evolution
Wind: Light, Moderate
Spot: Flat, Shallow, Small Waves
Thailand is exotic and surprisingly contrasting. Modern skyscrapers and ancient tribes, majestic temple complexes and modern shopping malls, and colorful Thai markets and the wonders of the wilderness share the same space. You don't have to visit just the famous sights to fall in love with the country. The warmth of the local people, the wild beauty of nature and the tasty food will inspire you to enjoy every moment.
HIGHLIGHTS OF THAILAND 
URBAN VARIETY 
Thailand's capital, Bangkok, is perhaps the country's biggest attraction and is often seen in movies. It has a population of over 8 million. As soon as you arrive, Bangkok lives up to its name as a country of contrasts, with luxurious buildings lining the poorest neighborhoods and a huge infrastructure of services and attractions such as sin-worthy street food, a floating market, a sea of spices, temples and, of course, the city's calling card—massages. After dark, some streets are particularly bright and full of advertisements, doubling traffic congestion and pedestrian flow.
WILD ANIMALS 
Thailand is bursting with wildlife. It's fun to watch the wild monkeys crowding around, fighting, "robbing" the garbage bins and, sometimes, the tourists. Lizards will often sneak into hotel rooms. Even the big wild animals are tamed here, and tourists are allowed to have close contact with them, and are permitted to pet a tiger, hug a snake, hand-feed a giraffe, rent a monkey and, of course, ride an elephant.
RICH CUISINE 
When traveling in Thailand, the easiest place to get lost is not on the beaches, not among the houses, not even among the bamboos— but in the food markets. Street chefs grill noodles under the noses of starving revelers, roasting squid, octopus, prawns, fish and other seafood on the grill, steaming rice and vegetables in pots, and throwing beef, duck, and chicken in stews. Roaring street cooks cook octopus and squid with rice in tall, round-bottomed frying pans, and the aromas of all sorts of chopped delicacies waft from the pots. Other chefs' pans are filled with noodles with chicken pieces or duck wings. You can taste fried scorpion, cockroach, tarantula, or a crocodile—safely bred in farms like chickens and sold on the street, piece by piece.
ARCHIPELAGOS
The idyllic beaches, tropical landscapes, crystal clear water, and golden sand are just some of the characteristics of Thailand. It is impossible to see all of the islands of Thailand—there are a lot of them and it is not always easy to get to them. Some of them are natural parks, or so small that they do not even have lodging or food services.
KITESURFING IN THAILAND
Thailand is an amazing place to kitesurf. It's famous for its beautiful white sand beaches and huge coastline. Most places have flat water (usually lagoons), while others have waves. If you are planning to do your first kitesurfing lessons, it is a good idea to go to a place with a lagoon and flat water where you can stand up. In addition, the light winds are ideal for gentle kitesurfing, so it is perfect for the beginner. This will make it much easier to learn and you will progress much faster. These ideal conditions have led to an explosion of kitesurfing schools in Thailand, so you will have options to choose from. Most have certified instructors who speak various languages and are using the IKO teaching system.The price to learn kitesurfing in Thailand is almost the same in all kitesurfing schools and, compared to the rest of the world, is cheaper.Typically you don't need a wetsuit, however, if you see kiters in wetsuits on the beach, it might be a sign that jellyfish season has arrived and it's best not to wear a swimsuit.
WHEN IS THE BEST TIME TO KITESURF IN THAILAND? 
There are two main seasons: high season (from November to April) and low season (from May to September). 
The season of excellent winds is considered to be the period from November to April, when the wind can reach up to 20 knots. 
From May to October, it is hot and humid and there is a lot of precipitation in the form of frequent or short-term heavy rains. The winds are light as the thermal breeze kicks in. Again, in the low season, we see quite a lot of rain—from half an hour to several hours—and sometimes even tropical storms.
Another reason why many people choose Thailand to learn to kitesurf is the tropical climate. The average temperature in the central and southern parts of Thailand ranges from 25 to 35 degrees. This gives you the opportunity to kitesurf 90% of the time in your swimsuit. During monsoon season (mid-October to mid-December) the temperature can be a bit cold, therefore, a short wetsuit comes in handy.
WHAT ARE THE BEST KITESURF SPOTS IN THAILAND?
Koh Phangan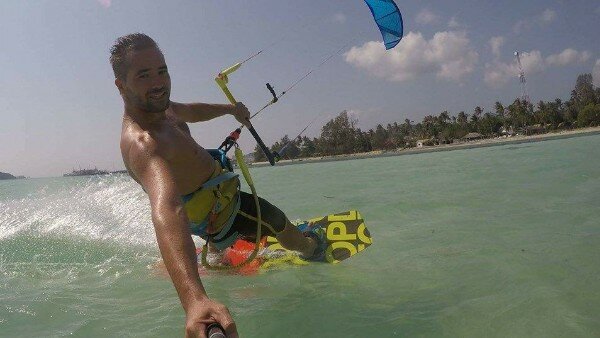 Photo: Accrokite Koh Phangan
The beach is one of the wildest on the coast, surrounded by coconut trees and tropical vegetation. It is more than two kilometers in length and is covered by blankets of fine white sand and bathed with turquoise waters, which invite you to dive in and practice kitesurfing. It is an excellent spot to learn the sport as it offers shallow waters. The wind and waves are quite small, so safety is almost guaranteed. 
Hua Hin Beach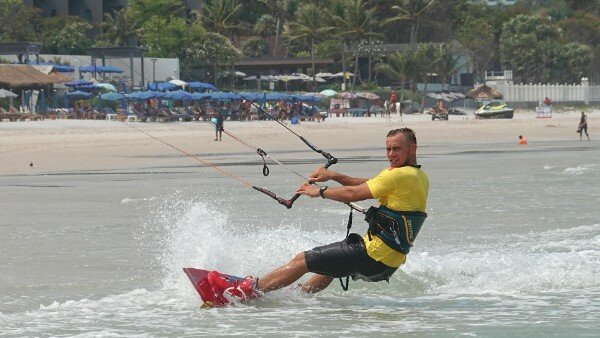 Photo: Kiteboarding Asia Hua Hin   
The best time to visit Hua Hin is from the end of October to the end of March—and sometimes, until the beginning of April. The winds are ideal at this time, blowing at 14-16 knots every day. There is a large beach, small waves, and lots of flat water—easy and friendly conditions. 12-14 and 16-meter kites are the most used here. Hua Hin is also a famous kite foil and wing foil location. There are many kitesurfing schools here.
Pranburi 
The small town of Pranburi, located near Hua Hin, should draw more attention, yet, few people know about it. There is a beautiful beach to practice kitesurfing. It is best to come here in March. Pranburi is a favorite spot of the famous Kite Tour Asia (KTA), the place where world-famous kiters gather in March to compete in the Big Air discipline.
Phuket 
The island's beach is quite long, providing a good base for the varied range of winds generated. The shallow, rock-free lagoons with smooth surface water make this island a great place for newcomers to the sport. The wind usually starts to appear in March and blows until September.
ABOUT THE COUNTRY
A Brief History of Thailand
Thai migration to Thailand began in the first millennium. Their most prominent states were the kingdoms of Sukhothai and Ayutthaya, which were constantly threatened by Myanmar and Vietnam.
Sukhothai is considered the birthplace of Thai culture. In 1782, Bangkok became the capital of Thailand.
English and Portuguese colonists began to threaten the kingdom. However, Thailand was the only country in Southeast Asia that did not become a European colony.
King Chulalonkorn, who ruled the country from 1851 to 1910, was a good diplomat, established trade relations with Great Britain and France, and set about modernizing the country by inviting foreign experts.
Thailand was formerly known as the Kingdom of Siam and was only officially named Thailand in 1939. The term Thailand also means "land of the free."
At the outbreak of World War II, the nation secretly negotiated with Japanese forces and allowed them to use its land to invade Singapore, Burma, and the British-ruled Malay Peninsula region.
In 1997, Asia experienced an era of financial recession negatively impacting the Thai economy. This period is known as the "Asian financial crisis."
Bhumibol Adulyadej, the world's longest-ruling monarch with more than 70 years of reign, died in 2016 at the age of 88. This made Crown Prince Vajiralongkorn the new King.
A new structure has been drawn up and signed by King Vajiralongkorn, which means democracy has been restored in Thailand.
Other Attractions in Thailand
A very interesting thing to see is the Pattaya Floating Market. It is divided into four different areas and sells goods from different regions of Thailand. In this market, you can find eateries to suit all tastes, fruit stalls, souvenir shops, and art galleries. There are shows every afternoon. If you want to get an even better feel for the rhythm of Pattaya's floating market, hire a local boatman to take your boat around the market.
For those interested in Thai history and culture, Ayutthaya is a must to visit. This city is a UNESCO World Heritage Site. Thailand's old capital with the ruins of a four-hundred-year-old kingdom, temples, monuments, and spectacular parks. Ayutthaya Historical Park has many interesting and magnificent buildings such as Vat Phra Si Sanphet, which includes three large temples and the old royal palace. Wat Chaiwatthanaram is a Buddhist temple with 120 seated Buddhas. And the highlight of the area is Phra Mongkhon, a huge golden statue of Buddha.
The Golden Triangle is perhaps the most famous attraction in Northern Thailand. The area is the most popular tourist destination in the world, where the borders of three countries (Thailand, Myanmar and Laos) intersect. The name of the area comes from the drug trade that once flourished here. Besides that, the Golden Triangle is home to many small ethnic groups who preserve ancient customs and dress in traditional costumes.
Getting to Thailand
The most common way to get to Thailand is by air. Most travelers stop over at European or Asian airports to fly to Bangkok's Suvarnabhumi airport, although the capital also has Don Muang, which was built earlier. Once in Thailand, it is possible to fly to other tourist destinations far from Bangkok on domestic flights—Thailand has several companies that allow good coverage and frequency of routes. The islands of Phuket and Koh Samui have airports. 
Thailand has six international airports: Bangkok, Phuket, Ko Samui, Krabi, Chiang Mai and Hat Yai. Most international flights, especially those from other continents, arrive at Bangkok's Suvarnabhumi International Airport. There are also quite a few charter flights landing in Phuket and, to a lesser extent, in Samui or Chiang Mai. To get reasonable prices during the high season, especially from late November to late February, it is necessary to book the flight several months in advance.
For closer destinations you can opt for the train, road transport, or ferry if you are going to move to the islands.
USEFUL RESOURCES
SIMILAR KITESURFING DESTINATIONS
SPOT
WORLD > ASIA > THAILAND
KOH PHANGAN 
Koh Phangan is an island of incredible beauty in the Gulf of Thailand famous for its unique Full Moon Party—a wonderful three-night celebration in the middle of the wilderness. Apart from the noise, the music, and the excitement, the island offers a haven for a blissful holiday. 
HIGHLIGHTS
FULL MOON PARTIES
The famous beach party takes place every full moon on the five kilometer long Haad Rin beach. The deafening music, trendy DJs, alcohol buckets, and crazy atmosphere will be a lasting memory even for those who don't really like going to clubs and discos in their everyday life.
ELEPHANT RIDES 
Without the noisy parties, you can navigate your way through a tropical jungle on the back of an elephant. Tourists can visit the jungle on their way through the island. Before the trip, you can watch the elephants bathe and feed the baby elephants with your own hands. At the end of the tour, you can thank your elephant by feeding him whole pineapples. 
WAT PHO TEMPLE
This temple is located in the southwest of the village of Baan Tai and is the most important temple on the island. The current Buddhist temple is open to the public. Although it has a sanctuary where you can pray, the most striking features are its herbal sauna surrounded by a lush forest and a fish pond as well as its massage center (which is particularly effective after a party or an intense kitesurfing session). 
WILD BEACHES
The island's coastline is carved by bays and lagoons with narrow strips of white sand beaches and crystal clear waters that offer a picturesque landscape. The most beautiful sunsets can be seen from the beaches in the south of the island where you can rest and disconnect. On the east coast there is hardly any tourist development, therefore, the beaches and coves are practically wild.  Some other famous beaches are Chalok Lam, Mae Haad, Ko Ma, Ao Chaloklum. 
KITESURFING IN KOH PHANGAN 
Koh Phangan is an island located in the southern gulf of Thailand and is known mainly for its relaxed atmosphere and wild parties, but also for its spiritual side and the hippy lifestyle it offers residents. In this little piece of paradise you can find a number of kitesurfing spots and schools. Kitesurfing on the island became one of the most fashionable, vibrant, and progressive trends. Most of the kitesurfing schools are located on the south coast of the island (Baan Tai and Tong Sala), which have huge lagoons of shallow flat water protected by a reef. Due to the shallow flat water, it is a very good place for students to practice and one of the best kite spots in Thailand for beginners to learn. Keep in mind that the shallow beaches of Koh Phangan have coral reefs, which means that sharp stones, corals and sea urchins are present.
Wind, weather and water
Koh Phangan has a tropical climate with high humidity levels and pleasant annual temperatures ranging from 24 °C to 32 °C. As in the rest of Thailand, it has two distinct seasons: dry and rainy.The wind season starts in January and lasts until April or May when the wind comes from the southeast. Winds are quite stable and range from 10 to 20 knots. This is also the dry season with very pleasant temperatures. February and March are the best months for kitesurfers to visit, as they have an average of 75% of windy days during this period.
The second season starts from July to October when the wind comes from the southwest. At this time of the year, there can be occasional/intermittent rain storms that can bring strong winds, sometimes more than 20 knots. This is a good time for experienced kiters. The two rainiest months are from mid-October to mid-December. In these months there is almost never any wind.
December is the only month when the wind comes from the north. At this time the only good kitesurfing spot is Chaloklum (on the northern side of the island). This spot can get a bit crowded, as all the kitesurfing schools come here during these few weeks.
WHAT ARE THE BEST BEACHES FOR KITESURFING IN KOH PHANGAN?
BAAN TAI BEACH
Baan Tai, on the south coast of Koh Phangan, stretches from Haad Rin to Thong Sala, making it the longest stretch of coastline on Koh Phangan. The 8 kilometer long beach has different landscapes: rocky with palm thickets and snow-white sand cloth under the blazing sun. But there is one thing that never changes, and that is the turquoise color of the water. Baan Tai is an ideal place for lovers of the sun, water sports and parties until dawn. When the wind blows, Baan Tai is an ideal place for kitesurfing.
The entrance to the water at some places is difficult thanks to underwater vegetation, boulders, and rocks. The bottom is quite shallow, affected by the tides.
Wind direction: West Southwest, West (from 8 to 16 knots, onshore)
Water conditions: flat, choppy water (the water temperature is, on average, 28 degrees)
Discipline(s): freeride, freestyle
Skill level: all levels
Watch out for: (hazards) coral reef and rocks
Getting there: with improved roads and new infrastructure connecting more areas of the island, getting to the beach is super easy. You can arrive by tuk-tuk, taxi, motorcycle, or a car.
Tip: regularly check wind and tide conditions; no need to bring a wetsuit. 
CHALOKLUM BAY
The beach is three kilometers in length abd is one of the quietest. It's there where you can enjoy a swim, take a nap, or kitesurf without stress.
Due to tides, the water levels at some points are low, however, you will have plenty of space to launch and land your kite. Watch out for the sharp coral reefs lurking under the water that can cut your feet. There is a possibility you will encounter box jellyfish, too. Therefore, exercise caution while kitesurfing.More experienced kitesurfers tend to head to Chaloklum Bay in December as, it is the season when the north (stronger) wind kicks in.
Wind direction: West Southwest, West (from 10 to 20 knots) 
Water conditions: flat, choppy water (water temperature on average 28 degrees)
Discipline(s): freeride, freestyle
Skill level: all levels
Watch out for: (hazards) coral reefs, jellyfish
Getting there: Easily accessible by motorcycle or taxi boat. You can also park your motorcycle or a bike at some point on the road and enjoy the walk from there. 
Tip: the road has ups and downs, and therefore if walking on a sunny day, don't forget your sunscreen.
TRAVELING TO KOH PHANGAN AS A KITER
Getting There
There are no direct flights to Koh Phangan Island, however Koh Phangan is easily accessible by ferry, speedboat, or boat from the coastal town of Surat Thani or Koh Samui. The fastest and most convenient option to get to the island is by taking a flight from Bangkok to Koh Samui island, which is super close to Koh Phangan, and then board the ferry for a wonderful journey to Koh Phangan. From Samui, the boat takes passengers to Koh Phangan in half an hour.Another alternative way to get to the resort is to fly from Bangkok to Surat Thani Airport in Thailand and pick up a ferry from there. A ferry or boat from Surat Thani takes slightly longer.Finally, it is always possible to take a car to the Donsak port to reach the ferry, but it can be a long and exhausting drive (depending on where in Thailand you are traveling from). 
Accommodation
Over the last few decades, the island has developed new hospitality infrastructure, including many hotels.  You can easily rent a room or stay in a guest house with amenities for a very reasonable price, or you can stay in a bamboo house, wooden chalet or bungalow with almost no amenities and hot water. You can rent an inexpensive bungalow on every beach.
During the party season, the price of accommodation rises significantly. The further the hotel is from Haad Rin beach, where the parties take place, the cheaper the rooms. 
It is advisable to book a room before your trip, especially for the period when parties are planned on the island.
Getting Around
Transportation does not cost much. The best option is to rent a motorcycle as you will be able to visit all the places on the island at your own pace. Filling the tank of the motorcycle costs about €2.
If you don't like to drive, you can take a cab or hire a famous tuk-tuk. 
To visit small secluded beaches, you can also use "sea taxis."
Food and Drink
Koh Phangan serves delicious cuisine on every corner, so food lovers won't be disappointed either. The food is affordable, rich and tasty, but spicy in some dishes. 
There are plenty of places to eat on the island. The restaurants are for all kinds of people, as we find options for all tastes: international food, local food, vegetarian options, or more exotic dishes.
Like so many other locations in Thailand, Koh Phangan also has its own street market. The Thong Sala market, also known as Phantip Night Food Market, has a multitude of stalls with the most typical Thai street food dishes: kebabs, curries, fruit shakes, pad thais, and much more. 
No Wind?
If there is no wind for kiteboarding on a given day, you won't have too much trouble finding other activities. The island's beaches are the most attractive and fun part of the island. There are also beautiful waterfalls and natural landmarks. Such as Nei Sadet Park. You can go there at any time at your convenience without any entrance fee. Admire the cascading Peang Falls and Lemo Lake surrounded by coconut palms—these are great places to relax. A must-visit is Wat Thong Sala Temple.
The most common activities on the island are snorkeling, scuba diving, boat riding, jungle treks, cooking classes, and muay thai classes.
Besides, what could be better than a good massage after an intense day of kitesurfing? You can get an excellent massage at one of the many Thai massage stores, and it will cost you around €10 per hour. Many kite spots even have massage spots right on the beach—afterwards, you'll feel revived and ready to get back in the water! 
USEFUL RESOURCES
Best Season
There are two main seasons: high season (from November to April) and low season (from May to September).
Spots