Contribute information about spots
Add Spot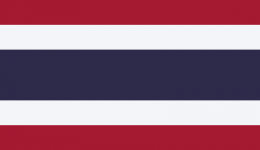 Kitesurfing in Thailand
Beginner, Supervision, Advanced, Evolution
Wind: Light, Moderate
Spot: Flat, Shallow, Small Waves
Thailand has become one of the top destinations to visit regardless of kiteboarding. This is a benefit for us kiters though as Thailand has much to offer us on top of kiteboarding. You can do anything from wakeboarding, scuba diving/snorkeling, fishing trips, yoga, parasailing flights, day trips whether boat or trekking, island hop, and the list goes on.
Thailand is a beautiful affordable country to visit and it has so much to offer for eco-nomad tourism. It is true that you will find better wind/wave locations in the world through Thailand's natural beauty and activities make up for the lack of windy days.
Capital: Bangkok
Currency: Thai Baht
Level: Beginner to Professional
Winds: 10-25 knots
Kites Needed: 8-11m Small / 12-17m Big
Waves: No real waves - some wind swell between 0-1m
Flat Water Spots: Yes
Beach Break Spots: No real beach breaks- some wind swell/chop present in some areas.
Wetsuit Needed?: No
Water Temperatures: 24-30°C
Uncrowded Waters: Yes
Kiteboarding Lessons Average: 35-60 USD Per Hour
Average Good Meal + Drink Price: 3-15 USD
Nightlife: Yes
Amazing Downwinders: Not really
Best Season
The best season cannot be defined. Generally, Thailand is referred to as a light wind spot though this all depends on which spot and time of the year you are there. Some places work best between October and January while others are between June and September. Depending what time you are going or when you want to go - find a spot in Thailand accordingly.
Spots