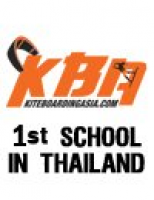 Club Kiteboardingasia - Thailand
Please check our Facebook page for more pictures and info http://www.facebook.com/kitethailand?ref=hl
Hua Hin - Thailand -
- 255 Votes
Summary
Welcome to our kitesurfing Thailand club ! We are located at the center of the Hua Hin kitesurfing area in the beautiful long bay of Hua Hin beach. The Hua Hin kitesurf location is famous for its long season and the excellent condition for all levels of riders from beginners up to an expert riders.
We have more than ten years of kite teaching experience, all of our instructors are certified IKO and we will teach you this sport the best way you can learn kitesurfing in Thailand.
Courses/Instructions
We are offering all types of lessons and courses for beginers,intermediars and advance .All our lessons in Hua Hin are Private ,that means one instructor with one student.
Equipment
Cabrinha,Airush ,North ,Ozone,F1,Fly Surfer ,Flexi Foil,Best ,Slingshot etc
We can provide radio helmets for intermediar -advance lessons .
Best Season
Betwin October to May
Facilities
Retail shop
Bar/Restaurant
Wifi
Powerboat Course
Children's Lessons
School Training Courses
Recreational Courses
Professional Courses
Map