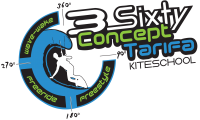 3Sixty Kite School Tarifa
3Sixty Kite School Tarifa, professional kiteboarding school in south of Spain, Tarifa.
Tarifa - Spain -
- 267 Votes
Summary
Welcome to our Professional Kitesurfing School in Tarifa, with courses in English, Spanish, Italian, French, German and Czech. 3Sixty Kite School Tarifa 'a kite school with 12 years of experience in the kite lessons, we know well the wind and the beaches of Tarifa, from which we search for the best conditions to teach kitesurfing safely, easily and quickly. We tailor the course based on the level and needs of the pupil, thus satisfying all our customers. 3Sixty Kite School Tarifa offers professionalism, commitment, experience and excellent organisation. Our basic principle is to "satisfy all our customers and create new kitesurfers"!!! We offers a Kite Center in front of the kite beach with bar, restaurant area and chill out. Cleaning area for kite surfers, board and equipment storage, showers and parking. We kitesurf all year according to the needs of our customers. Kites, boards and accessories 2017/2018 generation. Test Center where you can try new RRD 2017/2018 equipment, accommodation in an apartment, kite house, kite suite or hotel near to Kite Center.
Courses/Instructions
Kiteboarding lessons for all levels and all ages.
The course has a maximum group of 4 students per instructor, the semi-private course is 2 students per instructor and the private course is one student and an instructor. All the equipment for the course is made ​​available by the school: kite, bar, board, wetsuit, safety jacket, helmet and harness.
Equipment
North Kiteboarding 2013
Kites: Evo - Vegas from 3m up to12m
Board twin tip: xride - groove board from 125 to 140
Surfkite board: from 5'6'' up 6'2''
Best Season
All year round for beginners and intermediates, wind between 15 and 40 knots. With strong winds we move into nearby beaches with light winds around 18 knots.
Thermal wind from March to September with little wave and the lagoon sometime.
Waves from 1m to 3m between November and February, winter temperatures around 15 to 20 degrees and summer between 25 to 35 degrees.
From June 15 to September 15 there are limitations near the center of Tarifa for kitesurfing. During the rest of the year all the beaches are free.
Facilities
Retail shop
Bar/Restaurant
Wifi
Children's Lessons
Map