IKO Instructor Lifestyle
What it's Like to Be a Kitesurf Instructor 
Author: Marica Moda
Life on vacation or a serious profession?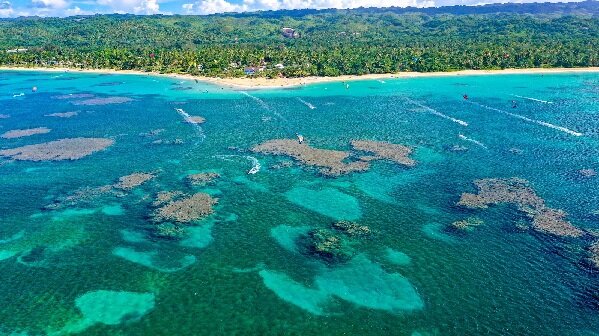 IKO Instructor's "office"
IKO Instructors are not on vacation but working in the most spectacular office in the world!
Are you thinking of becoming a kitesurfing instructor? Kitesurfing instructors work in beautiful places that are usually vacation destinations.
You will not be on vacation when you become an IKO Instructor, but you will definitely work in an original "office." Your "office" will be the beach, and it will undoubtedly be an enviable office. This characteristic makes this profession unique—it will make you feel "on vacation" even when you are working.
Being a kitesurf instructor is an extraordinary job that, like many other jobs, cannot be done well without a deep passion.
But don't forget that even if you turn your kitesurf passion into your profession, this is still a job.
Profession: IKO Instructor
If you decide to become an IKO Instructor, you make a specific choice: to achieve excellence in teaching an adrenaline sport like kitesurfing.
There are no age limits to becoming an IKO Instructor. There are not only young and energetic IKO Instructors but also instructors with a few more years and some more experience. Both can offer a lesson balanced between fun and safety, always taking into account the uniqueness of the students.
An IKO Instructor is a true professional
As an IKO Instructor, you must have specific characteristics to be a professional: passion, good knowledge, excellent communication skills, empathy, and almost infinite patience; essential qualities to win the trust and attention of the students.
You must have multitasking skills because kitesurf instructors have to do, control, and pay attention to many things simultaneously.
You must be precise, dynamic, technical, and somewhat athletic because you will spend many hours standing and moving.
You must also be a bit of a psychologist because psychology helps to keep the students highly motivated, focused, and with the necessary determination to move forward.
IKO Instructor Lifestyle: the real life of a kitesurfing instructor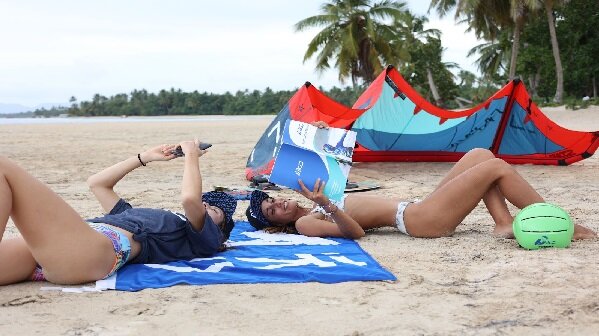 #IKOInstructorLifestyle, an almost perfect lifestyle.
Does an IKO Instructor do kitesurfing?
As an IKO Instructor, you won't spend days kitesurfing; instead, you'll devote every breath of wind to the students. 
Your chances of kitesurfing will depend on the organization of the school you work for, the daily lesson hours, and the wind conditions at the spot.
You may have time to kitesurf if the school organizes the lesson plan by giving free hours to instructors. If the school closes early and the wind is still blowing at the end of the day (a desirable way to end the workday), or if you don't have the whole day full of lessons, being able to indulge in a few sessions between classes is a possibility.
These are opportunities for you to have fun and keep fit. But not only that, these are all good opportunities to demonstrate to students how to behave on the beach and in the water because students observe: "monkey see, monkey do."
As an IKO Instructor, you must always be a good role model.
IKO Instructors are always tanned and smiling
Teaching kitesurfing is a beautiful job with many responsibilities and is very physically and mentally demanding. If done professionally, it's a much more challenging job than it may seem and more satisfying than one might imagine.
Undoubtedly, as an instructor, you will always have an enviable tan because you will spend hours and hours in the sun teaching, preparing, or repairing equipment and keeping the school in order.
But some instructors are a little less tan. Therefore, you should not only think of kitesurfing instructors wearing Bermuda shorts and lycra in the Caribbean Sea. Some instructors teach in icy places and seas, such as in northern Europe, and spend hours wet and buffeted by the freezing wind while wearing shelter jackets, wetsuits, gloves, and hats—even in summer! But they're always in good spirits, with a big smile and a great desire to teach.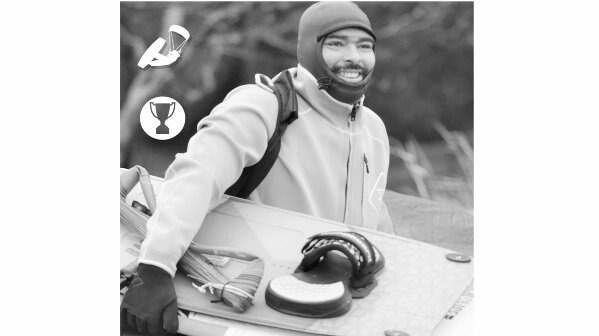 Always smiling IKO Instructor
Negative aspects of this job
The "office" of a kitesurfing instructor is very original, but even the beach also has its downsides.
Being an instructor, you will spend many hours in the wind, buffeted by sand on your legs, and in the hot sun.
If you teach from a boat, once you disembark, you may suffer from "land-sickness," which will make you continue to feel swaying even with your feet on dry land.
If the sky is cloudy, you will have to dress in multiple layers because of the wind. After many hours, this makes you feel cold. The cold will increase if you teach by being in the water, spending many hours wet and in the wind.
You will need to have a good winter wetsuit—or even a dry suit—if you will teach in the winter.
You will need to wear sunglasses to avoid eye damage, a hat to avoid unpleasant heat stroke, lycra to avoid annoying sunburn, a shelter jacket to maintain an acceptable body temperature, and pounds of sunscreen to prevent skin damage.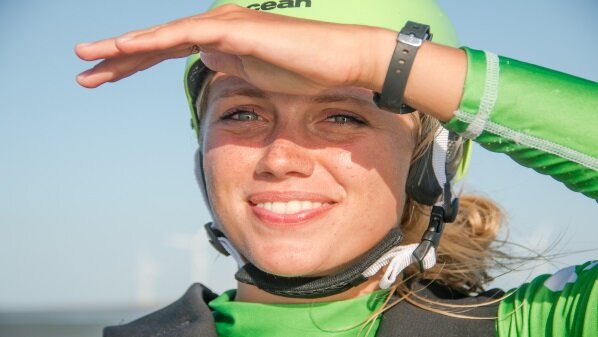 Smiling IKO Instructor
Positive aspects of this job
Many kiters decide to become IKO Instructors to change their lives and create new opportunities for themselves.
The most beautiful "offices" in the world, the positive vibes experienced in this environment, the desire to share one's passion, and the willingness to take on new challenges every day with each student are the right motivations to become an IKO Instructor.
A professional career in IKO
There is no career path like the one offered by IKO, which is dynamic and challenging, starting from Recreational to Trainer Courses,
Anyone can find the perfect role at IKO.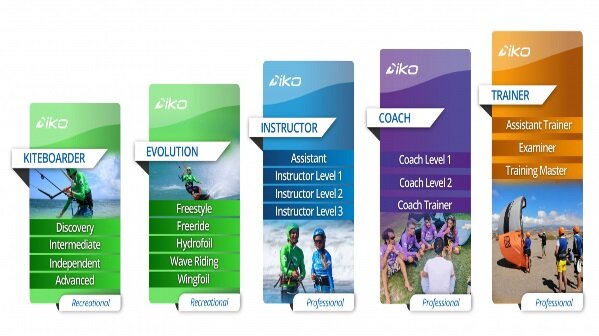 IKO Training path 
Kiteboarder Recreational Courses
Discovery - Kiteboarder Level 1
Intermediate - Kiteboarder Level 2
Independent - Kiteboarder Level 3
Advanced - Kiteboarder Level 4
Evolution Recreational Courses
Evolution Freestyle - Kiteboarder Level 5
Evolution Freeride - Kiteboarder Level 5
Evolution Hydrofoil - Kiteboarder Level 5
Evolution Wave Riding - Kiteboarder Level 5
Evolution Wingfoil - Kiteboarder Level 5
Professional Courses
Assistant Training Course (ATC)
Instructor Training Course (ITC)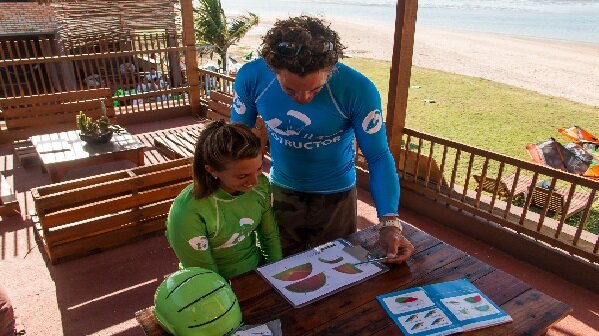 Profession: IKO Instructor
The desired IKO professional qualification for everyone
If your passion for kitesurfing runs deep and you want to turn it into a profession, there are the IKO Professional Courses.
The first step in the IKO professional training path is the Assistant Training Course (ATC). Once you pass the ATC, you can take the Instructor Training Course (ITC) and become a certified IKO Instructor.
IKO Assistant
The Assistant Training Course (ATC) is the first step to improving your level as a kiter, increasing your knowledge, and turning your passion into a unique professional career.
You will not learn to teach, but as an IKO Assistant you will acquire the fundamental concepts of the kitesurf and the primary teaching skills needed to help and support an IKO Instructor during their lessons while also being able to work in IKO Centers around the world.
IKO Instructor
By attending the Instructor Training Course (ITC), you will learn how to achieve excellence in teaching. In addition, as an Instructor Level 1, you will share your passion for kitesurfing and be able to work in all IKO Centers worldwide.
Continuing your career, you can become Instructor Level 2 and Instructor Level 3.
IKO Coach
The Coach is a very inspiring professional figure. Becoming a Coach Level 1 will develop your teaching skills, knowledge, and experience and allow you to train advanced-level kiters.
With this qualification, you can teach Evolution Courses (Freeride, Freestyle, Wave Riding, Hydrofoil, and Wing Foil) and lead IKO Adventures (downwinders, boat safaris, and kite trips).
You can grow further by becoming a Coach Level 2.
A boring daily routine is impossible in the life of an IKO Coach.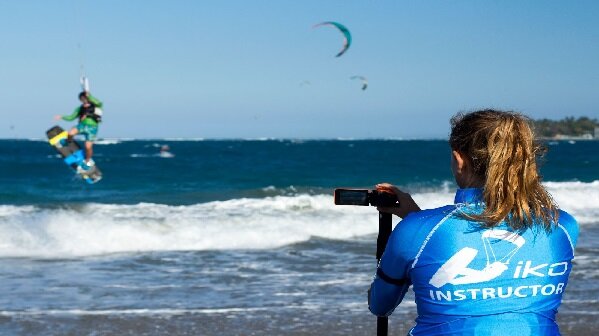 IKO Coach 
IKO Assistant Trainer 
If the IKO Instructor career path is not enough for you, you can enter the Trainer career path. The training you will need to take during the Assistant Trainer Training Course (ATTC) will be complex and intense but undoubtedly exciting.
IKO Examiner 
The role of the Examiner is crucial. As an Examiner, you will promote kitesurfing and engage in high-quality training for future IKO Instructors, achieving great professional satisfaction.
One of the most significant benefits of all IKO professional qualifications is that they allow travel and work, taking the kitesurf passion worldwide!
How does an IKO Instructor find employment?
Once you join the team of IKO professionals, you will have the opportunity to travel and apply for jobs at IKO Centers worldwide, which are looking for new instructors to join their teams.
This opportunity has no seasons or deadlines as long as there is wind and you are willing to work.
Job openings through the IKO website
The IKO website is a convenient professional research tool for IKO Centers and IKO Instructors who wish to travel and work in various windy spots.
In each instructor and center profile, by clicking on JOB, it's possible to view job openings posted by IKO Centers worldwide.
The IKO Center can enter a description of the team member they are looking for, the tasks and languages required, and what they offer.
The IKO Instructor can apply for a job at any IKO Center, specifying their personal and professional characteristics, qualifications, previous experience, and the countries they wish to work in or the time they have available.
With this tool, both the Center and the Instructor can get in touch quickly and directly.
Job openings via IKO social media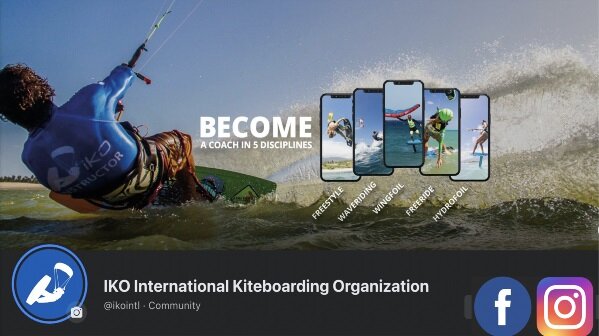 @ikointl - #ikoinstructorlifestyle
IKO's social media is a quick and effective professional search tool. IKO Centers looking for new IKO Instructors to join their team often create posts, reels, or stories on their profiles and mention or tag @Ikointl so that IKO can share them.
https://www.facebook.com/ikointl
https://www.instagram.com/ikointl/
https://www.facebook.com/groups/ikointl
Job offers through "international word of mouth"
If you want to pursue a professional career in IKO, you must always work well, thoughtfully, and professionally.
Before hiring a new instructor, many kitesurf school owners ask for references from IKO Centers where they have worked. So, as in any other job, a bad reputation will limit work opportunities.
By traveling and working in various kitesurfing spots, you'll be able to meet and get to know many people and gain many contacts. Through these, you'll have the opportunity to move and work in different places, even every season. The world of kitesurfing is a "small world," and always working well will open all doors in every spot in the world.
Online: IKO Curriculum Vitae
Part of your job as an IKO Instructor is to certify your students at the end of classes, attesting to their level. Certifications serve the student and help certify your career as an instructor.
The IKO Centers you have worked for, the number of students, and the number of class hours you have taught will create an accurate "IKO Curriculum Vitae."
Your professional history as an IKO Instructor will allow other IKO Centers to evaluate your candidacy and professional experience.
Online interview with an IKO Center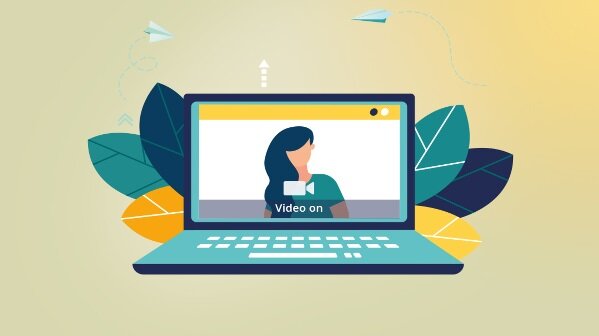 Online interview
Once you apply for a job at an IKO Center, you will proceed as you would with any other job: an interview.
The interview usually takes place via a video or a phone call, allowing the two parties to know each other better and evaluate each other.
Agreements: working conditions, accommodation, transportation
During the interview, the school will propose the working conditions like working hours, tasks to be performed at the school, and the benefits offered.
The benefits offered may be, in addition to the fixed and/or commissioned salary:
lodging
transportation (e.g., a bicycle or a scooter)
freshwater to drink (a benefit not to be underestimated in hot spots)
hot drinks (fundamental in cold spots)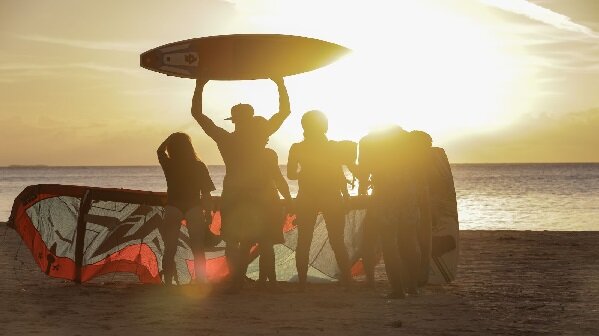 IKO Team
Why choose to do this job 
An IKO Instructor teaches excellently, being part of a large and dynamic community.
The life of an IKO Instructor is anything but boring, and the opportunity for fun and fulfilling work is unique, as you have the luxury of working in the most beautiful and windy "offices" worldwide.
There are no professions as beautiful as this one, but don't just call it a job, because it's an authentic lifestyle.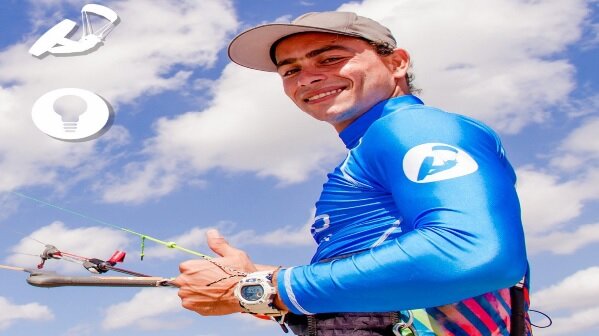 #IKOLifestyle