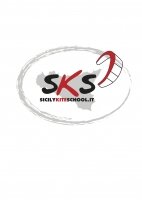 SICILY KITE SCHOOL
The fastest and safest place to learn kiting
Marsala - Italy -
- 438 Votes
Summary
With more than 12 years teaching experience our kite center is the best place to learn kiting. Our spot is really easy, it's flat and shallow for kilometers.
Courses/Instructions
Due to the particularity of our school spot, flat and shallow water, our kite courses are really safe and we believe that an individual course is the best way to learn, that's why we use 1 instructor for 1 student. We want that our clients take advantage of every moment spend in the water.
Equipment
In our kite center we use eleveightkites equipment, we are distributors for the whole Italy for this brand. The equipment we use in our school is new equipment every year.
Best Season
Our kite center is open the whole year. The best period for our famous thermal wind if from may to september, the rest of the year we got wind from the low pressure systems that hit regurarly the west coast of sicily. The spot where is located our center is a flat spot, perfect for learning and freestyle, but we also have a really nice wave spot 15 kilometers far and it works mainly from october to april.
Facilities
Retail shop
Bar/Restaurant
Wifi
School Training Courses
Recreational Courses
Professional Courses
Map