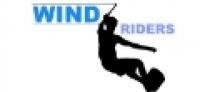 Wind Riders
Kitesurfing with the thermal daily winds of Lake Garda
Limone, Lake Garda - Italy -
- 410 Votes
Summary
Wind Riders offers kitesurf lessons, rental and testing. We use boats for teaching. The reliable thermical winds at lake Garda and the good equipment creates perfect teaching conditions.
That's why we garantee our quality. After 5 lessons you will reach the level of consistant downwind riding. If you do not reach this level you get more lessons for free!
Courses/Instructions
We offer:
- test lesson: 1 hour theory and 3 hours of fun bodysurfing with your kite in the water. Learn theory of the Wind Window, the technique of relaunching your kite, controlling your kite and steering in controlled in the powerzone to bodysurf over the water.
- intermediated lessons: No mather which level you have we help you progress. Maybe you have never kitesurf in deep water before, or you have only done snowkiting or only trainer kite flying on the beach. No problem we teach you had to get confident in the water.
Equipment
Every year we have new equipment of North for lessons and North for Rental.
The Best Kahoona we have available in every size from 3,5 up to 13,5 meter. This kite is very nice for beginners because of the charistics. It is a real plug and play kite, you get used to it in a minute. the relaunch is super easy and it is very predictable. This gives you the option to focus on your boardskills.
Best Season
We open in March and close end of November.

Every month is different but every month we have daily wind.
Check : http://windriders.eu/spots/ for info about the water temperature and wind.
Facilities
Retail shop
Bar/Restaurant
Wifi
Powerboat Course
Teaching from a boat
Children's Lessons
Assistant Instructor
School Training Courses
Recreational Courses
Professional Courses
Map