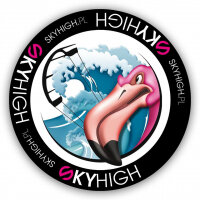 SKYHIGH Watersports Center
Top of the line Water Sports Center
Giba - Italy -
- 513 Votes
Summary
SKYHIGH.PL Water Sports Center is about Kitesurfing, Windsurfing, Surfing, Wakeboarding and Cycling. Each discipline is supervised by highly trained and certyfied staff. We use latest solutions and technologies to help you progress as fast and safe as possible. Our center is located 40m from the shore and 400m from the kitesurfing spot. Here you will find everything you need. Our goal was to create a place where you will feel like in a real surfer house, where you can meet friends, sit, drink, eat and relax. Our center has food available for purchase and a drink bar. Moreover, it is equipped with a: surf shop, chill-out zone, wireless Internet, mini-gym, kiteroom, trampoline, mini ramp, Indo Board, showers, a place to store and wash the equipment and much more. We can tailor our services accordingly to your needs. We offer complete solutions with lessons/equipment rental, food, transportation and accommodation.
Courses/Instructions
Basic, Advance, Freestyle, Wave, Foil
Equipment
We teach with top of the line equipment with the use of Audio Helmets. Brands: Duotone , North , RRD , Ozone , Nobile ,
Best Season
We are open all year round. Best months for Kitesurfing/ Windsurfing: April - October. Surfing/Wakeboarding/Bike: All year round.
Facilities
Retail shop
Bar/Restaurant
Wifi
Children's Lessons
Map