Contribute information about spots
Add Spot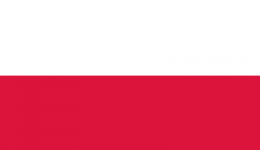 Kitesurfing in Poland
Beginner, Supervision, Advanced, Evolution
Wind: Light, Moderate
Spot: Flat, Small Waves, Medium Waves
By coming to Poland you will experience great hospitality, openness, and some of the most beautiful beaches in the world. It's surprising, but it's true! Once you take in everything the country has to offer, you'll find yourself planning your return at every opportunity. 
HIGHLIGHTS OF POLAND
A VARIETY OF KITESURFING CONDITIONS
Poland has a spot for every level of kiter and every discipline. You can ride in the shallow waters of the Bay of Puck or enjoy great spots by the sea in beautiful locations like Kuźnica or Jastarnia.
A NATURE LOVER'S PARADISE
The Polish Coastal Landscape Park is a protected area in northern Poland covering an area of 188 square kilometres (73 square miles). More than half of the park is covered by the waters of Puck Bay. There's a variety of seashores in the park (cliff shores, dune shores, and low floodplain shores). Diverse topography and the associated habitats make the flora of the park very rich and varied.
BEAUTIFUL AND WIDE BEACHES
There are many breathtaking beaches throughout the country, so if you find yourself desiring a quick break from kitesurfing, you can enjoy sunbathing, yoga, or jogging by the seaside.
LOTS OF INTERESTING ATTRACTIONS
Besides kitesurfing, you can experience beautiful sunsets at the beach, go for a bike ride, and visit military museums or the seal sanctuary in Hel. At night, there are plenty of parties you can attend with other kitesurfers. There's no way you'll be bored!
KITESURFING IN POLAND
Kitesurfing in Poland is an extraordinary experience that you will never forget. You can enjoy beautiful landscapes while kitesurfing in perfect conditions for both beginners and advanced learners. Due to the ample shallow water spots in Poland that make the sport even safer for everyone, there are barely any accidents.
WHEN IS THE BEST TIME TO KITESURF IN POLAND? 
The very best time to visit Poland for kitesurfing is between April and September. High season is in July and August during Poland's summer holidays.
WHAT ARE THE BEST KITESURF SPOTS IN POLAND?
Chałupy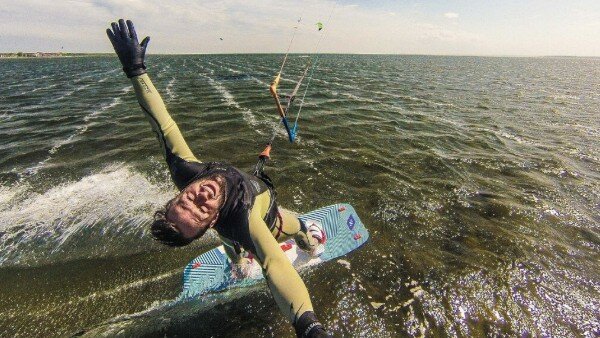 Photo: Paweł Kocięcki, IKO Examiner and Owner of IKO Center Kitescontrol in Chałupy
Here you can find plenty of kiteboarding schools that are affiliated with IKO, offering reasonable prices and qualified instructors. There are two spots where you can take lessons—by the seaside or on the bay. The wind direction determines where the training will take place.  
Jastarnia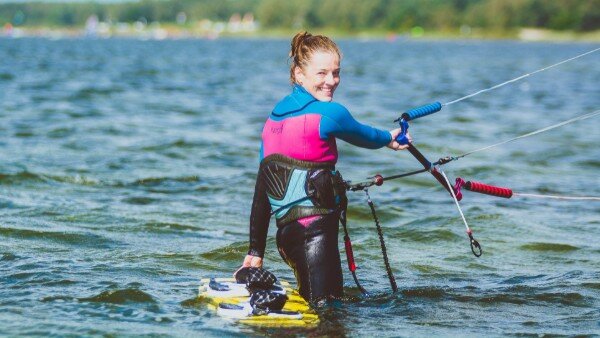 Photo: IKO Center KiteStyle in Jastarnia
Jastarnia is a resort town located on the Hel Peninsula and is home to several IKO Centers. You'll find flat, shallow water at this spot and consistent winds from May to September.
Mewia Rewa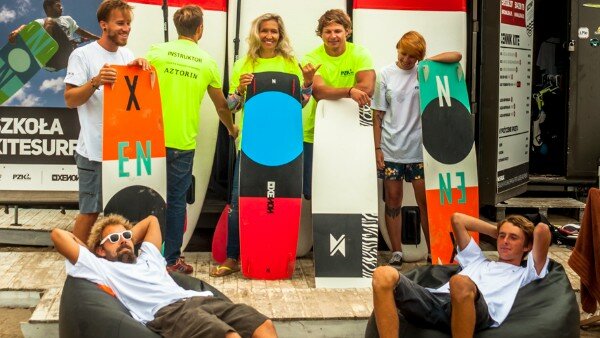 Photo: IKO Center Aloha Kiteboarding in Rewa
Rewa is best known for the Rewski  promontory, a stunning location and one of the most popular places for people to start their kitesurfing journey. This beach is just as breathtaking in person as it is in photos. 
Kuźnica
Kuźnica is an extremely picturesque place with great conditions for kitesurfing. The 60 meter wide and 1 kilometer long sandy beach makes Kuźnica the best place on the Hel peninsula for aquatic recreational activities and offers unforgettable experiences for kitesurfers.
Łeba
Łeba is a perfect place for practicing water sports.The wide and sandy beaches provide great conditions for kitesurfers, with the best conditions being found from the western side of the estuary of the settlement to the Baltic Sea.
ABOUT THE COUNTRY
Brief History of Poland 
Poland has a long and rich history dating back to prehistoric times when Slavic tribes arrived on this territory and settled it. In 966, Duke Mieszko I converted to Christianity and, by baptism, brought Poland to the community of Western nations. The 16th century was Poland's "Golden Age." During the Renaissance, Poland advanced culturally, making significant strides in the arts and sciences. There was a time when Poland was the largest country in Europe, but it was erased from the world map for 123 years. It was only in 1918, after World War I, that Poland reappeared on the map of Europe. Shortly thereafter, on September 1st, 1939, Poland was invaded by Nazi Germany and World War II began. Shortly thereafter, Poland fell under Soviet control. A modern Polish state arose after the first elections of the Third Polish Republic, and Poland now has a new constitution which was signed in 1997. The country has been a member of NATO since 1999 and joined the European Union in 2004. After years of turbulent history, Poland has finally found some stability and a chance for growth and peace.
Things to Do When There's No Wind 
There are plenty of things to do when there is no wind. You can relax on beautiful beaches or try other sports like paddle boarding and cycling. You can visit local forests and try local food—fresh fish and common Polish dishes like Pierogi and  Gołąbki can't be beat. When the sun sets, you'll find that night clubs are not only open during the holiday season, but they're a great opportunity to take a quick break from sport and enjoy free time with friends. 
Getting to Poland
Getting to Poland is very easy. You can get to Poland by airplane and, when you arrive, rent a car to explore the country. Renting a car is quick and easy, as there are multiple car rental companies near the airports and the prices are very reasonable.The closest airport to Hel peninsula is located in Gdańsk, which is approximately two hours away from Hel (if you don't have a car, you can also get there by bus or train). 
USEFUL RESOURCES
SIMILAR KITESURFING DESTINATIONS
Best Season
You can kiteboard from May to November in Poland though the most popular time is during its summer from June to September.