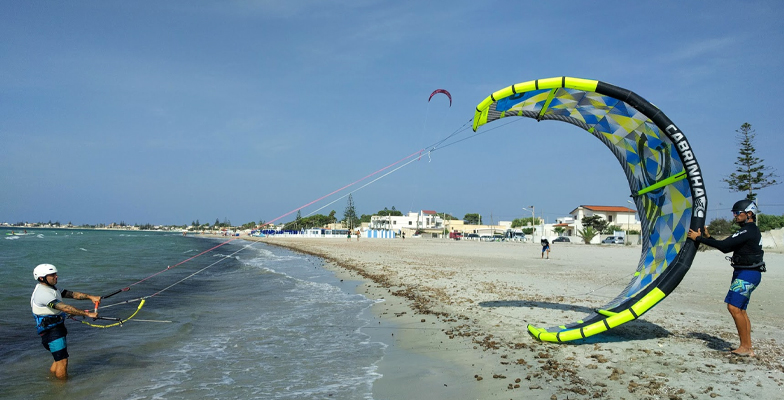 The Impact of Line Length on Your Kite Session as a Student or Independent Kiter!
Improve your riding, adjust your lines
Why is it that in 99% of the cases we always use the same line length? A  majority of the bars that come out of the factory are equipped with lines between 20m and 24m. This article will show you in which scenarios you could use shorter or longer lines. You will discover ways to improve your riding and adapt your equipment depending on your weight, your level and the discipline you choose. We will also touch on why it is mandatory for IKO instructors to use short lines during lessons and why it is highly beneficial for the student.
Impact of the wind window on your kite
The wind window is the area where the kite can fly. It is also where we use the kite clock as a reference for teaching. In the neutral zone, the kite generates minimal power, because it only receives the true wind. In the power zone, the kite will be able to accelerate as fast as it can and create an "induced wind" which when associated with the "true wind" will be called "apparent wind". This is where the kite can generate maximum power. By using shorter lines, we can move the kite faster up and down the wind window, this increases the power of the induced wind and increases the power of the overall apparent wind even further.
By changing the length of your lines you are actually changing the size of your wind window. The bigger your wind window is, the more power you will generate because the distance from a point A to a point B is bigger which gives your kite more space to accelerate.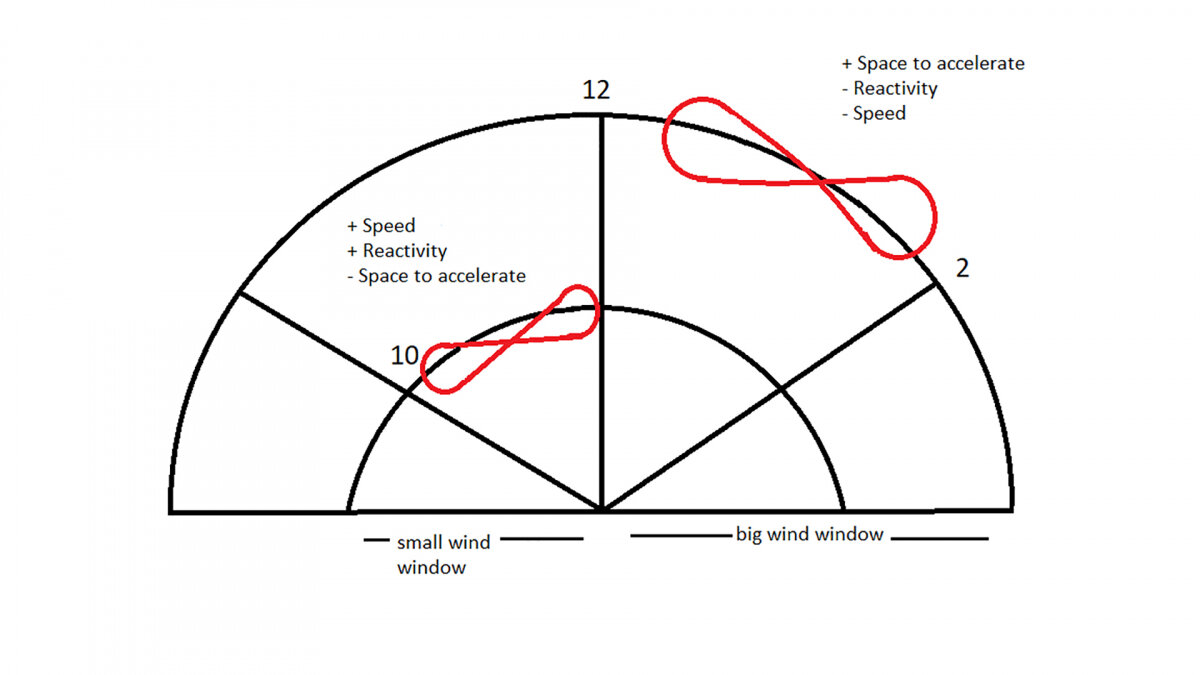 Wind gradient
This is a wind effect that explains how the wind changes, the higher up we go. It has been discovered that the wind is 35% stronger at 20m than right above the water level. In other words, the longer your lines, the higher your kite is, and the stronger the wind that is captured by the kite resulting in more power.
.
So why aren't we using 70m lines?
The additional power captured when using long lines comes at a cost. Longer lines will create more drag which will reduce the reactivity of your kite and will make your kite sit deeper inside the wind window. The longest lines we use are around 30m, longer lines than that would create too much drag to be effective, the kite would become too hard to steer and loose its upwind abilities.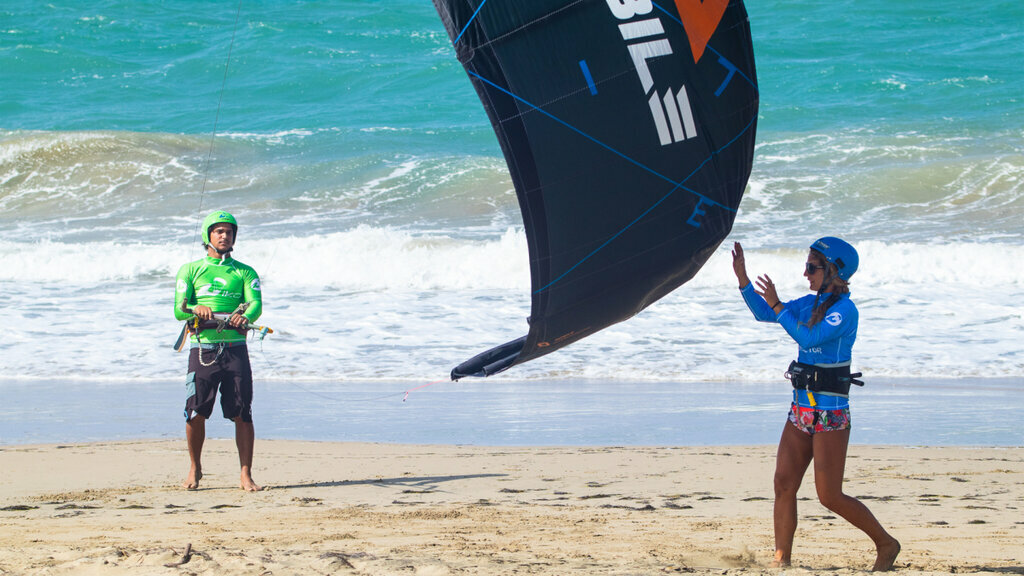 What about line lengths for lessons?
Trainer kites
A trainer kite is a kite that does not generate enough power to make you lose balance, in certain situations a 2 line foil kite is used but in most of the cases, a small LEI kite with short lines ( 2 to 18 meters ) will be a better option. This is very useful for many reasons:
reducing the space needed for a lesson, 

reducing the stress for the student,

having less impact on other beach users,

 reducing the kite's power, 

softer crash for the kite, 

much safer in strong/gusty conditions etc…
Increase your line length as you progress 
At IKO we strongly believe that changing the length of your lines throughout your progression is a key factor in your learning process. 
Once the student starts gaining confidence and is able to handle more power, we gradually increase the length of the lines. This method allows us to precisely adjust the power delivered by the kite to the student while keeping the rhythm of the lesson fluid.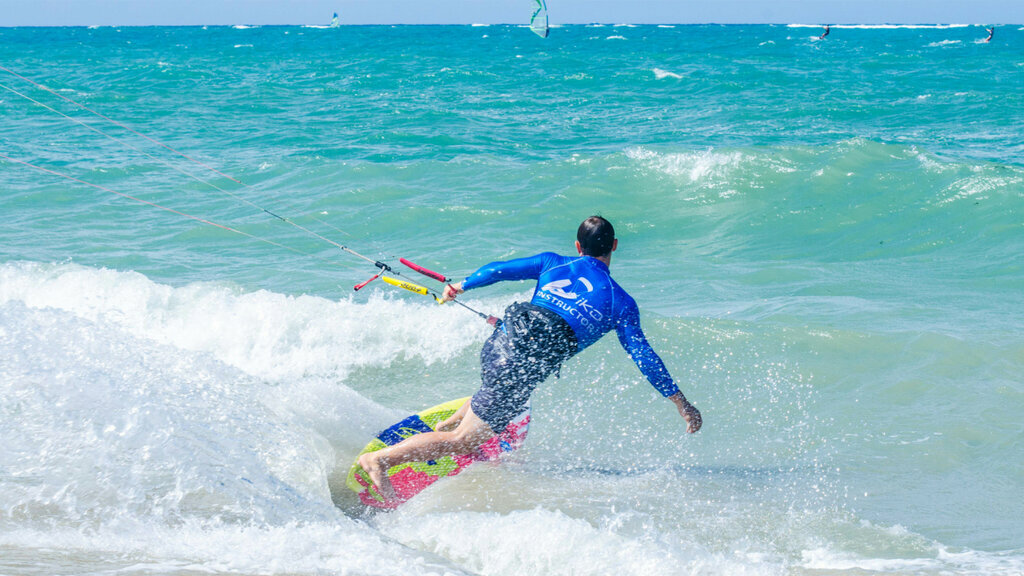 Adjust your line length to your riding style
Using short lines (20m or less ) gives you an advantage if you're looking to have a quick and reactive kite for your style.this length of lines can be very effective for the following riding styles: 
-Big air when learning kite loops: Learning how to kiteloop can be an intimidating step because of the power the kite generates during this move, shortening your lines is a great way to make your learning process faster and safer, even pro riders like to use lines as short as 10m in certain situations.
- Wave riding: whether you are using a directional board, a hydrofoil, or even a twin tip. If your goal is to shred some waves then shortening your lines is a very good idea, the added reactivity will allow you to turn quicker improve and maneuverability on the waves.
Long lines ( 24m or more ) will be particularly useful in situations where you will need more power and a stable kite :
- Freeride: In other words, riding while performing tricks and jumps that don't require you to unhook. Freeriding is a hard subject to approach as it covers a very wide aspect of our sport but in a  majority of the cases, it does not require fast steering of the kite, on the contrary, slightly longer lines will "slow down" your kite allowing you to focus more on your body position. I would recommend a length between 22m and 24m for this discipline depending on your wind conditions, skills, and the tricks you are trying to perform.
- Old school: Old school is a discipline that consists of jumping high and doing grabs or taking one or more feet out of the foot straps on your board To perform these tricks well you will need to have a powerful setup to lift you high and give hangtime as well as a slow setup that will allow you to focus on your board without having to worry about your kite moving everywhere.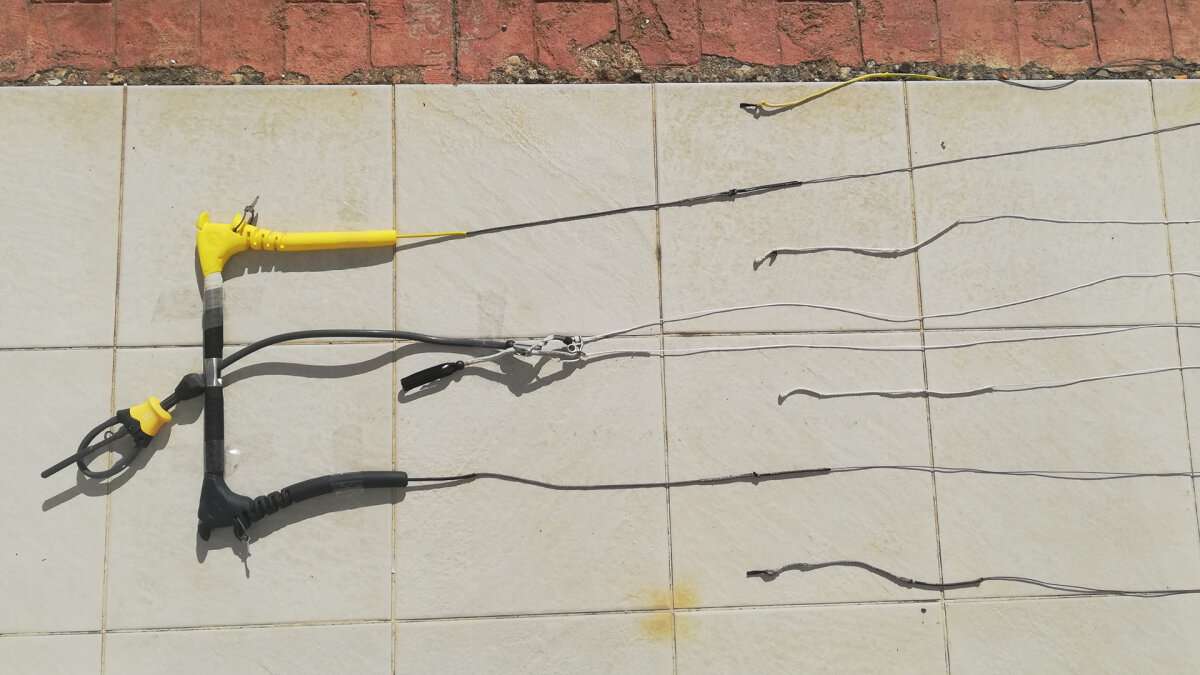 How can I change the length of my lines?
Some bars come with sets of extensions
A few brands will give you the option to buy a set of lines that come with extensions, allowing you to adjust the length of your lines every session, those extensions are usually between 2m and 5m.
Folding
It is possible to fold your lines in two in order to use only half the length, to do so simply grab connection knot/loop at the end of your lines and bring them back to the bar, you will then connect the back lines to the knot of the leader lines and the front lines to a pigtail attached to the point where the center lines split, you will then attach a set of pigtails at the end of your lines. Make your quick release still work after folding your lines! You can double back your lines several times and use ½, ¼, or ⅛ of your line length with this method.
Splicing your lines yourself
A very good way to be prepared for every situation and have several line lengths on one bar is simply to cut your lines and create line extensions that you simply have to add or remove depending on the discipline you will be riding. To do so, you can either ask your local kite doctor or do it yourself by splicing your lines. 
Click Here to watch a video made by one of our examiners that will guide you throughout that process. 
Conclusion
As you can see, the length of the lines play an important role in kiteboarding. If you're not sure about which length to use, contact your nearest IKO Center or learn more about the subject during one of our pro courses!
What about you? what length of lines do you use?
Author: Charly Roche