Kitesurf bars and safety systems
Do you really know how your kitesurf bar's safety system works?
Author: Marica Moda
Kitesurf bars and safety systems, let's clarify.
Kiters at the beach often argue about which brand makes the best bar, what materials are used, and which safety systems work better than others.
But do you really know how your bar's safety system works? Did you simply rely on the shopkeeper, the owner of the kitesurf school that sold it to you, or the friend who recommended it?
How many kitesurf bar safety systems do you know?
Kite companies are always trying to innovate in equipment performance and safety. If you compare the performance and safety of kitesurf from its origins to today, we have made great progress.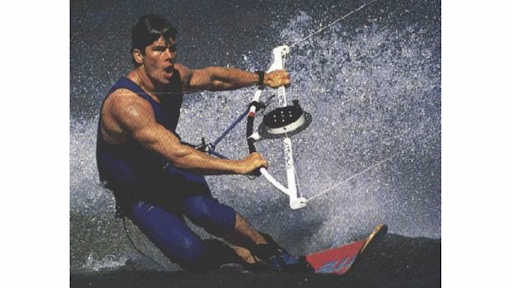 We have moved from essential two-line bars with no depower capabilities and no quick releases to bars with depower systems, simple adjustments, and quick releases that can be used with one hand.
One of the most important features in the design of a kitesurf bar is the operation of the safety system.
Bar security systems: safe and unsafe.
First, it's necessary to clarify that no safety system can completely depower a kite, especially in high winds. 
Some safety systems come very close to 100% depowering; that is why IKO recognizes and approves safety systems if they can release most of the kite's power in any wind condition (from very light to strong).
This occurs in bars with front re-ride or 5th-line safety systems and doesn't occur with other safety systems on the market.
Approved by IKO: front re-ride security system.
It's one of the 4-line bar safety systems, most commonly used on LEI (Leading Edge Inflatable) kites, thus with the inflatable leading edge.
The safety line is one of the two front lines, and in order for the system to work, the bar must be able to slide along this line in the direction of the kite for a distance equal to at least one wingspan of the kite (in the graphic: d1 ≥ d2).
Once the chicken loop's quick release with the front re-ride system is activated, the bar will slide toward the kite on the front safety line, and the kite will instantly and safely lose most of its power.
Be careful not to have the front lines too tightly rolled together (related to jumps with rotation and kite loop), because this could still cause the security system to malfunction (in this case, use the swivel to keep them separated at all times).
The front re-ride system is the safest, which is why it's IKO-approved, and fortunately, today, it's the most widely used by major kitesurf equipment manufacturers.
For the front re-ride system to function correctly and be approved by IKO: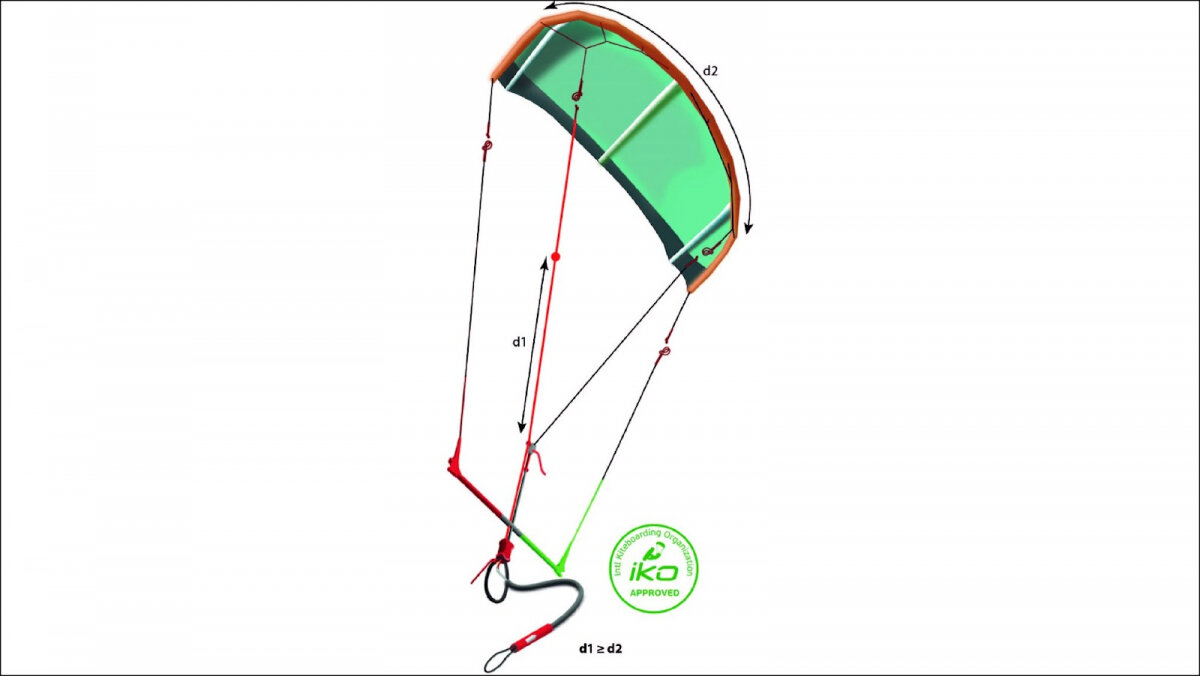 d1 must be equal to or bigger than (≥) d2 (wingspan of the kite).
Approved by IKO: 5th line security system.
The safety line is a 5th line, connected to the center of the leading edge on LEI kites and the center of the trailing edge on foil kites.
For the safety system to work correctly, the bar must slide along the 5th line in the kite's direction for a distance equal to at least one kite string (in the graph: d1 ≥ d2).
It facilitates the relaunch from the water of a C-Kite, and some brands use it to ensure more excellent structural stability of the kite.
IKO approves it; however, the depowering is less than the front re-ride system, and the risk is that the 5th line wraps around the kite since it's attached to the kite tow point (where the pump leash connects).
Activating the quick release of the chicken loop allows the kite to lose most of its power; still, you must be careful because, as mentioned before, the 5th line could wrap around the kite and damage it.
For the 5th line security system to function correctly and be approved by IKO:d1 must be equal to or bigger than (≥) d2 (kite chord).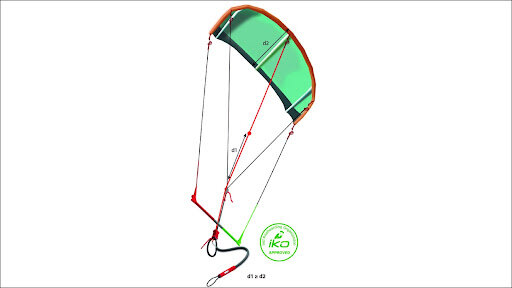 NOT approved by IKO: OSR (Oh S**t Ring) safety system, asymmetric and mini 5th line.
Fortunately, few brands use these security systems, and IKO recommends that you never use them in any circumstances. If your bar has one of these security systems, we recommend that you change it to protect your safety and the safety of others.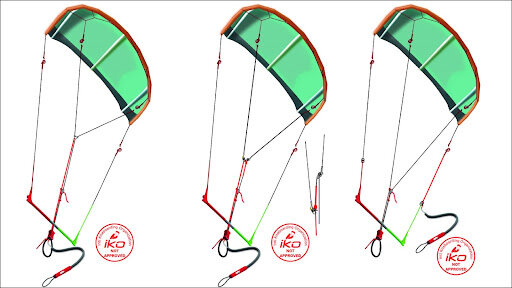 The asymmetric safety system and the mini 5th line don't totally depower the kite because once you activate the chicken loop's quick release, they keep both front lines in tension, not allowing the kite to lose most of its power, risking also kite loops.
In the OSR system (fortunately, few are seen on beaches), the safety line is one of two directional lines (back lines). Even in this case, the system doesn't allow total depowering of the kite, risking uncontrolled kite loops.
So, what is the best safety system for a kitesurf bar?
The best safety system is the FRONT RE-RIDE, and it's 100% IKO-approved.
On bars with the front re-ride safety system, you can find the stopper ball; it will be on the safety line.
Not all brands use it, but it can be very useful and is recommended for:
self-landing;
bar recovery in the water to relaunch the kite;
self-rescue.
Without it, upon activation of the chicken loop's quick release, the bar will be free to slide up to the kite, and you will have to spend more time arranging the often tangled lines.
If you use a single bar with the stopper ball for different-sized kites, we recommend adjusting the stopper ball position before entering the water.
The stopper ball must allow the bar to slide a distance ≥ the wingspan of the kite you plan to use or make your life easier by fixing it according to the wingspan of your biggest kite.
Where to place the stopper ball on the safety line correctly?
To determine the correct stopper ball position, simply lay the safety front line next to the leading edge of your kite.
The stopper ball on the front safety line should be placed at least:
1 kite wingspan from trim, on bars with the front re-ride system (in LEI and 4-line kites);
1 kite rope from the trim, in kites with the 5th line.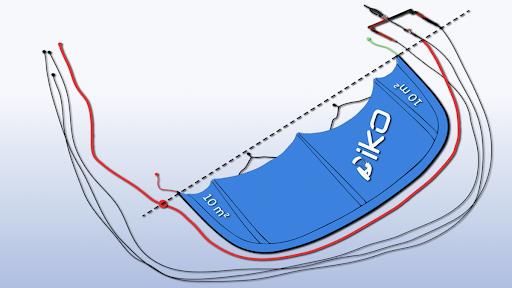 What is the other stopper ball you have on the bar between the chicken loop and the trim?
Some bars may also have a stopper ball along the center line (between the chicken loop and the trim), which is used for some old-school freestyle tricks. It can be fixed or slid and limits the upward movement of the bar.
Be careful: this stopper ball may slide down without you noticing, not allowing you to depower the kite; check it periodically.
IKO doesn't recommend that beginners use this stopper ball because, without it, the kite can be easily and completely depowered by simply letting go of the bar.
How often do you test your kitesurf bar safety systems?
Remember that a broken or malfunctioning security system is dangerous, so it is essential to check its proper functioning; otherwise, when you need it, it will not work as it should.
Try the safety systems every time you go kitesurf, it will only take a second, but once you are on the water, you will be sure you have all the safety systems you might need.
Pre-flight check before connecting to the bar:
Activate the quick release of the leash and close it again
Connect the kite leash to the front safety line
Activate the quick release of the chicken loop and close it again
Aook the chicken loop to the harness and lock it with the chicken finger
Grab and bring up the floaters on your bar to make sure the lines are in order
In addition, we recommend that you periodically rinse your bar, kite leash, and line cutter with fresh water so that any grains of sand or salt encrustations dissolve, keeping your safety systems 100% efficient.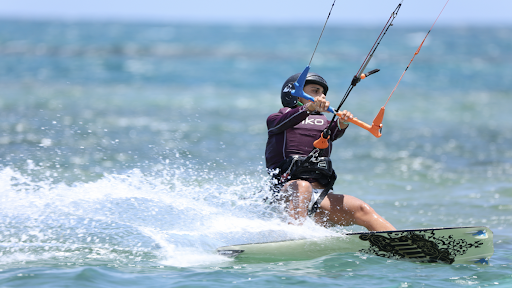 Do you know what your kitesurf bar is made of?
The kitesurf bar is composed of several elements, all made of materials that are generally very strong and suitable for high stresses.
The bridles and pigtails.
They are made of high-modulus polyethylene fiber with a unidirectional core and braided sleeve. The patent is from Spectra and Dyneema, from which the respective names are derived. This material has high abrasion resistance due to its low coefficient of friction and self-lubricating characteristics. Pulleys can be plastic or metal.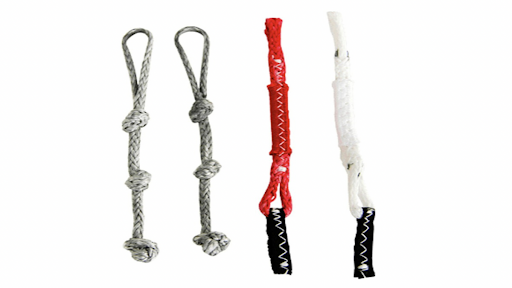 The lines. 
They are made of thermoplastic material cast and drawn into fibers. The high-density polyethylene is Dyneema or Spectra, braided at optimized angles to minimize the risk of stretching lines. Heat treatment and brushing optimize the material's inherent properties, while an additional coating protects the lines from UV rays and water absorption, making them buoyant.
The diameter of the lines varies between 1.5 and 2.5 mm, and the breaking strength varies between 180 kg and 300 kg (depending on the quality, diameter, and final seam).
When the kite is in the air, never touch the lines for any reason, even during launch or landing.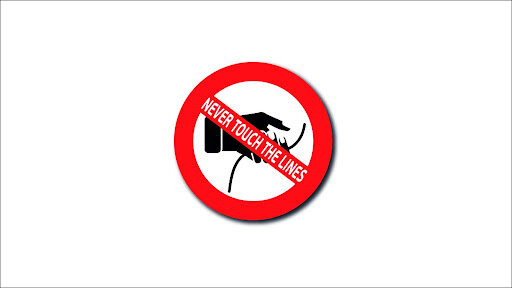 The bar.
The bar is in aluminum with a non-slip coating.
You must consider the ratio of the size of your bar to the size of your kite. A large kite has a larger radius of curvature than a small kite. For this reason, the length of the bar, which acts as a lever, should be proportional to the kite's size:
use a short bar (45 cm or less) with kites smaller than 8 m²;
use a medium bar (45 to 55 cm) with kites measuring between 8 m² and 12 m²;
use a long bar (55 cm or more) with kites measuring more than 12 m².
Thanks to a system at the end, many bars can be adjustable and be lengthened or shortened depending on the kite you use and the responsiveness you prefer.
Generally, it's not possible to interchange 2, 4, and 5-line bars and use one bar on different types of kites.
The chicken finger.
It's a rigid rubber tube that ensures the chicken loop stays connected to the hook of your harness.
The chicken loop.
It's a rigid rubber ring that connects the bar to your harness. It's also connected to your kite's front lines. Its connection to the harness allows you to ride without supporting the kite's full traction with your arms.
The chicken loop's quick release.
The chicken loop's quick release system allows you to quickly release yourself from the kite's pull in an emergency.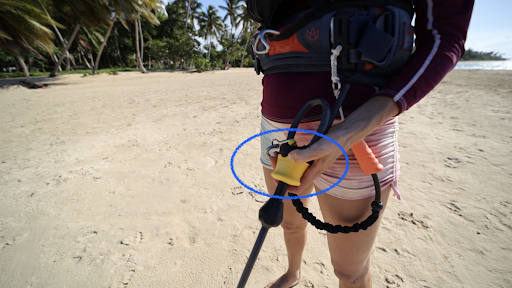 In this regard, some brands have devised a quick and effective release and reattachment system: after operating the safety system and then opening the chicken loop of the bar, to reattach it, simply push the end of the chicken loop into the appropriate slot. No need to touch the release system; the chicken loop also closes with one hand.
The stopper ball.
It's a hard rubber or marine aluminum ball that stops your bar when, for safety reasons, you activate the chicken loop's quick release, and it slides on the front safety line toward the kite.
The stopper ball position is dynamically settable. It must be calculated to allow the kite to foil and hold itself in an inverted position, minimizing aerodynamic drag.
The swivel.
It's a rotatable component of your bar that keeps the lines from rolling up in the event of a trick, allowing through its rotation to put the front lines back in order, leaving the bar free to slide on the front safety line.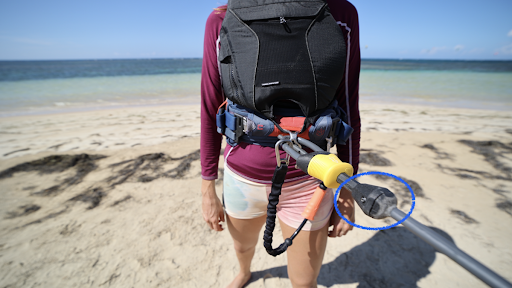 The floaters. 
They are made of floating foam and are located on the sides of the bar and make it float.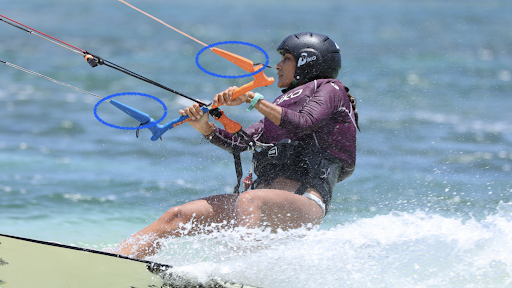 Simple golden rules.
Follow these simple IKO Standards for your safety on the water and the safety of others:
Use a bar with a chicken loop with quick release;
Use a bar with an IKO-approved safety system: front re-ride or 5th line;
Use a kite leash with the quick release connected to the front of your harness;
Always keep a line cutter in your harness (in case you need to get rid of lines it could become your first safety system).
These are a few simple rules to follow for safe fun.
Remember that all safety systems should be tested by turning them on and off before each use, so you can be sure they will work when you really need them, and always use a bar that allows your kite to lose all its power.
Have fun and enjoy the wind.
IKO Kitesurf Instructor Manual 7.0 Now Available
Kiting is constantly growing and evolving. New disciplines emerge, equipment improves, spots get discovered and teaching techniques are enhanced. 
We recently updated the IKO Kitesurf Instructor Manual to include the latest knowledge and experience from our elite trainers worldwide. 
IKO Kitesurf Instructor Manual 7.0 Now Available
Concise Lesson Plans
Speed up the learning process and make lessons more enjoyable 
Emphasis on 'Guided Discovery'
Students progress quickly with hands-on learning 
Focus on Students' Mental States
Ensure students feel good and have fun while learning 
Improved Readability 
New graphics and easier to understand concepts 

If you're an IKO certified instructor with active membership, get a copy of the new manual by logging in to your account.
The Impact of Line Length on Your Kite Session as a Student or Independent Kiter!
Improve your riding, adjust your lines
Why is it that in 99% of the cases we always use the same line length? A  majority of the bars that come out of the factory are equipped with lines between 20m and 24m. This article will show you in which scenarios you could use shorter or longer lines. You will discover ways to improve your riding and adapt your equipment depending on your weight, your level and the discipline you choose. We will also touch on why it is mandatory for IKO instructors to use short lines during lessons and why it is highly beneficial for the student.
Impact of the wind window on your kite
The wind window is the area where the kite can fly. It is also where we use the kite clock as a reference for teaching. In the neutral zone, the kite generates minimal power, because it only receives the true wind. In the power zone, the kite will be able to accelerate as fast as it can and create an "induced wind" which when associated with the "true wind" will be called "apparent wind". This is where the kite can generate maximum power. By using shorter lines, we can move the kite faster up and down the wind window, this increases the power of the induced wind and increases the power of the overall apparent wind even further.
By changing the length of your lines you are actually changing the size of your wind window. The bigger your wind window is, the more power you will generate because the distance from a point A to a point B is bigger which gives your kite more space to accelerate.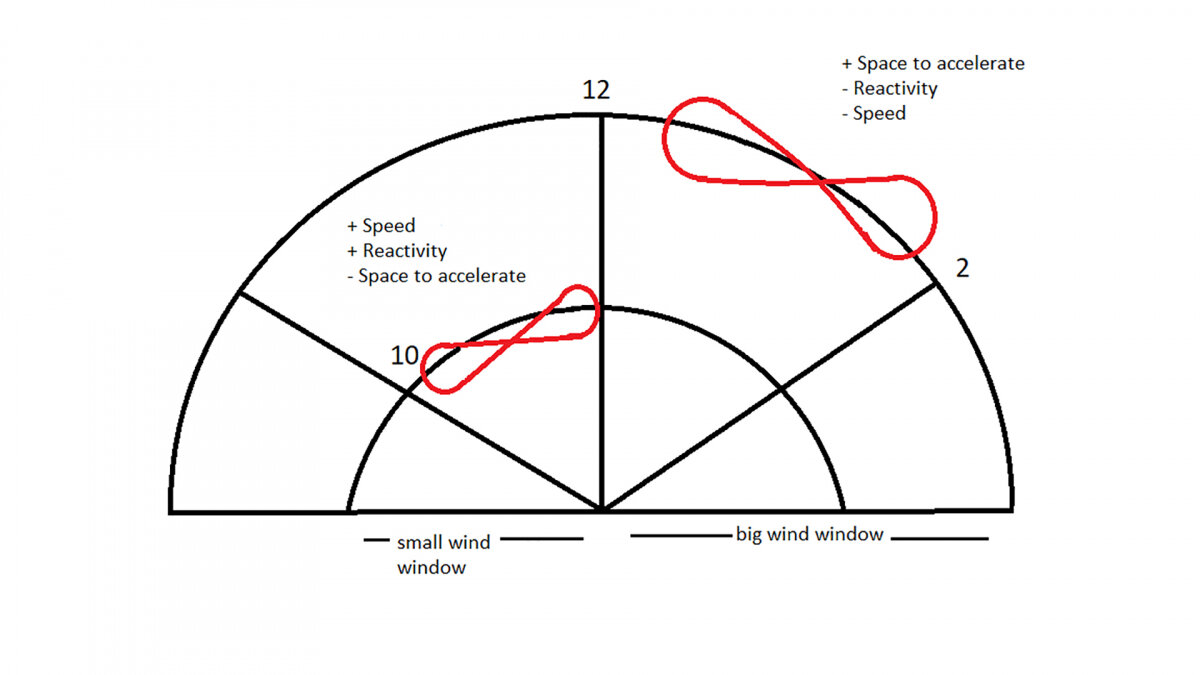 Wind gradient
This is a wind effect that explains how the wind changes, the higher up we go. It has been discovered that the wind is 35% stronger at 20m than right above the water level. In other words, the longer your lines, the higher your kite is, and the stronger the wind that is captured by the kite resulting in more power.
.
So why aren't we using 70m lines?
The additional power captured when using long lines comes at a cost. Longer lines will create more drag which will reduce the reactivity of your kite and will make your kite sit deeper inside the wind window. The longest lines we use are around 30m, longer lines than that would create too much drag to be effective, the kite would become too hard to steer and loose its upwind abilities.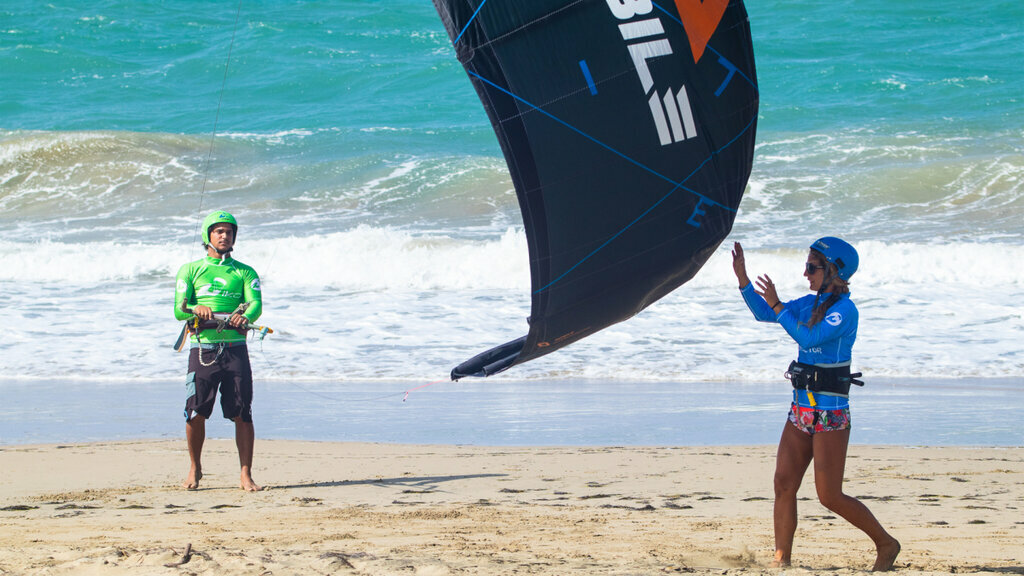 What about line lengths for lessons?
Trainer kites
A trainer kite is a kite that does not generate enough power to make you lose balance, in certain situations a 2 line foil kite is used but in most of the cases, a small LEI kite with short lines ( 2 to 18 meters ) will be a better option. This is very useful for many reasons:
reducing the space needed for a lesson, 

reducing the stress for the student,

having less impact on other beach users,

 reducing the kite's power, 

softer crash for the kite, 

much safer in strong/gusty conditions etc…
Increase your line length as you progress 
At IKO we strongly believe that changing the length of your lines throughout your progression is a key factor in your learning process. 
Once the student starts gaining confidence and is able to handle more power, we gradually increase the length of the lines. This method allows us to precisely adjust the power delivered by the kite to the student while keeping the rhythm of the lesson fluid.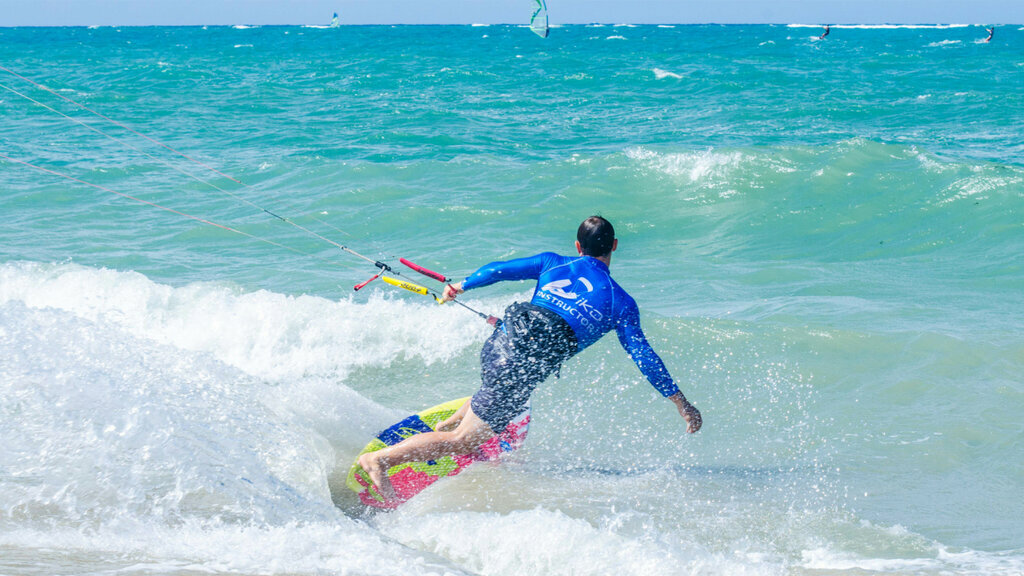 Adjust your line length to your riding style
Using short lines (20m or less ) gives you an advantage if you're looking to have a quick and reactive kite for your style.this length of lines can be very effective for the following riding styles: 
-Big air when learning kite loops: Learning how to kiteloop can be an intimidating step because of the power the kite generates during this move, shortening your lines is a great way to make your learning process faster and safer, even pro riders like to use lines as short as 10m in certain situations.
- Wave riding: whether you are using a directional board, a hydrofoil, or even a twin tip. If your goal is to shred some waves then shortening your lines is a very good idea, the added reactivity will allow you to turn quicker improve and maneuverability on the waves.
Long lines ( 24m or more ) will be particularly useful in situations where you will need more power and a stable kite :
- Freeride: In other words, riding while performing tricks and jumps that don't require you to unhook. Freeriding is a hard subject to approach as it covers a very wide aspect of our sport but in a  majority of the cases, it does not require fast steering of the kite, on the contrary, slightly longer lines will "slow down" your kite allowing you to focus more on your body position. I would recommend a length between 22m and 24m for this discipline depending on your wind conditions, skills, and the tricks you are trying to perform.
- Old school: Old school is a discipline that consists of jumping high and doing grabs or taking one or more feet out of the foot straps on your board To perform these tricks well you will need to have a powerful setup to lift you high and give hangtime as well as a slow setup that will allow you to focus on your board without having to worry about your kite moving everywhere.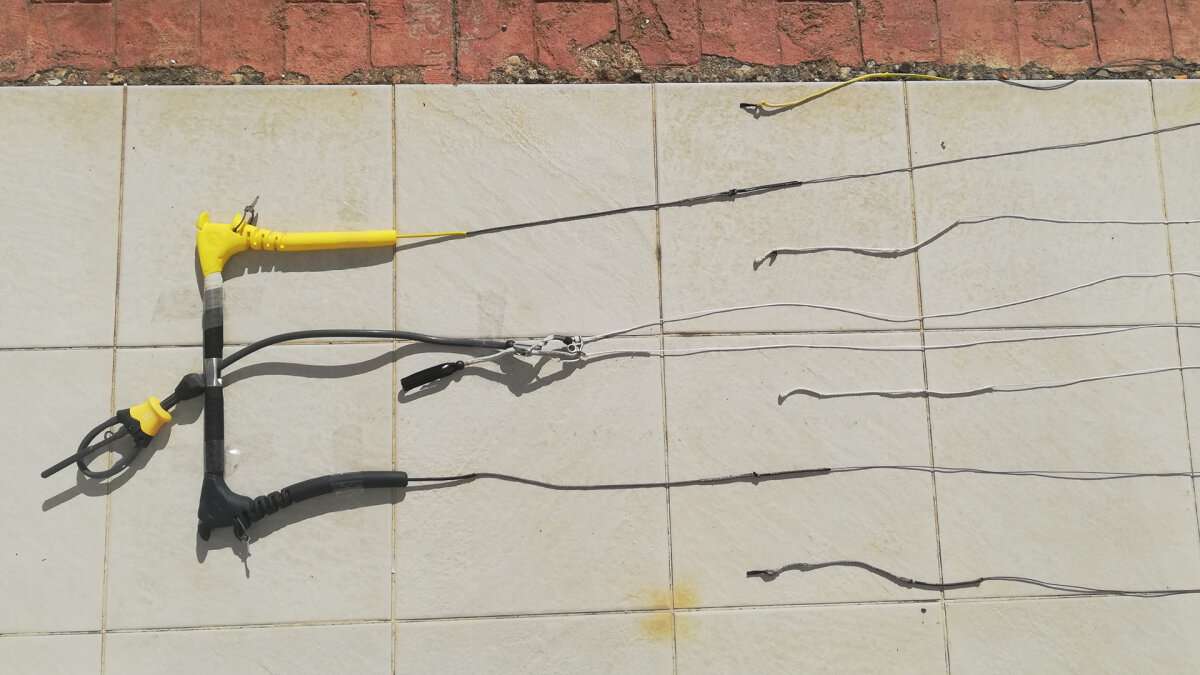 How can I change the length of my lines?
Some bars come with sets of extensions
A few brands will give you the option to buy a set of lines that come with extensions, allowing you to adjust the length of your lines every session, those extensions are usually between 2m and 5m.
Folding
It is possible to fold your lines in two in order to use only half the length, to do so simply grab connection knot/loop at the end of your lines and bring them back to the bar, you will then connect the back lines to the knot of the leader lines and the front lines to a pigtail attached to the point where the center lines split, you will then attach a set of pigtails at the end of your lines. Make your quick release still work after folding your lines! You can double back your lines several times and use ½, ¼, or ⅛ of your line length with this method.
Splicing your lines yourself
A very good way to be prepared for every situation and have several line lengths on one bar is simply to cut your lines and create line extensions that you simply have to add or remove depending on the discipline you will be riding. To do so, you can either ask your local kite doctor or do it yourself by splicing your lines. 
Click Here to watch a video made by one of our examiners that will guide you throughout that process. 
Conclusion
As you can see, the length of the lines play an important role in kiteboarding. If you're not sure about which length to use, contact your nearest IKO Center or learn more about the subject during one of our pro courses!
What about you? what length of lines do you use?
Author: Charly Roche
The wind window is the area where the kite can fly. On its edge, the kite generates its minimal power, because it only receives the true wind. It is also where we use the kite clock as a reference for teaching. Positions 9 and 3 o'clock are also called launching and landing positions. 12 o'clock can be called the Zenith too. On the center of the wind window, the kite will be able to accelerate and create an "induced wind" which associated with the "true wind" will be called "apparent wind". This is where the kite can generate its maximum power. 
This infographic and others are available for free in the gallery section of the IKO App! Download the app today to access these resources (App Store or Google Play Store).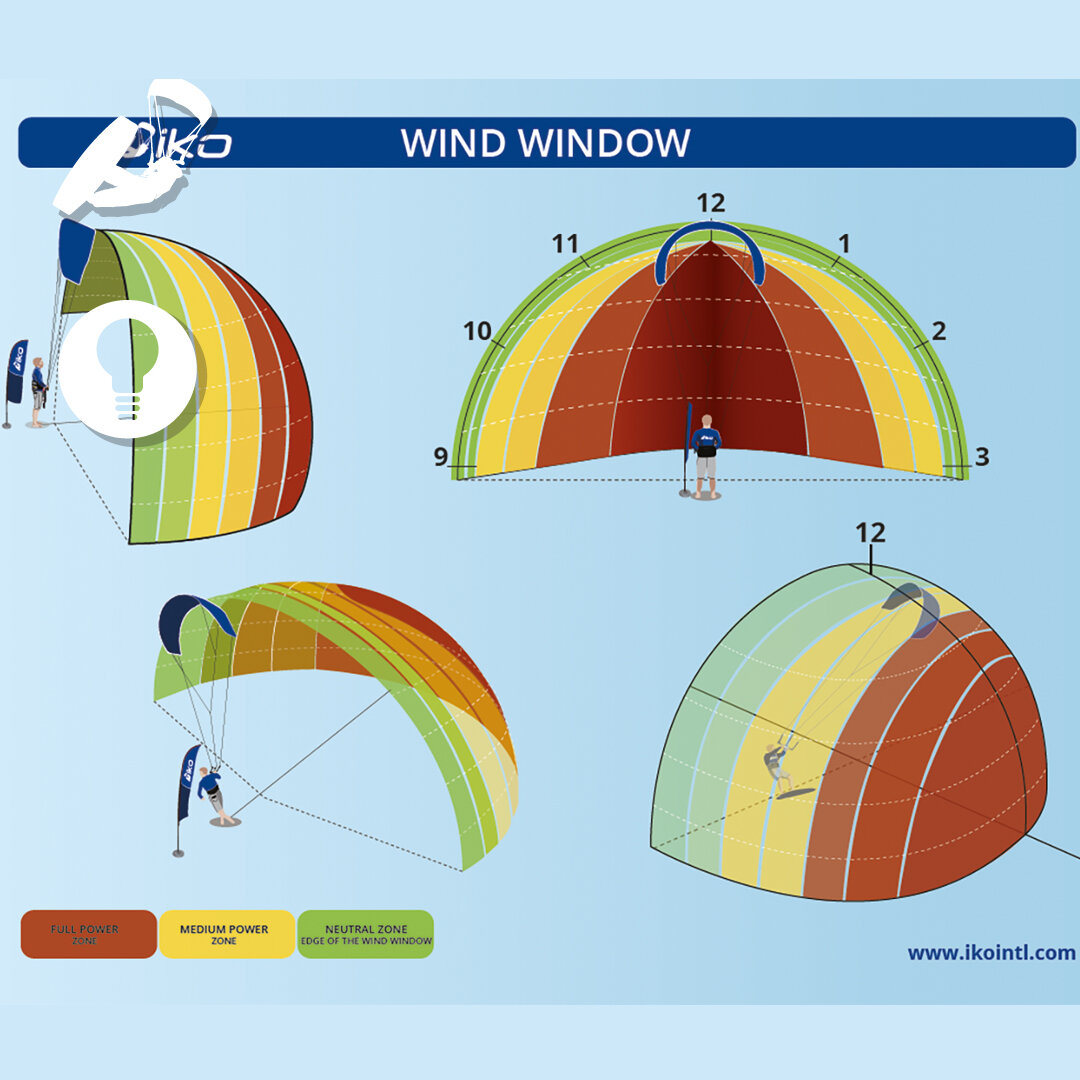 Upwind or Downwind? Which is right? Which is wrong? Who even cares?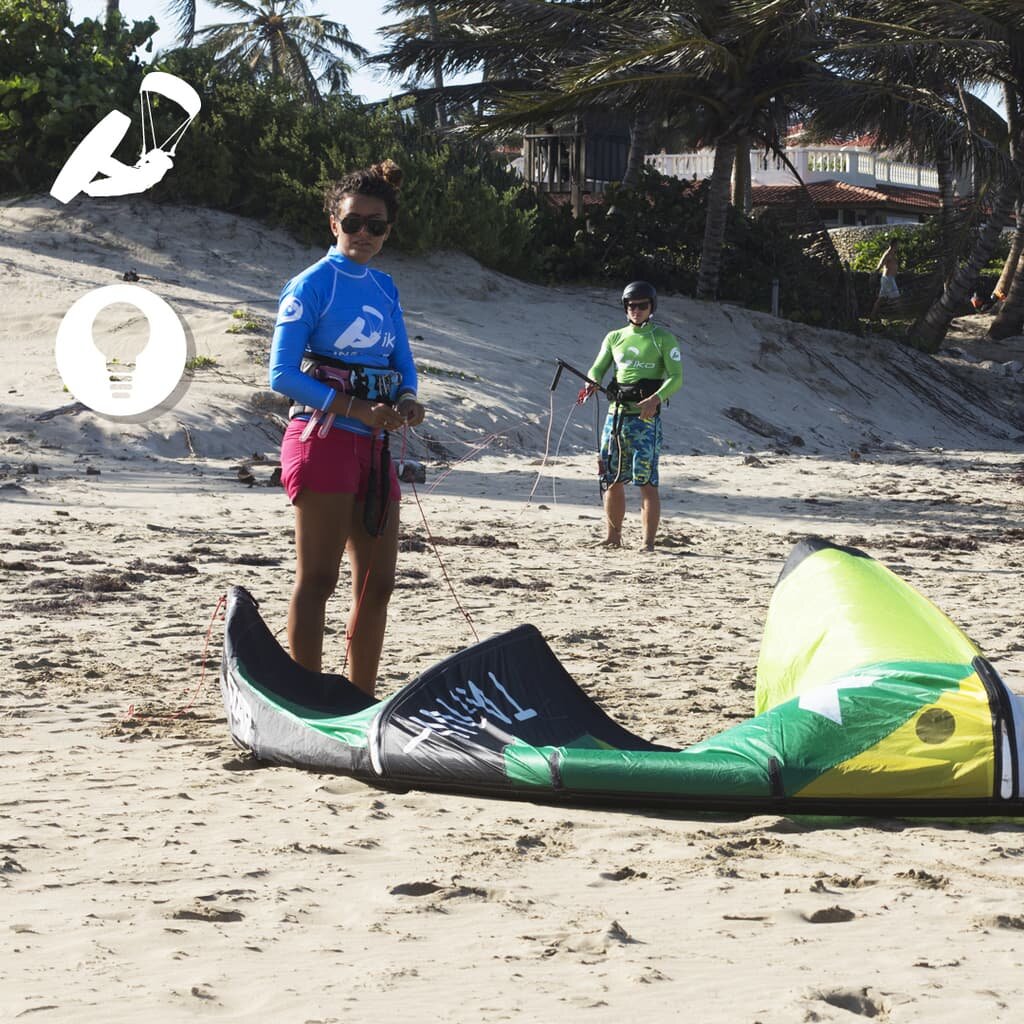 An age-old debate in the kiteboarding community is whether a kiteboarder should set their lines upwind or downwind of the kite? What is the difference and does it really even matter? The answer and truth is that both set up methods can be done, however the IKO strongly recommends teaching the downwind setup as it is safer in many aspects.
Let us examine the advantages and disadvantages of both set ups-
Downwind set-up
To set up your lines downwind of your kite we recommend you loosen up some line and put some sand over the lines extremity so they do not move with the wind. Unwind the lines starting from the kite walking downwind. When walking your lines make sure to match the bar ends with the kite lines colors (red on red for example).
*It is important to note that the bar is not "upside down" as many people who do not like this method claim. It is just a point of view because we are on the kite's back. As Examiner Vincent explains when he is teaching: "When you are side to side with someone, watching the same direction, you will see their left hand as your left. If you were face to face with them, you will see their left hand to your right, but that does not mean that their left hand is now on the right, it is just your position that changed".
Advantages:
- Easy to do the preflight check.
- There will not be power in the kite until you walk to the launching position.
- It is much safer because of the two advantages above.
Disadvantage:
- When it is very windy the lines are pushed away while you unwind them. It can be easily solved by putting sand on the lines ends and/or placing them underneath the kite.
Upwind set-up
To set up your lines upwind of your kite, unwind the lines starting from the kite and walking upwind. Make sure to match the bar ends with the kite lines colors (red on red for example).
Disadvantages:
- Not as easy to pre-flight check.
- The kite is directly in the power zone if tension is put on the lines (dangerous).
- During launching, the back line could wrap around the kite.
- The assistant has to walk between the kite and its pilot to lift it, it is more challenging to do it right especially for non-kiteboarders.
When examining the advantages vs disadvantages of both set ups, it is clear despite a bit of an inconvenience when the wind is strong that setting up your lines downwind of your kite is optimum for many logical and safety reasons.
Is using a GoJoe for teaching worth it? Should everyone use it?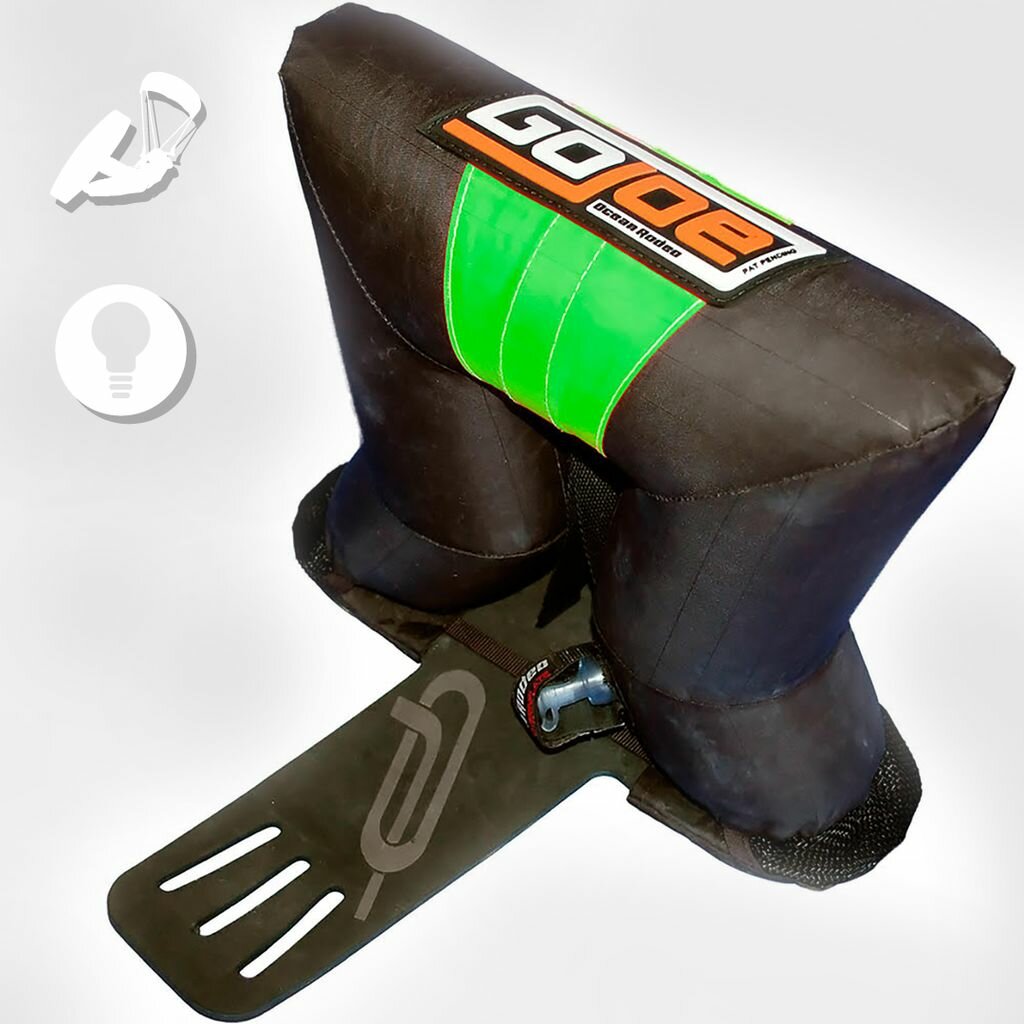 What is a GoJoe? Have you ever heard of it? What about seen one or let alone used one? The GoJoe is a leash board recovery tool. It is an inflatable body that is designed to sit unobtrusively between your feet on the board. If you ever lose your board the GoJoe will make your board easily visible by flipping your board over for you and catching the wind sailing the board down the wind so that it is never far from you after a crash or hard landing.  
Some schools and instructors around the world are using them; now the question is… should you? The truth is that it is not always necessary but it can be useful. It is an awesome tool for students with difficulties to get the board back or places with strong currents that make the board harder to rescue.  
GoJoe is the perfect solution for people who are afraid to stop using their board leash because of the difficulties they have body dragging or the conditions at their spot.  Many people who are still using a board leash believe they are not dangerous as they have yet to have an accident with one.
If the GoJoe is an idea and concept you like though you do not want to invest the money, another alternative is buying an arm buoy for kids and inflating it around your board handle. This won't be as effective though it will still help with board recovery and save you money.
Why should your kite leash be attached to the front part of the harness?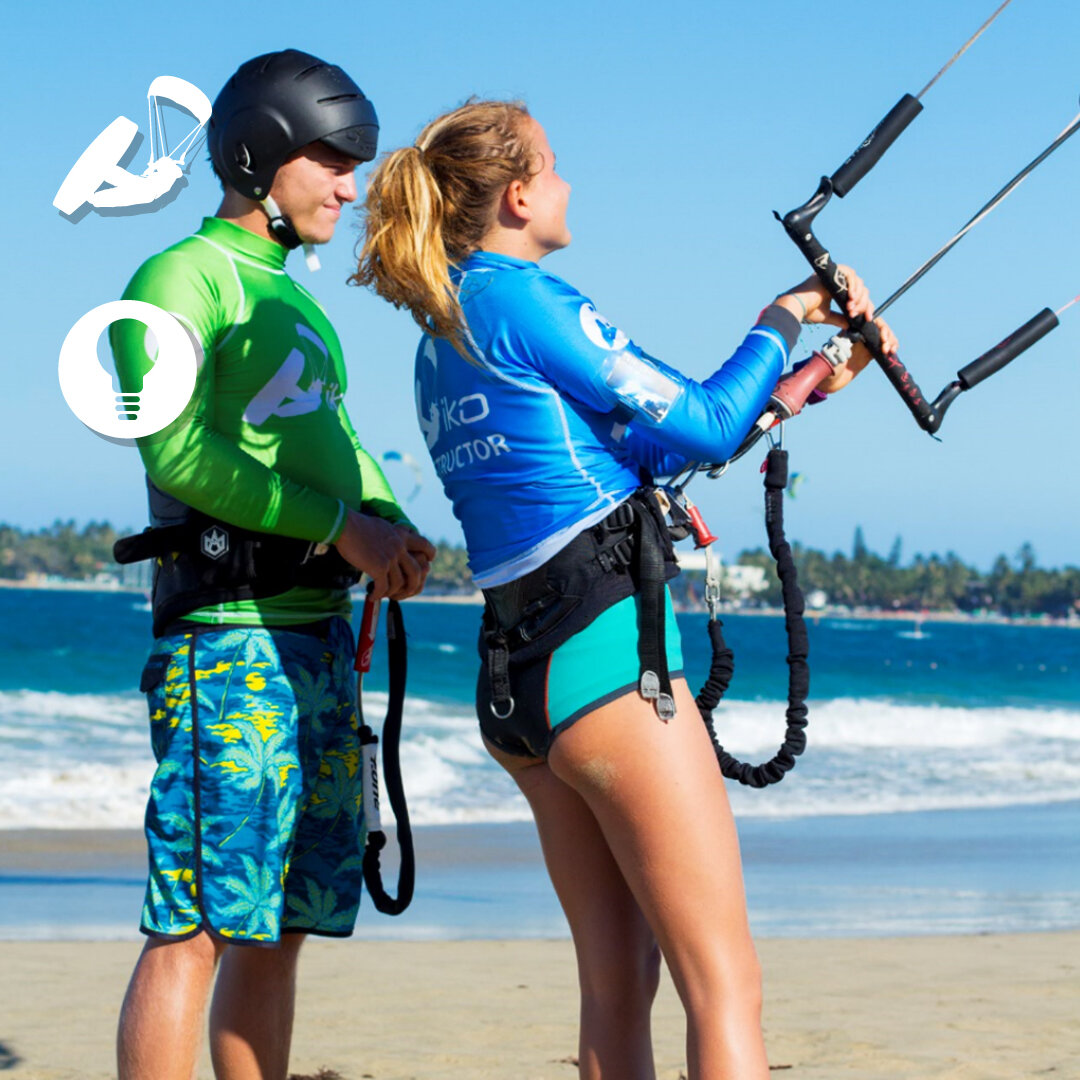 This is one of the main safety improvements from the last years. IKO has set this new standard for both students and Instructors. The kite leash must always be connected in the front part of the pilot's harness. However most of the kiters, Instructors and students still have it connected on the harness handle with no special reason, just because 'everybody does it this way'. There is a huge difference in terms of safety, whilst in the front, the quick release of the kite leash will always be easily accessible for the pilot; when connected to the back, in a serious situation (kite still looping), the pilot cannot access it and is in danger. Many accidents have happened this way, do not let it happen to you. If you do not unhook it is strongly recommended to use a short leash.
Can you turn your passion into a living?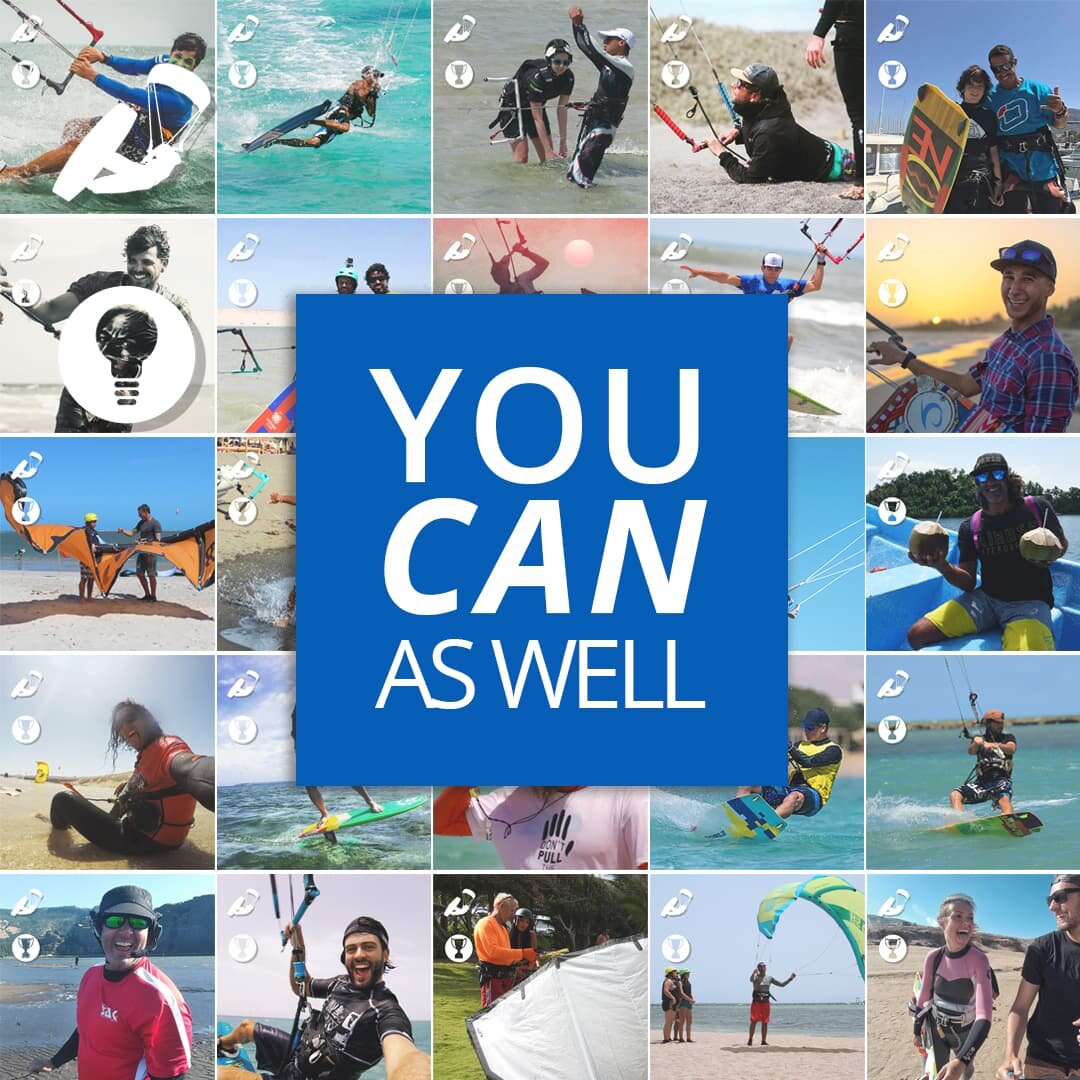 We are frequently inquired by passionate kiteboarders all around the world asking whether or not it is actually possible to make a living from kiteboarding. The simple answer is yes. Thousands of kiteboarders around the world already are. There are many ways of entering the kiteboarding business world.
Some popular ways are by either working in or owning a kiteboarding company, hosting kiteboarding excursions, running a kiteboarding center and or being an IKO kiteboarding Instructor that teaches locally as well internationally by following the wind.
If you are planning on entering the kiteboarding world as a career and not sure where to begin, we would recommend becoming an IKO Instructor. In 10 days you can become a fully certified IKO Instructor and begin working in one of the 230 IKO Centers to choose from around the world. By becoming an Instructor you will not only learn more about this amazing sport though you will be taking a step in the right direction to learn more about the kiteboarding business world as a whole.
Would you like to turn your passion into a living? If you are already involved in the kiteboarding business world, how have you integrated?
How to truly become a kiteboarding master?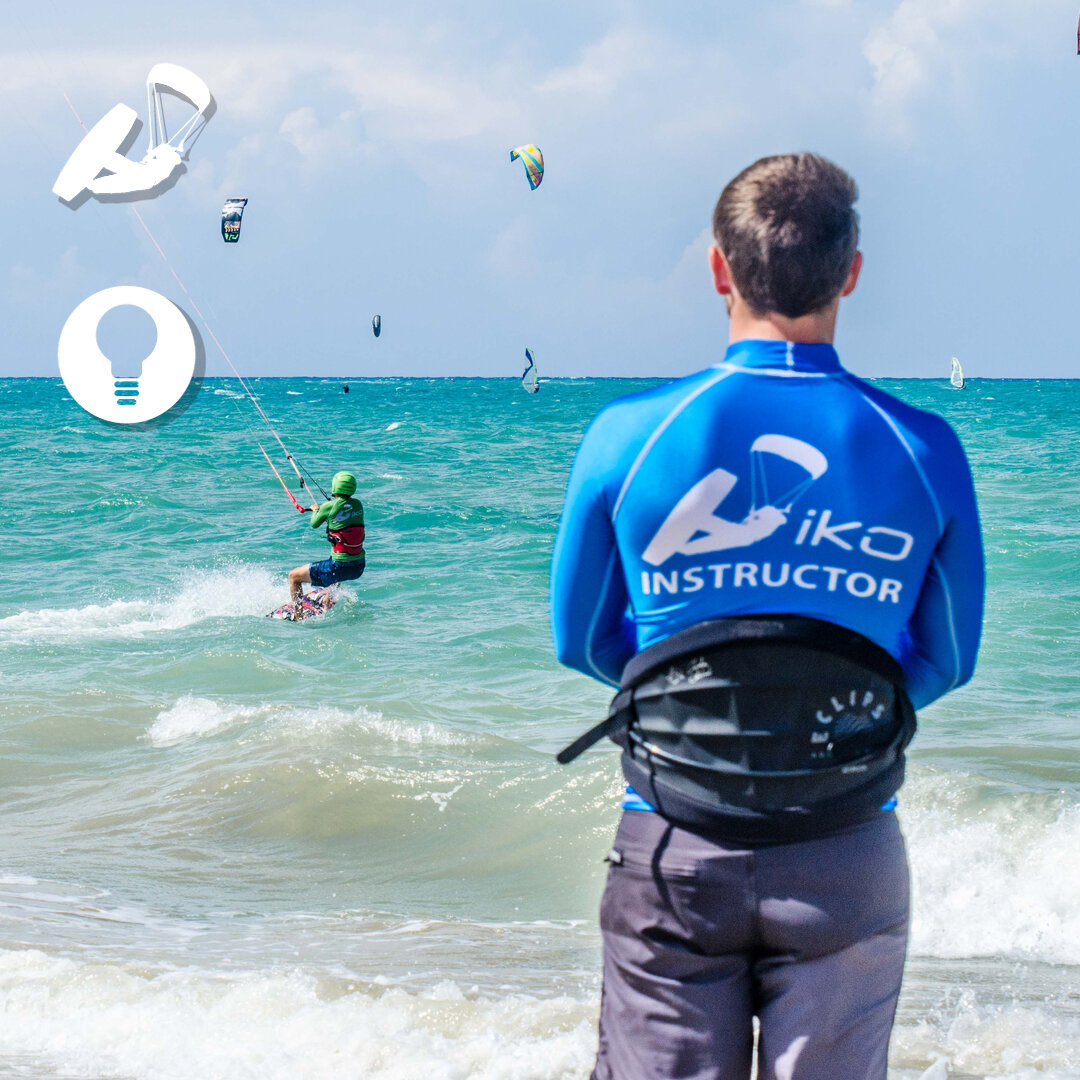 Becoming a master in any aspect in life requires diving deep below the surface. Taking extra time to understand and practice the basics to build a solid foundation to build upon. In the world of kiteboarding very few kiteboarders, after taking their first lessons ever, decide to go back and take more lessons to evolve themselves and develop further.
Whether you have been kiteboarding for 1 month or 10 years you can always improve in one aspect or another. The first steps to mastering kiteboarding is understanding the practical and theoretical side of the sport. Asking questions to yourself like:
What are the right of way rules?

How does my kite actually work?

How do I repair, tune and maintain my equipment?

How do I properly self-rescue myself?

How can I help rescue someone who needs help?

How can I surf a wave better?

How can I jump higher?
Asking yourself questions like this, finding the answers, talking with others about it and practicing in a controlled environment with an expert, is the way to learning more and mastering this extreme sport.
You can improve whether it is by taking private lessons with an IKO Coach or joining an IKO Evolution Clinic or an Assistant Course (AITC). If you want to become not only a more confident kiteboarder though be safer overall when kiteboarding- furthering your kiteboarding knowledge will be an important part of that. Check out your local IKO Center or the courses section on our website to book a lesson near you.
Short leash in the front no matter what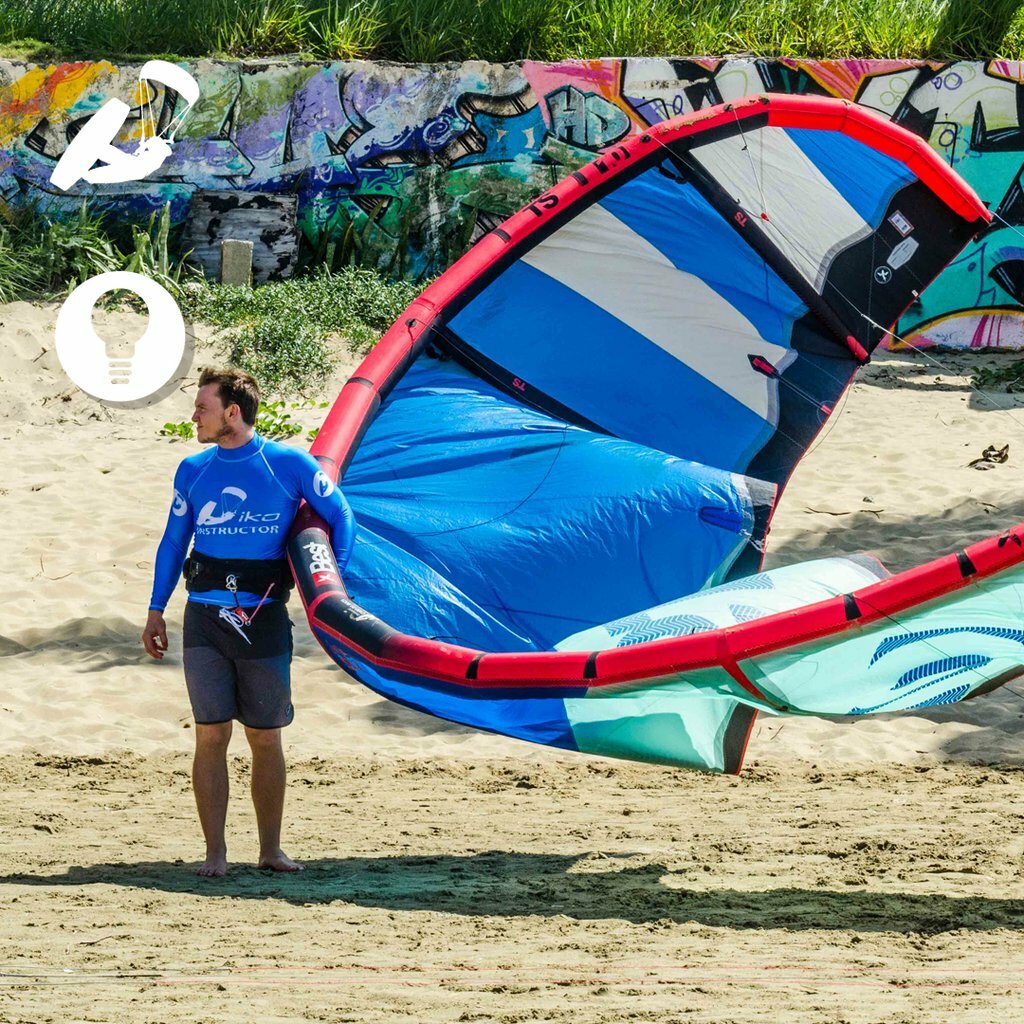 Where is your leash positioned on your harness right now? If you have yet to move your leash to the front of your harness, go do that now before continuing to read any further. Over the last months we have been pushing and reminding Instructors as well as kiteboarders about this easy and important safety change.
Instead of using a leash on your back or sides it is best to attach it directly in the front. This makes your leash accessible to both hands at all times whether to hook in or release during an emergency.
If you are one of the kiteboarders with a long leash, you can now consider changing your leash for comfort and accessibility. Having a long leash does not make sense for anyone other than those practicing unhook wakestyle. If you are a beginner, wave rider or cruiser there is no need to have a long leash. Nowadays most brands will have a short leash option available.
What is great about this safety improvement is that many brands and companies have realized the safety benefits and altered their designs according to this. Creating simple ways to attach one's leash to the front and supplying short leashes with bars instead of long ones.
If you have yet to change your leash position on your harness or its length - do not wait any longer or until an accident. Do it now, you won't regret it!
Advantages of using short lines for teaching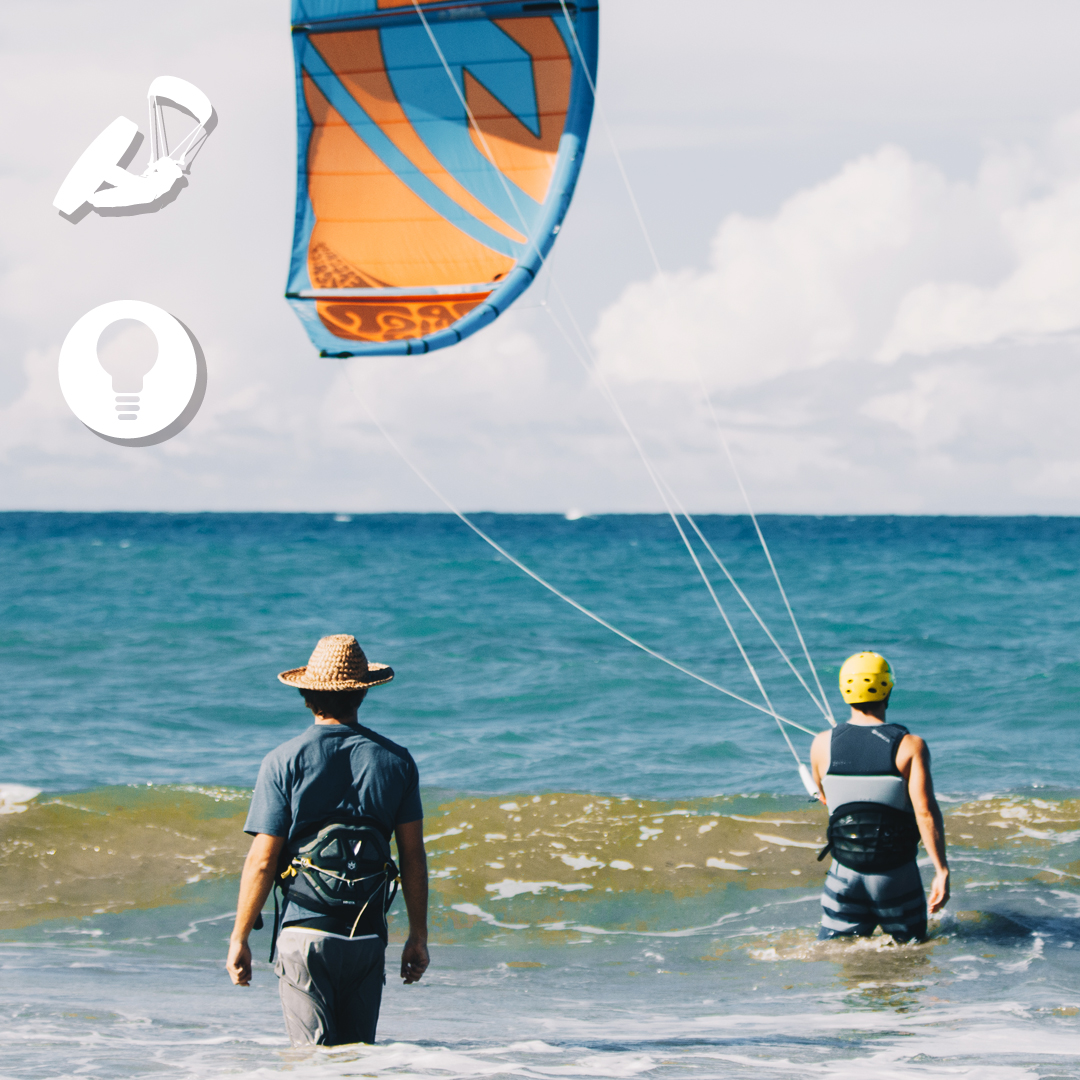 If you have ever passed by an IKO Center you probably have realized that kiteboarders in the beginning stages are using very short lines. The IKO Professional Community for many years has been implementing and using this simple yet highly effective adjustment in their teaching programs.
When we are talking "short lines" we are talking 5m. The 5m lines can be used in the beginning up into body dragging and steady pull. This method reduces the stress of both the student and the Instructor. Allowing the Instructor to be closer to the student and reducing mistakes to have less negative consequences physically and mentally on the student. The short lines reduces the size of the wind window, thus reducing the space needed for a lesson and negative impact on other beach users.
The short line method stimulates positive discovery urges in students. As you can reduce the kite's power. This means you can have a 4-line LEI kite flying without power and it can be considered a trainer kite according to IKO Standards. Easily managing stronger and gusty wind conditions.
When using shorting lines, kite crashes are also much softer; causing less damage to the equipment. Additionally with short lines, it is nearly impossible to loop the kite. When using short lines it reduces the amount of time spent on equipment management*, (one kite and different line lengths) according to the student's level, weight and weather condition.
As an example of a courses in normal wind condition would go as followed:
5m lines for discovery level until the student has good control of the kite in all part of the WW and know how and when to use the safety system. (5m lines can also be used in the body drags and steady pull)
10/12m lines for intermediate level until the first attempts of the water start
20/22m lines for water start and riding
What are your thoughts and experience on short lines? Do you prefer this method over using a small foil/trainer kite and then moving to long lines? Let us know your personal and professional experience below both from the Instructor and Student point of view.
*It is easier and faster to change the length of the lines than to change a kite. You should make a gradual transition to longer lines when the student has demonstrated good control using the shorter lines and you need to move on to other exercises that require more power in the kite.
Should you get coached when you are an intermediate kitesurfer?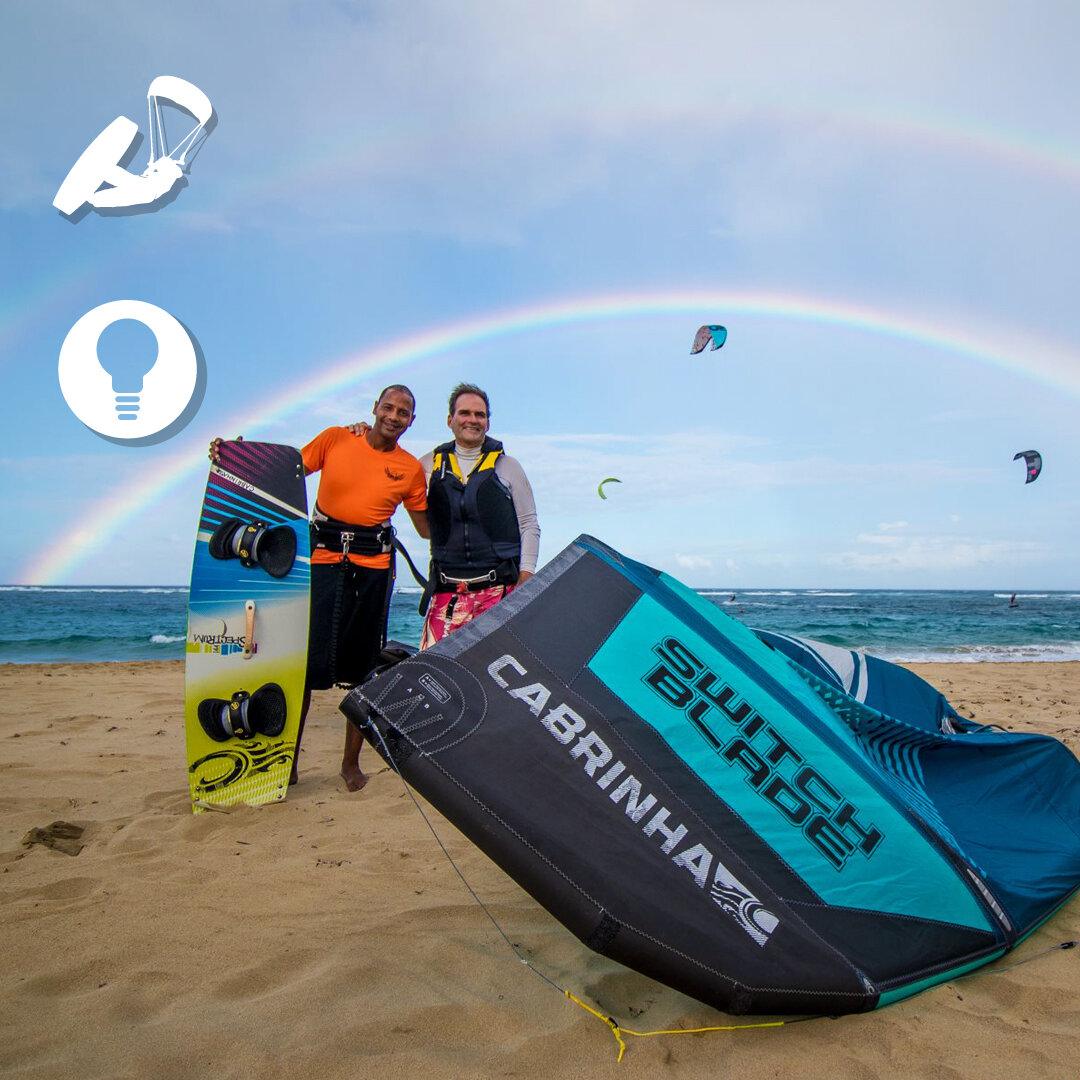 No matter how fast or slow we progressed in our kitesurfing, at some point we will eventually slow down. We get to a point where we are not progressing as fast as we used to and this is exactly the moment where we plateau.
Most people when they learn to kiteboard, use an Instructor up until they become independent. They take the initial course package and once they can ride upwind and/or manage themselves they go off all on their own. At this point, those that are ambitious start testing and pushing their limits to begin developing their skills whilst some others take their time and just enjoy the beauty in the basics.
It was rare before though now it is becoming more common for an intermediate kiter to get 1 on 1 coaching or join a clinic to improve their level. As kiters we often forget the power of getting coached. All the greats of any sport has a coach by their side and mentor to help. A coach will be especially useful for when you have slowed down or plateaued as they will help invigorate and guide you once again to improve in any direction you wish.
To answer the question of if one should seek out coaching even if they are at an intermediate kitesurfing level? The answer is a definite yes! We all have room for improvement and/or plateau at some point which is why it is good to get some coaching to challenge and push ourselves to stay excited about the sport we love.
What is your level and have you ever considered getting coached? Would you prefer getting coached one on one or within a group clinic environment?
Is it important to learn how to self-rescue kiteboarding?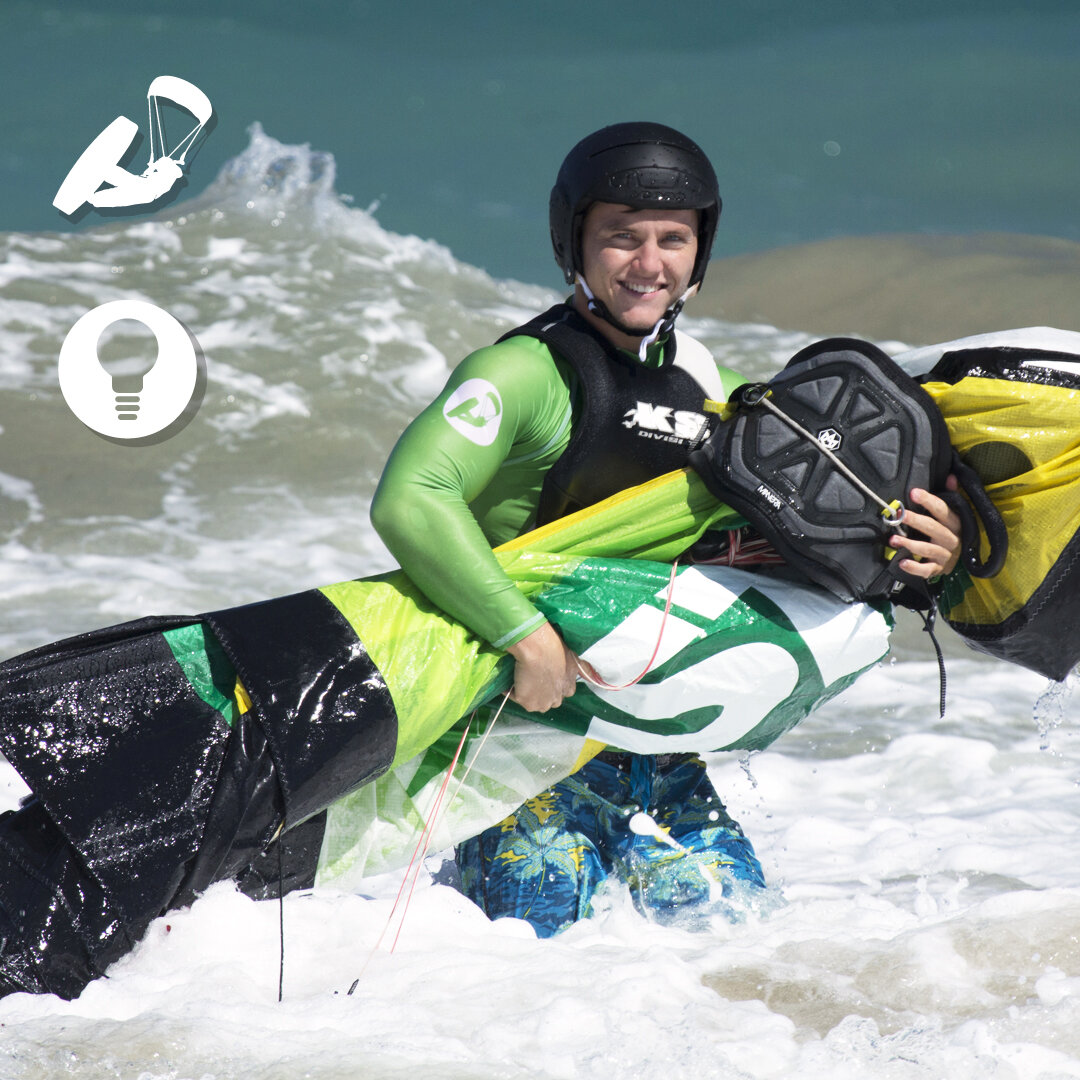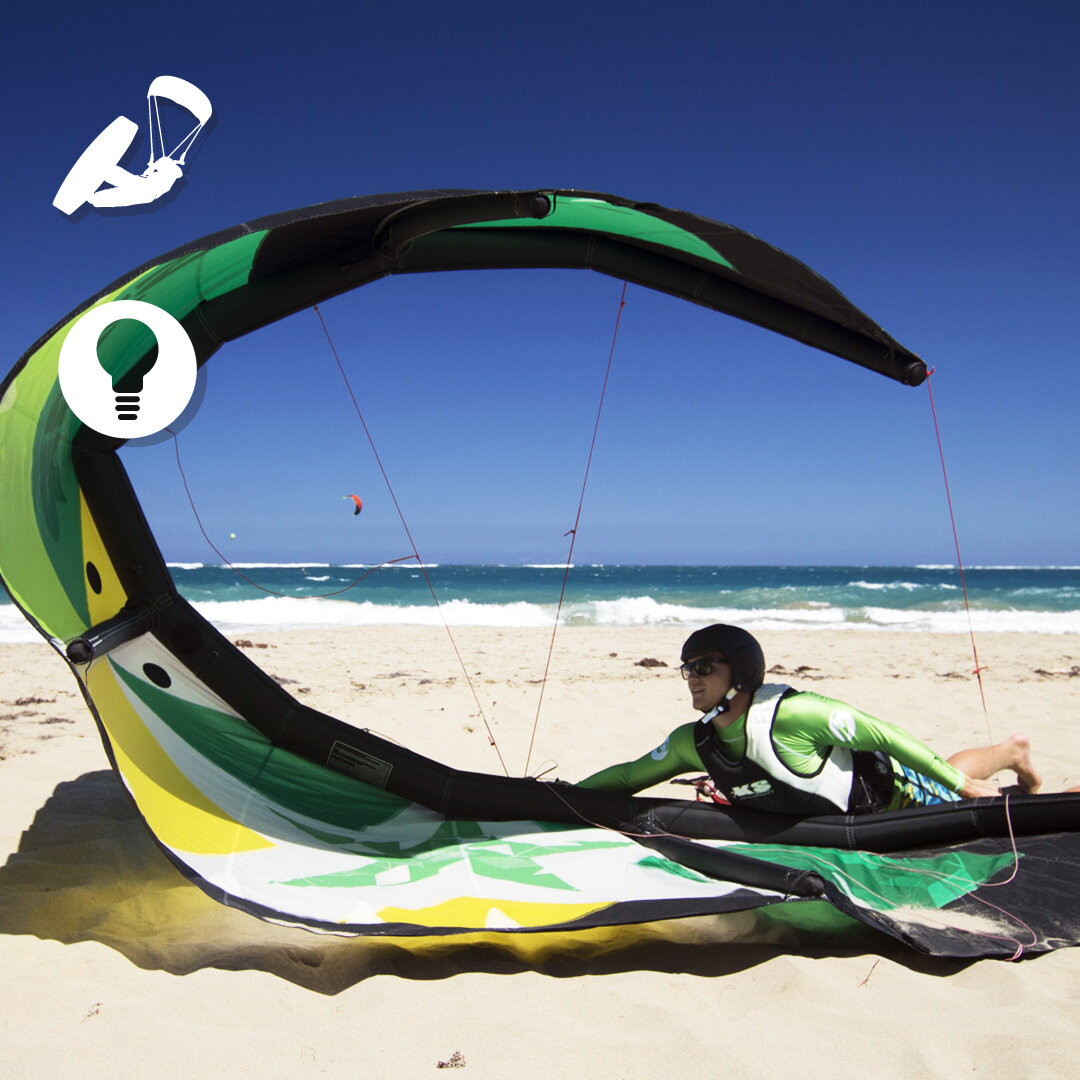 Believe it or not, we have heard this question thousands of times across the globe. The question is popular amongst students and/or riders who have not learned with a certified Instructor.
The questions and debates of whether you should learn the safety side of kiteboarding, follow the right of way rules, amongst other topics are not uncommon. It is actually great to ask questions and start debates as these are some of the best ways to attaining insight and knowledge.
Depending where you are learning or riding in the world you will encounter different variables. The wind, the landscape, the equipment, the Instructor you find amongst other variables change. Established principles do not change. A standardized way of teaching helps maintain the final outcome of a course, to become independent. The idea of taking a kiteboarding course is not only to get up and riding. The point is to learn the theoretical, practical and safety side of kiteboarding to become an independent kiteboarder.
What is an independent kiteboarder? An independent kiteboarder is someone who is self-sufficient that can adapt to any given situation in any given spot or weather conditions. They can get on and off the water and handle themselves in any situation that might arise. They have a solid foundation and understanding that can help them push any direction of the sport they decide.
So is it important to learn how to self-rescue kiteboarding? The answer is yes! Learning to self-rescue is one of the many important skills to becoming a confident independent kiteboarder. Learning the theoretical, practical and safety side of the sport is part of any IKO Course someone would take, no matter where in the world.
Do you feel like you are an independent kiteboarder - why or why not? Let us know in the comment section below.
Why is learning kiteboarding theory important?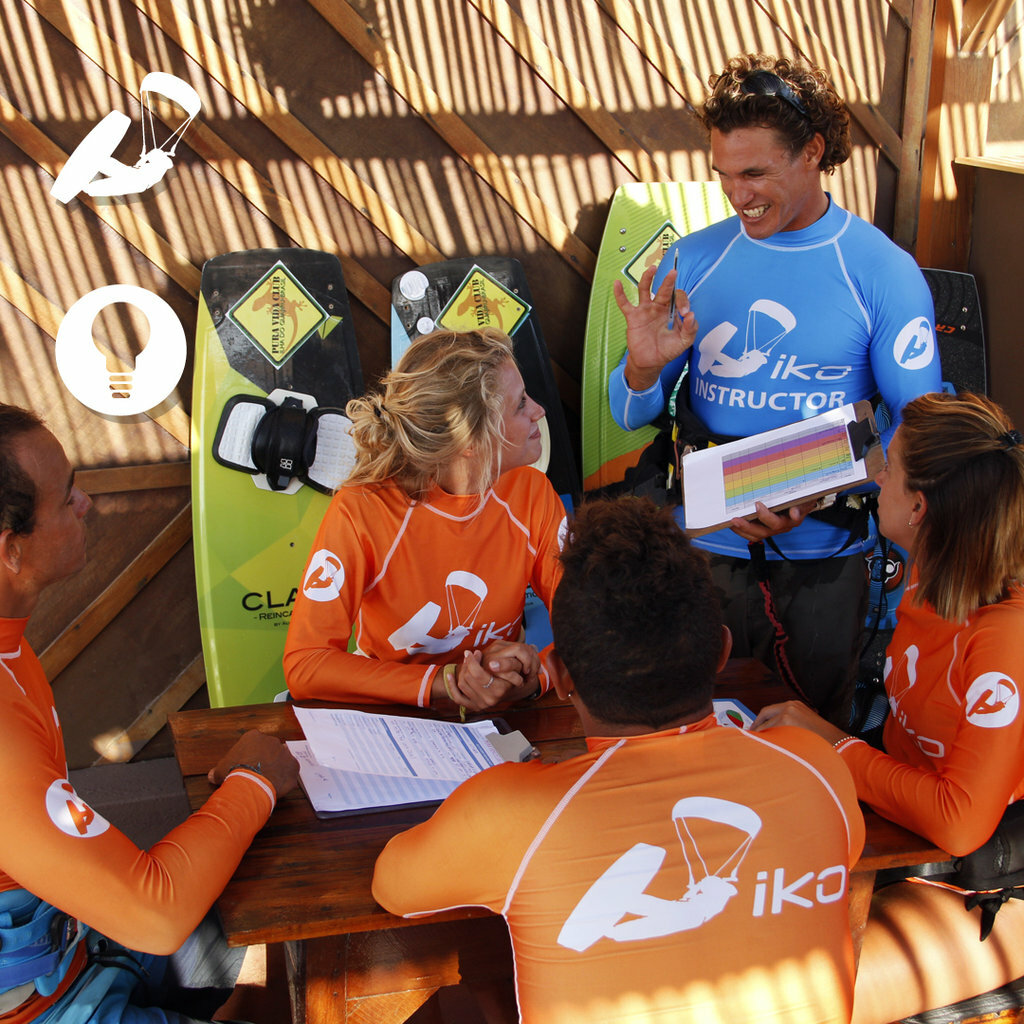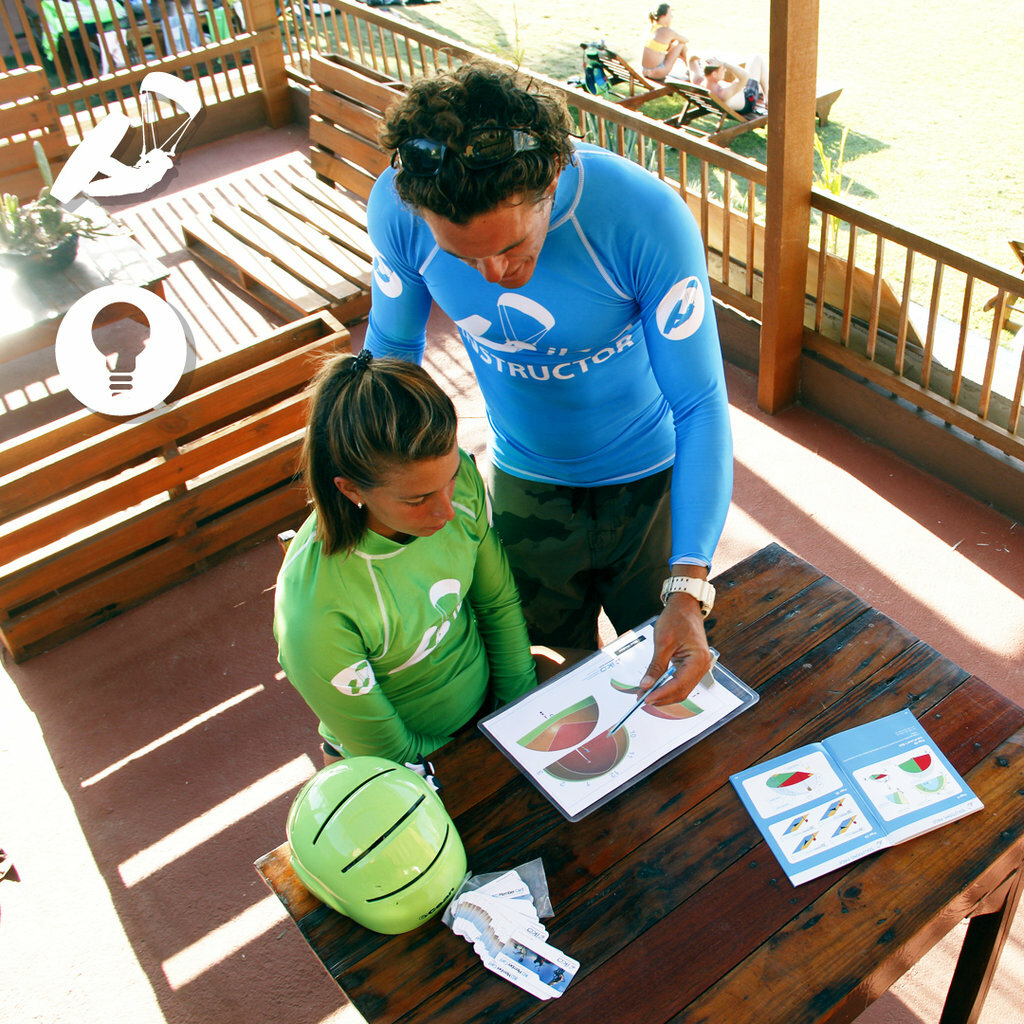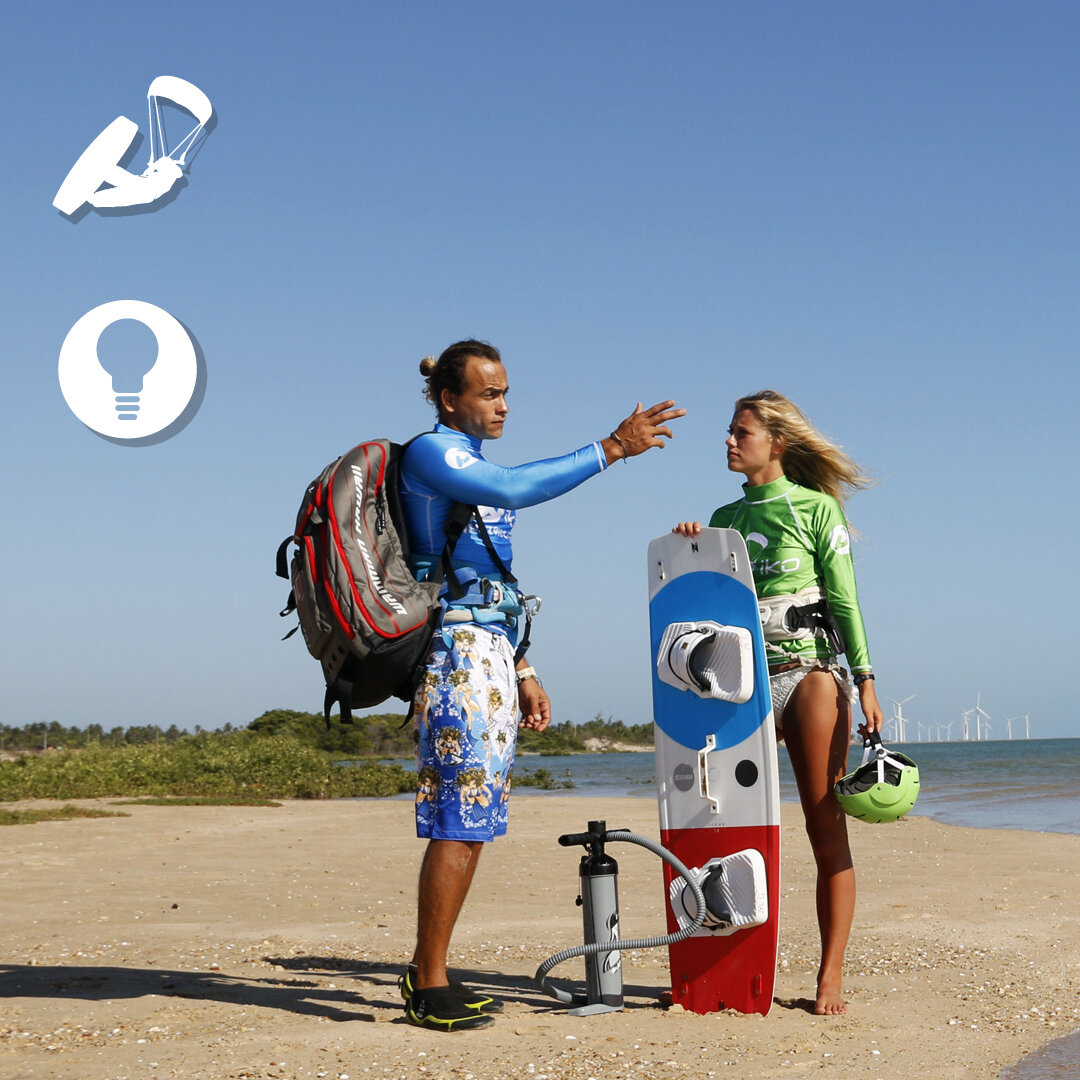 Many people find learning theory both boring and unnecessary. The truth is that learning the theoretical side is super important. Theories greatly help us gain insight and understanding before practical training.
Imagine if you have no knowledge of the elements or kite equipment and someone gives you kite gear and tells you to learn… How would you go about learning? It would be extremely difficult, time consuming and dangerous. The early pioneers of kiteboarding have done the hard work for us. They figured out what works, what doesn't and what we must know to get out riding.
Theory essentially helps leapfrog the learning process. Learning about the wind, sea, cloud formations, weather forecasts is the foundation to becoming an independent kiteboarder. This is why it is important for people looking to learn kiteboarding to get taught by a certified instructor.
Not learning the theoretical aspect of the kiteboarding is one of the main mistake made by kiters. Why? Mainly because kiteboarding is an 'easy-to-learn' sport (compared to surf or windsurf for example) and as a result; once in the water together; many kiters have no idea about simple knowledge such as right of way. Do not be like this and learn all the aspects of kiteboarding!
A question to all IKO certified Instructors: How long does it take you to teach your students the theoretical side of the sport and what do you believe to be the most important topics? Let us know in the comment section below!
Teaching/kiting in different water conditions!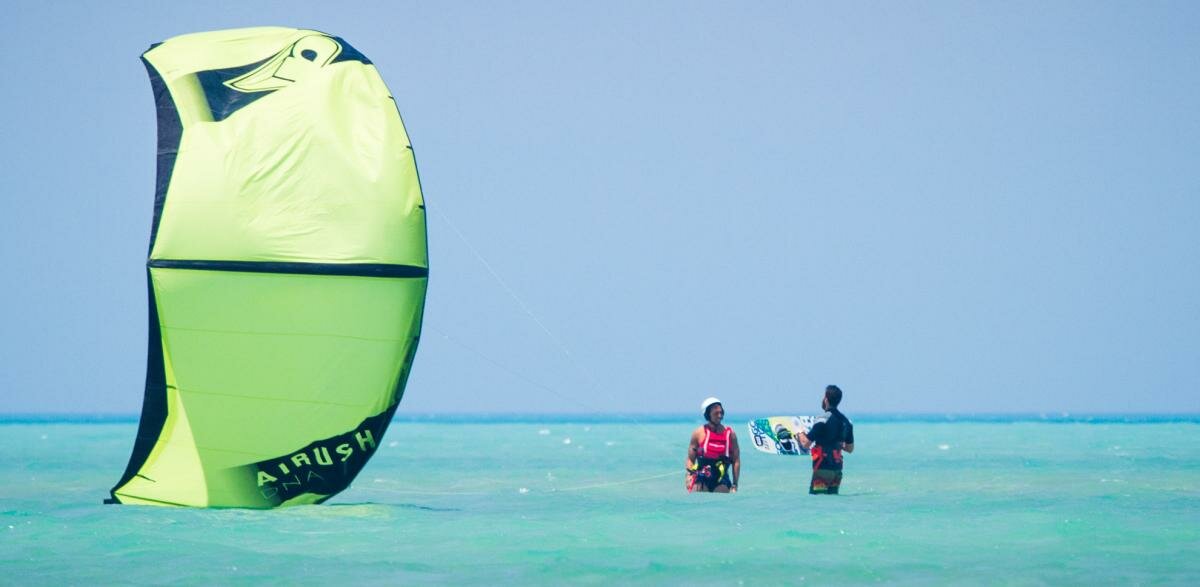 Wherever you travel in the world to teach or kite, you will encounter different water and wind conditions. Here are some tips for the different water conditions.
Shallow Waters:
Shallow water spots are the easiest for learning, however make sure that:
The water is always at least waist deep.

The seabed is clear of hazards that might harm you.

Even in shallow water when teaching, students must wear a buoyancy aid at all times. If you are kiting, it is strongly advise to wear at least an impact vest.
Deep Waters (from a boat):
When teaching from a boat, the Student-to-Instructor ratio must be reduced to 1:1 to ensure the Instructor can fully support their students.
Students should show the necessary skills to leave from and return to the beach.

The boat is not only for rescue, but also to act as a teaching platform and trajectory reference point.

The boat should never be placed directly downwind, or in the path of a student where it might become a hazard.
Note: Students that are only taught from a boat in deep water spots are not considered independent and should be redirected to a spot where they could also practice on land to finalize their training.
Shore Breaks:
Students should never be taught in spots with shore breaks waist high or above (from the base of the wave). Precautions must be taken with small shore breaks (less than waist high):
All training must take place at a safe distance from the pull of the break. Students must body-drag out through the break until they are safely away from it.

The Instructor can take the student out through the shore break and then hand over the kite to the student once they are far beyond the reach of the waves. When using this technique, an Assistant Instructor must stay on land to ensure the student's safety in case the Instructor let go the student and swims back to the shore.
Note: Students must be particularly careful not to drop the kite in the shore break or whitewater. If this happens in shore breaks and the kite is not easily relaunched, students should activate the chicken loop quick release straightaway and swim back to shore.
We hope this helps refresh and prepare you for any water condition you might encounter when teaching or kiting!
What is your favorite water conditions to teach or kite in and find most beneficial to the student or personal improvement in the long run? Let us know in the comments.
Stay Safe,
IKO 
2018 Kite leash in the front!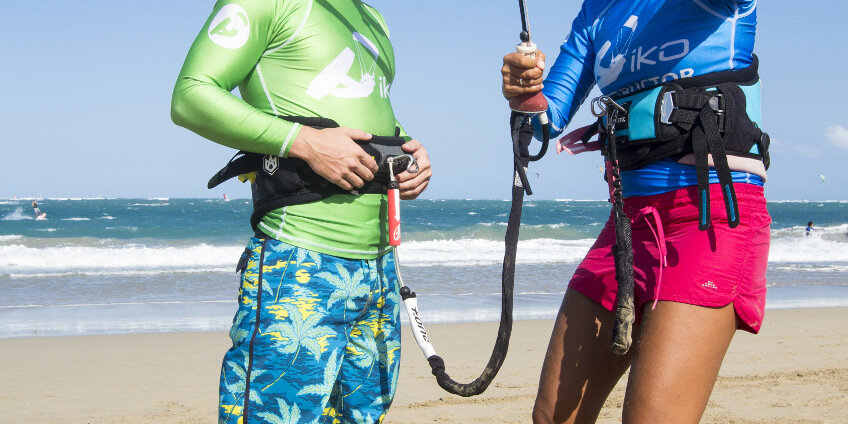 This is an important reminder why you need to connect your kite leash in the front! We already wrote two different tips about this in 2017, many have made the adjustment and thanked us though we want to reinforce this important modification so that everyone is safer out while kiteboarding!
The main reason you want to have your kite leash connected in the front of your harness no matter whether you are foiling, wave riding, free styling or just riding around is to make the leash quick release easily reachable with both hands incase you need to use it.
Here is an example: If you are kiteboarding in deep waters, you have an accident, release your kite though the kite lines managed to wrap around the bar and now your kite is fully powered doing death loops. If your leash is connect to your back you will be getting pulled backwards and most likely have a very hard time to reach your kite leash quick release, it may even be impossible. If your leash was attached to your front you would be facing the kite to either try and recover control of the kite or easily release.
When deciding which leash to use. Considering that most kiteboarders are not unhooking. We therefore recommend using a short leash to avoid having additional rope hanging around you.
Whenever you decide to go kiteboarding make sure before starting your session and after finishing your session that your safety leash is connected and in good conditions.
Remember, if you want optimal safety and function of your leash; connect it in the front! If you already have your leash in the front, tag a friend who does not to make them aware of the danger.
Stay safe,
IKO
Important: please take note of some major updates that have been or will be implemented in 2018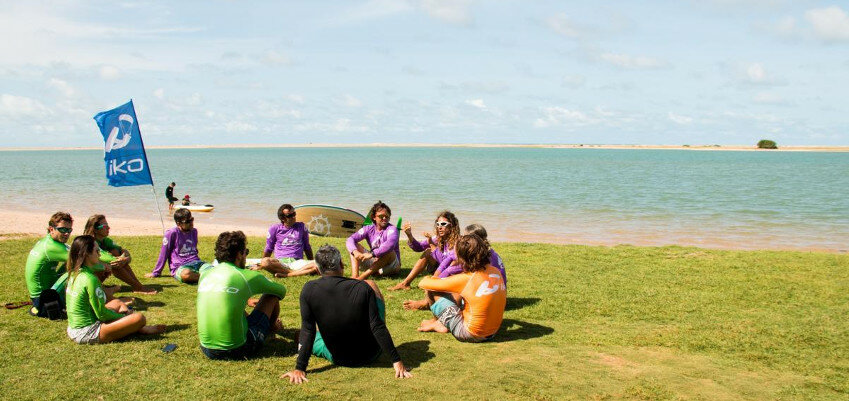 New Organizer Guide now available!
The AITC, ITC, and Coach Organizer Guides are now combined into one guide. All charts with the incomes and expenses are clearly visible, as well as the organizer task list before, during and after the training. This will help Centers to stay organized.
Quality is everything. To ensure the Assistant and Instructor candidates are trained properly, it is important they receive the course content in color (exception are made only where it is costly or not possible). IKO will verify that the guides are printed in color by the feedback sent from the candidates at the end of the course.
To control and improve the quality of the Assistant Trainer course, only ONE Assistant Trainer can be trained during an Assistant Trainer course, given there is at least 2 Assistant candidates. The Assistant Trainer course is no longer the responsibility of the school. Assistant Trainers need to contact the IKO to schedule their course. It is highly recommended to follow an AITC as an observer before doing the real ATTC. Expect this procedure to become mandatory before the end of 2018.
Assistant Course
The AITC-Plus will be renamed and simplified to AITC. We will push that all websites will be updated accordingly. This course has been a major success of the IKO in 2017. Many candidates have provided positives feedback about it. We are now working to update the manual with the feedback we have received from both Candidates and the Examiner team. We plan to release an updated version in Spring 2018.
Note that now Assistant candidates are required to be a kiteboarder Level 4 or equivalent instead of being level 3N. This will help candidates be better prepared for the course.
Instructor Course
Printed copies of the kiteboarder handbooks are no longer included in the ITC pack. The handbook are now available free for all Instructors with a valid membership as eBook on the IKO app. ITC candidates will now receive IKO merchandise and 5 certification credits after their course. Certification cards will disappear as Virtual Card (Vcard) on the IKO App will become more popular. Instructor Level 1 can now teach up to the kiteboarder Level 4 and certify their students online.
Final update and reminder
During pro courses, every candidates must wear a helmet during beach exercises/workshops/teaching practices as well as a buoyancy aid when in the water. Additionally, remember that every Assistant Instructor, Instructor, Assistant Trainer and Examiner must also connect their leash to the front/side part of their harness at all times. This is a global effort to give the proper image and example to current and future students.
Thank you for reading and understanding,
If any questions please do not hesitate to contact us,
Windy Regards,
IKO
Short Term Memory and how IKO Instructors Overcome This

Various psychological studies have made it clear that every day that goes by we are losing our concentration power! One study concluded we have a shorter attention span than a goldfish! Goldfishes have 9 seconds and us humans coming in with a whopping 8 seconds.
Impressive….
Now, this proposes a challenge to everyone from teachers, guides, marketers, bosses, companies and anyone who is trying to get and keep your attention. Part of the IKO Instructor Course is about human psychology and ways to overcome such challenges.
When an IKO Instructor is teaching someone there is a lot of new information being put out and one must help the student process as well retain to be able to progress, stay safe and learn to kiteboard - this is why the instructor must have the proper know how to properly teach.
Short-term memory is the capacity to remember sensations, words or visual inputs that occurred in the last few minutes. This information is stored in the brain for only a short period of time. It will be lost unless it can be transferred to the long-term memory, where it will be stored and recalled at a later date.
The key to teaching is to help students transfer their newly acquired knowledge from short-term to long-term memory. To help students integrate an action into long-term memory (instead of short-term), they should do the action just learned or carried out, along with their thoughts right after doing it.
Instructors should take the time to obtain students' feedback right after attempting each exercise as this will help them remember much more (letting them talk by rephrasing and explaining the things they just heard or achieved, and encouraging them do it again is some ways to ingrain the new information and skills).
The whole learning process is stronger if students analyze a skill or situation, and develop an understanding around it. This is much more powerful than just copying a skill, which invariably leads to less memory and skill retention.
Here is a breakdown of how much is actually retained by the student as the training components come together.
Skills attained
Theory + : 10-20%
Demonstration + : 30-35%
Practice + : 60-70%
Feedback + : 70-80%
Coaching :80-90%
Interesting isn't it!?
Now if your attention span allowed you to finish reading this post congratulations and let us know in the comments below if your memory has ever failed you whilst learning to kiteboard.
What is the IKO Teaching Concept?

Over a decade ago, we had a vision of getting anyone from zero experience to an independent kiteboarder. Safety and efficiency were at the forefront of our ways! To date, IKO has certified thousands of Instructors around the globe and those Instructors combined have helped hundreds of thousands of individuals become kiteboarders!
IKO Instructors have a very important role as they are the gatekeepers to getting someone into the kite world! Instructors teach and guide individuals through the progression so that they can become a confident independent kiteboarder!
The progression is based on the feedback loop principle where the Instructor and Student interact continuously. With this continuous feedback, the Instructor can help fine tune his teaching method exactly to the students' most efficient way of learning while still following the IKO step by step progression.
Psychology plays a big role in the progression. During our pro courses, Instructors learn the in-depth ways of how to properly motivate, instruct and understand any individual.
Since the beginning, the core teaching principles of the IKO have stayed the same! As times goes on we will continue to evolve and improve accordingly.
Haven't yet learned to kiteboard? Check out our website to find an IKO Center near you.
If you are already a kiter and want to turn your passion into a part or full-time career because you love the lifestyle and sport; make sure to look into our training calendar to join the team and become a certified IKO Instructor!
The ideal kite set up for teaching

IKO Centers and Instructors are now bombarded with an array of choices when it comes down to what equipment to teach on. The right choice of kite, line length, and control bar will enhance student's safety, fun, comfort and progression curve!
Over the last decade, we have been fine tuning our policies when it comes to what equipment is ideal to be used during classes. We strongly believe that IKO Instructors and Centers should be focused on choosing a kite size that is matched accordingly to the exercise level, the weather conditions, and the student's weight.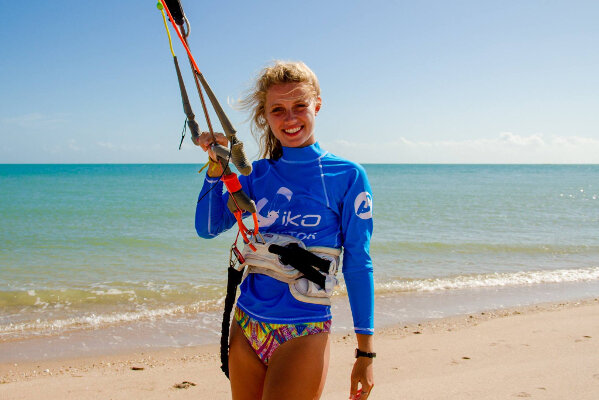 The kite should be easy to relaunch and not overpowering the student at any time while on land and/or during the first attempts of water-start. The IKO Center should have control bars with both short and long lines to match the student's level of understanding and control skills. It is very important that the bar has the re-ride safety system on one front line or use a 5th line, a functioning quick release system and the kite leash has a quick release.
As a student, when you were learning did your Instructor follow these guidelines?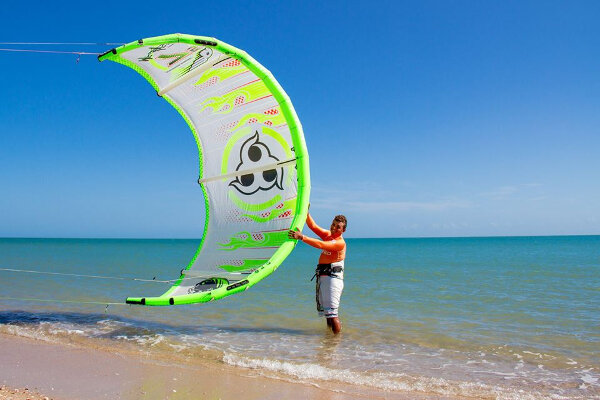 As an Instructor, have you been following these guidelines? If not, why? Is there anything else you think is essential on this aspect and you would like to share?
Contact IKO

Call us

Our office team is available from 12:00 p.m to 5:00 p.m and 6:00 p.m to 8:30 p.m UTC/GMT.




+1(809) 5719530

 
 

Email us

Not found your answer from the FAQs?
We experience high volume requests, however we will do our best to answer as soon as possible.
 
 
Contact IKO

Call us

Our office team is available from 12:00 p.m to 5:00 p.m and 6:00 p.m to 8:30 p.m UTC/GMT.




+1(809) 5719530

 
 

Email us

Not found your answer from the FAQs?
We experience high volume requests, however we will do our best to answer as soon as possible.