Kitesurf bars and safety systems
Do you really know how your kitesurf bar's safety system works?
Author: Marica Moda
Kitesurf bars and safety systems, let's clarify.
Kiters at the beach often argue about which brand makes the best bar, what materials are used, and which safety systems work better than others.
But do you really know how your bar's safety system works? Did you simply rely on the shopkeeper, the owner of the kitesurf school that sold it to you, or the friend who recommended it?
How many kitesurf bar safety systems do you know?
Kite companies are always trying to innovate in equipment performance and safety. If you compare the performance and safety of kitesurf from its origins to today, we have made great progress.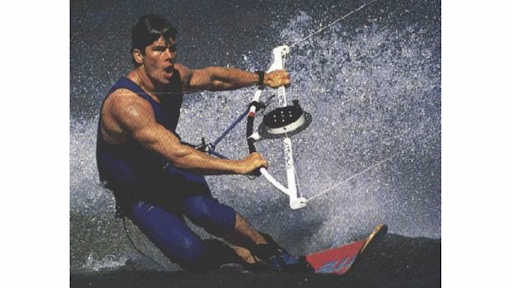 We have moved from essential two-line bars with no depower capabilities and no quick releases to bars with depower systems, simple adjustments, and quick releases that can be used with one hand.
One of the most important features in the design of a kitesurf bar is the operation of the safety system.
Bar security systems: safe and unsafe.
First, it's necessary to clarify that no safety system can completely depower a kite, especially in high winds. 
Some safety systems come very close to 100% depowering; that is why IKO recognizes and approves safety systems if they can release most of the kite's power in any wind condition (from very light to strong).
This occurs in bars with front re-ride or 5th-line safety systems and doesn't occur with other safety systems on the market.
Approved by IKO: front re-ride security system.
It's one of the 4-line bar safety systems, most commonly used on LEI (Leading Edge Inflatable) kites, thus with the inflatable leading edge.
The safety line is one of the two front lines, and in order for the system to work, the bar must be able to slide along this line in the direction of the kite for a distance equal to at least one wingspan of the kite (in the graphic: d1 ≥ d2).
Once the chicken loop's quick release with the front re-ride system is activated, the bar will slide toward the kite on the front safety line, and the kite will instantly and safely lose most of its power.
Be careful not to have the front lines too tightly rolled together (related to jumps with rotation and kite loop), because this could still cause the security system to malfunction (in this case, use the swivel to keep them separated at all times).
The front re-ride system is the safest, which is why it's IKO-approved, and fortunately, today, it's the most widely used by major kitesurf equipment manufacturers.
For the front re-ride system to function correctly and be approved by IKO: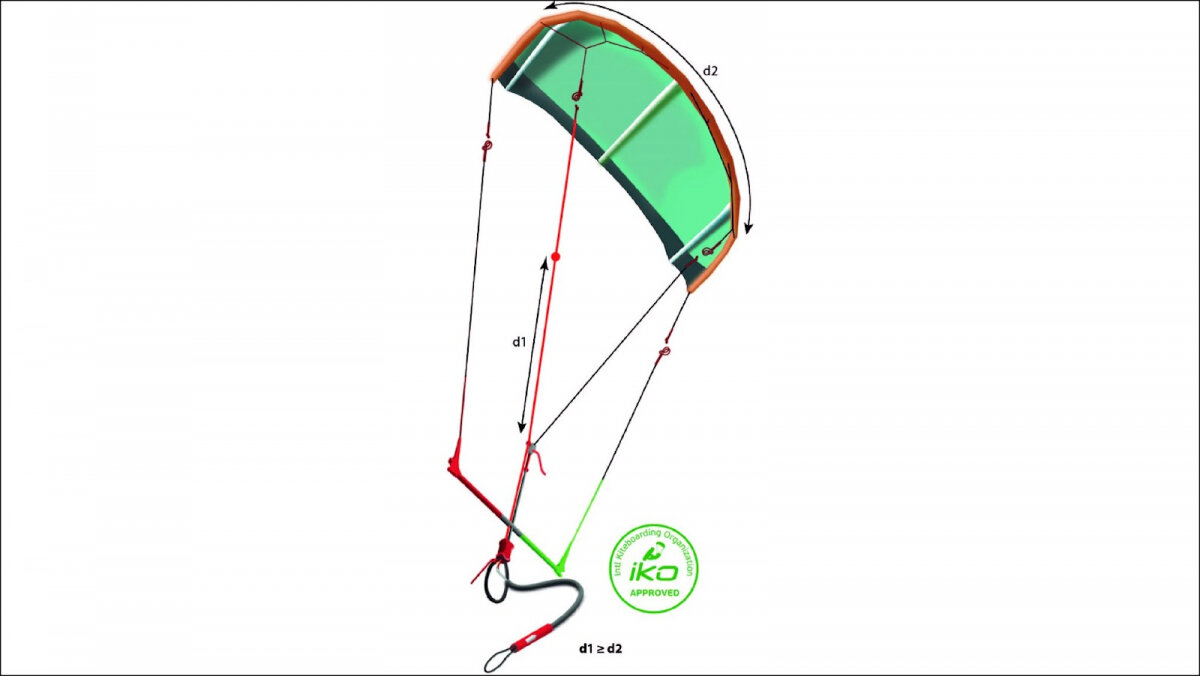 d1 must be equal to or bigger than (≥) d2 (wingspan of the kite).
Approved by IKO: 5th line security system.
The safety line is a 5th line, connected to the center of the leading edge on LEI kites and the center of the trailing edge on foil kites.
For the safety system to work correctly, the bar must slide along the 5th line in the kite's direction for a distance equal to at least one kite string (in the graph: d1 ≥ d2).
It facilitates the relaunch from the water of a C-Kite, and some brands use it to ensure more excellent structural stability of the kite.
IKO approves it; however, the depowering is less than the front re-ride system, and the risk is that the 5th line wraps around the kite since it's attached to the kite tow point (where the pump leash connects).
Activating the quick release of the chicken loop allows the kite to lose most of its power; still, you must be careful because, as mentioned before, the 5th line could wrap around the kite and damage it.
For the 5th line security system to function correctly and be approved by IKO:d1 must be equal to or bigger than (≥) d2 (kite chord).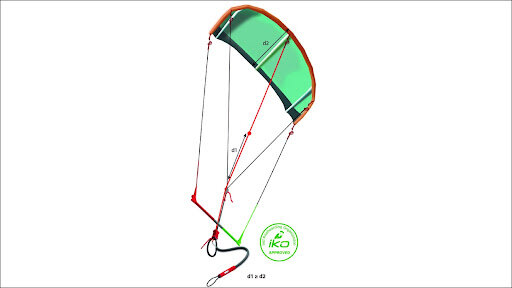 NOT approved by IKO: OSR (Oh S**t Ring) safety system, asymmetric and mini 5th line.
Fortunately, few brands use these security systems, and IKO recommends that you never use them in any circumstances. If your bar has one of these security systems, we recommend that you change it to protect your safety and the safety of others.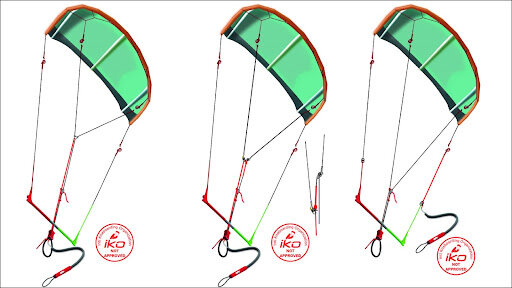 The asymmetric safety system and the mini 5th line don't totally depower the kite because once you activate the chicken loop's quick release, they keep both front lines in tension, not allowing the kite to lose most of its power, risking also kite loops.
In the OSR system (fortunately, few are seen on beaches), the safety line is one of two directional lines (back lines). Even in this case, the system doesn't allow total depowering of the kite, risking uncontrolled kite loops.
So, what is the best safety system for a kitesurf bar?
The best safety system is the FRONT RE-RIDE, and it's 100% IKO-approved.
On bars with the front re-ride safety system, you can find the stopper ball; it will be on the safety line.
Not all brands use it, but it can be very useful and is recommended for:
self-landing;
bar recovery in the water to relaunch the kite;
self-rescue.
Without it, upon activation of the chicken loop's quick release, the bar will be free to slide up to the kite, and you will have to spend more time arranging the often tangled lines.
If you use a single bar with the stopper ball for different-sized kites, we recommend adjusting the stopper ball position before entering the water.
The stopper ball must allow the bar to slide a distance ≥ the wingspan of the kite you plan to use or make your life easier by fixing it according to the wingspan of your biggest kite.
Where to place the stopper ball on the safety line correctly?
To determine the correct stopper ball position, simply lay the safety front line next to the leading edge of your kite.
The stopper ball on the front safety line should be placed at least:
1 kite wingspan from trim, on bars with the front re-ride system (in LEI and 4-line kites);
1 kite rope from the trim, in kites with the 5th line.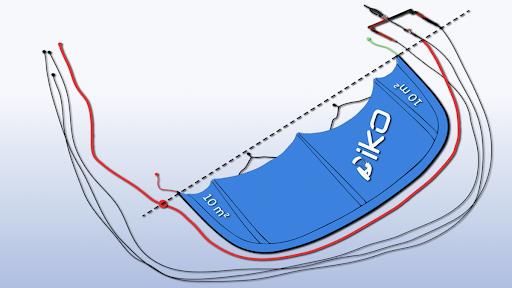 What is the other stopper ball you have on the bar between the chicken loop and the trim?
Some bars may also have a stopper ball along the center line (between the chicken loop and the trim), which is used for some old-school freestyle tricks. It can be fixed or slid and limits the upward movement of the bar.
Be careful: this stopper ball may slide down without you noticing, not allowing you to depower the kite; check it periodically.
IKO doesn't recommend that beginners use this stopper ball because, without it, the kite can be easily and completely depowered by simply letting go of the bar.
How often do you test your kitesurf bar safety systems?
Remember that a broken or malfunctioning security system is dangerous, so it is essential to check its proper functioning; otherwise, when you need it, it will not work as it should.
Try the safety systems every time you go kitesurf, it will only take a second, but once you are on the water, you will be sure you have all the safety systems you might need.
Pre-flight check before connecting to the bar:
Activate the quick release of the leash and close it again
Connect the kite leash to the front safety line
Activate the quick release of the chicken loop and close it again
Aook the chicken loop to the harness and lock it with the chicken finger
Grab and bring up the floaters on your bar to make sure the lines are in order
In addition, we recommend that you periodically rinse your bar, kite leash, and line cutter with fresh water so that any grains of sand or salt encrustations dissolve, keeping your safety systems 100% efficient.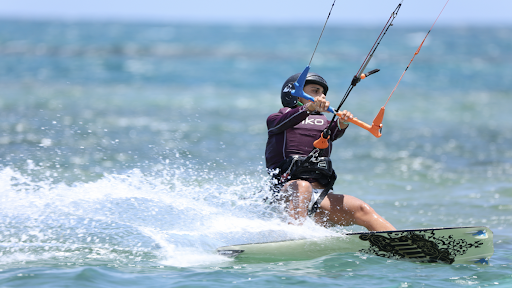 Do you know what your kitesurf bar is made of?
The kitesurf bar is composed of several elements, all made of materials that are generally very strong and suitable for high stresses.
The bridles and pigtails.
They are made of high-modulus polyethylene fiber with a unidirectional core and braided sleeve. The patent is from Spectra and Dyneema, from which the respective names are derived. This material has high abrasion resistance due to its low coefficient of friction and self-lubricating characteristics. Pulleys can be plastic or metal.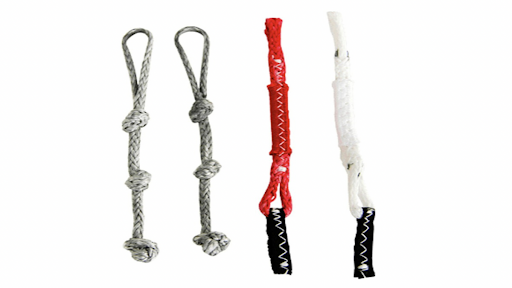 The lines. 
They are made of thermoplastic material cast and drawn into fibers. The high-density polyethylene is Dyneema or Spectra, braided at optimized angles to minimize the risk of stretching lines. Heat treatment and brushing optimize the material's inherent properties, while an additional coating protects the lines from UV rays and water absorption, making them buoyant.
The diameter of the lines varies between 1.5 and 2.5 mm, and the breaking strength varies between 180 kg and 300 kg (depending on the quality, diameter, and final seam).
When the kite is in the air, never touch the lines for any reason, even during launch or landing.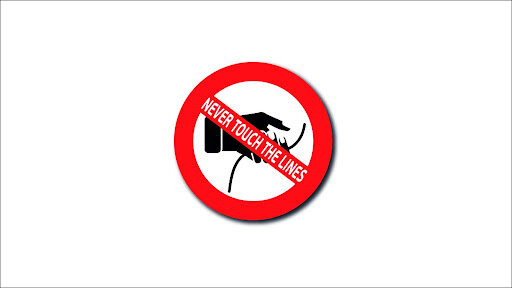 The bar.
The bar is in aluminum with a non-slip coating.
You must consider the ratio of the size of your bar to the size of your kite. A large kite has a larger radius of curvature than a small kite. For this reason, the length of the bar, which acts as a lever, should be proportional to the kite's size:
use a short bar (45 cm or less) with kites smaller than 8 m²;
use a medium bar (45 to 55 cm) with kites measuring between 8 m² and 12 m²;
use a long bar (55 cm or more) with kites measuring more than 12 m².
Thanks to a system at the end, many bars can be adjustable and be lengthened or shortened depending on the kite you use and the responsiveness you prefer.
Generally, it's not possible to interchange 2, 4, and 5-line bars and use one bar on different types of kites.
The chicken finger.
It's a rigid rubber tube that ensures the chicken loop stays connected to the hook of your harness.
The chicken loop.
It's a rigid rubber ring that connects the bar to your harness. It's also connected to your kite's front lines. Its connection to the harness allows you to ride without supporting the kite's full traction with your arms.
The chicken loop's quick release.
The chicken loop's quick release system allows you to quickly release yourself from the kite's pull in an emergency.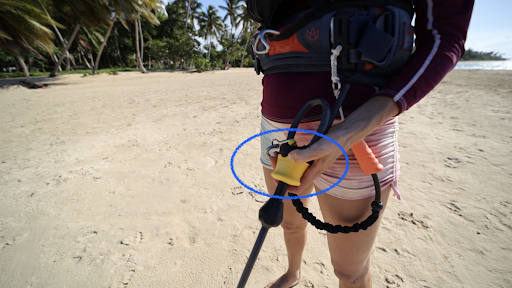 In this regard, some brands have devised a quick and effective release and reattachment system: after operating the safety system and then opening the chicken loop of the bar, to reattach it, simply push the end of the chicken loop into the appropriate slot. No need to touch the release system; the chicken loop also closes with one hand.
The stopper ball.
It's a hard rubber or marine aluminum ball that stops your bar when, for safety reasons, you activate the chicken loop's quick release, and it slides on the front safety line toward the kite.
The stopper ball position is dynamically settable. It must be calculated to allow the kite to foil and hold itself in an inverted position, minimizing aerodynamic drag.
The swivel.
It's a rotatable component of your bar that keeps the lines from rolling up in the event of a trick, allowing through its rotation to put the front lines back in order, leaving the bar free to slide on the front safety line.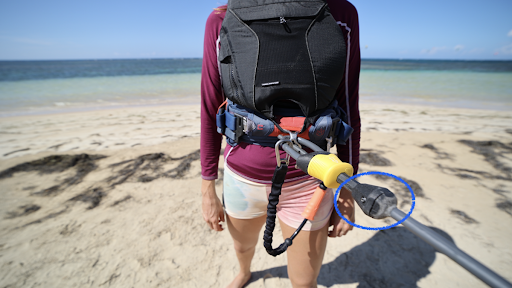 The floaters. 
They are made of floating foam and are located on the sides of the bar and make it float.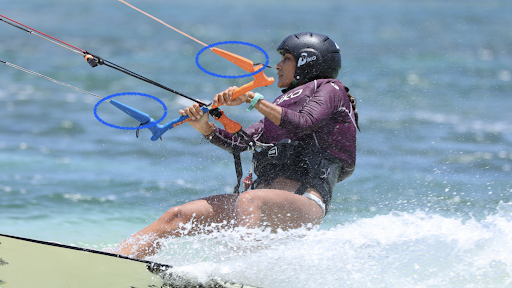 Simple golden rules.
Follow these simple IKO Standards for your safety on the water and the safety of others:
Use a bar with a chicken loop with quick release;
Use a bar with an IKO-approved safety system: front re-ride or 5th line;
Use a kite leash with the quick release connected to the front of your harness;
Always keep a line cutter in your harness (in case you need to get rid of lines it could become your first safety system).
These are a few simple rules to follow for safe fun.
Remember that all safety systems should be tested by turning them on and off before each use, so you can be sure they will work when you really need them, and always use a bar that allows your kite to lose all its power.
Have fun and enjoy the wind.
How to Kitesurf Safely: ROW Rules, Self-Rescue, Launching and Landing a Kite
Wow, what a hectic time we've all had the past few months! Covid-19 has taken over the world and ground everything to a halt. I'm so pleased to say that most countries are now on the declining side of this gnarly wave and that lockdown restrictions are starting to ease in the majority of countries around the world. And so with it, kitesurfing has made a miraculous reemergence!!!
Here in the U.K., I have never seen so many kites in the sky! I'm sure it's the same for all you kitesurfers out there wherever you may be? If we can take one positive from all of this, it's shown just how fortunate we all are to call ourselves kitesurfers, shredders of the seas!
A busy return to the sport can also bring inherent dangers. With more crowded spots than ever before, it is important to be safety cautious and take care of one another. In this article, I'm going to refresh your memory on some important kitesurf safety procedures and checks to ensure we all have a fun, but ultimately safe time on the water.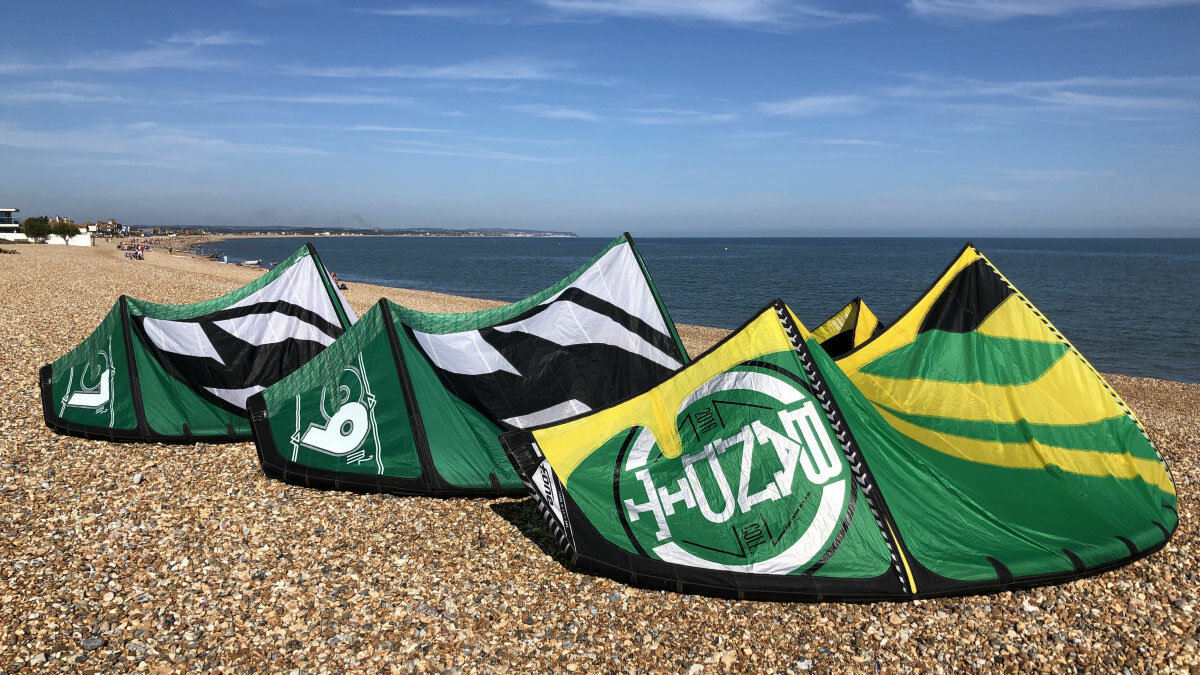 What to do before you arrive at the beach?
Check over all your kitesurf equipment for wear & tear. You don't even need to be at the beach to do this! 
Find an open space large enough to run out the full length of your lines. Next, you're going to walk through your lines untangling them as if you were heading out for a session. I like to attach a leash to a fixed object and hook the end of all my lines through the carabiner on my leash. Walk back down the lines towards the bar (checking for knots and worn out fraying lines). Top tip for removing stubborn knots: leave the line to soak in hot water for a few minutes first before working the knot out. If the lines are severely damaged, you should replace them.

Check the line length! Grab your harness and hook into the chicken loop. As long as you've secured the lines onto a fixed object, you should be able to lean back into the harness putting light pressure on the lines. Use the trim strap to take all trim out of the bar (max power setting). Now sheet the bar all the way in. Where does the bar come to? It should be touching the top of the safety system. If it isn't, this is a sign that your front lines have stretched and your kite will be prone to back-stalling. If you have extra knots under the floats on the bar, move the steering lines down one knot, therefore making the steering lines longer. Pull the bar in again and see if it now touches the top of the safety system. Repeat this process until all lines are equal length. If you have used all the knots down by the bar, you may have the option to trim the lines on the kite. The final possibility is to physically stretch out the lines, just double-check that the bar is level and not steering to one side.

Look over the kite for any repairs such as pinholes, patch as necessary. I highly recommend inflating the kite and leaving it for a few hours to ensure there are no valve/bladder leaks. The last thing you want is a jellyfish kite on your first session back!

Check the bridles on the kite as these can often become worn-out from the pulleys travelling along the line constantly.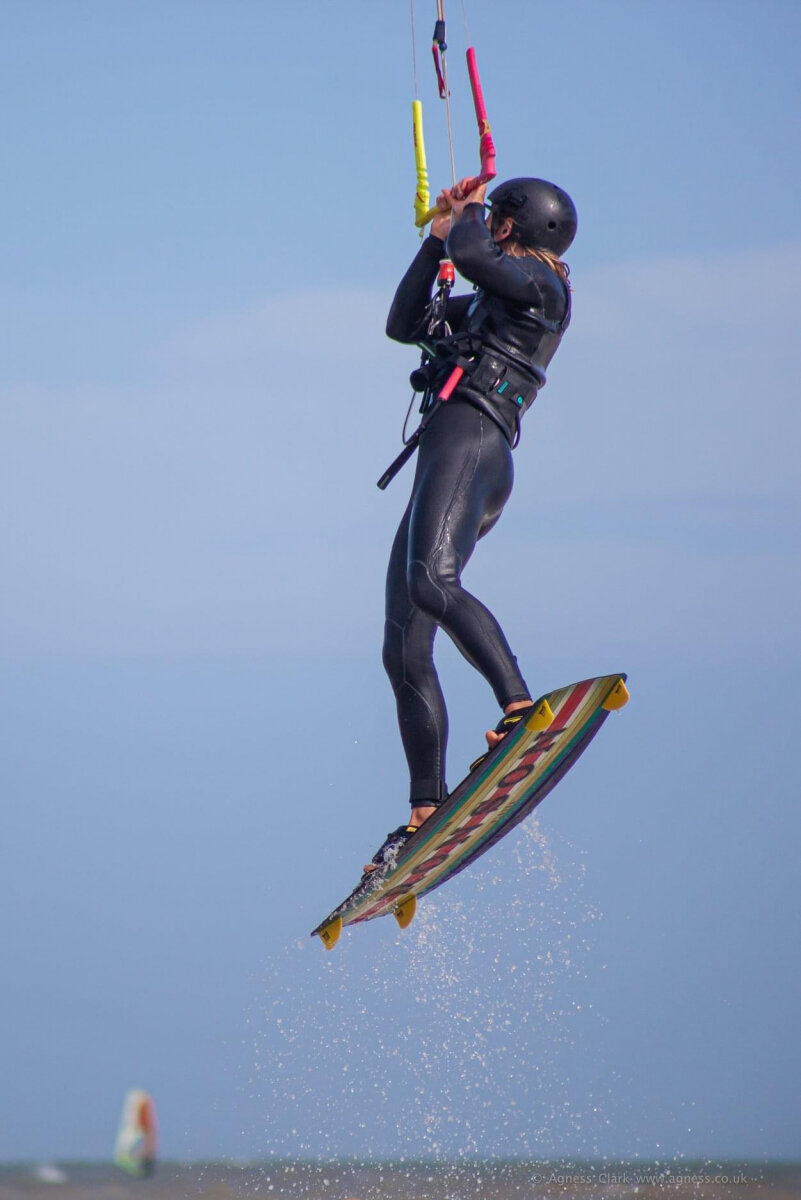 Refresh your memory on the kitesurf R.O.W. rules
Have a quick look over the R.O.W rules and test yourself on them. The most important rule is to avoid collisions at all costs. However, here are my top five rules to help avoid any near misses in the first place.
Upwind kite Up, Downwind kite down (The golden rule).

Starboard tack has the right of way over port tack. Starboard tack means you are going to the right with your right hand and right foot first.

Give way to kitesurfers entering the water and trying to get away from the beach.

The rider surfing a wave has priority, give way to them.

No priority on land, please use common sense.
Know how to perform a self-rescue
This is an essential skill which you will have learned if you had lessons at an IKO affiliated kite centre. Have you forgotten how to perform a self-rescue? If so, you can visit your nearest IKO affiliated school and book a lesson to cover this. Alternatively, the IKO has a great step by step video tutorial explaining the process. To gain access to these tutorials, sign up for IKO kiter premium today!
It is essential to have practised this especially at a time like this! We don't want to put unnecessary pressure on our emergency services as they are already overwhelmed.
Keep a distance when on the beach
This is super easy to forget as we are all so stoked to be back at the beach and excited to see our kitesurf buddies! Please respect your country's social distancing rules to help shed a good light on the kitesurfing community.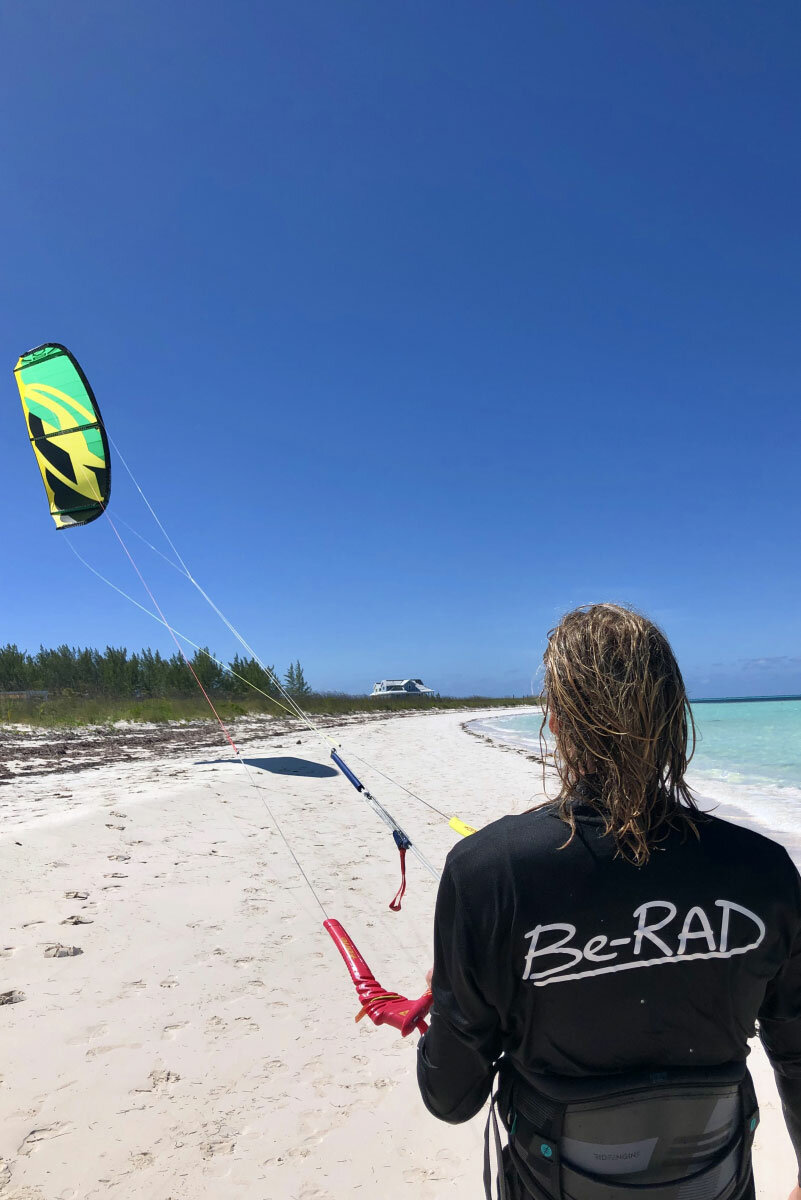 Launching a kite safely
It is important to launch a kite with as little power as possible. Unfortunately, the majority of kitesurfing accidents actually happen on land when launching the kite. It is always best to launch with an assistant rather than a self-launch. Here is my simplified launching procedure:
Ask your assistant to pick up the kite by the leading edge and flip it so the leading edge is in a vertical position (you should be hooked into the kite at this point).

Keeping CONSTANT tension on the front lines, slowly walk upwind. You can let go of the bar while walking upwind.

Keep watching the kite, once the canopy of the kite stops flapping, you are almost in the correct position to launch.

Take a couple of small steps upwind to ensure the kite won't stall when launching.

 Give the thumbs-up signal once you have done your pre-flight checks and you are sure the kite is set-up correctly. 

Slowly launch the kite upwards with one hand. My top tip here is to have the spare hand ready to fire off the safety, should anything go wrong.
Landing/Self-landing
Again it is always best to land with an assistant. Simply ask a fellow kiter or tap your head (universal landing sign) signalling you want to be landed, slowly lower the kite down.
You may find that you have such a rad session, happily unaware that you are the last kitesurfer on the water. This has certainly happened to me numerous times!
In this case, you will need to self land the kite. The safest way to self land your kite is to pull the safety release.
Pull the safety and wait for the kite to flag out. 

Once the bar has travelled all the way away from you, work hand over hand along the safety line. 

Follow this line through the bar making sure to only keep tension on the single safety line preventing the kite from relaunching. 

Walk all the way towards the kite grabbing the bridle connected to the safety line. 

Now you can hold the kite by the leading edge and pack away as normal.
I hope you've found this article worthwhile, please share the article across social media and spread my knowledge for safe kiting! Enjoy that first session back on the water if you haven't already done so. I can tell you now, it's unimaginably fun!
Sign up for a Kiter Membership to get worldwide insurance coverage along with access to 25+ hours of eLearning. Your kiting has never been safer!

Written By: Be-Rad Watersports
All the ins and outs of IKO Safety Standards and why you should follow them
Safety is an important issue in kiteboarding which has been labeled as a dangerous sport. At IKO we strive to provide people with the safest kiteboarding lessons possible using several different methods and equipment. Our Training Department works together with our team of Training Masters* and Examiners to continuously evolve and improve the methods and equipment used. 
This interview was conducted with Vincent, who is not only the Head of the IKO Training Department, but also The Training Master who trains other Training Masters! Getting to this position took 20 years of kite experience, around 15 years of being an Instructor and of these 15 years, he has been an Examiner for 8 years. In other words, a tremendous amount of experience and dedication to the sport! This interview will give you all the ins and outs as to why we have set these rules and should be followed by ANY kitesurfing Instructor!
*A Training Master can train Examiners
Photo Credit: White Dune Kiting
We require students to be able to swim before they start their kitesurfing lessons, so why do they have to wear a life jacket?
Because kitesurfing is a  water-sport where we can go into deep water, you have to be able to swim. However, very few people are able to swim back from a reef that's 1km out from the shore without problems even if they are in good shape. This is when a life-jacket is very useful.
Students crash occasionally, and in extreme cases, they can get a head injury that causes them to lose consciousness in the water. The life jacket then saves them from drowning.
It's also highly recommended that students wear an impact vest on land, but this isn't mandatory, especially if it's very warm. This provides an extra layer of protection for the chest. It's also useful to wear the life-jacket on land because thanks to using short lines, a student progresses faster into the discovery level and they're likely to go into the water in the first lesson. If they don't have the life-jacket on already and the school is a short walk away, you have to walk and lose valuable time. If the life-jacket is already on, then you can move into the water right away which will make the student happy.
All in all, there's no downside to wearing a life jacket. It might be a little bit annoying but students must wear a life jacket during their lesson.  Always make sure that you have life-jackets for people of all shapes and sizes to ensure that it fits well.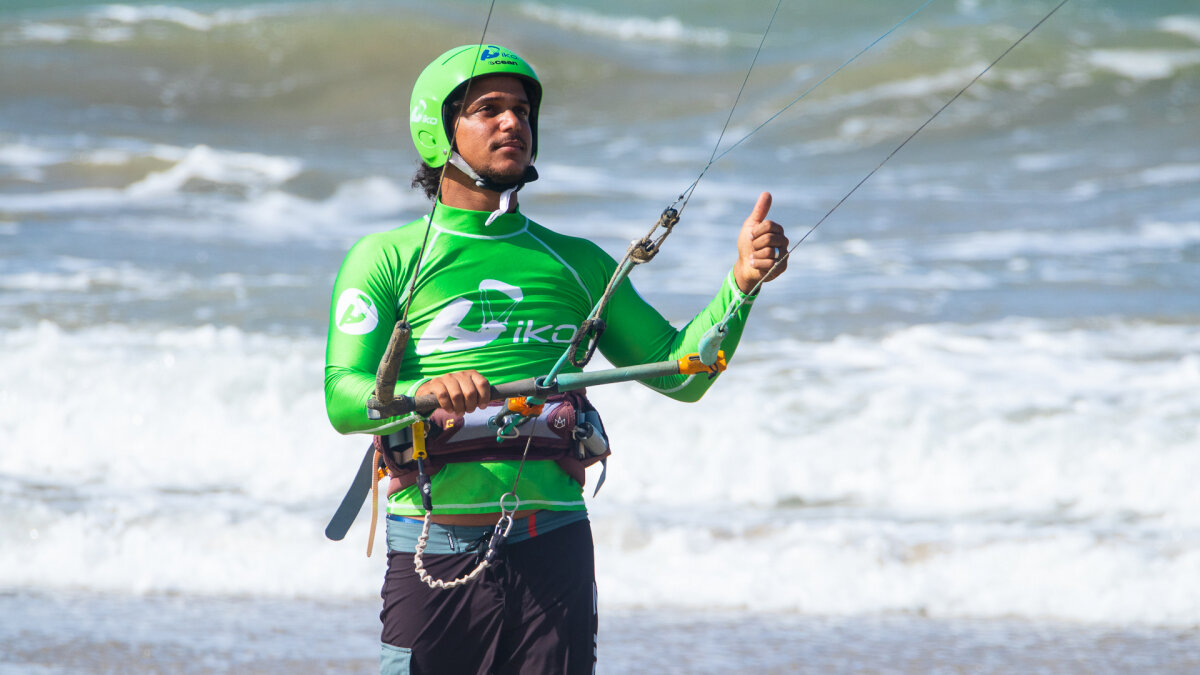 Who must wear a helmet and when should it be worn? Why aren't helmets mandatory for instructors who are teaching a course or independent riders?
All students at all levels must wear a helmet during their lessons, whether they're on the beach or in the water. This includes beginner kiters taking a discovery lesson, advanced kiters learning handle passes and candidates taking pro courses.    
If a student isn't wearing a helmet and suffers a head injury during a lesson, the instructor may be found liable if legal action is taken against them. In the end, it's the responsibility of instructors to keep students safe. 
There is no obligation for certified instructors to wear helmets  because this is their responsibility, there's a huge difference between 'I'm working and I will take the risk of a head injury' compared 'I am giving a lesson to someone who doesn't know the sport and I'm taking the risk of giving my student a head injury because the student didn't receive a helmet.'
Sometimes people say it's annoying, yes, it's a bit annoying. Sometimes people say I don't want to wear a helmet, but they don't have a choice because in the end they fall under the responsibility of the instructor and they have to listen to you.
If you see people teaching here on the beach without helmets, do you ever say anything about it?
I try to communicate with them but if they are not IKO then they usually don't care about IKO and the rules we have set. Of course, I try to explain and talk to them but the people who are most blind are the people who don't want to see.
We always try and we do see more and more non-IKO Instructors teaching with helmets and life-jackets but there will always be those people that simply don't care. The IKO is not the police so we cannot regulate this worldwide.
This is also why we are working on becoming more recognized worldwide. For example, we just started working together with the Italian organization that regulates water sports. We hope to start working together with other countries as well so the sport can develop more safely and not have the image that it is a dangerous sport to learn.
Why should my safety leash be attached to the front of the harness?
First of all, the kite will pull you in the direction that it is going from the attachment point. If the leash is attached on the back then it will pull you on your back and you will struggle to release it. However, put it on the front and you will be able to reach it better and thus release it quicker.
Let's make a comparison to an F-16 or other military aircrafts, in extreme dangerous situations the pilot needs to eject himself from the plane. The button to eject the pilot is between his knees right in front of him where it is easy to reach. If you tell one of these pilots that we put our eject button on our back, they will say that this is stupid because it is more difficult to reach and you could lose some valuable time that could mean the difference between life and death.
Even if you are at the level where you are doing handle-passes, putting the leash on the back of the harness is not an excuse that makes the trick easier to perform. The leash won't block you or act any differently than when it is attached to the back. But if you happen to run into a problem, you'll be very happy to be able to release it as quickly as possible.
Luckily, we don't need to use our safety leash often and really big accidents are relatively rare in the kiteboarding scene, however, the day you do need it and you can't reach it… Then you're being dragged through the water on your back, you're taking in water, you start to panic and the situation gets bad really fast.
Now, some people are putting the leash on the side of the harness, this already makes it more reachable however it's still not the best option. A situation in which this wouldn't be the optimal place to have the leash would be when you seriously injure one of your hands/arms/shoulders. Say you injure the arm on the side where you have your leash, this could mean that you are unable to reach your leash with that hand so you need to go around with your other hand to release the leash. This is more time-consuming and a more difficult manoeuvre, again it is possible but will be hard. We need to take all these situations into account because you don't know when you will need to release your leash.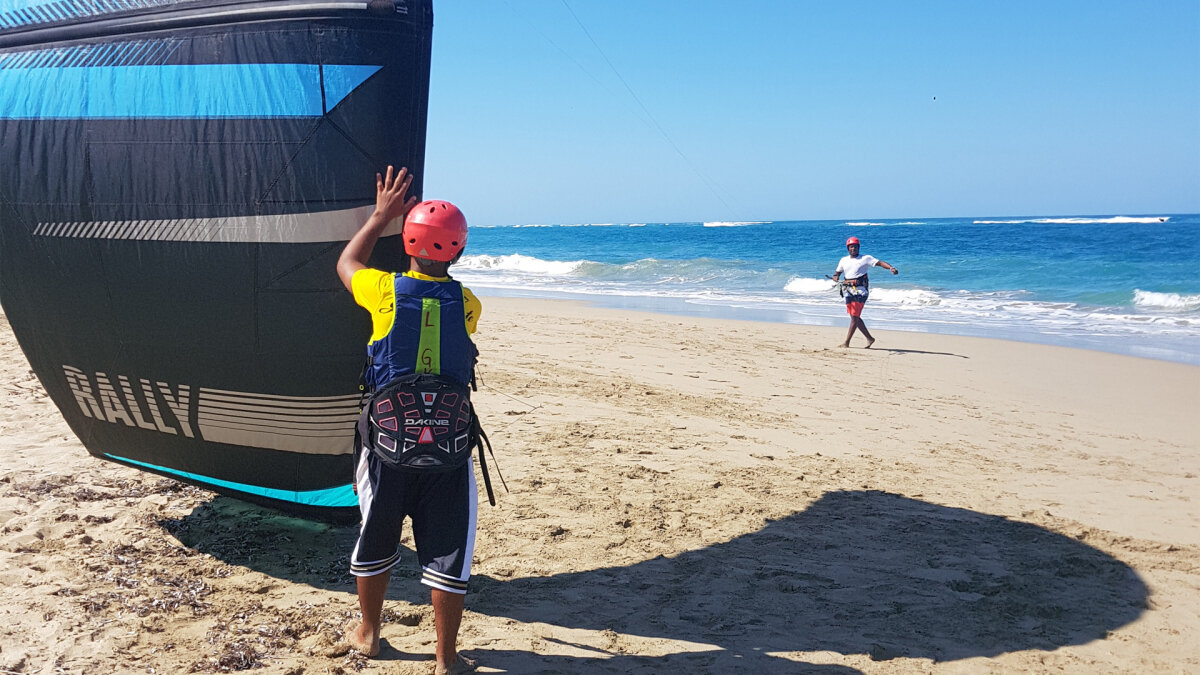 Why is the use of long-lines not recommended?
We are probably the only sport where the students are put on equipment that is meant for independent riders. When you learn how to ski/snowboard, you first start on the green slope and then progress as you gain more experience.
I always take the example of the car. When you are learning to drive you usually use a smaller car that doesn't have as much power and not a formula one car. This makes sense as you first need to learn to steer the car and be able to stop the car. We do the same with short lines, if you start learning with a formula one then you have too much power from the start and you don't know how to handle anything. So short lines will help you to do that, the steering is the same, you learn how to use the safety systems and to let go of the bar.
Of course, as soon as the student is able to do this comfortably, we give him the 'formula one' and we tell them, basically everything is the same however now you have more power so be careful. The student will understand you, at the beginning the student may not understand because they do not know anything about it. We first want to focus on steering and safety system use and only then give them access to some power.
When using long lines from the start, the student doesn't know much about kiting yet so you will see them being pulled by the kite or the kite crashing hard, this makes them afraid. When you are afraid, you tend to be more tense which results in the student pulling more on the bar which will in turn create more power and then it's just downhill from there.
Of course it works, you can learn how to kite on long lines with full power, we all did this a long time ago but on the other hand, using short lines has multiple advantages which are discussed in the next paragraph.
More and more instructors and kite schools are using short lines, what are the benefits for the Instructor and the student?
The first and most important advantage is that the kite's power is reduced without reducing the size! 
When learning on a kite that doesn't have much power, the stress for both the Instructor and the student is reduced as no one is being pulled around by the kite. This in turn stimulates discovery as they can comfortably explore all areas of the wind window. Additionally, the kite will not crash as hard as it would on long lines which means the kites will need less maintenance and will last longer. 
As the student can gradually get used to the power, they will have a better understanding of the power that a kite can have. If the student makes a mistake then this will have less negative impact on the student as the kite won't have enough power to cause any serious incidents. 
Due to the short lines, the size of the wind window is reduced, this means that we need less space for a lesson and as we use less space, we have less negative impact on other beach users. It also means that more lessons can be taught on land at the same time if the spot allows for it.
Less kites will be needed for the lesson, rather than changing the size of the kite, you can adjust the length of the lines. This isn't only easier to do but also faster meaning the lesson time can be used optimally. A gradual transition to longer lines should be made once the student has demonstrated good kite control.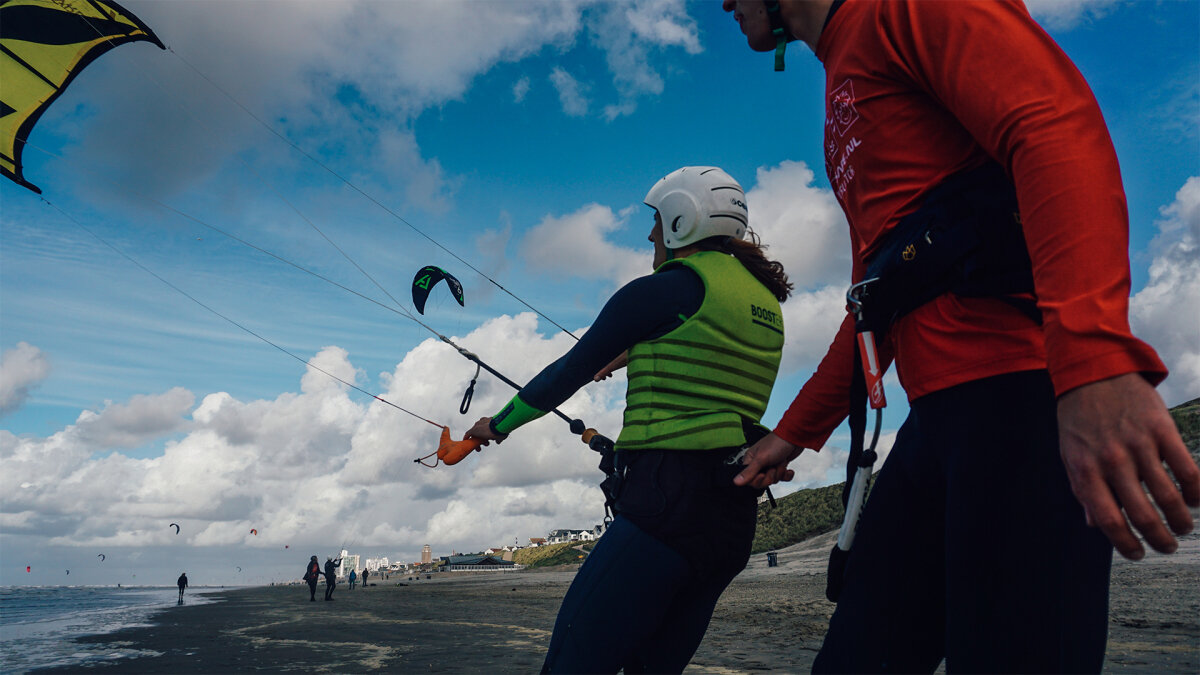 Photo Credit: Eva Krul
Why should you not hold onto the back of the student's harness?
It is not forbidden to hold onto the back of the harness but if you're holding on during the whole lesson, then it is likely that you don't have confidence in your student. This may be because the lines are too long or because the student is not confident in steering the kite.
You know that therefore the student is in potential danger and you hold onto the harness.
Of course if there is some actual danger or high risk, you can hold onto the student's harness to ensure the student's safety. But if you are on trainer lines then the student is less likely to be pulled so it's not necessary to hold onto the harness.
It's much better not to hold onto the harness because without holding onto the harness they really learn and become more independent from the start. If you're teaching and holding onto the back continuously then the student doesn't get the actual feeling because they have an 'anchor' hanging off their back which isn't the case when you go kiting independently.
It also helps you as an instructor! It will prepare you to teach at a higher level, when you are a Level 2 Instructor you can teach with 2 kites flying at the same time and it's not possible to hold onto the student's harness as you cannot be in 2 places at the same time.
I barely touch the student's harness during my lessons, maybe just a little bit in the beginning or if it is a little kid or someone who is a little bit afraid just to reassure them. But less than 10% of the time.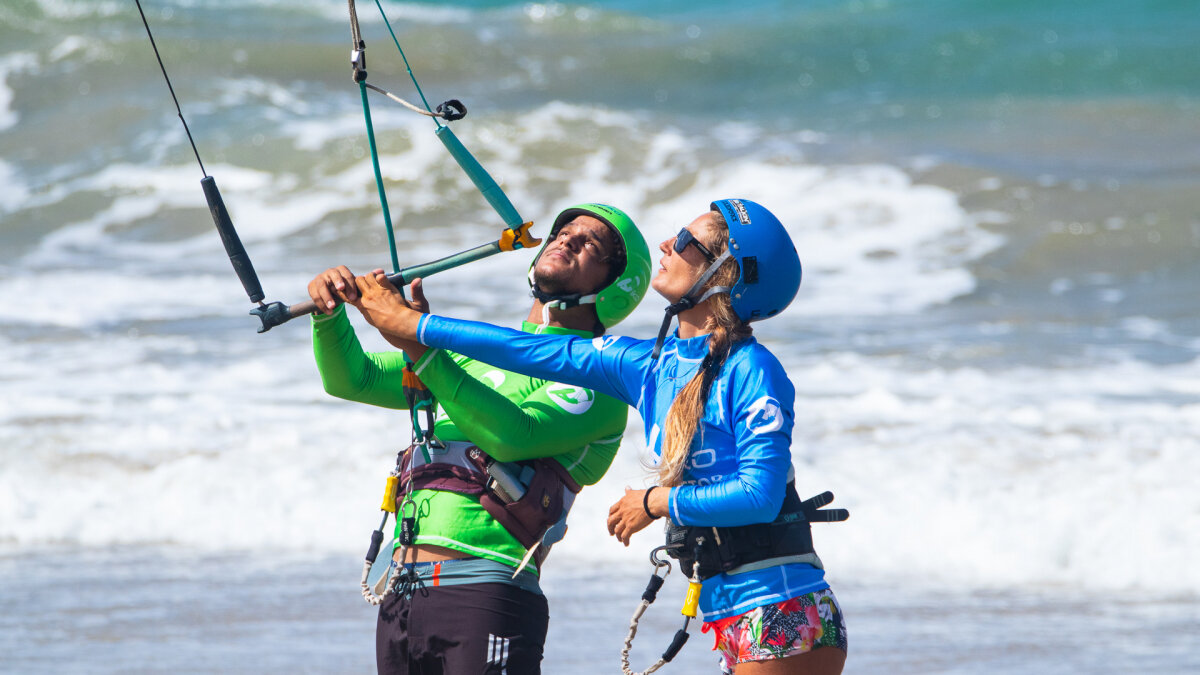 Why should the Instructor not touch the bar of the student?
If they have really poor steering control then you can use the elbow technique and help them as much as they need at the start and decrease how much you have to help as the lesson progresses. They need to become independent. Again it's really important here to use short lines.
Of course if you're teaching and you see your student is distracted by something else happening around and doesn't watch the kite but pulls on the bar then you can help to correct them to avoid any accidents.
If my student is struggling to put the board on their feet, can I help them to put on the board?
It's always okay to help your student but if you have to help because they are really struggling then it is likely that they are tired and it is best to stop the lesson and continue at another time.
The goal of the lesson is to become independent so always helping the student with their board won't help them to reach this goal.
There are people that struggle to put on the board for various reasons, but even they need to learn how they can put on their board by themselves. You can discover a way for them to be able to do this during the lesson, for example:
You can land the kite in the water on the side of the wind window then put on the board and relaunch the kite.

You can tell your student to grab a foot strap rather than the handle in the center of the board

You can put the board in front of you and try to shuffle your feet in it until they are comfortable and you are ready for your water start.
This may seem more difficult but the students have to learn how to do this by themselves.
Usually people only spend around 9 hours learning how to kite, this means that in this time they need to learn everything to become independent. If you are always doing everything for them then they won't learn. Of course if you see your student is getting tired then you can always help them. Just remember that they are paying to learn how to practice this sport and they will want to be able to do everything by themselves at the end of their course.
The more you do as an Instructor, the less they learn.
Why do we have to give priority to all other vessels?
Sailing rules state that the one with most maneuverability has to give right of way, in most cases this is us. People who do both wind and kitesurfing might wonder why we kiters have to give way to the windsurfers, in most cases, the most experienced windsurfer will be less maneuverable than even a newly independent kiter.
It's really easy for us to change tack, do a jibe, in most cases it's even fun so just be nice.
One exception could be when a kiter is surfing a wave, in this case the windsurfer would have to give way because we are less maneuverable.
Use common sense!
Does a kiter riding starboard tack always have priority?
No, this is a general rule for priority however in many situations it doesn't apply. For example:
If you encounter a kiter surfing a wave on port tack then they would still have priority.

If you have spot where you enter the water on port tack then you would still have priority because you are entering the water.

If you're starboard and you want to jump but you have someone coming towards you on port tack, then you would still have to wait as you have to have some free space around you.

If someone is body-dragging then they have priority because they are less maneuverable.
Overall if you see a rider that is not following the row rules then it's better to just move away and give them their space rather than almost have or have an accident with them.
Thank you Vincent for clarifying all these different safety issues for us! We wish you all many safe kitesessions.
*Credits to H2O Extreme for the cover photo.
Clouds can be one of the best weather indicators around you. Even though there are no absolutes when it comes to weather prediction, recognizing some of the following cloud formations could give you some indication as to what is happening weather-wise.
First let's start off with, what is a cloud? Clouds are Air that is saturated in humidity and that condenses around dust particles and gathers to form a cloud. In other words, clouds are vapor.
There are 3 main heights of clouds:
Low heights, the 'cumulus and stratus' - Middle heights, the 'alto' - Top heights, the 'cirro'.
Here are some of the clouds that are useful to be able to assess short or medium term weather changes. All cloud types can be found in the eCourse Weather and Tides on our website.
Fair Weather Cumulus: Puffy, small, low height clouds appearing during warm days. When they appear in a high-pressure, this is a sign of potential sea breeze or thermal activity on land. They can be frozen depending on the altitude. They can also appear during low-pressure and be the start of Cumulonimbus.
Cirrus: High-level clouds. Cirrus are an early sign of a low pressure system approaching. They look like hair and look like it is stretched by winds. Their thinness is of some centimeters and are formed from ice crystals.
Cirrostratus: Cirro means superior. Like Cirrus, they are high-level clouds appearing in layers. They make the sky appear whiter and at night it makes a halo visible around the moon. They usually indicate that a low-pressure system is coming.
Altostratus: Similar to Cirrostratus, they make a layer through which we can see the sun but no halo phenomenon. Rain or snow may occur later.
Nimbostratus: They are the largest cloud type. They can make rain for days! So thick that sunlight cannot pass through them.
Stratus: Are low-level horizontal layering clouds. These clouds are essentially above ground fog, formed either through the lifting of morning fog or through cold air moving at low altitudes over a region.
Alto cumulus: Also called pre-storm clouds, they look like several cumulus attached together. Thunderstorms may occur later.
Cumulus: Cauliflower-shaped low-level clouds with dark bases and bright tops. When observing cumulus, you are actually observing the condensation process of rising thermals or air bubbles at a certain level in the atmosphere known as the condensation level.
Cumulus Congestus: A form of Cumulus cloud that achieves considerable vertical development in areas of deep, moist convection. They are an intermediate stage between Cumulus and Cumulonimbus.
Cumulonimbus: These start as a Cumulus and become larger and larger. They develop until it makes an anvil shape as it reaches around 10 to 12 km in height. Cumulonimbus can generate storms, hail, heavy rain, tornados, and squalls. They can move against the wind and in any direction. You may not always see them due to the cloud cover. Remain aware of the 'black sky' (when it starts to be dark during a warm summer day).
If you find any of our tips helpful; all this and more is learned during an IKO Assistant Instructor Training Course. Check out the training calendar on the main IKO website to book your spot at a training course happening somewhere in the world!
The wind window is the area where the kite can fly. On its edge, the kite generates its minimal power, because it only receives the true wind. It is also where we use the kite clock as a reference for teaching. Positions 9 and 3 o'clock are also called launching and landing positions. 12 o'clock can be called the Zenith too. On the center of the wind window, the kite will be able to accelerate and create an "induced wind" which associated with the "true wind" will be called "apparent wind". This is where the kite can generate its maximum power. 
This infographic and others are available for free in the gallery section of the IKO App! Download the app today to access these resources (App Store or Google Play Store).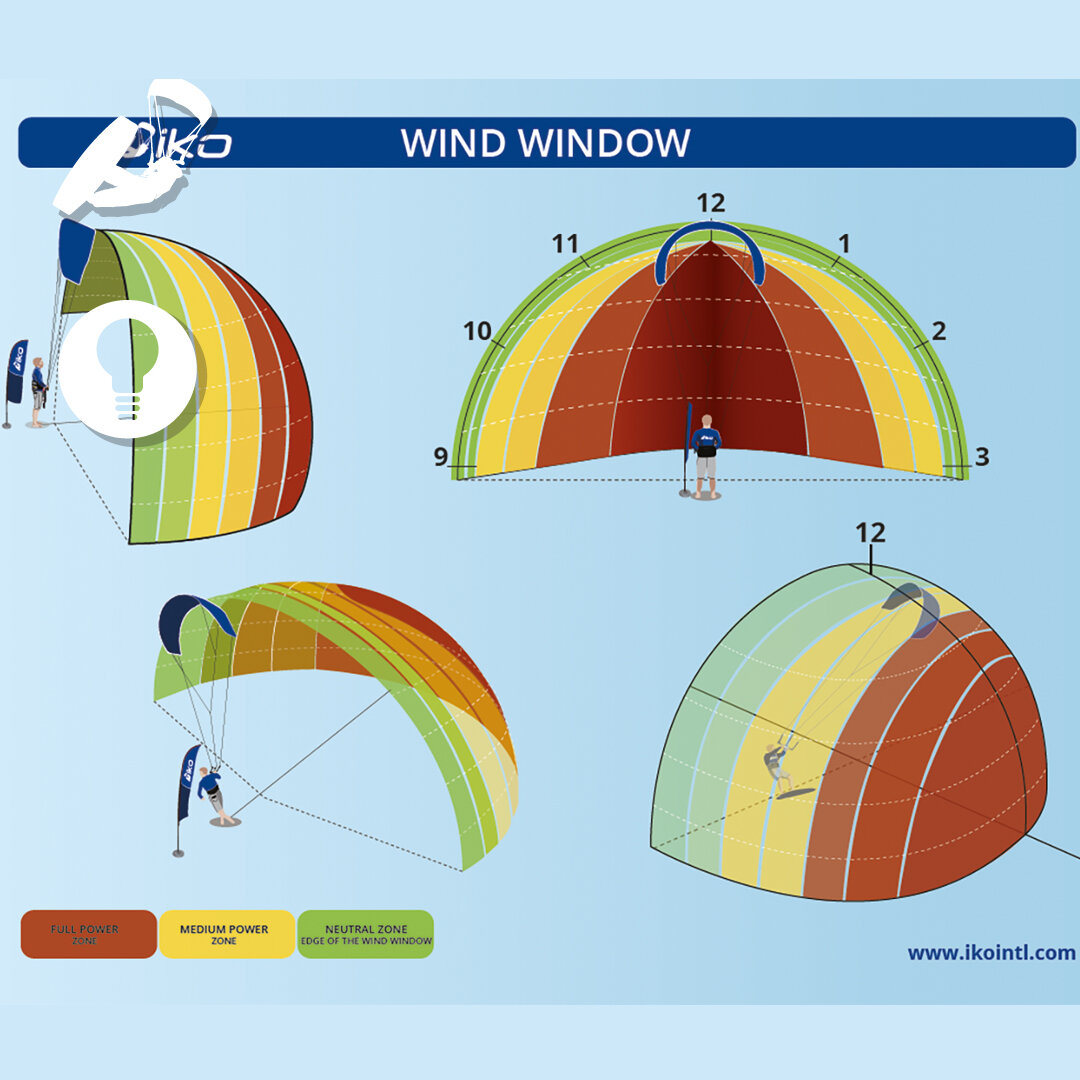 Upwind or Downwind? Which is right? Which is wrong? Who even cares?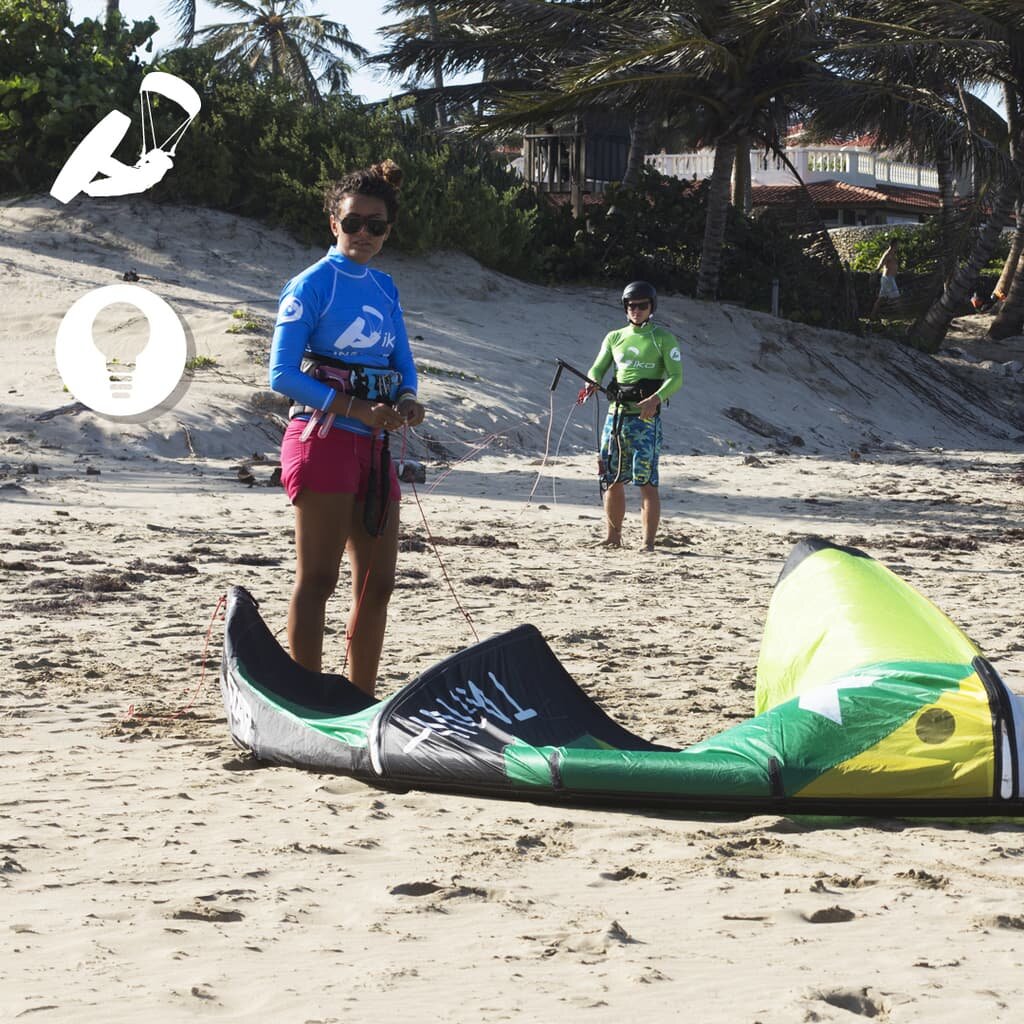 An age-old debate in the kiteboarding community is whether a kiteboarder should set their lines upwind or downwind of the kite? What is the difference and does it really even matter? The answer and truth is that both set up methods can be done, however the IKO strongly recommends teaching the downwind setup as it is safer in many aspects.
Let us examine the advantages and disadvantages of both set ups-
Downwind set-up
To set up your lines downwind of your kite we recommend you loosen up some line and put some sand over the lines extremity so they do not move with the wind. Unwind the lines starting from the kite walking downwind. When walking your lines make sure to match the bar ends with the kite lines colors (red on red for example).
*It is important to note that the bar is not "upside down" as many people who do not like this method claim. It is just a point of view because we are on the kite's back. As Examiner Vincent explains when he is teaching: "When you are side to side with someone, watching the same direction, you will see their left hand as your left. If you were face to face with them, you will see their left hand to your right, but that does not mean that their left hand is now on the right, it is just your position that changed".
Advantages:
- Easy to do the preflight check.
- There will not be power in the kite until you walk to the launching position.
- It is much safer because of the two advantages above.
Disadvantage:
- When it is very windy the lines are pushed away while you unwind them. It can be easily solved by putting sand on the lines ends and/or placing them underneath the kite.
Upwind set-up
To set up your lines upwind of your kite, unwind the lines starting from the kite and walking upwind. Make sure to match the bar ends with the kite lines colors (red on red for example).
Disadvantages:
- Not as easy to pre-flight check.
- The kite is directly in the power zone if tension is put on the lines (dangerous).
- During launching, the back line could wrap around the kite.
- The assistant has to walk between the kite and its pilot to lift it, it is more challenging to do it right especially for non-kiteboarders.
When examining the advantages vs disadvantages of both set ups, it is clear despite a bit of an inconvenience when the wind is strong that setting up your lines downwind of your kite is optimum for many logical and safety reasons.
Two required safety measures when hydrofoiling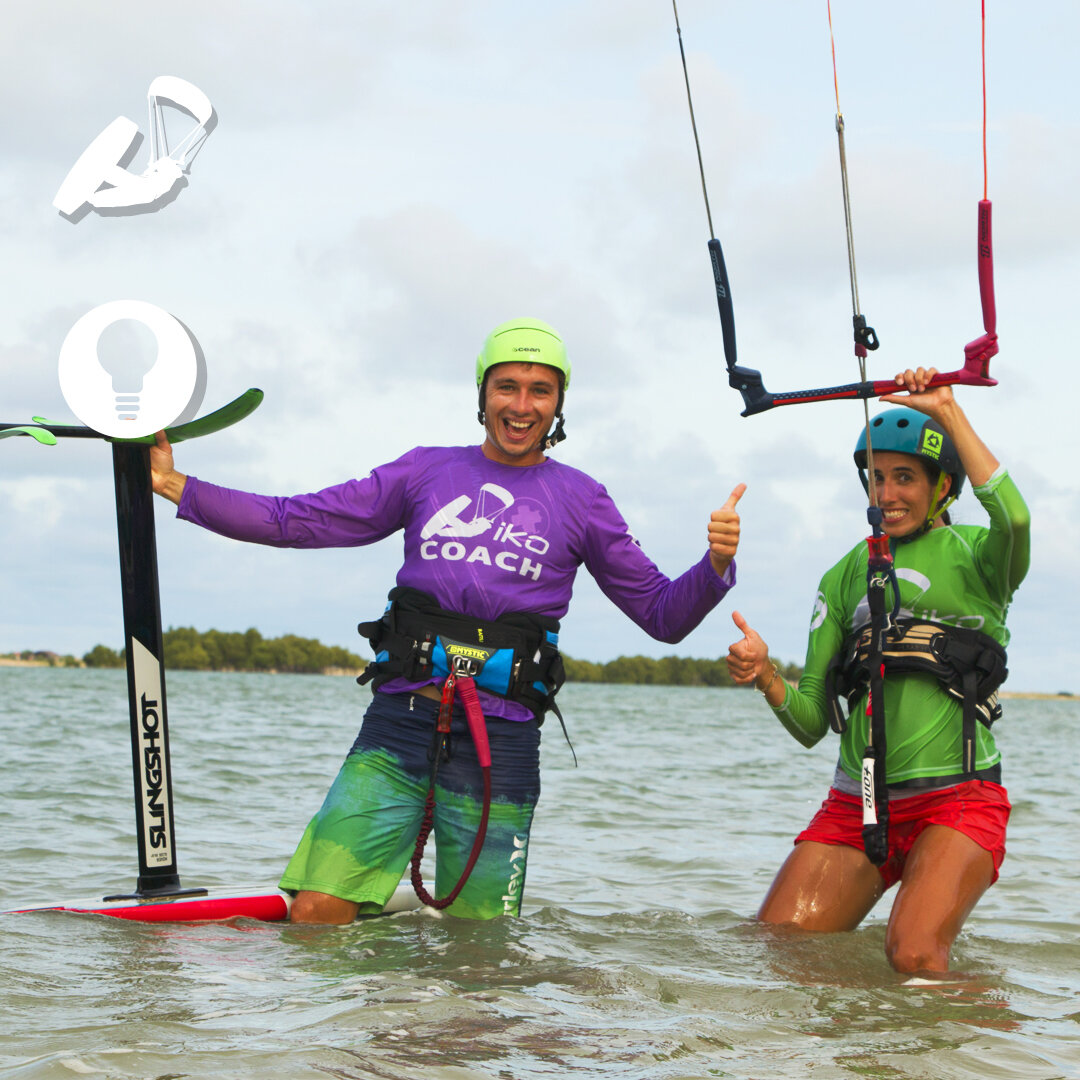 There is no question that hydrofoiling is growing extremely rapidly across the world. More companies are making boards at different price ranges, new hydrofoil competitions are emerging, schools are beginning to offer lessons and hydrofoil board rentals; these all signs of a growing industry.
When learning to hydrofoil at an IKO center you will be receiving an impact vest, helmet, and proper instruction. As the trend has risen we hear more and more horror story of pirate instructors who do not have proper progression or safety measures "teaching" others how to hydrofoil only to have them get injured.
It is important that no matter your level when you are learning and throughout your progression to continue using an impact vest and most importantly a helmet. We have unfortunately witnessed far too many hydrofoil board accidents. Hydrofoil accidents are worse than most other forms of accidents as with a hydrofoil it usually ends up being deep flesh wounds.
What we have seen is that whether or not someone who is hydrofoiling agrees with wearing safety protective equipment or not, eventually they convert after a close call or accident.
So what do you say? Should you always wear a helmet and impact vest when hydrofoiling or no point?
Why should your kite leash be attached to the front part of the harness?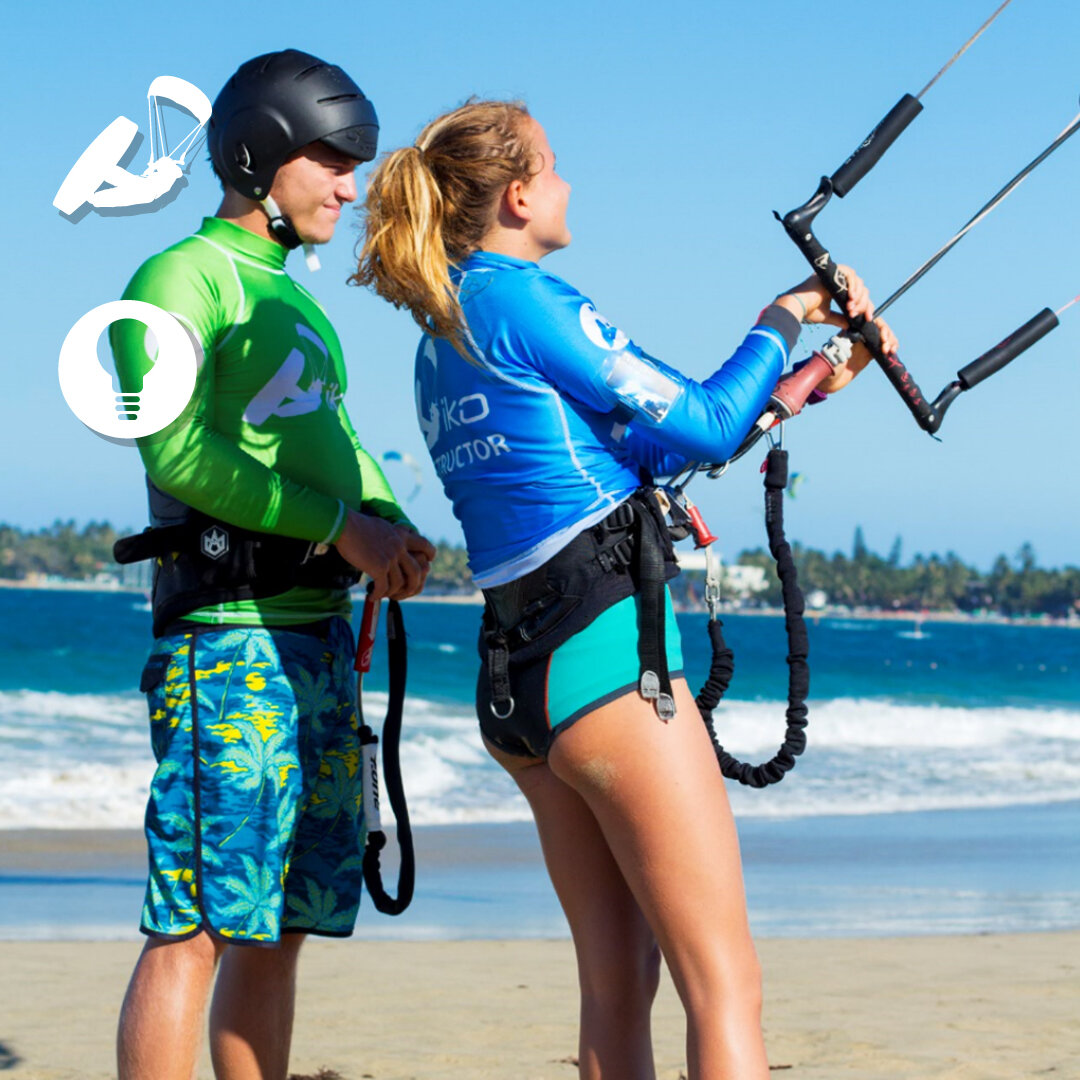 This is one of the main safety improvements from the last years. IKO has set this new standard for both students and Instructors. The kite leash must always be connected in the front part of the pilot's harness. However most of the kiters, Instructors and students still have it connected on the harness handle with no special reason, just because 'everybody does it this way'. There is a huge difference in terms of safety, whilst in the front, the quick release of the kite leash will always be easily accessible for the pilot; when connected to the back, in a serious situation (kite still looping), the pilot cannot access it and is in danger. Many accidents have happened this way, do not let it happen to you. If you do not unhook it is strongly recommended to use a short leash.
Five ways to tell you are training with an IKO Instructor
No matter what you are training, when you are with an Instructor you expect them to keep safety at all times in regards to whatever you are doing; right? Unfortunately, sometimes there is no way to tell if your Instructor is doing so! Luckily in kiteboarding though - you can!
Kiteboarding is one of the worlds most wonderful sports though it is also one of the world's most extreme sports. Below are five ways to tell your Instructor is taking your safety into consideration:
1. Your Instructor will introduce himself and evaluate your level
Your Instructor will ask you what you can and can't do. He will also ask you whether you have an apprehension of water so he can adapt the lesson according to your knowledge and goals.
2. Your Instructor will set the objectives of the course
Your Instructor will explain the goals of the course with the exercises you will be asked to do. The Instructor will explain and safely instruct you how to achieve them. All this is part of the IKO step-by-step learning method to maximize your progression with safety and fun.
3. Your Instructor will provide you a helmet
This is mandatory for your safety no matter the weather conditions, the spot organization, and your level.
4. Your Instructor will provide you a buoyancy aid
Even if you know how to swim, this is another mandatory protection that any student must wear, even in shallow water! Double check that the buoyancy is at least 50 Newton.
5. Your Instructor holds a Valid IKO Certification
You can check it online by his name - ID # and/or he can show you his certification on his IKO app.
These five signs and steps will help ensure you are in good hands. Stay safe and have fun when going kiteboarding!
Don't go out in the wrong conditions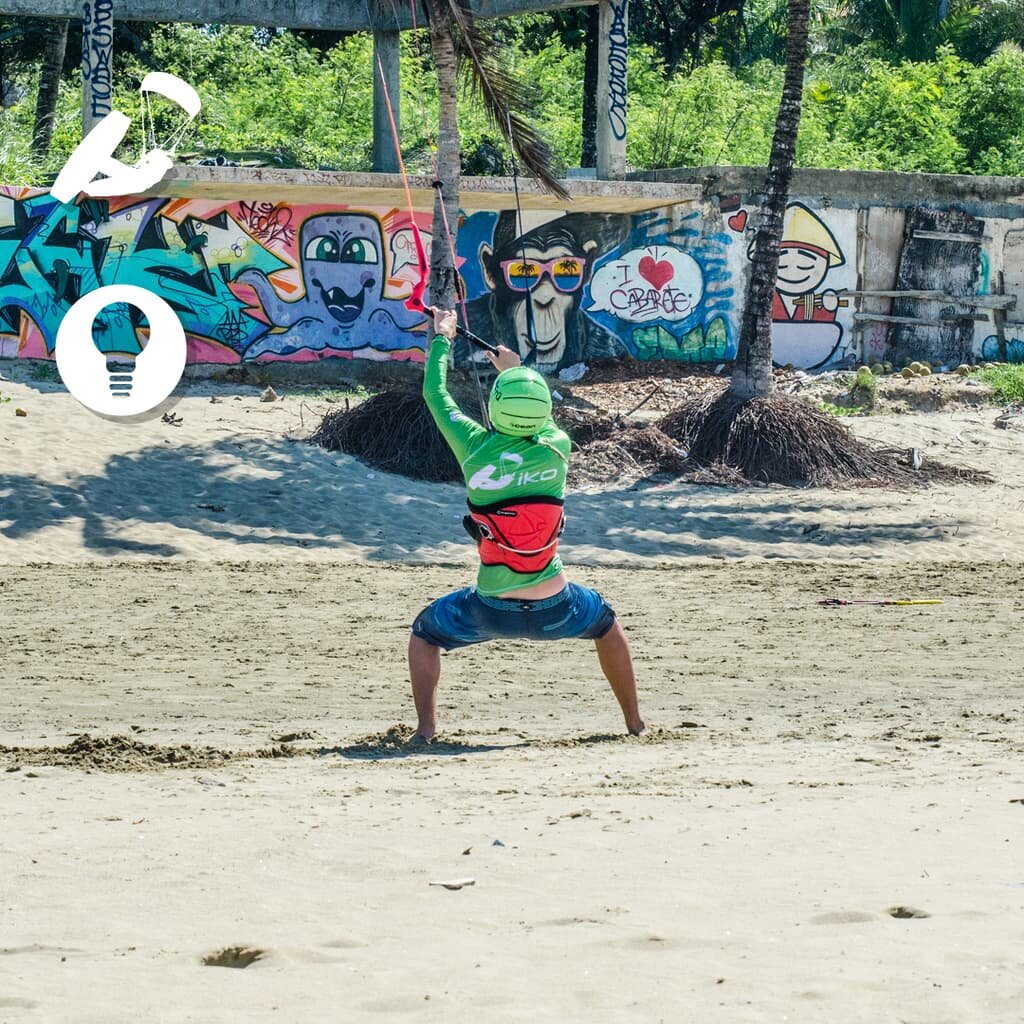 Most of us after watching extreme mega loop videos, king of the air replays or clips of wave riders going down huge barreling waves might become tempted to search for those extreme conditions and ride in them. These pro athletes featured in these videos make it appear relatively safe and easy. We do occasionally witness those brutal, close call, crash videos that we tend to forget about relatively fast.
Those 40 knots storm conditions or 8m tall swells might excite you though when those once in a lifetime "opportunities" cross your path you must take time to think twice. Going out in the wrong conditions can prove fatal. Becoming number one on the WOO Global Leaderboard must be done in as extremely controlled situations as possible and not simply "winged". Same goes for larger swells and or a combination of strong wind and huge waves.
Kiteboarding is extreme enough - don't enter extreme conditions because you might enter a situation that is extremely dangerous.
Examples of conditions to double think:
If the wind is offshore
35+ knots
-5m+ Tall Waves
Waves with very shallow reef
Gusty and Unstable Stormy winds
Comment below other conditions someone should double think before going out.
Bonus: Let us know what are some ways someone can minimize the risk in kiteboarding more extreme conditions?.
Don't Fool Yourself - Trust in the Professionals-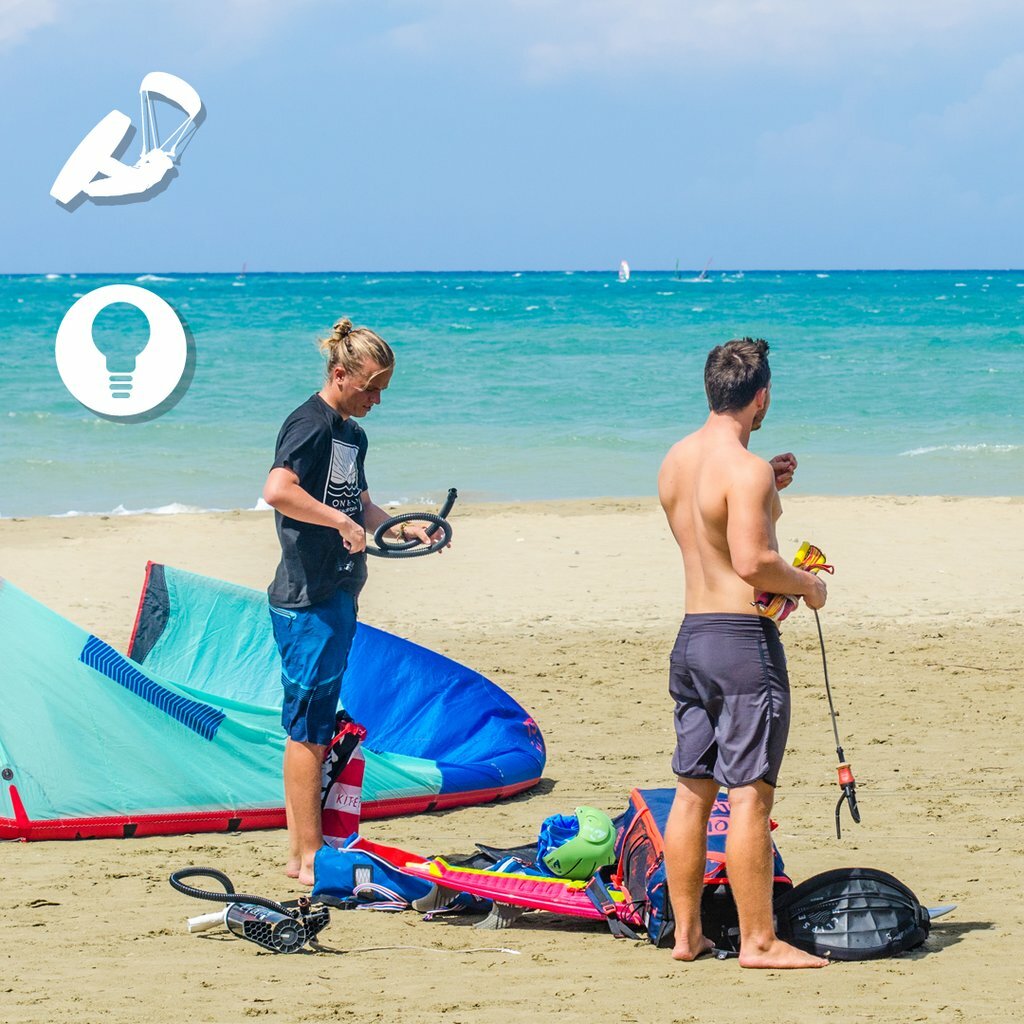 Nowadays it is easy and accessible to gain knowledge with just a few clicks and quick browsing, yet from theory to practice is quite the long run. We generally believe we can go from zero to hero just by watching videos and that we don't need professional expertise. The general belief that we are smarter, better and faster than others and if someone else can do it then we can do it, is more common that we would like to think. Having a positive self-success-prophecy is important though it must be done rationally and logically.
If you have been kiteboarding long enough you have seen or heard about someone who see's kitesurfing for the first time and believe it is an awesome sport that is easy to learn; they comment something along the lines of: "Give me the gear and I will be riding by nightfall.". To some this might be funny and also sound crazy; which it is.
Since kiteboarding incepted, we have vocalized the importance of taking lessons from a trained Instructor. The pros of learning with a professional outweigh the cons 100 to 1. There is absolutely no point in winging the learning process of kiteboarding. It is not only super dangerous for the individual trying to learn alone, it is also dangerous to those people around them. This is just the short term down-sides, long term, the individual will most likely be frustrated, lengthen the learning process 100 fold and if they even managed to pull it off, they would be a safety hazard on and off the water.
No matter if it is yoga, kiteboarding, skydiving, cricket and or playing a guitar; watching videos is not enough. It is always recommended to get a professional coach, instructor or trainer to help guide and teach you.
-The short term savings will cost you more in the long run.
Short leash in the front no matter what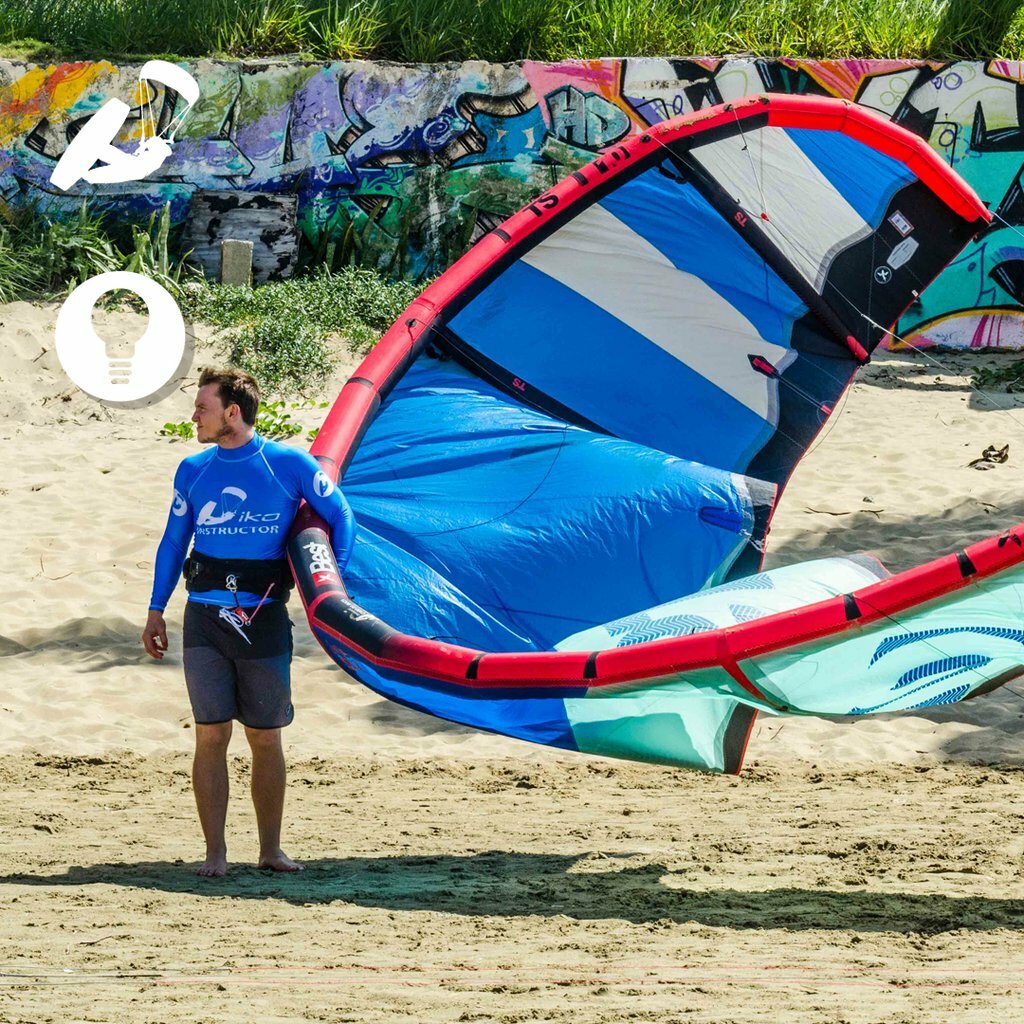 Where is your leash positioned on your harness right now? If you have yet to move your leash to the front of your harness, go do that now before continuing to read any further. Over the last months we have been pushing and reminding Instructors as well as kiteboarders about this easy and important safety change.
Instead of using a leash on your back or sides it is best to attach it directly in the front. This makes your leash accessible to both hands at all times whether to hook in or release during an emergency.
If you are one of the kiteboarders with a long leash, you can now consider changing your leash for comfort and accessibility. Having a long leash does not make sense for anyone other than those practicing unhook wakestyle. If you are a beginner, wave rider or cruiser there is no need to have a long leash. Nowadays most brands will have a short leash option available.
What is great about this safety improvement is that many brands and companies have realized the safety benefits and altered their designs according to this. Creating simple ways to attach one's leash to the front and supplying short leashes with bars instead of long ones.
If you have yet to change your leash position on your harness or its length - do not wait any longer or until an accident. Do it now, you won't regret it!
Why you should never go kiteboarding alone, no matter what!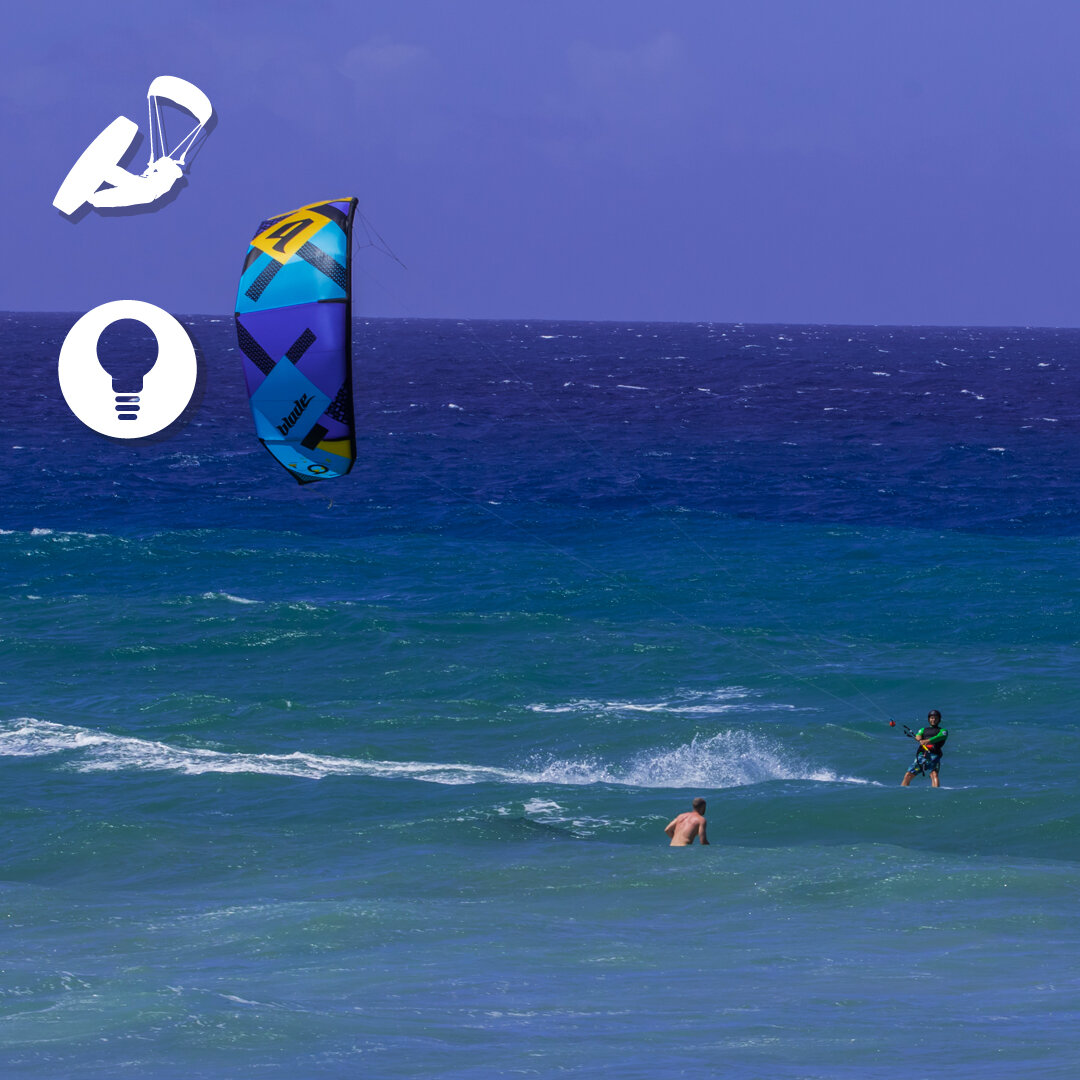 Safety is the number one rule when kiteboarding. This extreme water sport requires that when kiting on a remote spot you shouldn't be alone, regardless of the level you currently are at.  Even though it might come as an obvious thing to do, this fact is easily overlooked when we get carried away by the heat of the moment and mistakenly step on the board and start riding alone.
What do we mean by kiteboarding alone? Kiteboarding alone would mean going up to a remote spot where you have no eyeballs on you whether from family, friends, a kite center and or other kiteboarders.
Kiting is always great and a lot of fun when you guide yourself by the safety rules, so next time you are planning to go kiteboarding at a remote spot, bring a family member or trusty friend to keep an eye out. If you are riding on a more populated area, ask a local kiteboarder, an IKO center or an individual to keep an eye on you while you are in the water.
Remember this simple yet super important tip that could save your life one day.
How to act when you cross lines with another kiter?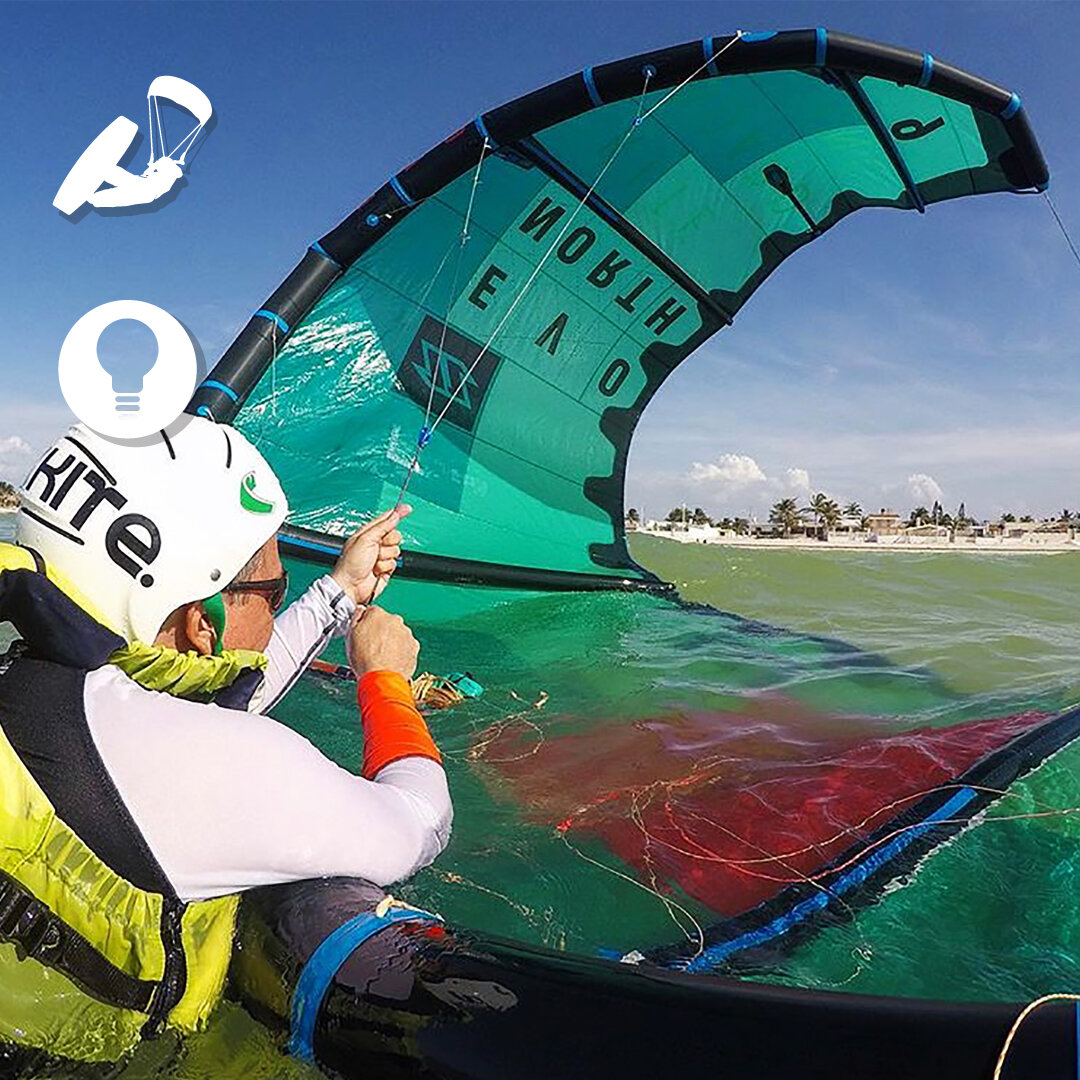 Have your lines ever crossed or been crossed by another kiter? The moment this happens can be quite nerve wracking as just the thought of it happening to you can be.
The truth is that a line tangle situation it is a bit hard to answer as there are plenty of situations… For example, lines are only over the other lines and you know the rider (he is not gonna do something crazy) in this case it would be advises to pilot the kite away, and no big deal.
In a more complicated situation it would be advised that both kiters release their quick release at the same time (so they need to communicate) as if only one does it, it can be very dangerous. Plus they need to be ready to release the kite leash too as when 2 kites are tangled it may block the safety system effectiveness.
Generally if lines are tangled, it is also because at least one of the riders have not respected one or several ROWs. This is why the IKO insist on the importance of knowing and applying the Right Of Way rules!
It is important that you understand your safety release system and know how to perform a self rescue. If you do not know and have yet to practice a controlled self rescue- we recommend you find an IKO Instructor to help you become familiar and practice this very important skill to becoming a truly independent kiteboarder.
Have you ever been in a tangle? Share your story with us-
How to tell where the wind is coming from?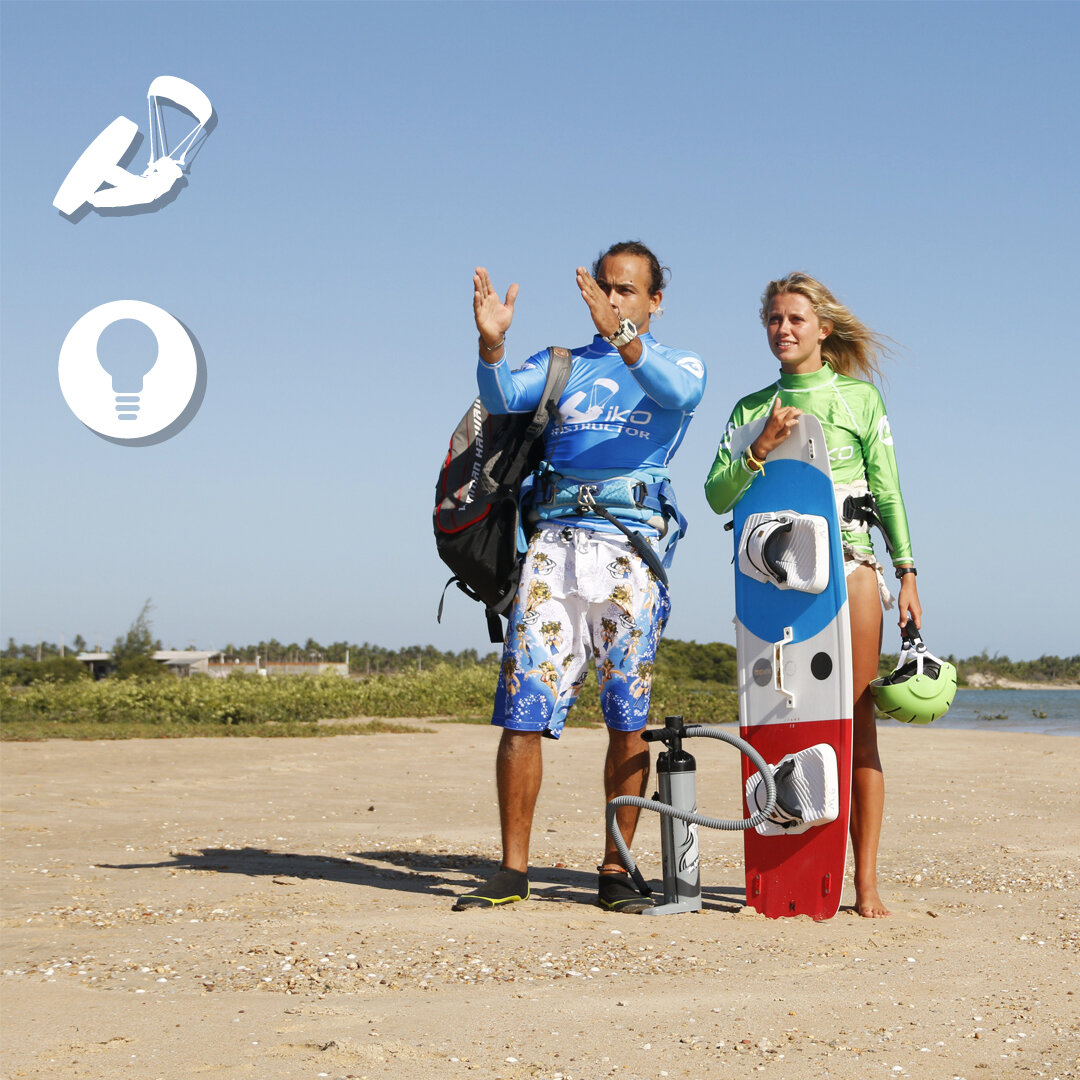 The wind is overlooked. People think of the wind just as an invisible force of Mother Nature and nothing more, yet it is an important element when kiteboarding. Telling the direction of the wind in addition to its speed is an essentially factor when accessing a spot. There are three different and common wind directions: on-shore, side-shore and off-shore winds. These different wind directions can factor into your SEA assessment.
To tell where the wind is coming from- extend your arms out and turn until you feel the wind in your face and both ears. Once you feel the wind in both ears, join your hands together and this direction where you are pointing is where the wind is coming from. Using the wind as your main reference compared to physical objects like the shore/trees/rocks is that, the kite will always launch/land and react in the same angle to the wind while physical objects will not.
When setting up at a new spot remember to do a SEA assessment: Spot Environment Activity; a quick kite hack that allows you to assess your surroundings. Helping you pick the best place to set up and get into the water. When setting up your lines, do them downwind to avoid danger when launching. It is always recommended to check your lines and your safety system before going out. It is especially important to connect your leash to the front part of the harness for easy emergency quick release, making sure you have a line cutter and are wearing an impact vest and a helmet. If it is possible to start off more upwind in a spot that will help you have more space downwind for your first runs in the new location to safely orient yourself. The more safety measures you take, the less chance it is to have an accident.
Armed with this knowledge - which wind direction should you avoid kiteboarding especially if alone and why?
Advantages of using short lines for teaching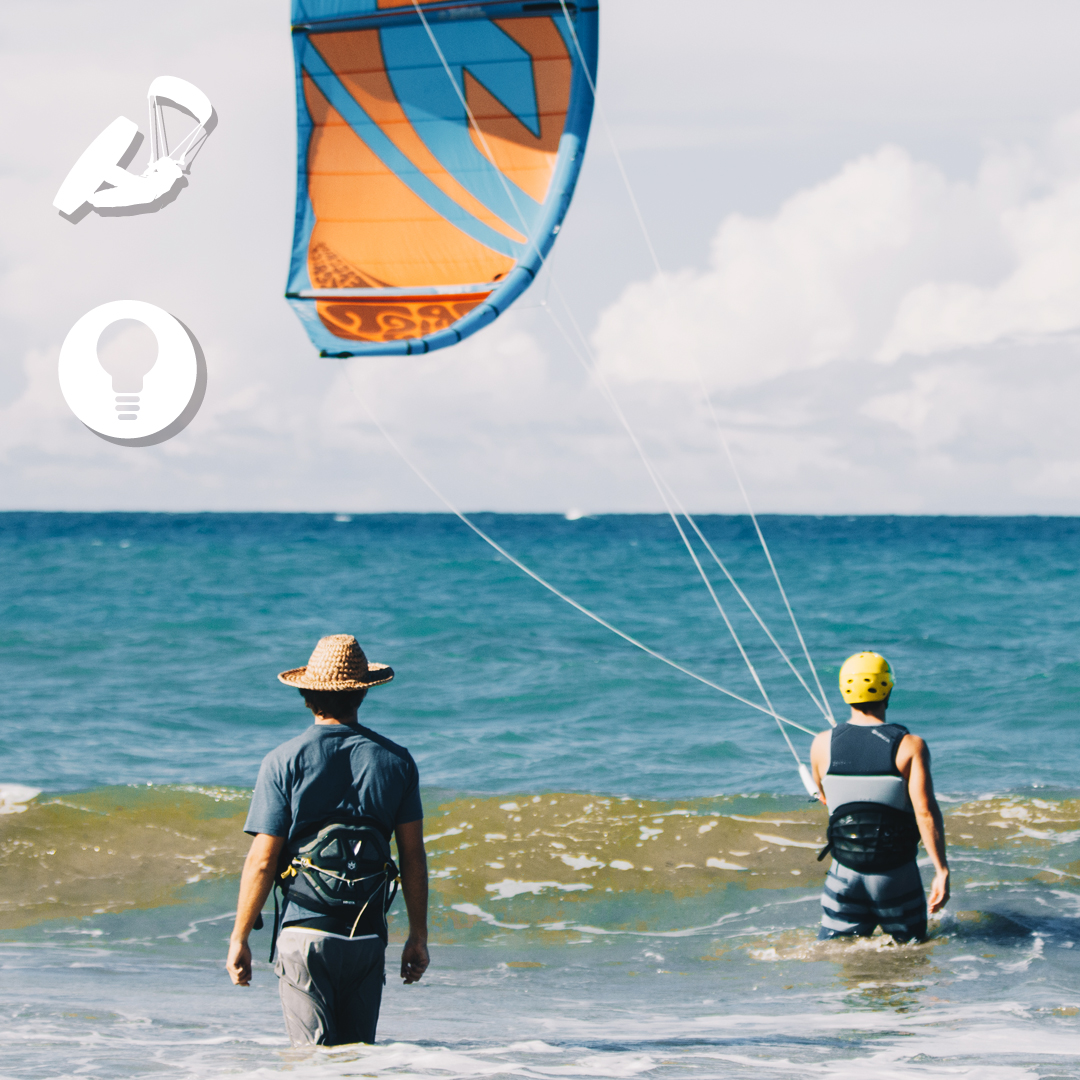 If you have ever passed by an IKO Center you probably have realized that kiteboarders in the beginning stages are using very short lines. The IKO Professional Community for many years has been implementing and using this simple yet highly effective adjustment in their teaching programs.
When we are talking "short lines" we are talking 5m. The 5m lines can be used in the beginning up into body dragging and steady pull. This method reduces the stress of both the student and the Instructor. Allowing the Instructor to be closer to the student and reducing mistakes to have less negative consequences physically and mentally on the student. The short lines reduces the size of the wind window, thus reducing the space needed for a lesson and negative impact on other beach users.
The short line method stimulates positive discovery urges in students. As you can reduce the kite's power. This means you can have a 4-line LEI kite flying without power and it can be considered a trainer kite according to IKO Standards. Easily managing stronger and gusty wind conditions.
When using shorting lines, kite crashes are also much softer; causing less damage to the equipment. Additionally with short lines, it is nearly impossible to loop the kite. When using short lines it reduces the amount of time spent on equipment management*, (one kite and different line lengths) according to the student's level, weight and weather condition.
As an example of a courses in normal wind condition would go as followed:
5m lines for discovery level until the student has good control of the kite in all part of the WW and know how and when to use the safety system. (5m lines can also be used in the body drags and steady pull)
10/12m lines for intermediate level until the first attempts of the water start
20/22m lines for water start and riding
What are your thoughts and experience on short lines? Do you prefer this method over using a small foil/trainer kite and then moving to long lines? Let us know your personal and professional experience below both from the Instructor and Student point of view.
*It is easier and faster to change the length of the lines than to change a kite. You should make a gradual transition to longer lines when the student has demonstrated good control using the shorter lines and you need to move on to other exercises that require more power in the kite.
Why should you learn proper kiting manners?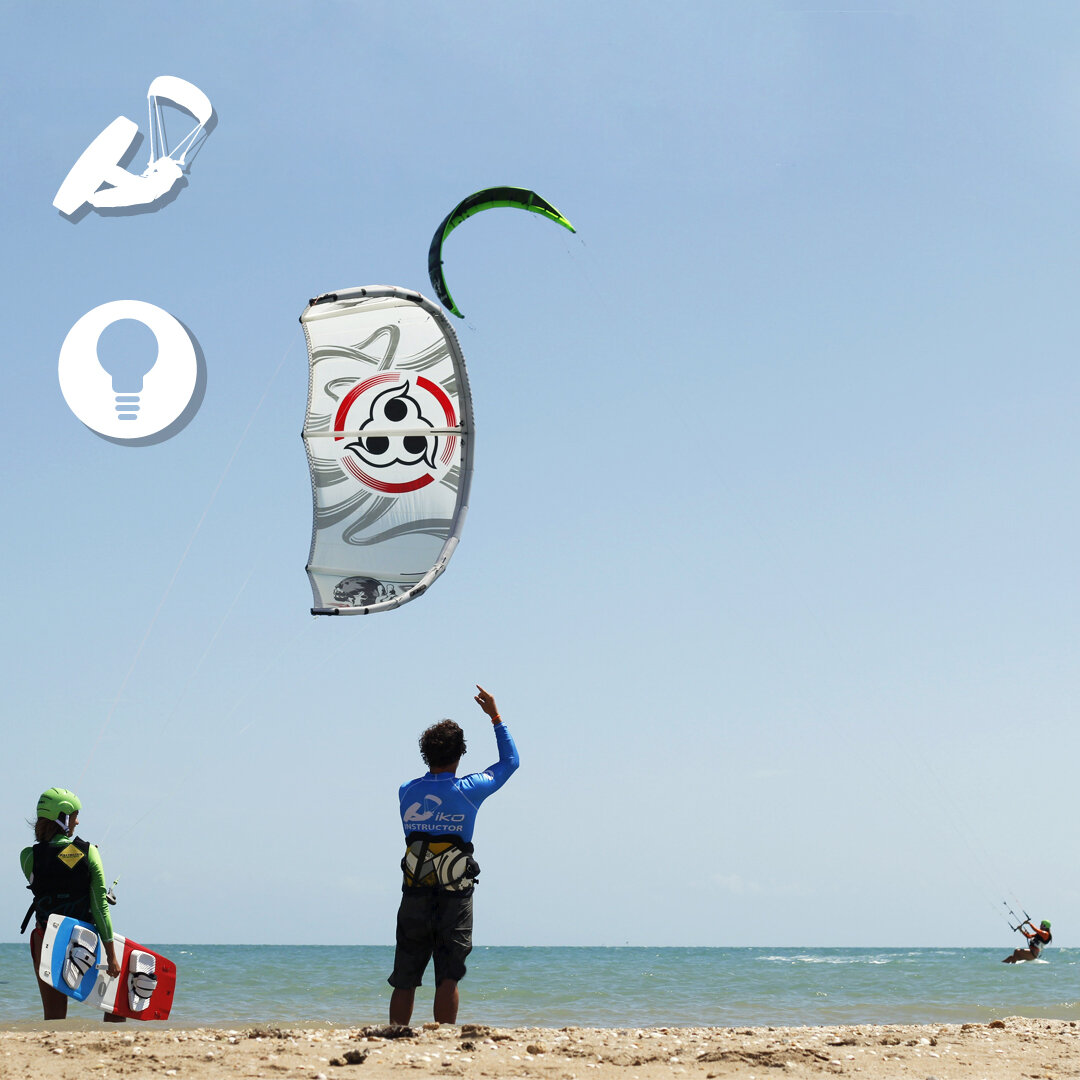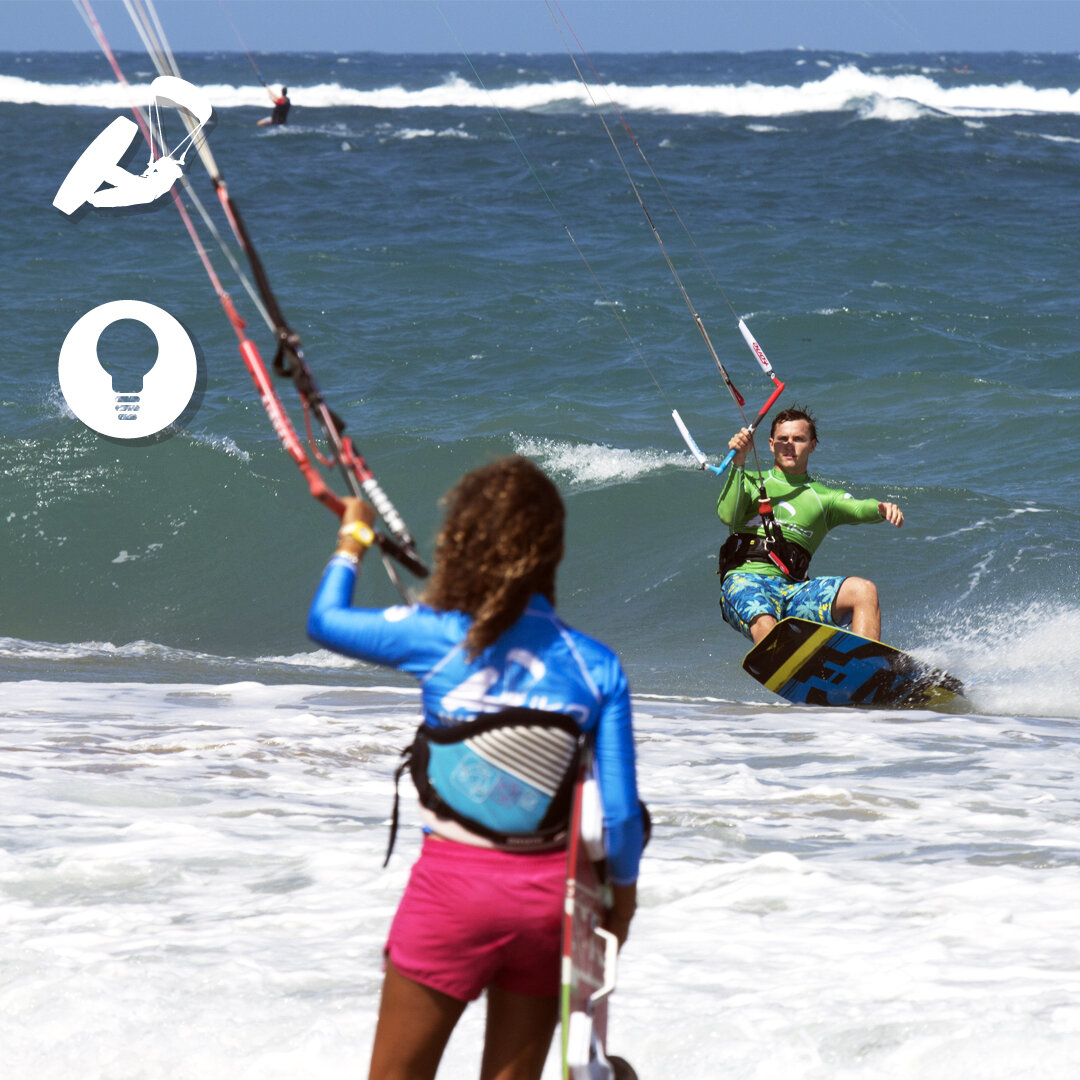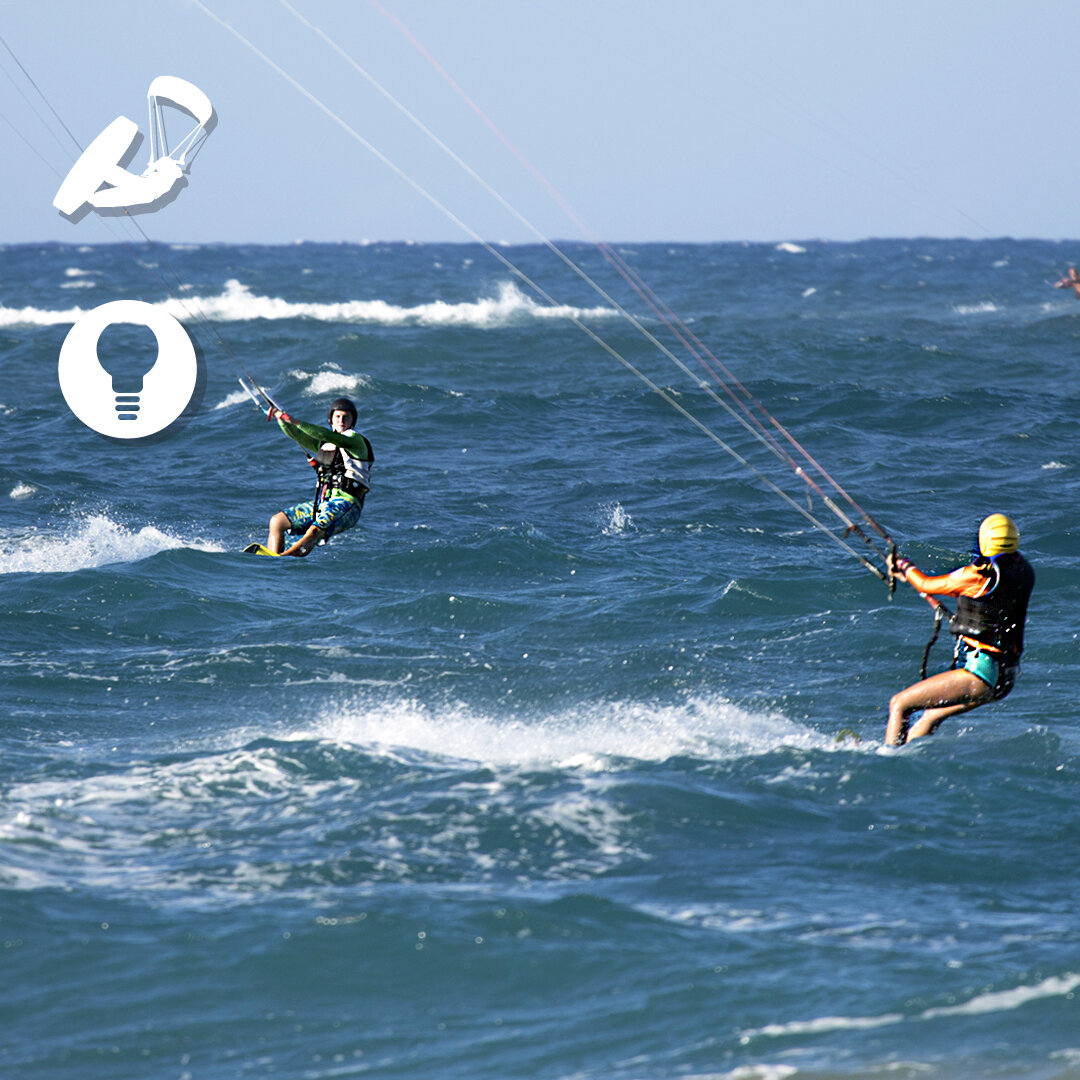 You are just starting out, know how to ride though you have yet to learn the rules of the sea; don't worry- that will change forever today.
There is no doubt that kiteboarding is still in its infancy stages and growing rapidly. Kiteboarding locations like Cabarete that use to have 10 kiters out at sea now have hundreds, and without rules- these crowded waters can quickly become hazardous. Proper kiteboarding manner  not only makes it easier to navigate in crowded waters; it makes this extreme sport much safer overall. A kiteboarder who does not respect the right of way rules is an irresponsible and dangerous kiter and no one really wants to be that person.
Now you must be wondering, what is proper kiteboarding manners? It is quite simply a set of 8 rules. To help maintain clarity we will list the rules in a clear list.
Golden Rule:
If you are passing upwind, keep your kite HIGH.
If you are passing downwind, keep your kite LOW.
Rule #1: The rider entering the water from the beach has right of way over the incoming rider.
Rule #2: Starboard rider (kite on the right-hand side) has priority over the oncoming rider and should keep his course, speed and heading to allow the other rider to avoid him.
Rule #3: When two riders are traveling in the same direction, the faster rider must give way to the slower rider in front.
Rule #4: The rider surfing a wave has priority over the one who is jumping or going in the opposite direction.
Rule #5: Right of way must be given to other ocean and beach users. Kiteboarder must travel downwind of them.
Rule #6: To jump, a kiteboarder must have a clear safety zone of 50m downwind and 30m upwind.
Rule #7: When two kiteboarder are on land at the same time, one kiter is preparing to enter in the water and the other one is ready to land, both proceed and keep clear from each other.
If you follow these 8 rules above, you will be a responsible kiter. Some kiters have never learnt proper kite manners and others have never learned them. No matter what, now you know the rules!  
Tag a friend below who needs a refresher on the 8 rules one must follow to be a responsible kiteboarder!
Is it important to learn how to self-rescue kiteboarding?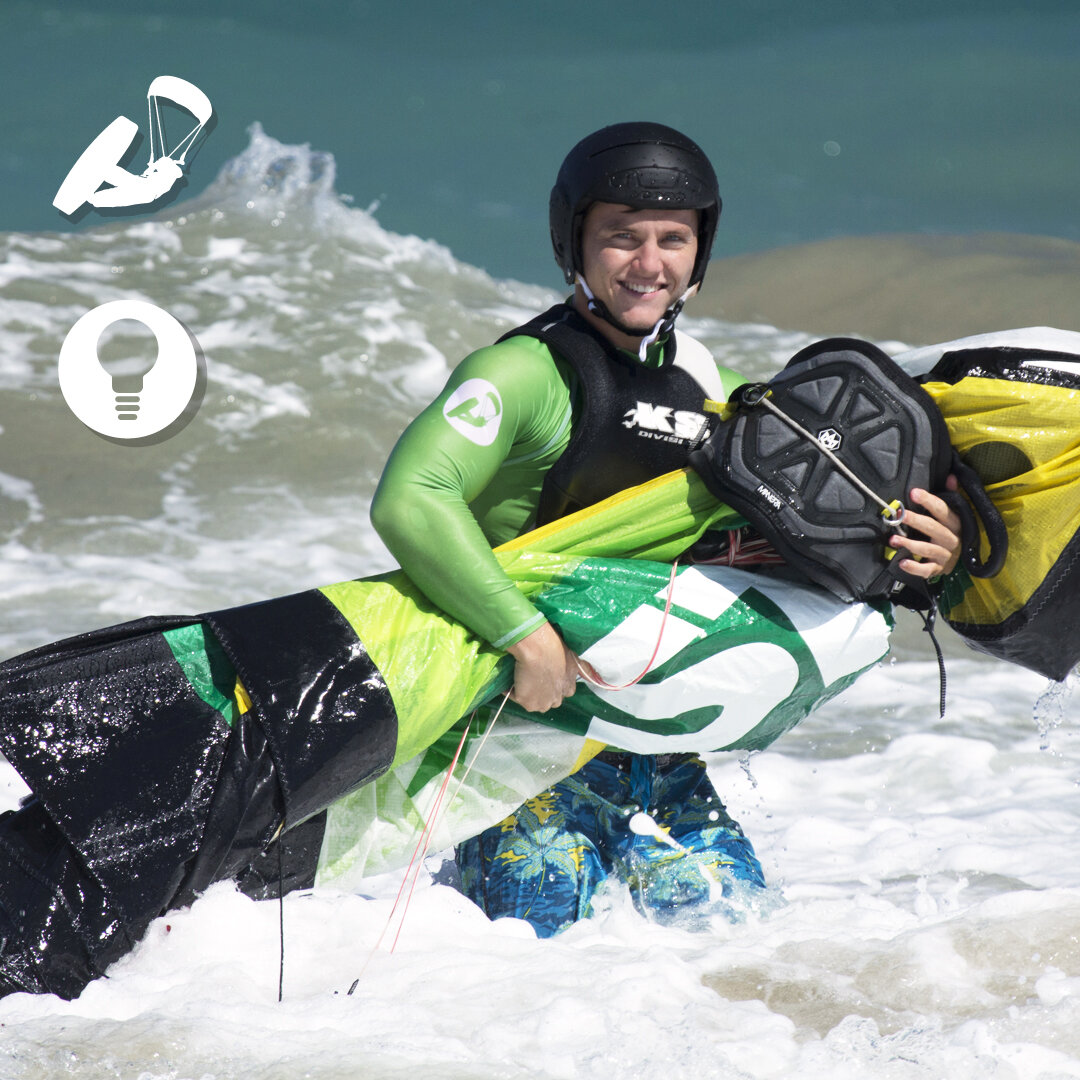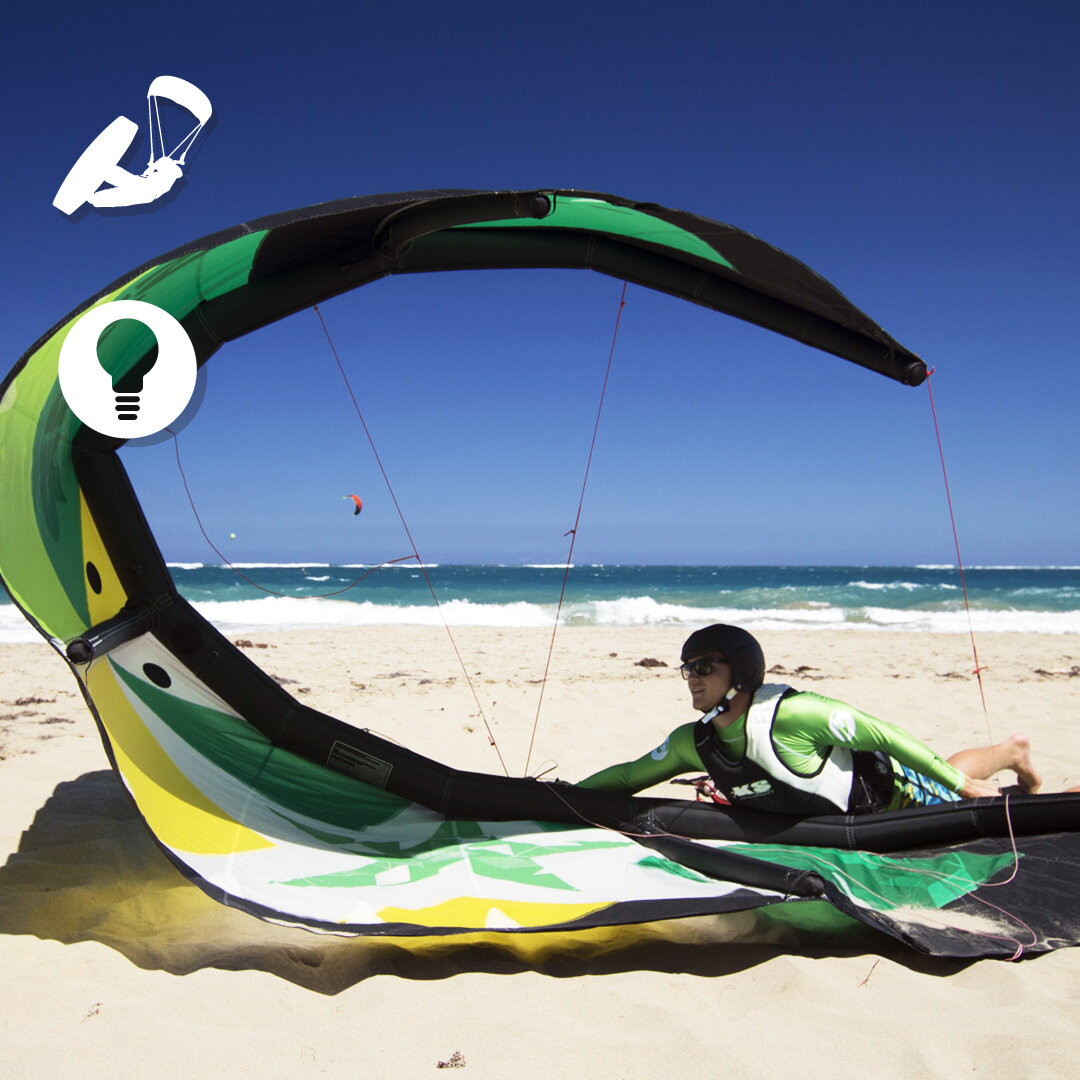 Believe it or not, we have heard this question thousands of times across the globe. The question is popular amongst students and/or riders who have not learned with a certified Instructor.
The questions and debates of whether you should learn the safety side of kiteboarding, follow the right of way rules, amongst other topics are not uncommon. It is actually great to ask questions and start debates as these are some of the best ways to attaining insight and knowledge.
Depending where you are learning or riding in the world you will encounter different variables. The wind, the landscape, the equipment, the Instructor you find amongst other variables change. Established principles do not change. A standardized way of teaching helps maintain the final outcome of a course, to become independent. The idea of taking a kiteboarding course is not only to get up and riding. The point is to learn the theoretical, practical and safety side of kiteboarding to become an independent kiteboarder.
What is an independent kiteboarder? An independent kiteboarder is someone who is self-sufficient that can adapt to any given situation in any given spot or weather conditions. They can get on and off the water and handle themselves in any situation that might arise. They have a solid foundation and understanding that can help them push any direction of the sport they decide.
So is it important to learn how to self-rescue kiteboarding? The answer is yes! Learning to self-rescue is one of the many important skills to becoming a confident independent kiteboarder. Learning the theoretical, practical and safety side of the sport is part of any IKO Course someone would take, no matter where in the world.
Do you feel like you are an independent kiteboarder - why or why not? Let us know in the comment section below.
Why is learning kiteboarding theory important?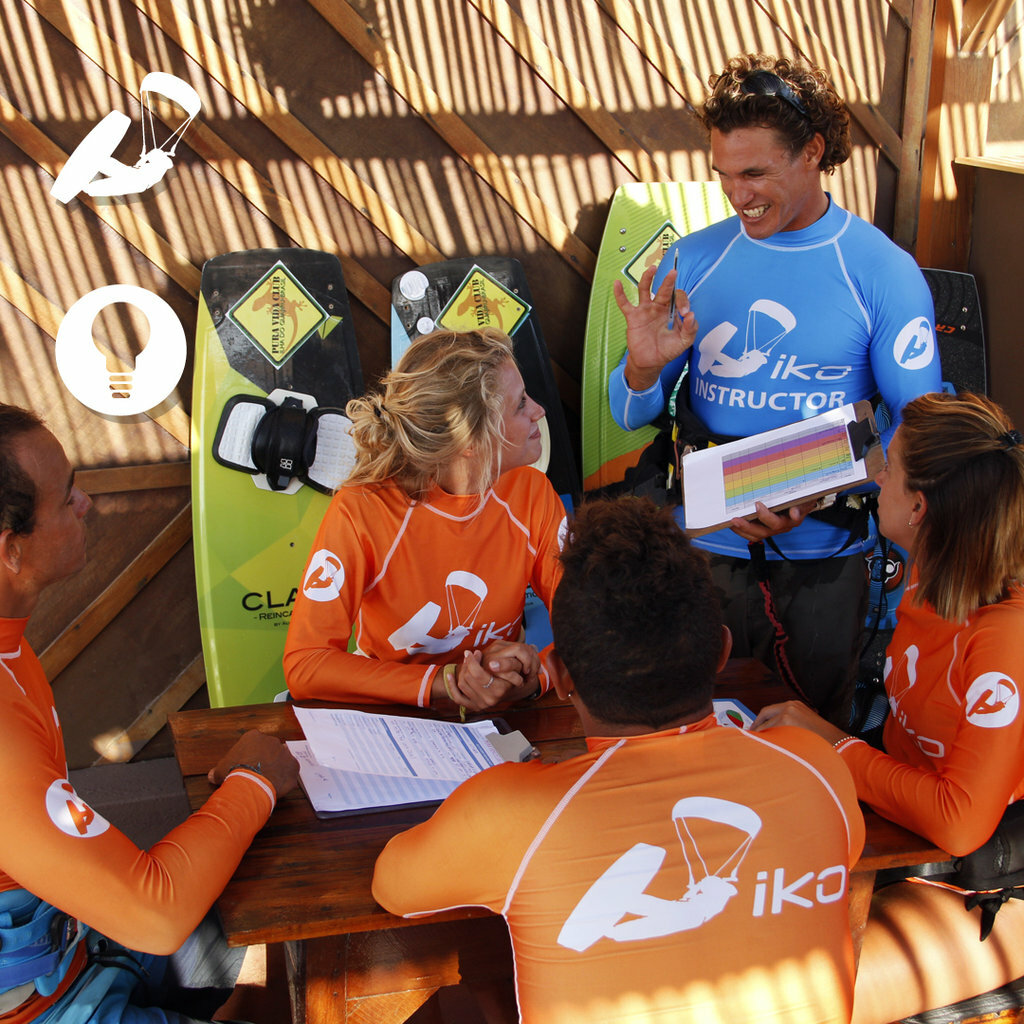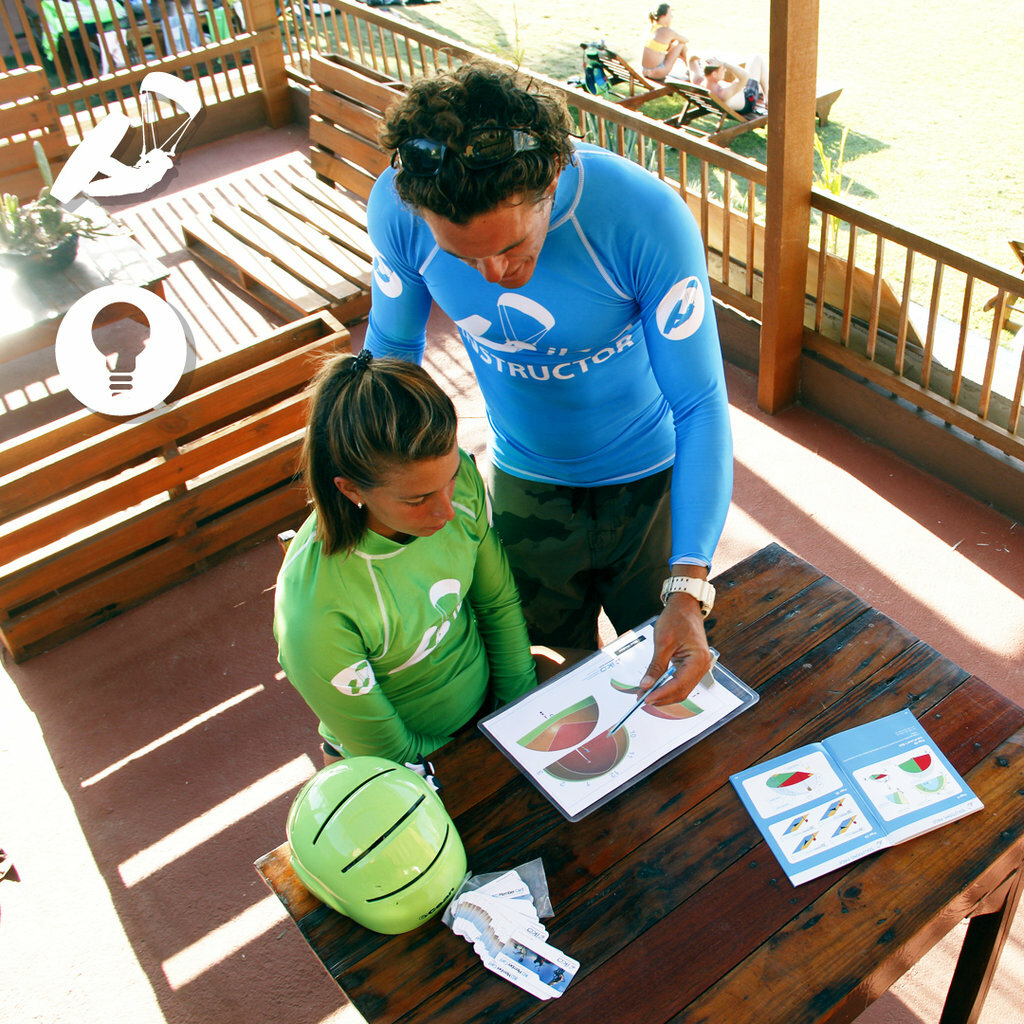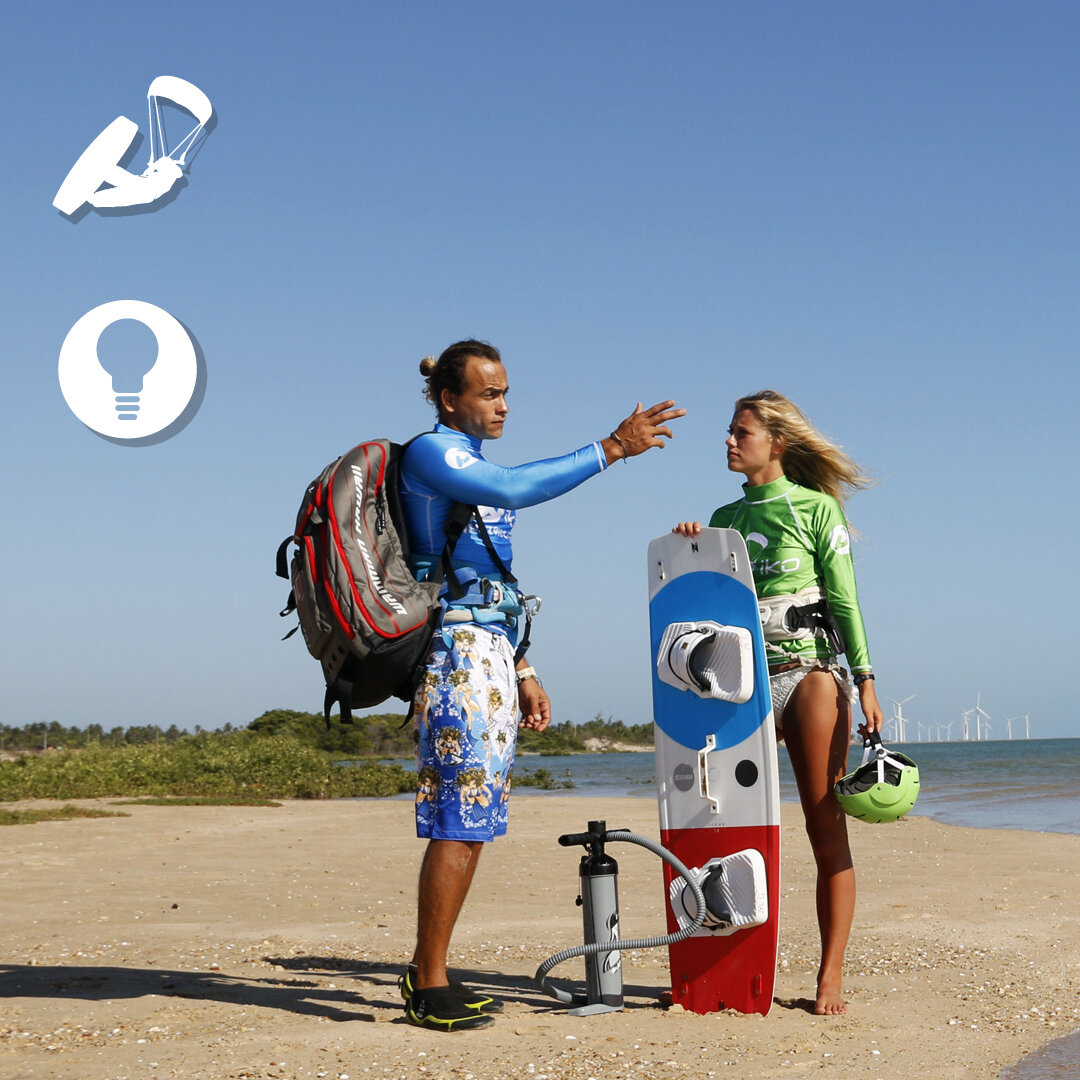 Many people find learning theory both boring and unnecessary. The truth is that learning the theoretical side is super important. Theories greatly help us gain insight and understanding before practical training.
Imagine if you have no knowledge of the elements or kite equipment and someone gives you kite gear and tells you to learn… How would you go about learning? It would be extremely difficult, time consuming and dangerous. The early pioneers of kiteboarding have done the hard work for us. They figured out what works, what doesn't and what we must know to get out riding.
Theory essentially helps leapfrog the learning process. Learning about the wind, sea, cloud formations, weather forecasts is the foundation to becoming an independent kiteboarder. This is why it is important for people looking to learn kiteboarding to get taught by a certified instructor.
Not learning the theoretical aspect of the kiteboarding is one of the main mistake made by kiters. Why? Mainly because kiteboarding is an 'easy-to-learn' sport (compared to surf or windsurf for example) and as a result; once in the water together; many kiters have no idea about simple knowledge such as right of way. Do not be like this and learn all the aspects of kiteboarding!
A question to all IKO certified Instructors: How long does it take you to teach your students the theoretical side of the sport and what do you believe to be the most important topics? Let us know in the comment section below!
Do you really need kitesurfing lessons?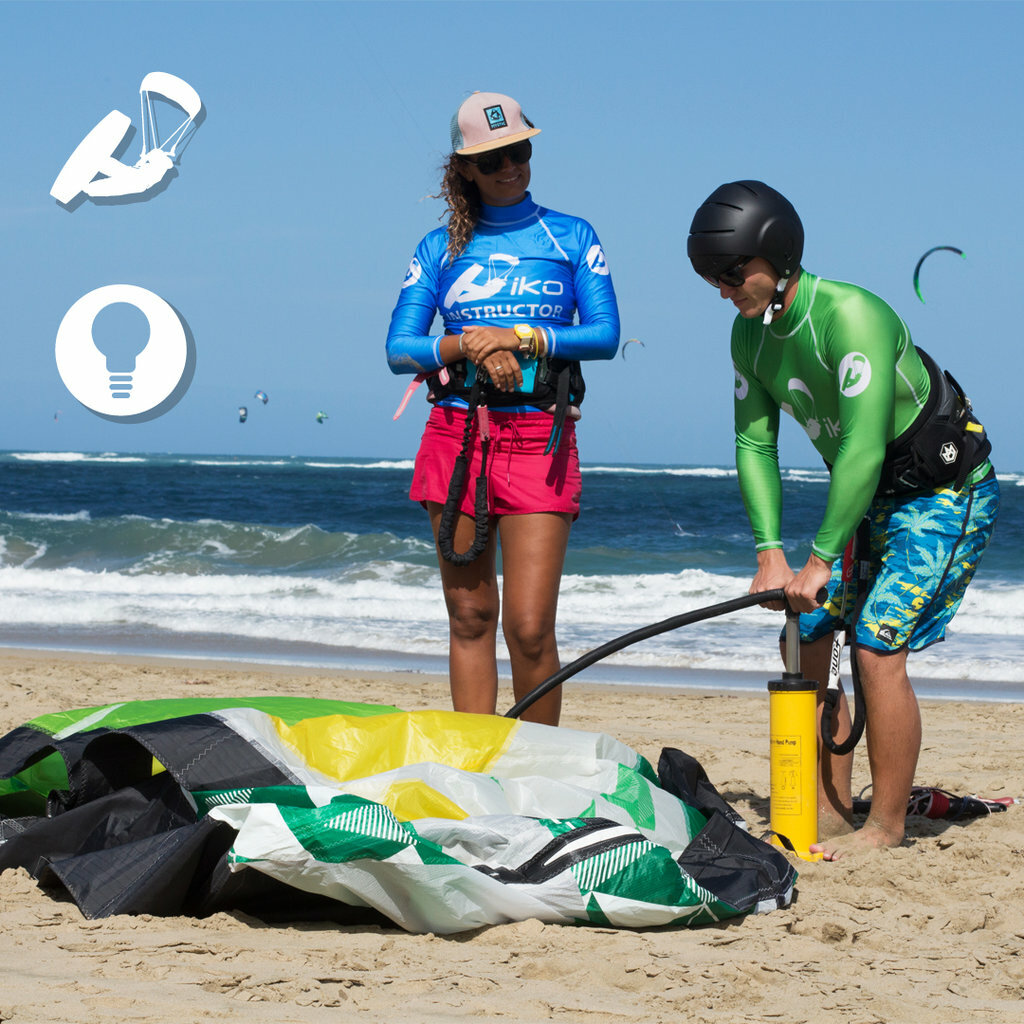 Many activities and sports you can usually pick it up and go after some trial and error + quick pointers. Kitesurfing is completely different. Many people ask  "Do I really need kitesurfing lessons?" and the answer is yes! You absolutely need kitesurfing lessons to become an Independent Kitesurfer.
Having a professional kiteboarding Instructor by your side will help you learn the theoretical and practical aspects of this extreme sport. This is something people overlook… Kiteboarding is an extreme sport which is why it is recommended to learn properly with a trained professional.
Think about it this way; would you learn to skydive by yourself or take a course? We hope like the majority, you would take the course. This same logic applies to kitesurfing!
It is important to take your time when learning the sport as the goal with taking lessons is to become an Independent kiteboarder. An independent kiteboarder is self-sufficient. They are confident, know their equipment and the safety systems, understand the kiteboarding rules, can body drag, re-launch, self rescue if need be and ride upwind holding their own ground.
Becoming an independent kiteboarder is where the true adventure begins. From this point on, it is all about having a great time out in the water with fellow kiters, friends, family and yourself.
You will realize that their are no two kiteboarding sessions alike. Every day will be a new experience and this is why so many fall in love with the sport.
If you are planning to become a kiteboarder remember to take lessons; ideally with a trained professional for best results.
In the comment section below - share with us your experience and tag the person who taught you how to kite!
IKO
Avoid Offshore Wind Conditions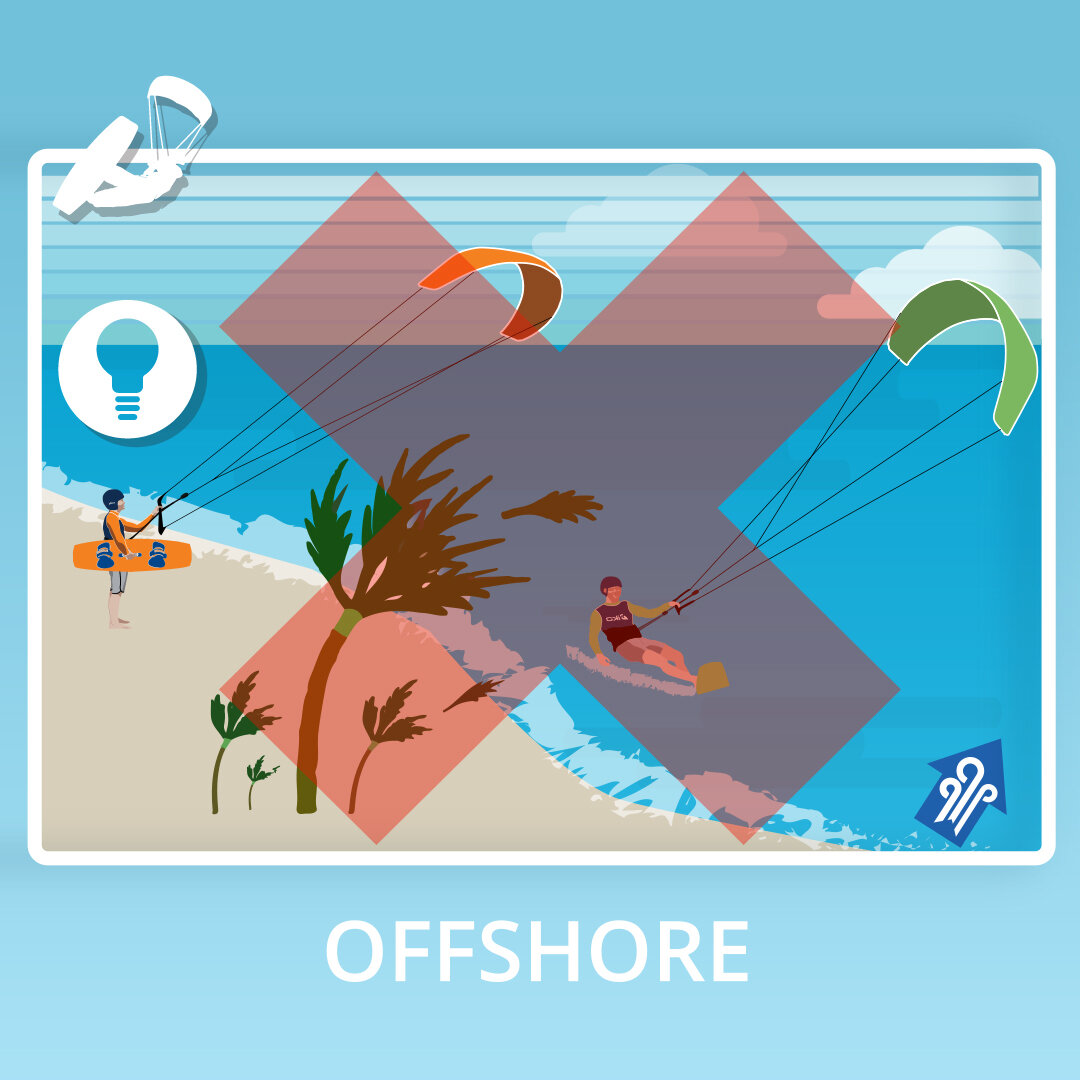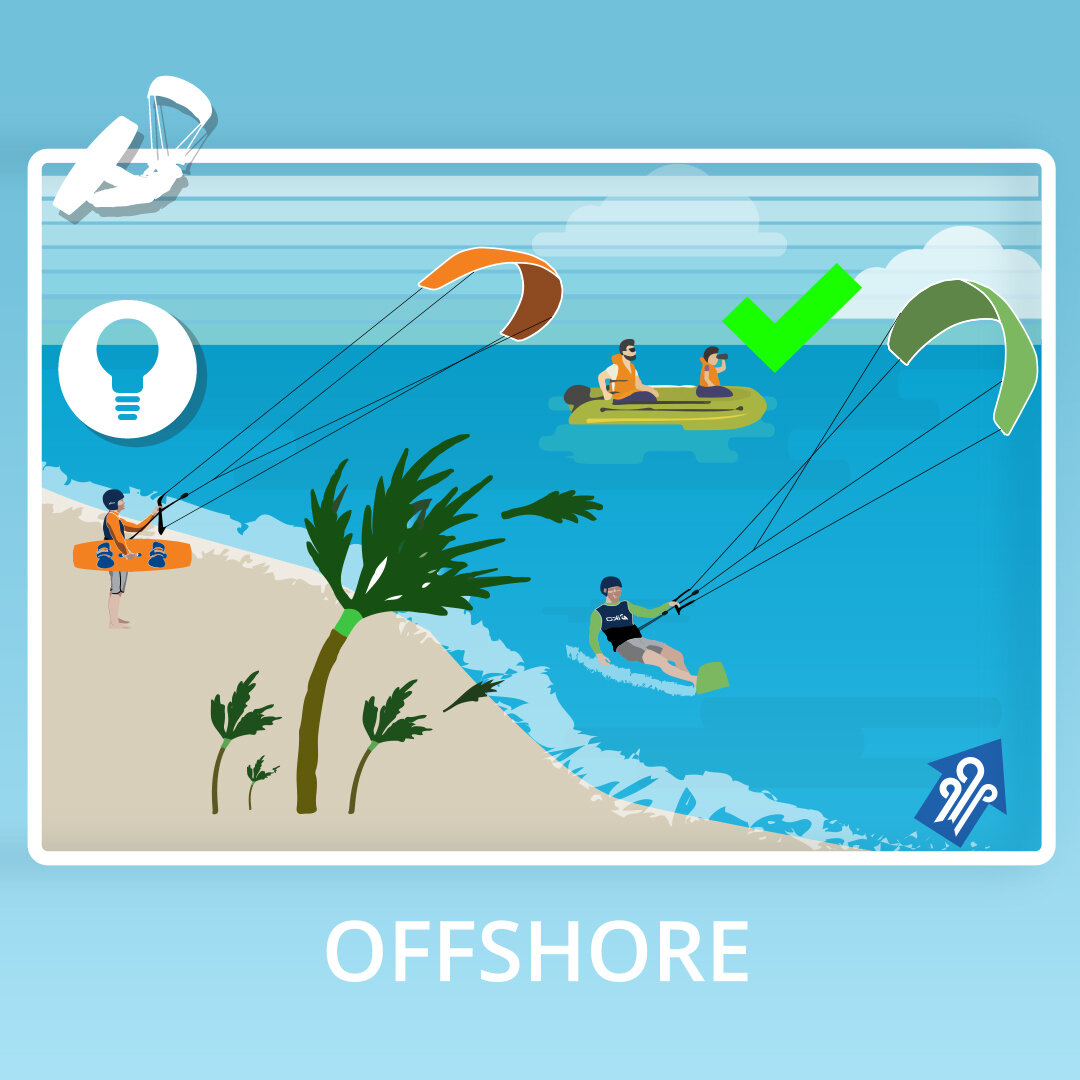 When in doubt, it is usually safer to not go out! Certain wind and wave conditions are best to avoid. Super gusty winds, huge waves, storms or offshore conditions to list a few.
We get asked questions all the time and one frequently asked question that must be publicly addressed is the one about offshore wind conditions!
Offshore wind conditions should ALWAYS be avoided unless you have a safe method to return to shore like an active rescue support boat or are in a bay with a land mass in near distance downwind from you. If you are at the open sea, do not go out in offshore winds unless you have a rescue method.
Offshore winds are deceptive and usually gusty making it hard to launch as well inaccurate of the conditions at sea.
Overall it is best to avoid offshore wind conditions.
If you have any specific questions you would like answered - send us a message or post it in the comments below and we will do our best to answer them.
Remember to ride safe and have fun,
IKO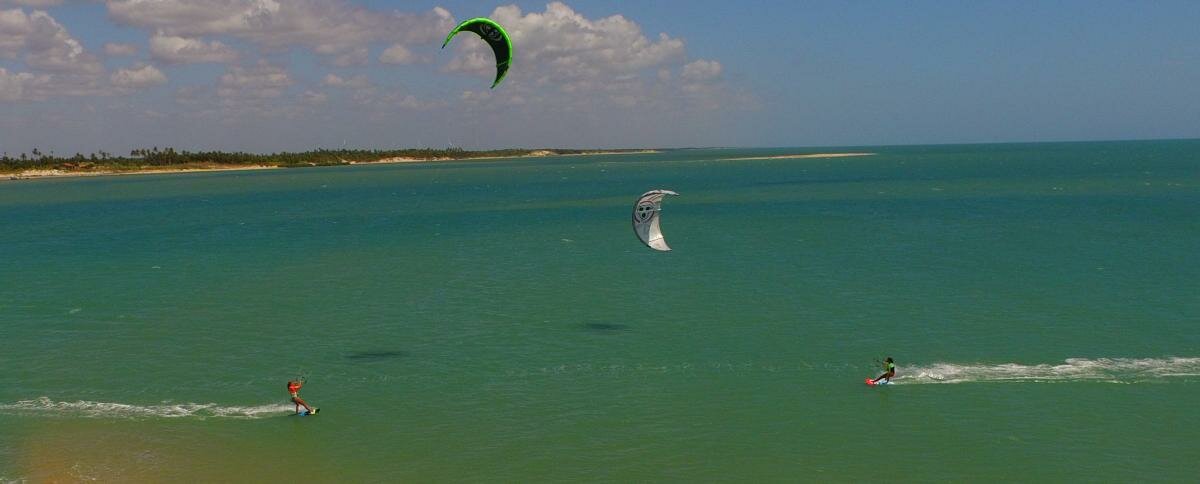 As you learn to kiteboard, you will be taught the few right of way rules that help keep kiters organized and safe out on the water. The golden rule for when one rider is upwind and the other rider is downwind is that, if you are passing upwind, keep your kite high. If you are passing downwind, keep your kite low.
This will ensure maximum distance between the kites when crossing to prevent any possible entanglement.
There are 8 priority rules in total, do you know all of them? List them in the comment section below-
Note: In the photo you will realize the rider on the right lowers his kite as much as possible as he passes downwind, while the upwind rider (on the left) flies her kite as high as possible.
Teaching/kiting in different water conditions!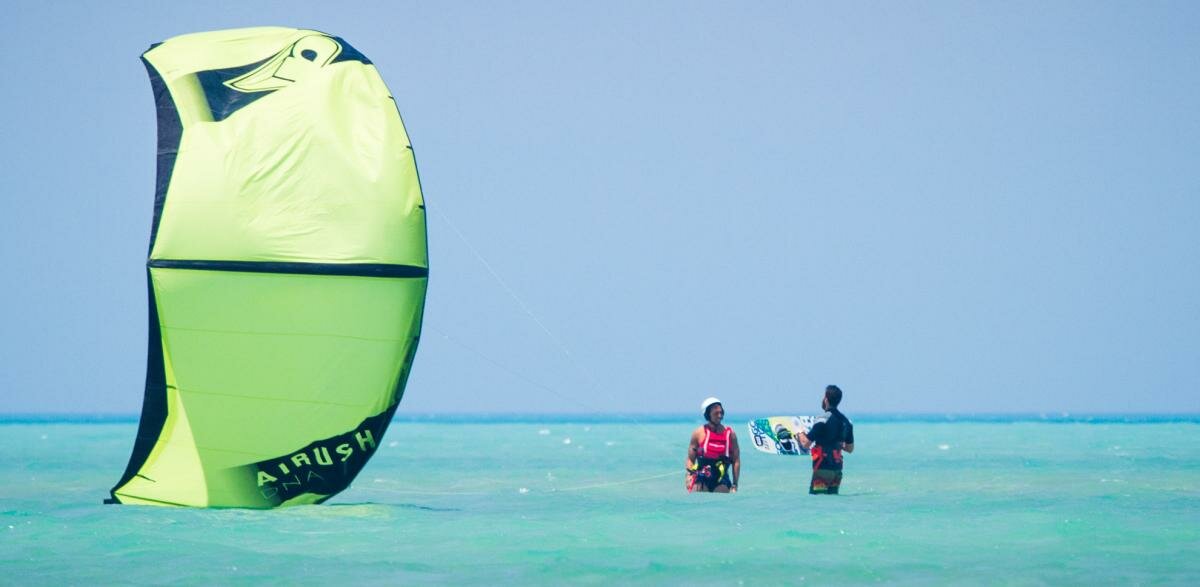 Wherever you travel in the world to teach or kite, you will encounter different water and wind conditions. Here are some tips for the different water conditions.
Shallow Waters:
Shallow water spots are the easiest for learning, however make sure that:
The water is always at least waist deep.

The seabed is clear of hazards that might harm you.

Even in shallow water when teaching, students must wear a buoyancy aid at all times. If you are kiting, it is strongly advise to wear at least an impact vest.
Deep Waters (from a boat):
When teaching from a boat, the Student-to-Instructor ratio must be reduced to 1:1 to ensure the Instructor can fully support their students.
Students should show the necessary skills to leave from and return to the beach.

The boat is not only for rescue, but also to act as a teaching platform and trajectory reference point.

The boat should never be placed directly downwind, or in the path of a student where it might become a hazard.
Note: Students that are only taught from a boat in deep water spots are not considered independent and should be redirected to a spot where they could also practice on land to finalize their training.
Shore Breaks:
Students should never be taught in spots with shore breaks waist high or above (from the base of the wave). Precautions must be taken with small shore breaks (less than waist high):
All training must take place at a safe distance from the pull of the break. Students must body-drag out through the break until they are safely away from it.

The Instructor can take the student out through the shore break and then hand over the kite to the student once they are far beyond the reach of the waves. When using this technique, an Assistant Instructor must stay on land to ensure the student's safety in case the Instructor let go the student and swims back to the shore.
Note: Students must be particularly careful not to drop the kite in the shore break or whitewater. If this happens in shore breaks and the kite is not easily relaunched, students should activate the chicken loop quick release straightaway and swim back to shore.
We hope this helps refresh and prepare you for any water condition you might encounter when teaching or kiting!
What is your favorite water conditions to teach or kite in and find most beneficial to the student or personal improvement in the long run? Let us know in the comments.
Stay Safe,
IKO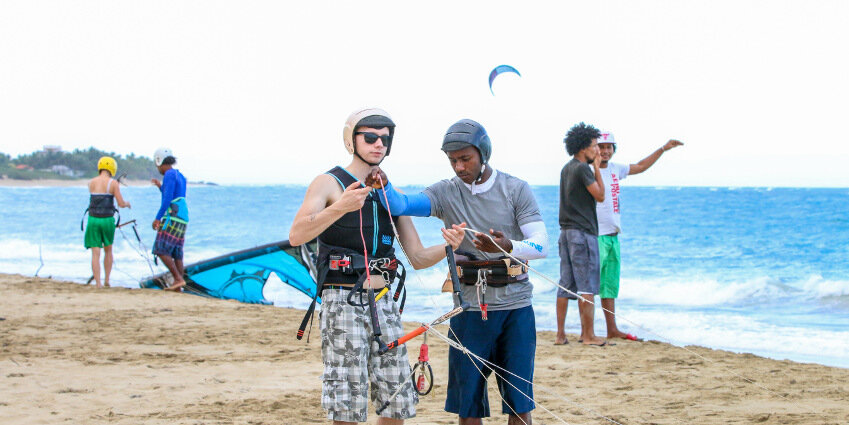 Take habit before every launch whether with help or alone to do a pre-flight check as it will save you time and keep you safe.
To do a pre-flight check you must simply hold up the leader lines up at shoulder height and verify that the lines are well connected and clear for take-off. While performing this check you can also make sure your harness and helmet are well strapped, your chicken loop and kite leash quick release are functional (activate them and reset them) and that your kite is still well pumped!
Doing these checks will ensure that you are ready to get out on the water and have some fun while being safe and ready for anything that might or might not happen!
Remember to check yourself, before you go kiting.
Stay safe,
IKO
2018 Kite leash in the front!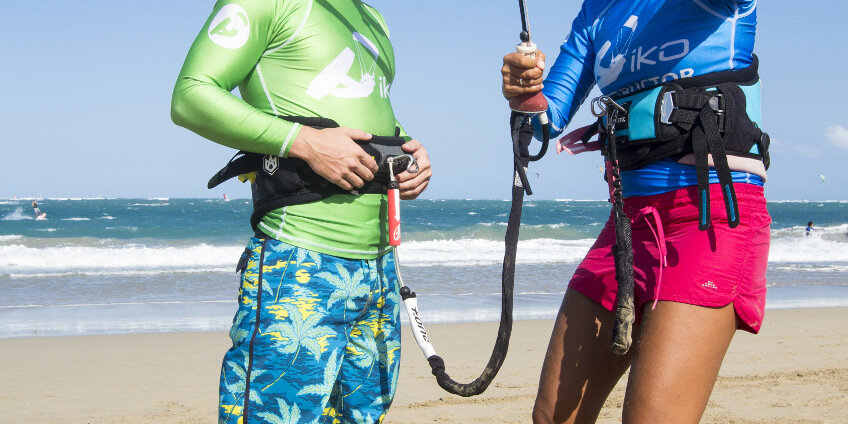 This is an important reminder why you need to connect your kite leash in the front! We already wrote two different tips about this in 2017, many have made the adjustment and thanked us though we want to reinforce this important modification so that everyone is safer out while kiteboarding!
The main reason you want to have your kite leash connected in the front of your harness no matter whether you are foiling, wave riding, free styling or just riding around is to make the leash quick release easily reachable with both hands incase you need to use it.
Here is an example: If you are kiteboarding in deep waters, you have an accident, release your kite though the kite lines managed to wrap around the bar and now your kite is fully powered doing death loops. If your leash is connect to your back you will be getting pulled backwards and most likely have a very hard time to reach your kite leash quick release, it may even be impossible. If your leash was attached to your front you would be facing the kite to either try and recover control of the kite or easily release.
When deciding which leash to use. Considering that most kiteboarders are not unhooking. We therefore recommend using a short leash to avoid having additional rope hanging around you.
Whenever you decide to go kiteboarding make sure before starting your session and after finishing your session that your safety leash is connected and in good conditions.
Remember, if you want optimal safety and function of your leash; connect it in the front! If you already have your leash in the front, tag a friend who does not to make them aware of the danger.
Stay safe,
IKO
Important: please take note of some major updates that have been or will be implemented in 2018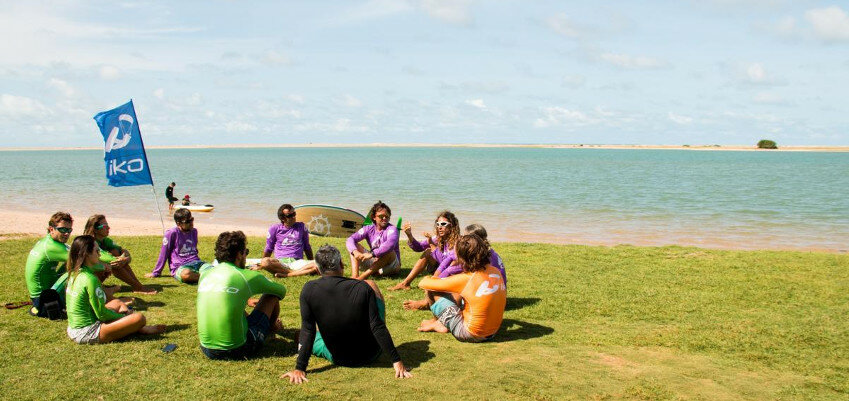 New Organizer Guide now available!
The AITC, ITC, and Coach Organizer Guides are now combined into one guide. All charts with the incomes and expenses are clearly visible, as well as the organizer task list before, during and after the training. This will help Centers to stay organized.
Quality is everything. To ensure the Assistant and Instructor candidates are trained properly, it is important they receive the course content in color (exception are made only where it is costly or not possible). IKO will verify that the guides are printed in color by the feedback sent from the candidates at the end of the course.
To control and improve the quality of the Assistant Trainer course, only ONE Assistant Trainer can be trained during an Assistant Trainer course, given there is at least 2 Assistant candidates. The Assistant Trainer course is no longer the responsibility of the school. Assistant Trainers need to contact the IKO to schedule their course. It is highly recommended to follow an AITC as an observer before doing the real ATTC. Expect this procedure to become mandatory before the end of 2018.
Assistant Course
The AITC-Plus will be renamed and simplified to AITC. We will push that all websites will be updated accordingly. This course has been a major success of the IKO in 2017. Many candidates have provided positives feedback about it. We are now working to update the manual with the feedback we have received from both Candidates and the Examiner team. We plan to release an updated version in Spring 2018.
Note that now Assistant candidates are required to be a kiteboarder Level 4 or equivalent instead of being level 3N. This will help candidates be better prepared for the course.
Instructor Course
Printed copies of the kiteboarder handbooks are no longer included in the ITC pack. The handbook are now available free for all Instructors with a valid membership as eBook on the IKO app. ITC candidates will now receive IKO merchandise and 5 certification credits after their course. Certification cards will disappear as Virtual Card (Vcard) on the IKO App will become more popular. Instructor Level 1 can now teach up to the kiteboarder Level 4 and certify their students online.
Final update and reminder
During pro courses, every candidates must wear a helmet during beach exercises/workshops/teaching practices as well as a buoyancy aid when in the water. Additionally, remember that every Assistant Instructor, Instructor, Assistant Trainer and Examiner must also connect their leash to the front/side part of their harness at all times. This is a global effort to give the proper image and example to current and future students.
Thank you for reading and understanding,
If any questions please do not hesitate to contact us,
Windy Regards,
IKO
How to Self-Land (Community Requested Tip)

Last year in December we gave tips on how to self-launch- many members of the community learned something new. The common follow up question though was how can I self-land?
Whilst self-launching is not for beginners, self-landing is taught during any IKO course during -at least once- the first day of the lesson by activating the chicken loop quick release. This is done to ensure any kiter will be able to land his kite safely in any circumstances. If you do not have anyone nearby to help, you will have to know and resort to these two skills. We also do not recommend trying to self-launch or land for the first time in winds stronger than 20 knots as it becomes too dangerous.
When thinking to self-land make sure you find a place with lots of open space and no sharp obstructions on the floor. Once you have found your spot, make sure your front lines are completely untangled. You will want to bring your kite low and to the edge of the wind window. Once your kite is low to the ground, check your kite leash is connected to you and to the safety line, then activate the chicken loop quick release and let it go (the kite leash is still connected to you) and wait for the kite to stabilize. Once it is the case, grab the safety line and climb it up to the kite, hand over hand, thumbs up. On your way do not touch the bar until you reach the kite and can secure it on the ground. During the whole process be sure your lines stay downwind to you and so, if anything happens you can let go the lines and everything will move downwind to you.
When was the last time you have had to self-land? Did you use this technique or another?
What is a Re-Ride System?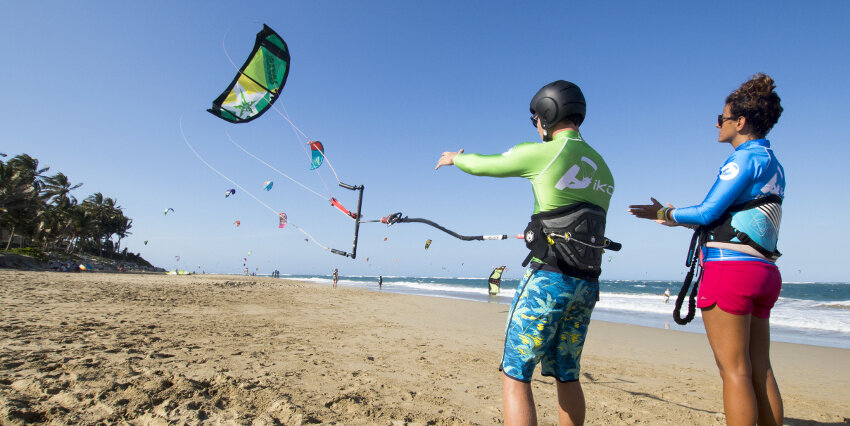 Wether you see it or not, kite companies are always trying to innovate the equipments performance and their safety. Comparing kiteboarding performance and safety today in 2018 to what it was back in the early 2000's is remarkable to say the least.
One of the most important features when designing a control bar is the safety systems. We have found that the one line flag out system also known as "re-ride system" is hands down one of the best so far. This system is applied across almost all brands with few exceptions.
When you release your kite with a re-ride system the kite safely and instantly loses its power. Systems back in the day were less effective and actually more dangerous as the kite might keep power, tangle its lines or flip on itself when released. After the invention of the re-ride system it drastically improved the safety side of the sport.
What do you think? Is the re-ride system the most ideal system or is there another system that is safer?
How and Why you should know how to self-launch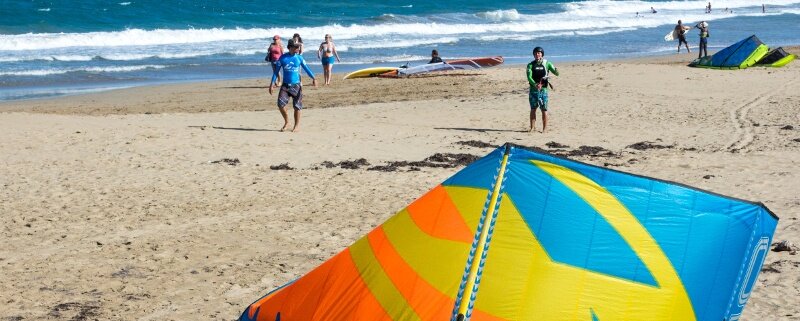 Let us start by agreeing that self-launching should be only done by an experienced kiteboarder and avoided if other individuals are around whether a kiter or not, as you can easily teach someone how to hold a kite for you to launch in less than a minute.
Now that we got that out of the way, and understand that self-launching is not ideal though worth knowing in case you are in remote areas alone. You can self-launch one of three ways. One is by using a heavy object or anchor to have your chicken loop attached to while you put your kite in a  launching position. The second technique is by pulling your lines and having your kite drag on the land into the wind window to launch it similarly to a water relaunch. And the third method is by folding one wing tip over, and covering with sand while the back is on its back and pulling up directly into a launching position.
We won't go in-depth about the three methods as to be taught correctly it must be done by an IKO Instructor in live situation. Though we would like to inform you about the potential dangers of self-launching and why it's recommended for experienced riders only.
When self-launching unless it's the anchor method, you do not have time to make sure that all your lines are properly set up. If you do have a tangle in your lines, you will need to be able to properly counter to avoid a potentially dangerous situation. Additionally sometimes you have limited room to work with. If you have lots of obstacles around it adds another layer of challenge to pulling off an already challenging feat. This is why it is highly recommended to only self-launch when it is needed and to be properly prepared.
When is the last time you self-launched, and what is your prefered method?
Where do you hook on your leash on your harness?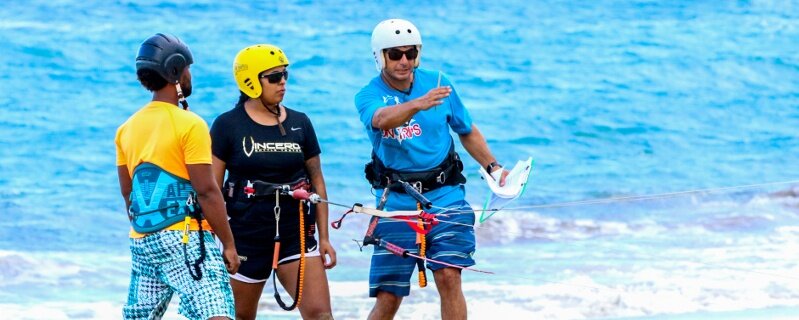 Let's take a poll…. Where do you connect your leash?
Front?
Back?
Sides?
What if we told you only one of those options is optimal for safety and function!?
A safety trend that has flown under the radar for some years is that of connecting your leash on the front of your harness; somewhere along your spreader bar. Connecting your leash here will  make sure your safety release is accessible at all times.
There have been stories of kiters getting caught in accidents where the leash wrapped around their bar into a death loop scenario only to be connected from the back with no way to release! Some have survived, others not and this could have been easily avoided.
This is a public service announcement not only for you though for your fellow kiter friends, and the first step is to share this post! After you have shared the post grab your harness to change its leash position to the front! You will still be able to do all your tricks with ease and be safe in the process! If your leash is already in the front - let us know in the comments! If it is not in the front, once you change it - let us know in the comments that you did so!
Stay safe-

Whether you are just learning to kiteboard or have some years of experience under your belt; please never use a board leash. Since 2011, IKO has permanently banned board leashes to be used while teaching. IKO has also informed all IKO Instructors to inform their students and those they see using board leashes of the misconception of its "benefits" and raise awareness to its actual dangers!
The long time debate was that a leash would enable an easier and quicker progression for an inexperienced rider as they would never lose their board. This is not realistic as a student would never really learn all aspects of kiteboarding. One important skill is how to body drag for board recovery; if you had a leash you would never truly develop this skill.
The real reason to not use a board leash though is because it is simply dangerous. You have various ways to get hurt, or be put in harm's way. The leash can wrap around your body, bar, lines, you can also have a chance of the board coming towards you and hitting you in the body, or worst case head, which could be lethal.
Now you will say that you have seen professional waveriders using a leash in photos, kite videos or on the beach though this decision does only affect their own safety.  We remind you that we have banned board leashes completely for many logical reasons and do not support any use of leashes in any discipline.
Though for some, as the years go by and you decide you want to travel to various wave riding spots like One Eye in Mauritius- where losing your board completely could mean never finding it again or if found- heavily damaged you might consider using a leash. In this situation ask yourself: between losing your board or the possibility of a very serious injury; which one do you choose?
Contact IKO

Call us

Our office team is available from 12:00 p.m to 5:00 p.m and 6:00 p.m to 8:30 p.m UTC/GMT.




+1(809) 5719530

 
 

Email us

Not found your answer from the FAQs?
We experience high volume requests, however we will do our best to answer as soon as possible.
 
 
Contact IKO

Call us

Our office team is available from 12:00 p.m to 5:00 p.m and 6:00 p.m to 8:30 p.m UTC/GMT.




+1(809) 5719530

 
 

Email us

Not found your answer from the FAQs?
We experience high volume requests, however we will do our best to answer as soon as possible.