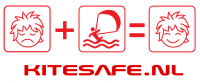 KiteSafe
Safety in Kiteboarding and private lessons to get the maximum progression!
Bloemendaal - Netherlands -
- 554 Votes
The place to be for safety and fun in kiteboarding. KiteSafe consists of a team of experienced kiteboard instructors who want to help you with your kite career. Become an assistant or instructor with us!
Courses/Instructions
We also provide several Assistant training courses (ATC) and Instructor training courses (ITC) each year.
Equipment
Harlem kites, bars and boards Mystic wetsuits, helmets, gloves and boots Ion buoyancy aids
Best Season
March - November
Open Season
From the

1 Mar

to the

1 Nov



Wind/Weather
We teach at different locations depending on the wind direction and strength. See our website for more information.
Facilities
Bar/Restaurant
Wifi
Children's Lessons