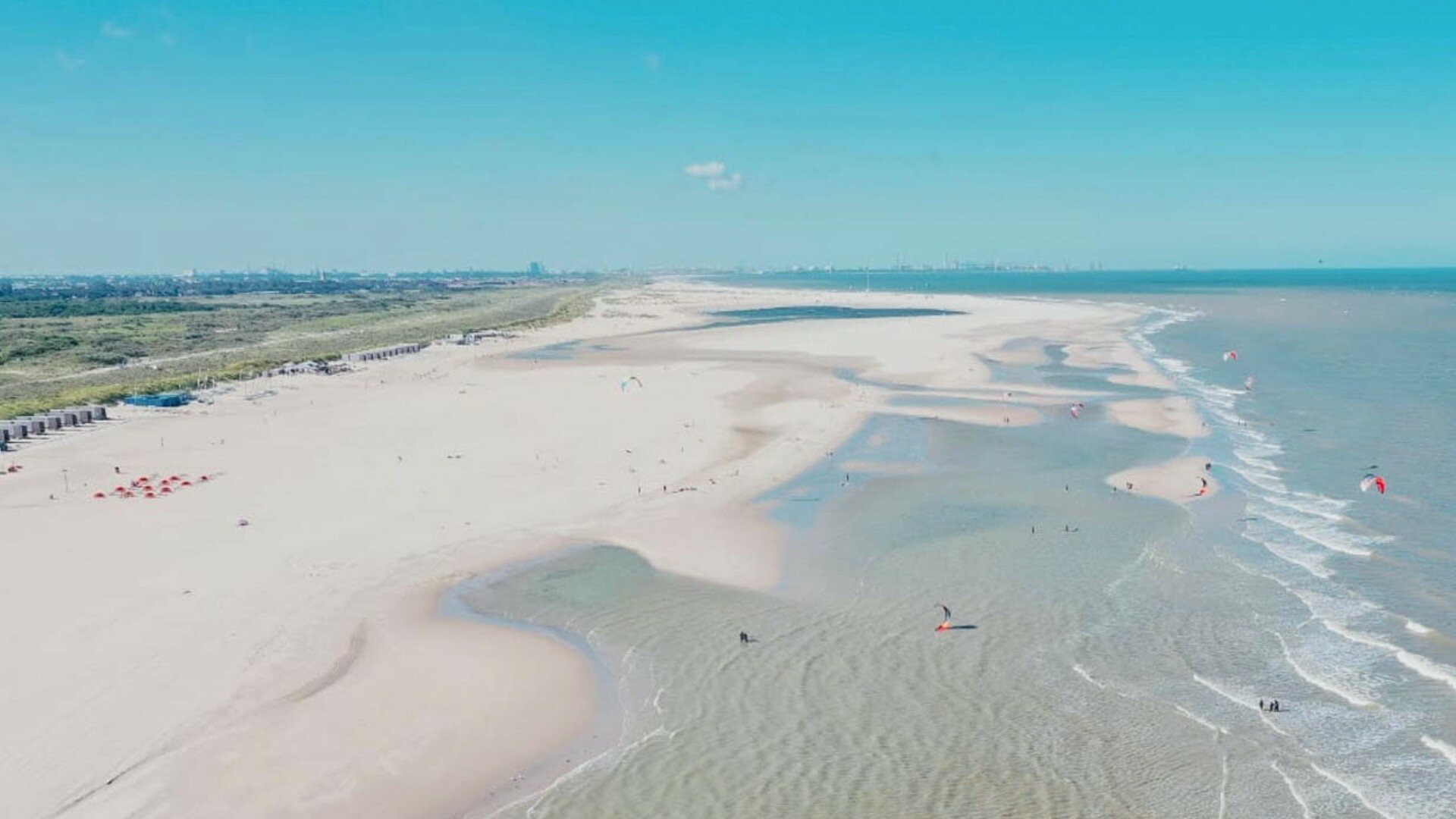 Contribute information about spots
Add Spot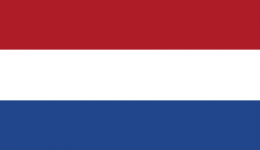 Kitesurfing in the Netherlands
Beginner, Supervision, Advanced, Evolution
Wind: Light, Moderate, Strong
Spot: Flat, Small Waves, Medium Waves
The Netherlands, also known as Holland, is a small country but it's not to be underestimated when it comes to kiteboarding. With over 450 kilometers of coastline, there are many spots where kiteboarders can kite their heart out. It's even possible to ride throughout the year provided you have a good wetsuit or a drysuit for the coldest days.
HIGHLIGHTS OF THE NETHERLANDS
SPOTS FOR ANY WIND DIRECTION  
As kiteboarders we rely on a safe wind direction to go kiting. The wind direction will therefore play a large role in deciding which spot you choose for your session. The Netherlands doesn't only provide kiting on the coastline. There are also a couple of lakes where kiteboarding is allowed making them perfect spots for the days when the wind is offshore on the coastline.
WIDE BEACHES
You know those spots where kites are parked almost on top of one another and it's always a struggle to launch your kite on the little strip of beach available? Surely there are a few of those in the Netherlands, especially when it's high season but there are also numerous spots where the beach stretches over a 100 meters from dune to coastline, hello space!
GO RIDE A BIKE!
It doesn't really matter where you are in the Netherlands, there's always a bike path close by.  Rent a bike and explore parts of the country on two wheels, like a local. You can make stops at tourist attractions along the way or at a pannenkoekenhuis and eat some delicious Dutch pancakes or poffertjes.
TULIP FIELDS, WINDMILLS AND CHEESE 
This is what the Netherlands is known for. The best time to come view the tulip fields is from the end of March until mid-May. The windmills can be visited year-round and of course it's always possible to taste some delicious Dutch cheese. A little less well-known is our love for fried snacks - be sure to visit a 'frituur' to get your taste of a 'frikandel' or 'kroket'!
KITESURFING IN THE NETHERLANDS
The Netherlands offers a variety of spots where kiters can ride. A majority of the spots face the North Sea which means the conditions can be pretty tough for beginners but it's a heaven for big kickers that help you boost your jumps even higher. 
Just starting out or prefer flatwater spots to practice your tricks? Schellinkhout or the Zandmotor are great for this although it can get crowded pretty quickly. Either way, make sure to bring a wetsuit. Even during the summer the water is pretty cold and it's best to wear a shorty or thin full wetsuit.
When entering the beach, there will be signs that describe hazards at the spot and whether or not kiting is allowed. Check signs carefully before pumping up your kite.
With such a large coastline, many watersport activities and a lot of swimming tourists during the summer, the Netherlands has a royal sea rescue institution. If you ever happen to lose your board or kite make sure you report this to them and mention whether you're safely back on land so they don't waste resources looking for you out on the water. For those planning to stay longer in the Netherlands, you can order free stickers to put on your gear with your name and phone number so you can be contacted easily once your gear is found. The Royal Netherlands Sea Rescue Institution works on the basis of donations and a team of volunteers so make sure to support them if you can as they might end up saving your life one day! 
WHEN IS THE BEST TIME TO KITESURF IN THE NETHERLANDS
Depending on your preferred riding style, there are different times when kiting in the Netherlands is optimal for you. If you prefer stormy sessions and boosting high jumps, you'll love the autumn and winter seasons when it's blowing a constant 25+ knots, but even better are the winter storms which will treat you to 30+ knots of wind. Be aware of the rough conditions and know your own limits. Storm kiting can be dangerous if you're not experienced and knowledgeable about safety procedures.
If you prefer cruising or wave riding, spring is the ideal time to go kiting. The wind may not be as reliable as in autumn and winter but there are definitely some beautiful days when it's perfect to go for a cruise. For beginner and intermediate kiteboarders this is a perfect time to take your skills to the next level.
The season with the least windy days is summer. If you've already discovered foiling then that is the perfect time to get your foil out and glide on the calm sea.
WHAT ARE THE BEST KITESURF SPOTS IN THE NETHERLANDS?
Brouwersdam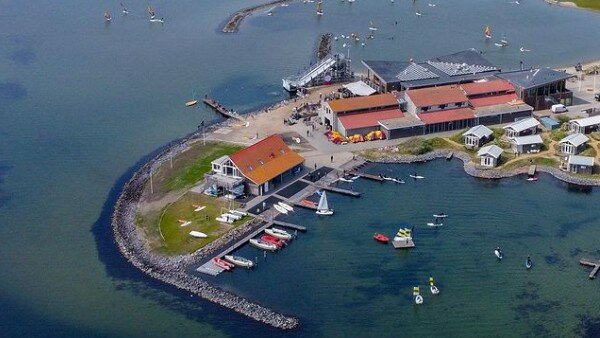 Photo courtesy of Surfcentrum Brouwersdam
This is a beautiful and very accessible spot in the south of the Netherlands with a huge beach that stretches approximately 500 meters from dune to coastline and is about 2 kilometers long. Riding conditions are perfect for beginners, freestyle and freeride as the spot is located in a bay with relatively flat water and you're able to walk out for about 200 meters in the water. There is free parking available at this spot, accommodations can be found close by and there are plenty of places to get food and drinks. Be aware, this spot can get extremely crowded. 
Ideal wind directions: northeast, north, northwest, west and southwest
Zandvoort Aan Zee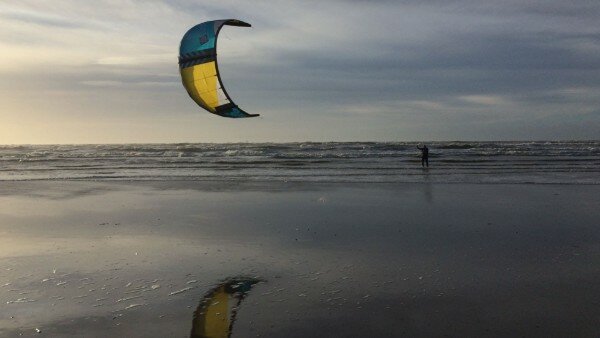 Photo courtesy of IKO Center Kitezone
An amazing spot that usually isn't crowded. Here you're kiting directly on the North Sea which means you can experience some waves and chop making this a nice spot for wave riding, freeriding and big air. The Redbull Megaloop challenge has taken place several times at this spot. Beware of rip currents and strong currents in general. During the summer, the beach will be crowded with beachgoers.
Ideal wind directions: southwest, west, northwest, north and northeast
Zandmotor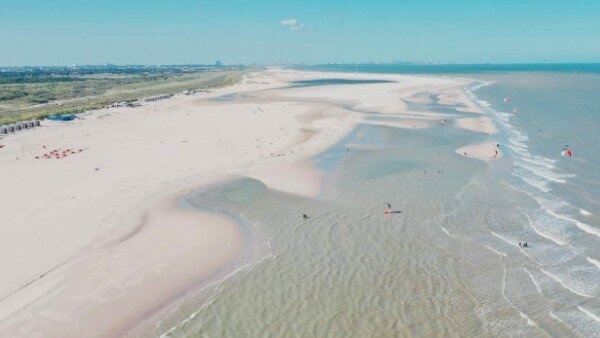 Photo courtesy of IKO Center kiteboardschool.nl
This is a very special spot that offers kiteboarding in different conditions. Whether you feel like kiting on flat water or in the sea, both options are available to you. 'De Zandmotor' is an artificial peninsula where you can find what is essentially a man-made 'lake' filled with seawater right next to the sea. All types of kitesurfing can be done at this spot due to the different conditions. It can get very crowded on good wind days with a wide range of kitesurfers from beginners with their instructors to the more advanced riders performing impressive tricks.
Ideal wind directions: all wind directions, but offshore wind is not ideal due to turbulence caused by the sand dunes.
Schellinkhout 
This spot is located at a lake and is very popular with locals. It's perfect for practicing freestyle but also great for beginners with flat and shallow water for up to 500 meters from the beach. There's not as much room to set up your kite as there will be at some of the other spots but there's a small beach and a field with grass. There are obstacles at this spot that you should watch out for including trees, waste bins and swimming areas and you're not allowed to kite in front of the harbour. 
Ideal wind directions: northwest, north, northeast, east, southeast and south
Rockanje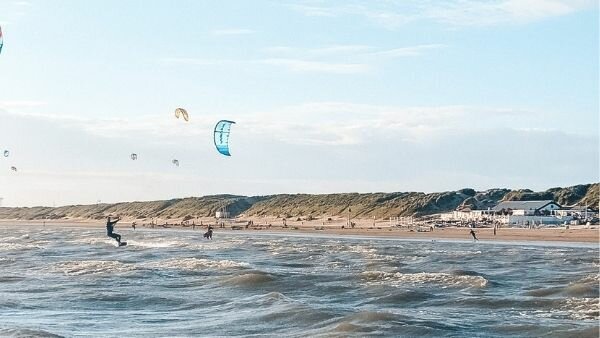 Photo courtesy of IKO Center Loops and Barrels
Rockanje is roughly an hour away from Rotterdam by car. It's a very large flat water spot but it's not well-known so it's not busy with kitesurfers yet. The spot is blocked from the ocean by big sandbanks, which you can ride towards for even flatter water. You can also go downwind to Oostvoorne and ride back upwind. Above 25 knots, the water gets a bit choppy. 
Ideal wind direction: southwest
's-Gravenzande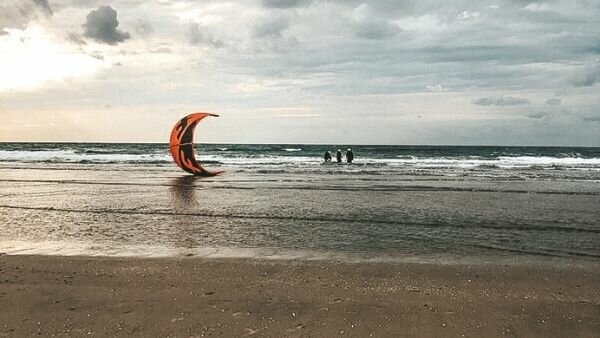 Photo courtesy of IKO Center Loops and Barrels
's-Gravenzande is a wave spot between the Hague and Hoek van Holland. It's a hidden spot, so it's not very crowded. 
Ideal wind direction: northwest 
Noordwijk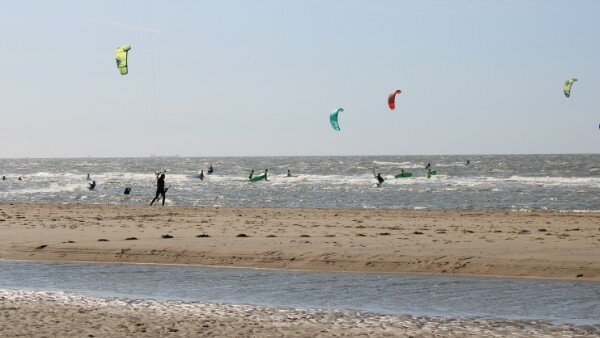 Photo courtesy of IKO Center Beach Break 
Noordwijk is about 45 minutes away from Amsterdam by car. Wind strength varies from 12 to 45 knots, with stronger wind in the winter. Water conditions vary between flat to really big waves, depending on the strength of the wind. Most of the time this spot has choppy water with some waves. There's also a large area for launching. 
Ideal wind directions: south, west and northwest
ABOUT THE COUNTRY
Brief History of the Netherlands 
The Netherlands is a small country located in western Europe, famous for having a significant percentage of its land below sea level. There are many ways in which the Dutch are stopping the sea from entering the land, through sand dunes, dams and wave breakers on the beach. The Netherlands once had an overseas colony that included what is now Indonesia and Suriname, and the influence of these former colonies can still be found today all over Holland. During World War II, the Netherlands was occupied by the Germans and liberation day is a national holiday celebrated on the 5th of May. Their love for the color orange stems from the royal family whose last name literally translated is 'from orange.' The whole of the Netherlands turns orange when celebrating the King's birthday on April 27th
Things to Do When There's No Wind 
Water and Beach Activities
The Dutch coastline is full of beach pavilions which offer a range of facilities and activities, including 'bumperball', volleyball, beach tennis and soccer. Others will offer wave surfing, stand up paddle boarding, cycling or even jumping onto a huge inflated cushion to be launched into the water. Usually they will have space for you to sit and enjoy a drink or a full meal and at the more well-known and busy kitespots it's possible for them to also have (hot) showers available.
Go Cycling  
There are bike paths all over the Netherlands. Some go through a city or through the sand dunes but there are also bike trails through forests that may be slightly more challenging and require a mountain bike. No matter what sort of biking you want to do, it's possible to rent all sorts of bikes in almost every city in the Netherlands. If you're not up for a day of heavy peddling, then they will even have e-bikes for your convenience. 
Visit 'Keukenhof'
If you're in the Netherlands from the end of March until mid-May, you're lucky as this is when the tulips bloom and fields full of this beautiful flower can be seen. You can drive or bike past fields or you can visit a park made especially for tourists called Keukenhof.
Visit a City
There are many different cities in the Netherlands that are worth a visit. Some have a rich history for you to discover while others offer access to breweries, canal boat tours, a variety of markets and other shopping and food experiences. Some cities that are definitely worth a visit on a non-windy day are Amsterdam, Rotterdam, Utrecht, Breda and Maastricht.
Getting to and Around the Netherlands 
The Netherlands is easy to access no matter your mode of transportation. 
There are several airports in the country. The largest is Schiphol Airport in Amsterdam.  Most long-haul international flights will arrive here, in addition to flights from all over Europe. 
The Netherlands is also reachable by land over many motorways. Neighbouring countries Germany and Belgium have good roads as well so wherever you're driving from, you'll be able to reach the Netherlands with minimal trouble. 
There are also many ports and harbors where you can enter with your boat, just make sure to contact port authorities beforehand to ensure that there's enough space for your boat.
Getting around Holland is also a breeze. Public transportation is well-developed and it's definitely recommended if you don't have a car. Although there may be minor delays now and then, trains and buses generally run on time. You can usually pay for your ticket with cash, debit or credit card and you can easily plan your trip ahead of time online on 9292.nl. 
USEFUL RESOURCES
Best Season
The best months to kite surf in Netherlands are March, April, May, September, October, November. The two best months being September and October.
Spots