Contribute information about spots
Add Spot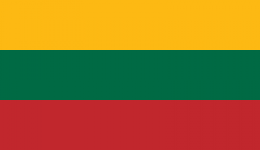 Kitesurfing in Lithuania
Beginner, Supervision, Advanced, Evolution
Wind: Light, Moderate
Spot: Flat, Shallow, Small Waves, Medium Waves
Interest in Lithuania is growing year by year. Cycling enthusiasts here can find safe, newly-built routes in many Lithuanian cities. Watersport fans can try out new boat routes, kitesurfing, windsurfing and wakeboarding. Travelers are to be delighted by reconstructed heritage sites, the opening of visitor centers in protected areas, more accommodation, wellness facilities, and a wider range of entertainment and catering activities—not to mention the green forests, abundance of lakes, and the Baltic Sea with its grand dunes.
HIGHLIGHTS OF LITHUANIA
ANCIENT LAKES AND FORESTS
Lithuania is a land of lakes and forests steeped in legend, and a trip through them will appeal to the adventurous, the scenic, and the historical type of traveler. There are countless lakes, non-stop gurgling rivers, and centuries-old forests that echo with their sound. 
HIKING AND MEDITATION
The opportunity to explore the country at a leisurely pace appeals to both domestic local travelers as well as international tourists. Some set out for a few hours, others spend weeks on the road. Some enjoy movement, meditation, and being with themselves, while others enjoy socializing and making new friends. As much as one-third of Lithuania's territory is covered by forests, so there is plenty of space—which is why guided hikes, meditation and yoga retreats are so popular in Lithuania.  
WATER SPORTS
Due to the large number of lakes and rivers in Lithuania, water sports have special importance in the country. From kayaking, water skiing, rowing, SUP to windsurfing, surfing, wakeboarding, and kitesurfing. Wakeboarding is gaining popularity in Lithuania  and extreme sports enthusiasts' interest. As a consequence, Lithuania has a large number of wake parks as well as well-developed kitesurfing spots by the sea and the lagoon.
MUSIC FESTIVALS
As summer gets into full swing, so does the festival fever. July and August are the months when most music events, from rock to electronic music, attract visitors to exciting urban city spaces. One of the brightest, 'Blues Nights'' is perhaps the oldest Lithuanian open-air music festival that has become a tradition for many and has attracted a loyal crowd.
KITESURFING IN LITHUANIA
Kitesurfing in Lithuania first took root in 2001 when the first kiteboarders started to practice the sport. Soon after, kiting clubs and schools were established, where people interested in the sport gathered and kiting lessons were then organized. In Lithuania, the natural conditions are very suitable for kitesurfing. Wave lovers enjoy the Baltic Sea. High winds and waves make up a perfect combination for residents in Klaipėda who are chasing extreme kitesurfing conditions. Large uncrowded sand beaches are perfect for launching and landing the kite at ease. The most common places for professionals and amateurs to carve the waves are Klaipeda, Palanga, Sventoji, Nida, Juodkrante, and Monciškes.
For those learning to kitesurf or who like flat water, it would be hard to find a better place than the Curonian Lagoon. It is a shallow freshwater triangular lagoon on the southeastern edge of the Baltic Sea, protected from the sea waves by the Curonian Spit and influenced by the Nemunas, Minija, and other smaller rivers. The most famous spots are without doubt Svencelė, Dreverna, Kintai, and Cape Vente. The wind is typically blowing sideways to the shore between 14 and 25 knots. Some days may reach up to 40 knots. Sideshore wind direction allows epic downwind kite trips by the sea and the lagoon. Traveling from point to point along the shore, exploring remote spots, absorbing the purely natural landscape with your kite pals—there's no better way to get to know the country. 
Kiting can also be done on land with kite-skates and buggies, and winter is a great time for adventures in the snow, as it can be done on skis, ice-skates or a snowboard. 
WHEN IS THE BEST TIME TO KITESURF IN LITHUANIA? 
In Lithuania, the real enthusiasts kitesurf all year round as the wind conditions are favorable, even in the wintertime. This is done with the right clothing, thick wetsuits, and neoprene gloves and hats. The best spot to kitesurf is the Baltic Sea, which in winter has up to 2/3 meter waves. 
Regardless, the high kitesurfing season starts at the end of May and ends early in October. The weather and water temperatures rise during the high season, however, a wetsuit at all times is necessary. Yet, who needs the tropics when you have idyllic kitesurf sunset sessions? From dusk till dawn, the sun stays up until midnight. Some night riders are chasing magic kite sessions under the full moon in the lagoon.  
WHAT ARE THE BEST KITESURF SPOTS IN LITHUANIA?
Kintai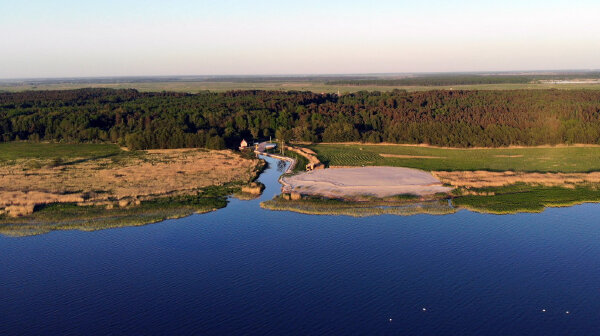 Photo: IKO Center Kintu Kaitu Klubas
Kintai is a small, old fisherman village with a harbor on the shore of the Curonian Lagoon. Due to the prevailing westerly winds, smooth water and shallow bottom, Kintai is considered one of the best and most popular kitesurfing destinations in Lithuania. Besides kitesurfing, the village enchants with its nature, fish dishes, and the beauty of the surrounding forests. The kitesurfing center there can be proud of having one of the most experienced kite instructors in Lithuania and the only examiner for the whole Baltic region and other countries around the world.
Svencele
The Lithuanian mecca of kiteboarding. As Brazil has Jericoacoara, Lithuania has the Svencele kite spot. Due to the characteristics of the lagoon, Svencele is very welcoming to newcomers. Yet, regardless of riding level, everyone has the ideal conditions to enjoy the sport. The lagoon is divided into zones for safety reasons: left side is for beginners and freeriders, whereas the right side is for freestylers. The site recently went under a major reconstruction and is now even more suitable for kitesurfers than ever before. With plenty of schools, gear rental and repair shops, restaurants, cafes and accommodation options the spot affords maximum comfort.  
Dreverna
Dreverna is another old fishing village, located by the Curonian Lagoon and the Dreverna River. You can admire the panorama of the Curonian Lagoon and the coastal sand dunes, the boat and yacht harbor, and the surrounding nature. Access to the water is slightly more difficult due to the rush plants, seaweed and rocks on the shore. The water on the shore is slightly deeper as compared to Svencele or Kintai. Nevertheless, you have an option to take your kitesurfing session into the river of Dreverna.
Cape VenteCape Ventė is a beautiful furthermost corner of western Lithuania on the Curonian Lagoon coast. A red brick lighthouse was built on the tip of Cape Ventė. It is also important as the great bird migration route passes through Ventė Cape, which is why an ornithological station was established. Although there isn't much space to pump and lift your kite up, and concrete pier serves as an exit to the water, once out there you can find an oasis of peace and tranquillity while kitesurfing in the lagoon.
Monciskes Beach
Right on the Baltic Sea coast, between Palanga and Sventoji—in Monciškės is where kitesurfers can dive into the world of wave surfing. As compared to flat riding in Svencele, kitesurfing in the Baltic Sea may seem slightly more complicated. As waves interfere with starting, the current may pull you sideways, knock you off your feet and, once you start, you crash on the first wave. Regardless, instructors with international IKO qualifications will help riders to tame the seaside wind and waves. The most common wind directions are from the south, southwest, west, northwest, or north. Dusia Lake
Dusia, Lithuania's third largest lake, is surrounded by pine forests but with plenty of room to pump up, raise, and lower your kite. It's a shallow coast with a smooth breeze and a clean, sandy bottom. Ideal for beginners, but suitable for professionals too! Depending on the wind direction, you can choose where to enter the lake. 
Elektrenai Lake
Those who are visiting big cities in Lithuania such as Vilnius and Kaunas have the pleasure to kitesurf in the Elektrenai lake nearby. The best conditions to kitesurf is when the west and northwest winds kick in. It is a spot suitable for advanced riders with their own gear as there are no kite centers or shops. The entrance to the water may be tricky as well because of the narrow grassy access being blocked by the trees.
ABOUT THE COUNTRY
A Brief History of Lithuania
The first inhabitants of Lithuania appeared 12-13 thousand years ago, as the weather warmed and the glaciers retreated northwards. These were the Baltic tribes, nomadic, often moving from place to place. As a country, Lithuania is mentioned for the first time in the history of a small German in the annals of the small German town of Quedlinburg in 1009. From the very beginning, Lithuania was attacked by the Sword-and-Sabbaths and Crusaders, allegedly to baptize the pagans, however, in reality, it was to conquer lands and enslave their inhabitants.Lithuania strategically formed an alliance with Poland and occupied large areas. But even then, the country was divided and at war with Sweden, Germany, and Russia for years. In 1914, at the beginning of World War I, Lithuania became a part of Germany and Russia. In 1915, Lithuania was occupied by the Germans. On June 15, 1940, during World War II, the Soviet Union army occupied Lithuania. The Sovietization of the country began. On March 11, 1990, The Supreme Council adopted the Act on the Restoration of the Independent State of Lithuania, and Lithuania became a non-compliant democratic country. In 2004, Lithuania joined two organizations along with Latvia and Estonia: the North Atlantic Treaty Organisation (NATO) on March 29th, and the European Union (EU) on May 1st. After this period, Lithuania's economy has strengthened and continues to grow, foreign direct investment is increasing, Lithuanian schools and universities are being renovated, and existing social guarantees are growing.
Other Attractions in Lithuania
Without any doubt, wake cable park 313 is a must-see. It's known as the largest in Europe and one of the most high-end wake parks in the world, attracting some of the most famous athletes in the field. They also host top-level RedBull competitions. A must-do is to go wake surfing in the Curonian Lagoon. This is the best way to experience the sport of surfing. A fast boat, good company, adrenaline, and indescribable views of the lagoon and the dunes will make the day a success.. Lithuania is also a land of waves. The waves in the Baltic Sea often reach 2 meters. The surfing base near Klaipeda pier will provide you with the necessary equipment and qualified instructors. You only need to follow the wave forecasts and wait for the right moment. When in Lithuania, the capital Vilnius is worth a visit. The old town streets are full of history and interesting artistic cafes and bars, often performing various types of live music concerts. Near Vilnius, Trakai Castle is probably one of the most spectacular places in the country. It's a castle in a lake, surrounded by nature, green forests and islands. It takes the breath away for many visitors. 
Getting to Lithuania
The quickest and easiest way to reach Lithuania is by plane. The capital, Vilnius, has an international airport with low-cost airlines that connect with major European cities. There is also an airport in Kaunas, more in the center of the country, with plenty of direct flights. Palanga airport situated by the Baltic sea is the third airport, yet smaller, but still receiving international flights. From Vilnius Railway Station you're able to travel by international trains to the following destinations: St. Petersburg, Moscow, Minsk, Riga, Warsaw and to various parts of Lithuania. The most direct route to the Baltic States is by ferry. Convenient and fast routes go to the Baltic States from Europe or the Scandinavian coast. With up to three different routes, you can reach your destination the next day. Ferries from Germany and Sweden make it easy to get to Lithuania. 
USEFUL RESOURCES
SIMILAR KITESURFING DESTINATIONS
SPOT
WORLD > EUROPE > LITHUANIA > KINTAI
KINTAI
Kintai is a unique settlement by the Curonian Lagoon, surrounded by forest on the way to the famous Cape Vente Lighthouse. It is the heart of Lithuanian identity, distinguished by its fishing traditions and extremely warm local people. And it would be remiss not to mentioned the unique nature, loved even by such rarities as sea eagles.
HIGHLIGHTS
SPORT FESTIVAL
During the summer months, the Curonian Lagoon coast near Kintai offers an extraordinary spectacle—the Wind Sports Festival. Kitesurfing, which became particularly popular, brings together enthusiasts from all over the country to remember safety procedures, kite repair particularities, and enroll in advanced training sessions. The festival is crowned by breathtaking performances in competitions of different kite disciplines. The athletes typically compete in the Race team event, the Children's Cup, Light Freestyle and Pro Freestyle competitions. Downwind is the culmination of the festival, a communal downwind swim with the aim that all participants complete the distance.
QUALIFIED INSTRUCTORS
In both Svencele and Kintai more and more qualified instructors are becoming available, who cannot only help to tame the wind and provide the necessary theoretical and practical knowledge, but also increase the accessibility of the sport. This is thanks to Kintai Kitesurfing Center, which is the only one in the Baltic States that trains kitesurfing Instructors and Assistant Instructors according to the IKO methodology.
BIRD WATCHING
Kintai is one of the best birdwatching sites to discover as many bird species as possible, with as many as 320 bird species. Birdwatching in the Nemunas Delta is a true Lithuanian safari. Various river routes, hidden observation platforms, half-day, full-day or multi-day excursions by wooden kayaks offer a unique opportunity to spot wild birds from a short distance and to take photos or videos. 
FISH GASTRONOMY
Kintai has always been famous for its large fish markets. There may not be as many fishermen nowadays, but the smell of fish still lingers. Here local fisherman smoke catfish, perch, bream and other lagoon fish. Also, various companies farm carp, catfish, pike, crucian carp, white sturgeon, etc. in ponds. The live fish produced are supplied to major Lithuanian supermarkets and exported to Germany, Latvia and Poland. Obviously, there are plenty of restaurants in the town to get really fresh fish straight from nearby ponds. One of the recommended dishes is carp stewed in beer sauce.
KITESURFING IN KINTAI
Safe conditions are available for beginners and professionals alike—easy access, shallow and sandy shoreline, plenty of space. The many years of experience in kitesurfing and other water sports of the certified IKO instructors of Kintai Kite Club allow you to safely and quickly learn the subtleties of this sport and master kitesurfing! The cherry on top of it all—what's better than to have an opportunity to admire the Curonian Lagoon, the Curonian Spit, and the unforgettable dunes of Nida while kitesurfing.
Wind, weather and water
Curonian Spit has a maritime climate with strong winds and relatively small annual temperature fluctuations. In summer, kitesurfers may enjoy the warmest weather among Lithuanian resorts, with an average temperature of +17.3 °C. The sun shines for an average of 858 hours. It also receives the least rainfall during the warm season. The wind is fairly steady, without gusts. On windy days the wind is blowing from 10 knots and may reach 40 knots. The prevailing wind directions are north, west, northwest and southwest, either side-shore or onshore. When the north wind kicks in, you can always add a few knots more to what the actual forecast shows. Occasionally the wind turns around and blows offshore. In such a case, advanced kitesurfers make the best of the opportunity and arrange a downwind trip with their pals to the Curonian Spit, which is around 9 kilometers away. The Curonian lagoon at Kintai offers a smooth water surface, which sometimes might be choppy when the wind picks up. The water isn't salty so it doesn't scratch your eyes. The shallow coastline is especially good for beginners, as you will always feel the ground under your feet. It's easy to get back to where you want to be or recover a lost board. Sometimes hurricanes or smaller storms lead to increased saltwater intrusion into the Curonian Lagoon and flash flooding. However, this usually happens in autumn. The water temperature in the summer on average is around +18 degrees, soyou will still need to put on a springsuit or a full coverage 3/2mm wetsuit. Although it's not only in summer that you can kitesurf, but cold water is not much fun to kite in. 
WHAT ARE THE BEST BEACHES FOR KITESURFING IN KINTAI?
KINTAI BEACH 
The only beach in the Curonian Lagoon that has soft sand for an easy pump, launch and drop down of the kite. The spot offers plenty of space, no trees in between blocking the way and shallow access to the water and steady winds. When the wind direction is favorable, Kintai beach is a popular start or finish point for downwind kite trips. 
Wind direction:  SW-WNW-W. From 10 to 40 knots.
Water conditions: Flat, choppy.
Discipline(s): freeride, freestyle, downwind, big air.Skill level: all levels: From beginner to advanced riders.
Watch out for: (hazards) the beach is surrounded by bulrush plants and seaweed.
Getting there: Kintai is easily accessible from Klaipėda city. Straight line distance from Klaipeda to Kintai Is 33.7 km by car. A short and easy 30 minute ride to the spot. 
Tip: Make sure to have an at least 3/2mm wetsuit.
OBSERVATION TOWER
Just a few hundred meters away from Kintai beach, where the observation tower stands, there's another entry into the lagoon. Access here is indeed less ideal than on Kintai beach. Here the sand is replaced by grass, and there is only enough space for 3 kites (and the water entrance is sharply deeper). Regardless, it is a remote uncrowded spot, providing the same great wind and water conditions.
Wind direction:  SW-WNW-W. From 10 to 30 knots.
Water conditions: Flat, choppy.
Discipline(s): Freeride, freestyle, downwind, big air.
Skill level: from beginner to expert.
Watch out for: (hazards) the beach is surrounded by bulrush plants and seaweed, little space.
Getting there: a few hundred meters away from Kintai beach, walking distance through the woods. 
Tip: be aware of the deep water by the shore.
TRAVELING TO KINTAI AS A KITER
Getting There
The smartest and most convenient choice would be to rent a car and drive to all the spots, especially if you carry your own kite gear. From the city of Klaipeda Kintai it is about a 45 minute journey. When you reach Dreverna village you have two options: either to take the regular paved road (slightly longer) or cut some kilometers and have a little adventure taking the gravel road and going through a beautiful forest, which is more like the tropics than Lithuania. Another option is to take commuter buses from Klaipeda to Kintai, however, the schedule is limited to only a few rides per day at certain hours. 
Accommodation
As interest in the sport and the number of visitors grew, the reconstruction of homesteads and farmhouses began while maintaining the ancient architecture but keeping life adapted to wind chasers. There are many such homesteads in Kintai. Guests can also stay on the water in rooms on sailboats. Another alternative is to rent a place for a tent or camper. A free camping site for a camper van by the lagoon is right next to the kitesurfing center in Kintai. 
Getting Around
Kintai town is small in size, which makes it very easy to move from point a to point b. You can rent a bicycle, drive your own car, or go on foot. Concerning public transport, you won't find any buses in Kintai. Taxi services are available by calling a local number.
Food and Drink
Like the surrounding settlements, Kintai is a seaside town with a long fishing tradition. No wonder the fresh fish caught in local waters end up on the table of every restaurant in Kintai. From chilled carp, bighead carp, trout, sturgeon, to pike perch and pike—you name it, they have it. A must is to try the fish soup and various smoked fish pieces that can be accompanied with fine Lithuanian beer or traditional homemade kvass drink.
No Wind?
If there's no wind, there's really no need to sit idly by and wait. In Kintai you will find not only everything you need for both beginners and advanced kiters but also much more. Kitesurfing, sailing catamarans, paddleboards, bicycles, beach tennis, volleyball, music festivals, bonfires, various camps, and of course no stress.As Kintai is a quiet town, there is little action after midnight. But you can always find some movement in nearby Svencelė, Dreverna or Klaipėda, which is hustling and bustling full of live jazz and rock bars. A good idea is to go and explore Dreverna port and its most attractive 15-meter-high observation tower, which offers unique views of the Curonian Lagoon, the grey Curonian Spit, or the Dead Dunes. During the summer season, a regular passenger ferry to Juodkrante departs from the Port.  The harbor also has a restaurant and water entertainment centers, as well as water skis, water bikes, jet skis, fishing quadruple boats, and other equipment available for rent so that everyone can find something they like to do when taking a break from kitesurfing. Lithuanian watersports' jewel is a three-circle wakeboarding park 313. Located near Palanga town, right next to the beach, it's an hour's drive away by car from Kintai. Now in its fifth year, the park is known as one of the largest and most modern wakeboard parks in the world. The park offers three newly installed ''Sesitec'' system circles and 50 UNIT parktech figures. Every single one is also greeted by the park's well-maintained infrastructure, a restaurant and an entertainment and play area for children. High-level Redbull wakeboarding competitions are held annually, attracting elite wakeboard athletes from Europe and a massive crowd of spectators. 
USEFUL RESOURCES
Best Season
The best season to visit Lithuania is during its summer months which is June till August.
Spots