Contribute information about spots
Add Spot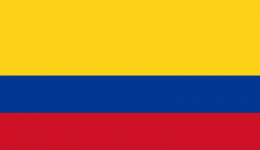 Kitesurfing in Colombia
Beginner, Supervision, Advanced, Evolution
Wind: Light, Moderate, Strong
Spot: Flat, Shallow, Small Waves, Medium Waves
Tranquil historic towns, welcoming locals, towering mountains, the Amazon rainforest, rivers, valleys, waterfalls, and vast stretches of coastline on the Caribbean Sea and the Atlantic Ocean are what strike travelers when they first visit Colombia. Besides unparalleled landscapes and sunsets, Colombia offers a vacation full of adventure and adrenaline while practicing watersports such as kitesurfing. 
HIGHLIGHTS OF COLOMBIA
BIODIVERSITY
Colombia is one of the most biologically and culturally diverse countries around the world. It is estimated to possess 15% of the biodiversity on the planet, meaning it has the highest number of flora and fauna species by area in the world. You can find  vibrant cities, the Tatacoa Desert, coffee plantations, volcanos, and even snowy areas in its borders. 
GASTRONOMY
Colombian gastronomy is as diverse as its nature and cities and can be defined as a fusion of other cultures, mainly Spanish and African, complemented with typical dishes of each region of Columbia. Typical Colombian dishes such as bandeja paisa, mote de queso costeño, sancocho, arepa, mute santandereano, and carne a la llanera (among many other Colombian gastronomic delicacies) will certainly be a delight.
NATIVE CULTURE
Colombia is one of the countries with the greatest number of native tribal communities in Latin America. With over 100 ethnic groups, 65 of whom have retained their own native languages. Recognizing, caring for and preserving their cultural life and wisdom is essential for the retention of Colombia's history.
MUSIC
Columbia is named the land of a thousand rhythms. From African beats, Spanish and European influences, to tribal sounds, you can find everything. The Cumbia and Bambuco are the most representative dances of the country abroad. Amongst other popular genres, there is also the Salsa, Champeta, Salsa Choke, Bullerengue, Curralao, and Vallenato. 
KITESURFING IN COLOMBIA
Columbia as a kite destination has enormous potential. It is gaining more and more followers to the sport everyday, and people are squeezing the best out of it. The motives? Colombia has close to ideal wind conditions, diverse spots, and more and more options for lodging and learning centers. For strong wind lovers, Santa Veronica or Cabo de la Vela are the spots to go. If you like green hills and calm murky water, you can go to Lago Calima. San Andres will allow one to kitesurf in turquoise blue water. The water in the Caribbean is clear and still, and in the Pacific, fairly wilder. You can also experience some really fantastic and exciting kitesurfing spots in the Pacific Ocean. Jump into the waters, test your spirit of adventure, and take off in big jumps. Recently, Colombia has become the first stop on the GKA world tour. The tour continues to 16 more destinations, from Dakhla (Morocco) to Fuerteventura (Spain) and Ceará (Brazil). Overall, Colombia is one of the most worthwhile kitesurfing destinations to visit on a kitesurfing trip to South America!
WHEN IS THE BEST TIME TO KITESURF IN COLOMBIA
In Cabo de la Vela the wind is especially strong and blows between 25 and 35 knots continually. The low wind season is from May to June, and the unstable and gusty wind blows from 15 to 25 knotsalthough it hardly ever blows less than 15 knots. The prime time to kitesurf is very early in the morning or later in the afternoon when you can expect steady winds.In Cartagena, the main season starts in the month of December and ends at the end of March. Santa Veronica is comparable to Cartagena but has a second season from June to August. Calima Lake has navigable winds 360 days a year and offers a warm tropical climate, making it the water sports capital of Colombia. The weather, on a warm day, can be between 27 and 35°C, and in a cooler season it can range between 20 and 27°C. 
WHAT ARE THE BEST KITESURF SPOTS IN COLOMBIA?
Cabo de la Vela
This spot is particularly remote and it takes around 3 hours to drive from the last city Uribia, desert of Guajira. The region is home to the Wayuus tribe. Wayuu means 'people of the sun, sand and wind.' And indeed, the wind is strong and the direction is offshore. Suitable for more experienced kitesurfers, Cabo de La Vela is also a well-known tourist attraction for surfers and non-surfers alike, as it not only offers the option to practice water sports, but also has splendid landscapes with lodgings in front of the beach and local premeval ranches.
Santa Veronica 
Santa Veronica, situated 45 minutes from Cartagena, is an area increasingly attracting kitesurfing enthusiasts to enjoy a good surf, allowing them to advance in the wave mode.It is definitely a wave spot, with strong winds up to 45 knots, and is great for big air and strapless freestyle. The climate is typically humid and tropical with an average temperature of 30°C.
Mayapo, RiohachaMayapo is another remote area that provides plenty of space to practice kitesurfing. It is located next to the capital of the tribal territory de los wayuus Riohacha. Riohacha is a city that you cannot miss for its unique combination of desert,  sea, and culture—which is the attraction of the city. This spot is windy almost all year round, and the season runs from December to August with September/October being the least likely months due to the heavy rains.
Lago Calima
Roughly 2 hours north of Cali is Lake Calima, which attracts kite and windsurfers throughout the entire year due to the consistant wind conditions. Due to its geographical position, this place receives winds of up to 43 knots, making it the third lake in the world to have extremely strong winds—and the first in America. The lake is widely known as one of the largest artificial lakes in Colombia. This is an extra-mystic kite spot that offers a high chance of kiting with rainbows, as it is often foggy.
CartagenaOne of Colombia's tourist attractions is the city of Cartagena, which not only stands out for its historic old town, its gastronomic attractions, and its great nightlife, but also for its beaches. It is perfect for kitesurfing and suitable for all levels. Between December and April you can kite at different spots close to the city. The closest spots are La Boquilla and El Laguito. You can go to Manzanillo (a 30 minute drive from city center) where the beach is emptier and prettier.
San AndrésSan Andrés is an exotic island with a sea of seven colors positioned further away from Columbia mainland in the Caribbean ocean. Due to its intertropical setting, the archipelago is distinguished by a hot climate that registers an annual average of 27.3°C. Hundreds of kitesurfers take advantage of the constant strong winds (of more than 18 knots coming from the north), and crystal clear, warm and choppy water to glide, jump, and fly over.
Macanal, BoyacaIt is no wonder that, in Colombia, kitesurfing is being practiced mainly on the coast in the ocean. But a few years back (and fortunately for the locals of Bogota), there is a new destination for kitesurfers that is hitting hard: the Macanal in Boyacá. The best time to go is between November and March, because the wind is good almost every day. 
ABOUT THE COUNTRY
A Brief History of Colombia 
Much of Colombia's history is closely connected to the history of Spain until its independence (discovery, conquests and colonization), where in 1886 Colombia emerged, like the other Latin American countries, as a unit with a claim to political independence following the Napoleonic invasion of the Iberian Peninsula. Throughout the 19th century, Colombia's path was mainly concentrated on the presence of two political-administrative trends: political centralism and federalism. The country experienced political tension and several civil wars until the so-called War of the Thousand Days in 1902 when the twentieth century started and made the country more prosperous. Gold mining and primary products such as tobacco were the basis of the economy until the coffee export cycle began. But despite sustained economic growth, the current Republic of Colombia is still highly unequal in income and opportunities. Drug-related violence and corruption serves as an obstacle to further growth, as well as deficiencies in education and infrastructure, which hinders insertion into the world economy.
Things to Do When There's No Wind 
There are times of the day when you cannot kitesurf, and these are the perfect times to experience the wonders of Colombia. The country surprises with its multiformity of landscapes, from as deserts to idyllic Caribbean beaches to lively cultural cities. Whatever you are looking for, you will find it in Columbia.As a result, you can enjoy the city life in Medellin, Cartagena, and Bogotá y Cali. Those are undoubtedly the most picturesque cities in the country. Take, for example, strolling through the historic center of Cartagena, with its narrow streets full of life, color, and atmosphere. It will be one of the great places amongst many others to see in Colombia.The capital of Colombia is another must-see. The Plaza de Bolívar, Barrio de la Candelaria, and the Plaza del Chorro de Quevedo, is where you will be able to see some of the coolest urban street art.Adventure seekers and nature fans can get in kayaks or boats and reach extraordinary waterfalls, hit some trails to walk and enjoy the vegetation, and (during the summer) sunbathe.Among the wide variety of activities available, the Colombian Amazon stands out. There, you can see animals in the wild or go fishing for piranhas. The Mundo Amazónico Ecological Park and Cahuinari National Natural Park are places where outsiders can observe the best of the Amazon's flora and fauna. 
Getting to Colombia
There are several alternatives for routes to Colombia depending on your starting location. Most visitors arrive in Colombia by plane at one of the four main international airports: Bogota, Medellin, Cartagena, or Cali. Also, Colombia has borders with Panama, Venezuela, Brazil, Peru, and Ecuador, but there are only road connections with Venezuela and Ecuador. From Ecuador, Venezuela, and Panama, it is possible to arrive by car. Keep in mind that the road from Panama to Colombia has a jungle stretch in between, and cars must be shipped by boat to one of the Colombian ports. Cartagena, due to its privileged position, has an embankment port for not only cruise lines that travel the Caribbean, but also for sailboats, yachts, and other vessels. Unfortunately, there are no international rail connections.
USEFUL RESOURCES
SIMILAR KITESURFING DESTINATIONS
SPOT
SANTA VERONICA
Santa Veronic is a little town located just in between Cartagena and Barranquilla, where no one is in a hurry, no one has a headache, and no one is planning long-term strategies. People live in the here and now—the slow and calm rhythm of the Caribbean. 
HIGHLIGHTS
GALERAZAMBA SALT FLATS
The nearby village of Galerazamba has a reputation for its waters turning an intense pink color. Between February and March, one of the phenomena that most attracts tourists is when the salt flats turn red. In addition, you can see salt dunes, salt pans, and pretty houses full of history and legends. 
GASTRONOMY
It is one of the most beautiful beaches in Barranquilla with a quiet atmosphere for relaxation, and if you let yourself get caught by the marine delicacies served in the kiosks and stalls on the beach, you will be able to taste a bowl of delicious traditional rice with coconut, tostones, and fried fish with shrimp sauce (and don't forget to hydrate and drink lots of coconut water, too). The Seafood Festival in May features a varied menu. The festival also has  live music shows, traditional sweets, handicrafts, etc. 
GLOBAL KITEBOARDING CHAMPIONSHIP
The prestigious Global Kiteboarding Association has added Santa Veronica, Colombia as its newest location. It will be the very first stop on the annual World Tour competition, bringing action and adrenaline to the daily lives of Colombian citizens.
THE SANTO DOMINGO DE GUZMAN CHURCH
Another important tourist attraction in Usiacurí town is its church. The white and blue Santo Domingo de Guzmán Catholic church, which was built in 1892, stands vigilantly on one of the highest hills in the area retaining its original materials and adding up to the already rich architectural heritage of Colombia.
KITESURFING IN SANTA VERONICA
The beaches of Juan de Acosta (Santa Veronica) have long become an ideal and unique destination for water sports, which attracts hundreds of national and international tourists due to its perfect conditions that include  breeze, good waves, warm temperatures, bright sun, flat water, uncrowded beaches, and a beginner-friendly set-up. The stretch located on the Caribbean Coast of Colombia between Cartagena and Barranquilla (in particular Salinas del Rey beach) has received enormous attention from the top athletes and international competition organizers of the high kitesurfing league. For the first time in history, the World Kitesurfing Championship has made a stop in Colombia (Salinas del Rey) and has hosted the best of the best kitesurfers from 30 different countries, making Santa Veronica one of the best destinations in America to practice kitesurfing. 
Wind, weather and water
Even the most traveled and experienced kiters may be surprised by the conditions in Santa Veronica, which include a permanent breeze from early in the morning until late in the afternoon, allowing kitesurfers to easily practice the sport due to the reliability of the wind. The average wind speed in the stretch is about 20-30 knots during the peak season with a water temperature between 25 to 30°C, so you can leave your wetsuit at home. The water conditions are a combination of flat and choppy with some 1-meter waves, depending on the beach. The direction of the wind is onshore and side-onshore, making it convenient for downwind safaris and for beginners to easily learn the sport. Since the destination is still ramping up in popularity, the beaches are quite deserted and uncrowded, making enough room for kitesurfers to enjoy the ride freely and for beginners to learn in maximum safety conditions. More experienced wave kitesurfers will find the area amusing, as they will be able to catch some great waves. It is worth mentioning that the spot is tide-independent, therefore, you won't be tied to a schedule or need to keep on top of high and low tides. 
WHAT ARE THE BEST BEACHES FOR KITESURFING IN SANTA VERONICA?
Salinas Del Rey
Situated on the northern Caribbean coast of Colombia outside the small fishing village of Santa Veronica, the site of Salinas del Rey is world-famous for its combination of extremely good wind conditions, flat water and waves, and warm weather and landscapes. The primary wind season in Salinas del Rey starts in January and goes throughout April, with daily constant winds averaging between 20-35 knots. From May through July, the wind is (on average) 15-25 knots. 
The predominant wind direction is from the NE, making for a side-onshore breezes and an average 30°C temperature—allowing one to ride in board shorts and bikinis all year long.Wind direction: N-NE, side-onshore, between 20-35 knots
Water conditions: Flat, choppy, 1-2m waves
Discipline(s): Strapless wave-riding, freeride, downwindSkill level: all levels: From beginner to advanced riders
Watch out for: (hazards) Waves may be up to 3 meters, be aware of strong currents too
Getting there: From the two international airports Barranquilla (just 45 minutes away) and Caragena (1 hour 20 minutes away), catch the coastal bus all the way to Santa Veronica/Salinas del Rey. The most common form of public transport in Salinas are the taxis, also known as tuk tuk's. 
Tip: Bring your small set of kites. No wetsuits are needed
Palmarito
Palmarto is situated 5 kilometers upwind from Salinas del Rey beach. As in Salinas del Rey, more than 90% of the days are navigable during the high season (from December to May). It is a relatively undiscovered kitesurfing location and, therefore, not crowded. It's a flat spot  ideal for freestyle or learning how to kitesurf. It mainly boasts small waves and chop.
Wind direction:  N-NE, side-onshore, up to 27 knots
Water conditions: Flat, choppy
Discipline(s): Strapless wave-riding, freeride, downwind
Skill level: from beginner to expert
Watch out for: (hazards) None
Getting there: Same as going to Salinas del Rey, as Palmarito is very close by.
Tip: It's famous for its coconut water. 
Puerto Velero
This spot is located around 10 kilometers upwind of Santa Veronica. There is a wave spot as well as a flat water lagoon divided by a pretty sandbank. Schools (besides giving classes, renting boards, and kites for your complete enjoyment) also offer guided downwind tours from the spot to Santa Veronica. Puerto Velero is an excellent place for beginners because of the lagoon. Thehe water is typically flat and the wind is strong with side-onshore and sideshore conditions. For advanced riders, you can reach a wilder spot with great waves and wind with three types of conditions ( side-onshore, side-shore and side-offshore) within a five minute walk. 
Wind direction: NE, side-onshore, side-shore,  side-offshore, between 15 -25 knots
Water conditions: Flat, choppy, waves up to 2 meters
Discipline(s): Strapless wave-riding, freeride, downwind
Skill level: All levels, from beginner to expert.Watch out for: (hazards) windy, may be gusty at times
Getting there: Marina Puerto Velero is located only 25 minutes from Barranquilla and 50 minutes from Cartagena by car or public transport.
Tip: If there's no wind, try some wakeboarding at the spot.
TRAVELING TO SANTA VERONICA AS A KITER
Getting There
Santa Veronica is well-connected to the rest of the world via the airports of Cartagena and Barranquilla. If it happens that you are coming from one of these airports, the shortest and most optimal road route from Barranquilla to Santa Veronica (distance is 41 km with an approximate travel time is 50 min), would be by car. Similarly, to arrive from Cartagena would take around 1 hour 30 minutes (roughly 81 km). The other option would be to take public transport from the terminal bus stops in Cartagena and Barranquilla. The trips are very pleasant and relaxing, as the routes are taken by the coast and the buses are in excellent condition driven by competent drivers. Another form of travel would be to take a taxi. Although it is the quickest and most comfortable alternative, it is also the most costly. 
Accommodation
As Salinas del Rey has become a reference point in the kitesurfing sector due to hosting the GKA Kite World Tour event, it also offers great opportunities for the national and international tourism sector. As a result, various types of accommodation options exist in Santa Veronica. It is relatively easy to find and book unique accommodations online starting from hotel rooms and apartments, to huts, bungalows, and even entire luxury villas.  Some of the favorites among kitesurfing enthusiasts are Kite Eco House, Casa Kite Surf, Villa Kite House, and Palomar Cabaña.
Getting Around
There are a number of decent restaurants, a variety of nice hotels and other accommodation establishments, and small stores and supermarkets. Everyday transfers in tuk tuks are to most used by tourists. They are easy to find and almost always available. Other public transport includes scheduled city buses or private taxi hires. You can also rent a scooter— however, it is important to be careful on the roads because the traffic is relatively wild and intense.
Food and Drink
Even though some restaurants may be deserted, abandoned, and closed, there are some great food and beverage establishments, too. Most of such are seafood, and they're situated on the beautiful beaches of Santa Veronica. You can find international dishes such as mofongo from Puerto Rico and traditional dishes from the Colombian coast such as fried mojarra, coconut rice, and patacones. Beach clubs have been specially designed for tourists to enjoy unforgettable moments contemplating the Caribbean Sea, have the best tanning day, and offer all the tranquillity of an exclusive place in front of the sea. Another great thing about Santa Veronica is that typical dishes are served right on the spot while visitors are relaxing in hammocks that are set up on the beach.
No Wind?
During windless days, visiting the native tribes could be a great educational opportunity, as Tubará town is well-known for its ethnic past. The Lodo el Totumo volcano is an incredible natural attraction because of the great healing and therapeutic qualities of its mud. The ritual is to typically immerse yourself from head to toe in the mineral-rich mud and warm, sulphuric waters. It is one of the few volcanoes in the world where you can dive without any problems. The medicinal characteristics of the mud are due to the ingredients it contains: water, silica, aluminum, magnesium, sulfur, calcium, iron, and more minerals. The area is also famous for its yoga practices. It has a tradition of holding yoga retreats and workshops with professionals and instructors who, with love and knowledge, will help anyone advance in yoga. It is a great option for kitesurfers looking to stretch their muscles. 
USEFUL RESOURCES
Best Season
If you are planning to visit Colombia - go between December and April as it is the best time. Those months you will encounter stable daily winds of 25-30 knots and the occasional "light days" of 17-20 knots.