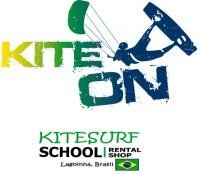 KITE-ON
Efficacy, safety and optimal conditions at a magic place!
Lagoinha - Brazil -
- 144 Votes
Summary
Enjoy a safe and personalized training in perfect wind and weather conditions, in a fantastic environment: Let our team of nice and experienced instructors and assistants guide you to rise your level of kiting, with up-to-date gears, flat shallow water, strong and steady wind everyday and appreciate an exotic and relaxing atmosphere in an untouched environment. Take advantage of highly trained instructors giving specific lessons to children, adult with health problem, seniors, and enjoy after your kiting a relaxing time of stretching for kiters or yoga class. You can also appreciate some fitness, samba or Capoeira courses. We give the lessons in a wide lagoon, with a lot of space for everybody, and we have at maximum 2 students by instructor, so that we can really fit to your needs and wishes. Lagoinha is a sunny breathtaking and wide beach with turquoise water, orange dunes, big palm-trees, natural fresh water sources and super-nice local Brazilian people. You can access it easily in 1h30 drive from Fortaleza. Come an enjoy with us!
Courses/Instructions
All courses are done by qualified and experienced Kitesurf Instructors, in French, English, Spanish or Portuguese under the supervision of a 10 years experienced Head Instructor, that will adapt your training to your needs and level. We only do private (1 student by instructor) or semi-private lessons (2 student by instructor) to insure maximum progress. We don't depend on the tides at the lagoon, so we can teach all day long. We have a lot of place for each rider at the lagoon for you comfort and security.
Equipment
We use brand new kites from Slingshot and Liquid Force brands that we change every year to insure optimum quality and boards, harnesses, helmets and life-vests selected to give you maximum comfort, easy use and efficiency.
Best Season
Strong trade winds blow igualy from July to end of January. (It's still possible to kite surf or learn in February and March)
Facilities
Retail shop
Bar/Restaurant
Children's Lessons
Map