Contribute information about spots
Add Spot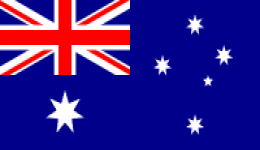 Kitesurfing in Australia
Beginner, Supervision, Advanced, Evolution
Wind: Light, Moderate, Strong
Spot: Big Waves, Flat, Medium Waves, Small Waves
Australia is one the best countries in the world for kiteboarding. Its coastline measures 35,877 kilometers, and the conditions range from flat water lakes to waves and windy coasts. Being so big, there is always wind somewhere and it's full of hidden gems. White beaches and flat waters make for the perfect place to learn. One of the most famous locations, Safety Bay, is where you can probably spot a few champion kiters; it is popular for having consistently good conditions.
Australia is definitely up there when it comes to places to learn. You can find amazing schools all over the country, and beaches that are super safe because of how big they are. You can find flat water almost anywhere, which makes for the perfect learning condition. Many schools are IKO affiliated, which guarantees a high standard of safety and progression.
Capital: Canberra
Currency: Australian Dollar
Level: Beginner to Experienced
Winds: 10-40 knots (Depends where and when you go)
Kite Sizes: 7-9m Small / 10-14m Big
Flat Water Spots: Yes
Beach Break Spots: Yes
Wetsuit Needed?: Some places
Water Temperatures: South 17-25 °C; NE 23-27 °C; West 20-24 °C
Uncrowded Waters: Yes
Kiteboarding Lessons Average: 35- 80 USD Per Hour +/- depending if solo or group lessons and package
Daily Food Budget Average: 35 USD
Downwinder Spots: Yes
Best Season
During their Summer months pretty much all of the South, Southwest and East coasts have wind. In the Winter the Northeast coasts has amazing wind. On the Western coast the best season is from October to March.
Spots