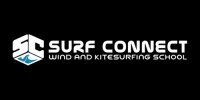 Surf Connect Wind & Kitesurfing School
Surf Connect Kitesurfing School is the first and still the only Accredited Yachting Australia & IKO Training in Brisbane.
Brisbane, QLD - Australia -
- 224 Votes
Summary
We offer lessons of all levels from beginners to advance level, one hour to a full week's course. We are open every day except Mondays, from sunrise to sunset, our school use the latest equipment kites in the market, enabling your learning to be the most efficient. Our location is one of safest you can find. Shallow sandy beaches with no surf making it a very ideal learning environment there is around the entire Brisbane, Sunshine or the Gold Coast region. Cafe, fish and chips and burger shop, toilet and showers all available within an arm's length. Accessible easily by public transport too, Sandgate train station is only a half an hour trip from Brisbane City Central! Airport and hotel pick up service available and accommodation can also be arranged if required. All students receive a 20% discount VIP Card, which you can use on kites purchase, all the way down to small accessories. We have everything you need for the sport, equipment, clothing, accessories, sunglasses, even roof racks! Book in a lesson today and get ready for a great experience with us! Be warned - kiteboarding is highly addictive!
Courses/Instructions
Individual, small groups, schools, cadets, corporate. From one hour to full week's courses. Beginners to instructors training. We are open every day except Mondays. Kitesurfing, Windsurfing, Standup Paddling, Wakeboarding.
Equipment
New & used equipment available for rental and sale. In the lessons, the latest kites in the market are used, together with radio helmets, protection vests. Our school is located right on the water, with safety boat on location. Storage facilities, hot showers, toilets, kitchen. All available for students.
Best Season
We are open all year round, but our summer season is between September to May. Airport pick up, accommodation, our centre also has free internet stations, movie room, hot showers and storage.
Facilities
Retail shop
Bar/Restaurant
Wifi
Powerboat Course
Teaching from a boat
Children's Lessons
Assistant Instructor
Map