Contribute information about spots
Add Spot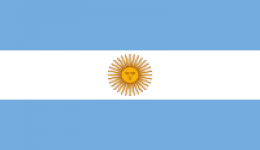 Kitesurfing in Argentina
Beginner, Supervision, Advanced, Evolution
Wind: Light, Moderate
Spot: Flat, Medium Waves
Argentina might not be on the most popular kiteboarding destinations list, but it definitely has some good spots and any level kiter is welcome. The water conditions are endless, you can kite lagoons, rivers, beaches or open waters. If you're not sure where to go, you can go on organized kite tours where they take you around the Patagonia, or they even have some tours that are three days long where you go kiteboarding with other participants and have meals together. It is particularly popular December and January; depending on how you like to kite you should plan around that.
Other popular wind and water sports in Argentina are windsurfing, surfing, rafting, paragliding and fishing. Some fun things that you can do are learn and dance Tango, go sightseeing and visit the Recoleta cemetery, play tennis or hockey. Argentina is also popular for their nightlife, whether it is to go clubbing, bar hopping or listen to live music.
Capital: Buenos Aires
Currency: Argentine Peso
Level: Beginner to experienced
Winds: 15-25 knots when there is wind, up to 30 knots in Rodeo
Kite Sizes: 7-9 Small / 11-14 Big (Depends where and when you go)
Flat Water Spots: Yes
Beach Break Spots: Yes
Wetsuit Needed?: Yes
Water Temperatures: 18- 21 °C (December - April), 10- 17 °C (May - October)
Uncrowded Waters: Yes
Kiteboarding Lessons Average:
Daily Food Budget Average: $8 USD
Downwinder Spots: Yes
Best Season
The best kiteboarding season in Argentina is during their summer season which is September until April. December and January are the busiest months for kiteboarding. During these months the weather and water is warmest. The warmest water reaches about 21 °C, so you will still probably have to use a wetsuit still.
In Cuesta del Viento there is wind over 300 days of the year, usually greater than 20 knots.