Wing Foiling: A Beginners Guide
In this article, I'll introduce you to the intriguing and fast-growing sport of wing foiling and give some great insight into how, and why, you should take the plunge.
Basic winging terminology
Wing:

The handheld inflatable sail

Board:

The platform the rider stands on

Foil:

The underwater hydrofoil which gives the board lift

Leash:

The leash connecting the wing to the rider
Background on winging
Different forms of wing powered sports have been around since the 80's however the wings were often bulky, heavy and awkward to manoeuvre. The sport as we know it today has only taken off in the past couple of years as equipment has become increasingly lighter. The development and affordability of hydrofoils have allowed the sport to grow and is one of the main driving factors in the sudden surge of wingers on the water today.
What is winging?
The rider holds a wing that is not too dissimilar from an inflatable kite. Most wings take their shape and rigidity once fully inflated, however, some wings have a physical boom structure to increase stiffness. The rider stands on a board and uses the wing to harness wind energy which in turn, powers them along. Where this sport differs from any other wind-powered water sport is that the wing is handheld and not attached to the rider by a harness nor the board. This makes it an extremely free-flowing sport and is part of the reason so many people love it.
What is wing foiling?
Winging can be done on a variety of different boards. The most basic form of winging can be done on a stand up paddleboard. This is a lot of fun for kids and families turning a relatively calm day down the beach into a bit of an adventure. A great way to introduce wind sports in a low-risk manner!
Wing foiling is where the rider uses the same type of handheld wing to power them along but now with the introduction of a hydrofoil. A hydrofoil can be mounted onto a variety of different sized boards. The more beginner boards being larger and higher volume whereas advanced boards will be much smaller and partially sink under the rider's weight.
Wing foiling is much more extreme and allows riders to perform increasingly more technical tricks, ride at higher speeds, surf waves, and even jump!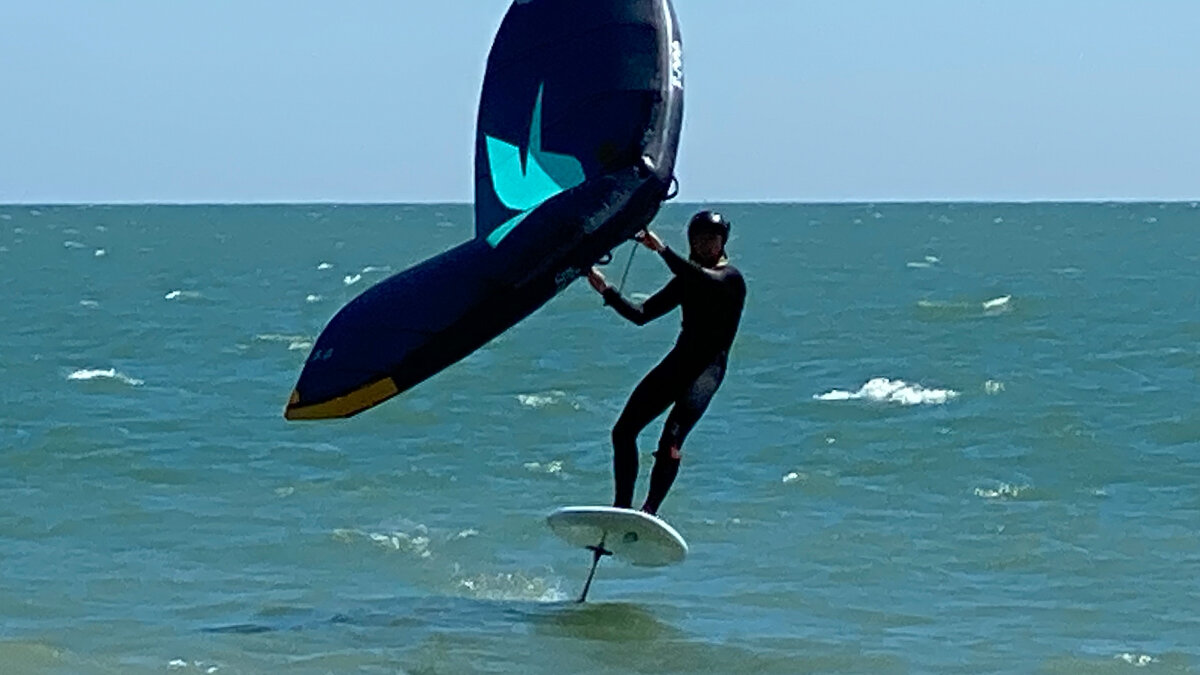 Why should kitesurfers learn to wing foil?
I'm a keen kitesurfer, kite foiler, outdoor sports enthusiast, and love all things watersports related! I decided to take up wing foiling last year and here are my top reasons why all you kitesurfers out there should join me!
Simplicity: There is something sweet about simple sports. It makes it easy to travel with, reduces set up time, plus there's less equipment to buy! When I wing foil, I'll head to the beach, pump up my wing, attach my leash and I'm good to go. 

Easy to learn: Due to its simplicity, winging is surprisingly easy to learn. Less equipment means fewer things to think about!

Cross-offshore winds: It's not great for kitesurfing at my local spot when the wind blows in a cross offshore direction. The wind tends to be very gusty on the beach making the kite unpredictable and dangerous to handle. Before winging, I would travel to other kitesurf spots. Now I can stay local and wing even in cross offshore winds. I have found this to be my favourite wind direction as it allows me to catch swell and drop a hand putting the wing into a neutral position.

Safe: It is a very low-risk sport. The power in a wing doesn't even come close to the power a kite can generate. The boards tend to be much more buoyant too which makes it easy to self-rescue and paddle back into the beach like a regular surfboard. 

Accessible: Due to the low-risk factor, it makes winging extremely accessible to people of all ages, young and old. As I mentioned above, it's the kind of sport families can try on a low wind day down the beach.

Busy days down the beach: During the peak of the U.K summer, beaches can often become overcrowded and many members of the public are unaware of the potential dangers kites and lines can involve. I find it's not worth taking the risk of trying to launch a kite on a busy beach. These busy summer days are the days I have turned to wingfoiling. I can simply walk down to the water's edge without needing lots of space to set up or launch and off I go!
How to learn wing foiling?
Practice handling the wing on the beach:

You need to have a relatively good understanding of wind sports before even picking up a wing. Some introductory videos on youtube can teach you the basics.

Suss out how to carry the wing and board together:

This may sound extremely simple but trying to carry a wing and a large foilboard together can be awkward especially if you have a large shore dump crashing down on top of you. It's important to master this skill before even venturing out so that when you return to shore post-session, you'll be able to escape the waves before your shiny new kit becomes victim to a good spanking.

Practice on a SUP:

This is particularly useful for anyone who hasn't tried hydrofoiling yet. Learn how to wing first, then learn how to foil!

Use your wing foil board behind a boat:

If you or your friends own a boat, it can be valuable to foil on your potential wing board behind a boat first. This will give you a chance to work out the foot positioning and riding speed required for the foil to provide lift.

Keep an eye on the IKO website:

The IKO will soon be offering wing courses for all levels. To get updates about winging and other courses, log in to your IKO account and

sign up for training alerts

.
Top Tip!!!
Learn in strong enough winds! My biggest mistake when learning was trying to wing foil in light winds. I soon found out that this can make the wing hard to handle and requires a lot of pumping and good technique to get the board onto the foil. Going out in a moderate wind allows you to 'park and ride' meaning you will have enough power to lean back against the wing and won't have to pump as much to get going.
Winging progression path
Setup, secure and pack down the wing

Handling wing on beach

Enter/exit water with wing and hydrofoil

Self-rescue

ROW rules

Ride on your knees

Ride standing

Pumping/getting on the foil

Ride upwind/downwind

Foot change

Jibes

Tacks

Catching swell

Jumping
What's the future of winging?
In only a matter of years, the sport has already seen vast improvements and new boundaries are being reached every day. Freestyle is a fast-growing discipline and the level of tricks some riders are now performing is difficult to comprehend.
In my humble opinion, where I see this sport developing is wave-riding. Being able to use the wing as a source of power to catch a wave, a bit like tow-in surfing with jet skis. The beauty of wing foiling is to drop one hand and surf freely on breaking waves or even rolling swell, this has got to be one of the coolest feelings ever!
Let's see where this sport takes us in the years to come. One thing is for sure, wingfoiling is here to stay and I highly recommend anyone contemplating whether or not to take it up to just do it already!
Want to turn your passion for wingfoiling into a career?  
 
Become an IWO Instructor.  
The International Wingfoil Organization (IWO) is IKO's sister organization and was founded by professional wingfoil instructors with more than 20 years of experience in watersports education. 
The IWO Instructor certification is recognized worldwide, allows you to have your professional skills recognized when you apply for jobs at wingfoil schools and sets you apart from the competition with non-certified instructors.
You can start the IWO Instructor Training Course (ITC) online today. 
Author: Bradley Mackelden