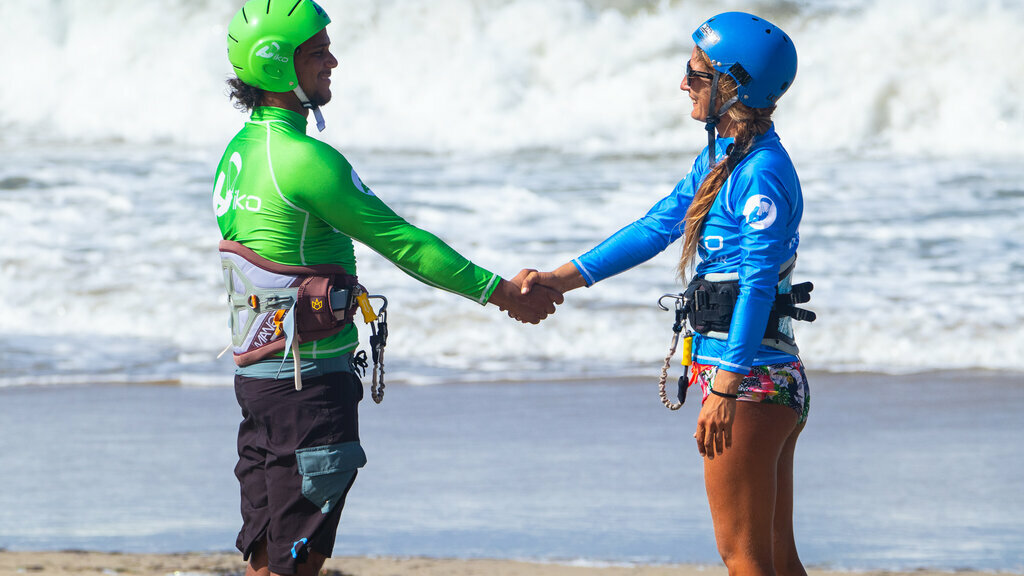 Why Kitesurfing is an Ideal Sport for Women
Author: Kristin Vincenzo
For all you active ladies who love watersports, adventure, adrenaline, and an awesome community of women, kitesurfing is a great sport for you. You may have thought otherwise because there are so many more men who kitesurf than women. But, kitesurfing is an ideal sport for women, for some very specific reasons. 
Kitesurfing combines skills used in snowboarding, windsurfing, paragliding and surfing. But don't worry! If you're not currently adept at any of those sports, you can still enjoy the thrill of learning a new sport that will take you to some of the most beautiful places in the world and keep you in great physical shape. (Ladies, the core work-out you get while kiting is better than any machine at the gym!)
The International Kiteboarding Organization estimates there are over 18,000 active IKO certified female members in the world, and the numbers are increasing all the time. If you're looking to take lessons and prefer a female instructor, there are almost 750 female instructors in IKO Centers around the world teaching women and men to do this incredible sport.
The Kind of Women You Are Going to Meet When You Kitesurf
Kitesurfing requires a minimum level of athleticism, coordination, and balance. Female kitesurfers have all of that! They also tend to be passionate, independent, mentally strong, risk-averse, and love a good adrenaline rush. Does this sound like the kind of women you want to know? Do you want to be part of their community? Of course you do. 
While most of the women kiters you meet are water obsessed, many do other cool hobbies like yoga, snowboarding, paragliding, mountain climbing, mountain biking and… traveling! Lots of traveling! They take kitesurfing vacations to exotic places, they soak up the local food and culture and they always welcome a new "kite sister" to join in the fun. 
Male kiters are just as awesome. Also water obsesssed, a male kiter tends to be a beautiful combination of laid-back surfer and mechanical engineer with OCD for gear. If you don't have a lot of male friends or any brothers, you will suddenly have a whole community of them. There are a lot of potential dangers involved in kitesurfing, and that tends to make kiters a close knit community. Kitesurfers watch out for each other, launching and landing each other's kite and helping each other on the water. A local kiting community can definitely feel like a family of brothers and sisters. And that's a fantastic thing for safety and for fun!
Kiteboarding is Accessible to Any Gender
Kitesurfing doesn't draw lines between the genders. Both male and female kiters are very welcoming of new members. Whether you want to stick with the ladies or also hang with the guys, you're going to meet some amazing people when you take up this sport.
Kitesurfing is a technical sport that requires patience and technique to progress. Many instructors have told me they find female students to be very patient and are therefore able to learn the sport quickly.
On a physical level, learning to kitesurf isn't easier for men than women. However, many women put off learning to kitesurf because they think it requires a lot of upper body strength. In reality, kiting uses core muscles more than the upper body because you are hooked into a harness. 
When men use upper body strength to their advantage, women often compensate for any lack of physical strength by practicing better technique. A woman often has to use better kite control in conditions that a strong male kiter would be muscling the kite. This can give women an advantage in progression. 
Female Specific Challenges in Kitesurfing
Size is the most common distinction between male and female kitesurfers. And although men and women come in different sizes, in general men are larger in weight and body-type than women.
Being smaller has its advantages. Smaller kiters can use smaller kites, which are faster turning, more responsive and well...cheaper to buy. The lower price is a huge advantage if you're buying equipment for an expensive sport like kitesurfing. To get an idea of how expensive it is to learn to kitesurf, check out our post here.
Being a smaller kiter has its challenges as well. It is sometimes difficult to find other kitesurfing equipment--boards, harnesses, bars, etc designed specifically for smaller kiters. Although many brands including Duotone, Cabrinha, Airush, Naish, and Slingshot (to name a few) have developed female/small kiter specific kitesurfing equipment, finding size-appropriate gear is the biggest challenge that female riders face. This even led to the set-up of a completely female-focused brand called Big Blue Boards with whom we are currently running a Member Deal. As you start taking lessons, make sure to ask your IKO Center or IKO instructor for advice about the best gear for your size.
More and More Female Participation in the Kitesurfing Industry
As more and more women get involved in kitesurfing, the number of female professional riders is also increasing. Veteran pro riders like Jalou Langeree have been around since the beginning, while newbie pros like Mikaili Sol are turning heads of female and male riders all over the world. This year was the first year that a woman was allowed to ride at the Redbull King of the Air, a prestigious kitesurfing event where the most badass kiters compete for the title. This was definitely a break in the 'glass ceiling' for female pro kiters!  If you're looking for some motivation to improve your own riding, there are plenty of women riders on the pro circuit to provide inspiration. 
Although not equal in number to male owned businesses, female owned kitesurfing businesses are increasing as well. These businesses range from kitesurfing schools to Women-Only & mixed kitesurfing trips all over the world. Many IKO Centers around the world have female instructors for learners (men and women) who prefer to learn from a woman. So if you've always been wondering what it's like to teach, take your next step and find out! There are plenty of female Instructors out there who would love another female colleague. 
Summary
Although kitesurfing has been around for over 20 years, it is still, in many ways, a newer sport. The number of kitesurfers increases every year, and women are part of that increasing number. With cameos of the sport on mainstream television (did you catch that episode of the Simpsons or watch the former American President Obama learning how to ride on Necker Island?) our sport is approaching mainstream. The appearance of co-ed hydrofoil racing teams in the upcoming olympics will hopefully further showcase a woman's place in this sport.
So ladies, join the growing community of women kitesurfers and consider booking your first kitesurfing lesson. The people you meet, the men and the women, will likely be the best people you know. Ok, we may be a little biased!