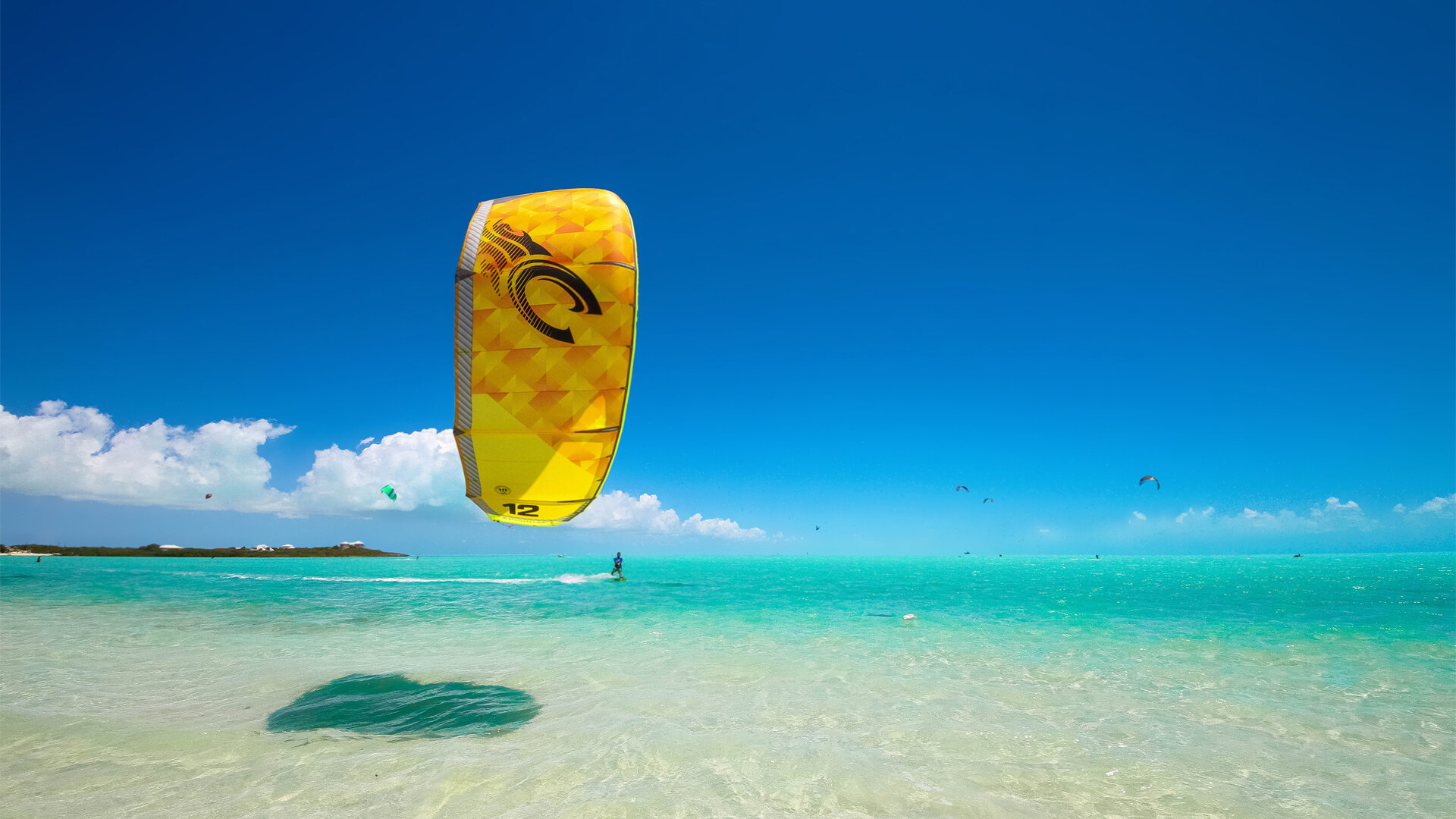 Finding the Best Place for You to Learn Kitesurfing (A Complete Breakdown)
Author: Kristin Vincenzo
So you want to learn how to kitesurf? That's awesome! We're here to help you achieve that goal in a safe and fun way. You've probably got some questions about where to take lessons, and we've got some answers!
Each kiteboarding spot has slightly different conditions. Some conditions seem easier than others for beginners, but all conditions offer opportunities to learn and practice important skills. 
Don't forget! In order to be a fully independent kiter, you'll need to be able to kite and feel comfortable in different conditions. Kiteboarding is done in many amazing places all over the world, and you'll want to be able to kite in every one of them!
Learning in Flat Water vs. Wave Spots
Flat water is great for beginners who are anxious about learning to kite in the ocean. 
The predictability and calm of flat water can feel more comfortable while first learning.
Without the obstacle of crashing waves, a beginner can learn to kitesurf in a more controlled "building block" manner: focusing first on kite skills, then body dragging, board skills and board recovery. Once learned, putting those important skills together in flat water is fairly simple.
Small choppy water provides beginners with a very similar learning experience.
Wave spots present beginners with a bigger challenge when learning. The ocean is more dynamic than flat water, but taking kitesurfing lessons in waves is a great way to learn valuable kitesurfing skills like body dragging and board recovery. These are two of the most valuable skills in kitesurfing because beginners are constantly getting separated from their board. If you can't recover your board, you can't kite.
When body dragging in waves, kitesurfers must learn essential kite control skills, like keeping the kite low in order to pull themselves through. Learning how to position your kite in the sky is an important skill for body dragging, kiting upwind, and eventually jumping. 
Learning how to read the waves is a skill only really learned in waves, and many beginner kitesurfers don't have surfing experience. Once a beginner can read the waves, they can anticipate appropriate timing for actions in the water, including a water-start in the smooth section between waves.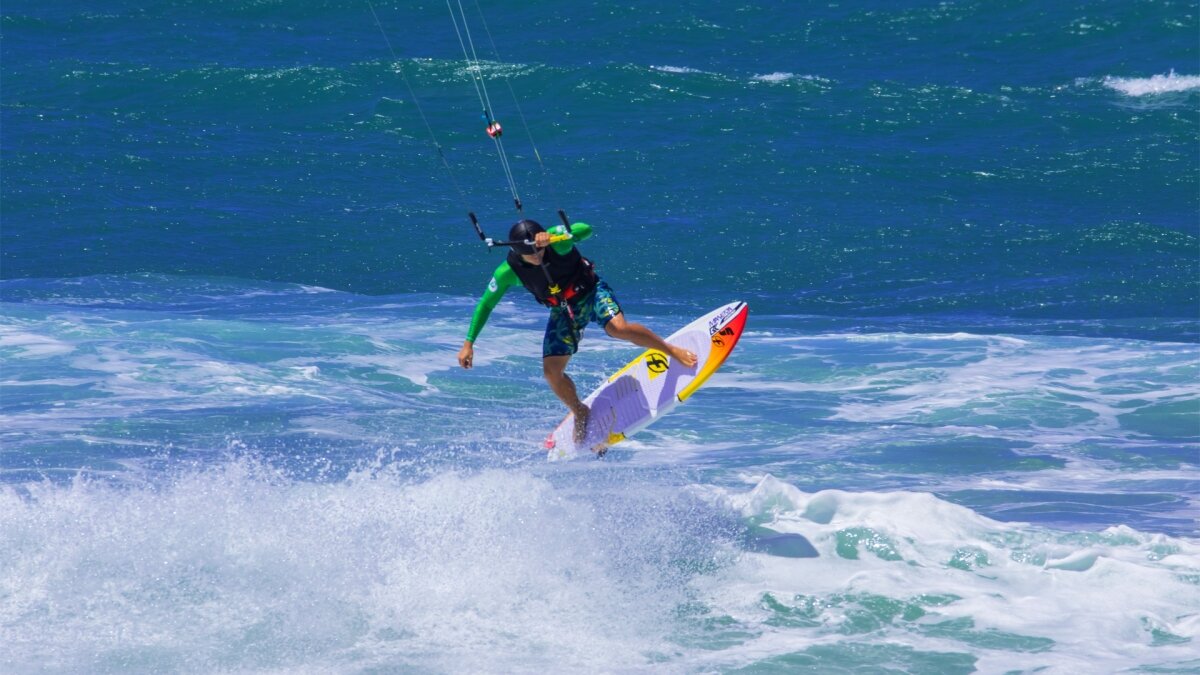 Learning in Deep Water vs. Shallow Water Spots
Deep water and shallow water can be as different as flat water and waves. Shallow water allows the beginner to stand and be more "grounded" when learning kite control skills, whereas deep water provides beginners with more opportunities to practice body dragging and board recovery. 
A lot of schools today offer either jetski assistance, boat assistance or two-way radio devices in order to maintain constant communication with students during lessons in both deep and shallow water. This enables instructors to give immediate feedback to students which speeds up the learning process for most beginners. 
Learning to Kitesurf in Strong Winds vs. Light Winds
Strong (high) and Light (low) winds have different advantages and disadvantages for beginners learning how to kitesurf.
Strong Winds
Advantage: You learn on a smaller kite, which moves faster and is lighter. This is especially helpful for smaller kiters.
Advantage: Learning to water-start is easier in high winds because the wind helps you to get out of the water.
Potential Disadvantage: Everything happens faster in high winds. If you're anxious about learning to kitesurf, strong winds may increase that anxious feeling. If you're learning from a qualified IKO instructor, you can rest assured that you're going to be learning in a safety-focused environment. This will make everything a little less scary.
Light Winds
Advantage: Low wind kiting skills are essential for every kitesurfer. Imagine you are kiting in strong winds and the wind suddenly dies down, which happens! If you don't have light wind kite control skills, you may find yourself in a self-rescue situation. 
Disadvantage: Low winds require bigger kites, which are slower and heavier than smaller kites. You still learn the light wind skills and how to handle a larger kite (which is important) but a big kite may be challenging for smaller kiters.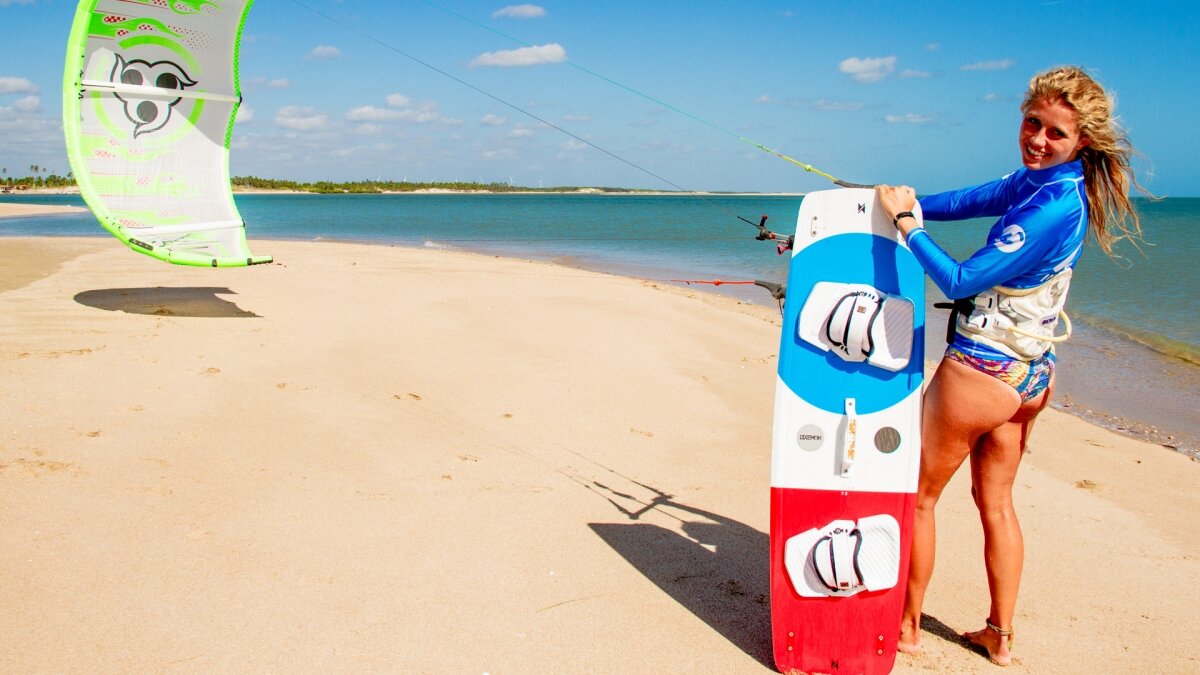 Additional Considerations When Choosing a Place to Learn How to Kitesurf
The following are not necessarily related to water or wind conditions, but they are important factors for your overall introduction to this amazing sport and its community!
If you can learn to kitesurf in a warmer season, you'll be more comfortable. Beginners spend a lot of time in the water, so it's ideal to learn in water that isn't freezing. Whether you go to the Caribbean for lessons or learn at your local spot in the spring or summertime, warmer water is going to make the process a little easier.
If you are traveling for lessons, make sure you choose a "destination" location like Cabarete, Dakhla or Cape Hatteras where you can meet a lot of other kiters. You can learn from watching other kiters on the water, get supportive advice, recommendations for great kiting spots, and hear great stories. Most importantly, you can make new friends from all over the world. 
If traveling for lessons, try to learn in a spot that is similar to the conditions you have at your local spot. It's good to learn specific skills that you can use when you go home.  
If taking lessons at your local spot, be friendly on the beach. Sit, watch and observe the local etiquette. It's a great way to make a good first impression with people who may just become your new best friends!
What are you waiting for?
With all that said, you probably now understand that there is not ONE perfect place to learn to kitesurf and that all conditions offer benefits and challenges. In fact, the very best place to learn how to kitesurf is the place where you will actually go and take lessons.
A lot of beginners think they need exotic beaches with turquoise water and white sand beaches for learning, so they put off taking lessons until they can get the time off or save the money to go to those places. But the sooner you take lessons, the faster you'll progress, and the more fun you'll have with this sport. The best place to learn how to kitesurf is the place you can get to now! (or at least real soon!)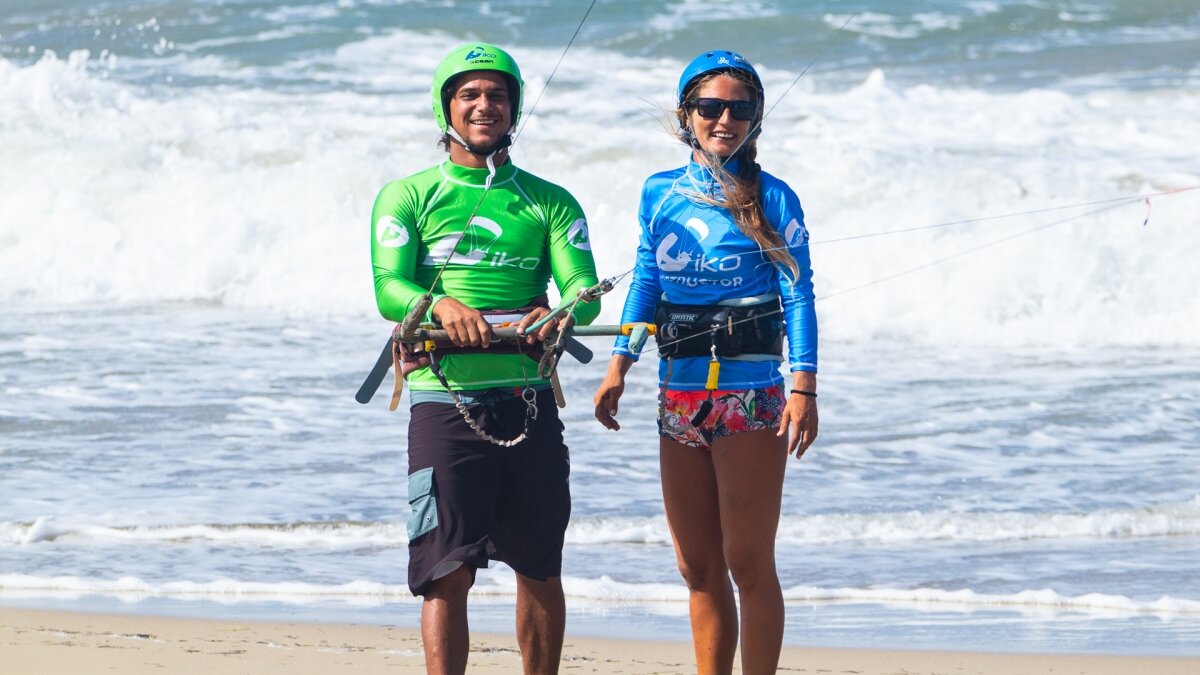 Now let's find the best place for you to learn!
Keep in mind that kitesurfing is an amazing sport if learned and practiced safely.To ensure that you make the best of the conditions available at the spot you choose, book your kitesurfing lessons at an IKO Center. Every school who wish to join the IKO is required to go through an affiliation process to prove that they meet our safety and quality standards and this ensures that their teaching environment is structured and organized. 
For a complete list of all affiliated IKO Centers around the world, check out our Centers page to introduce you to the most exhilarating sport you will ever do! 
Ok, now go have fun and get ready for your life to become a lot more interesting and awesome! You got this!
---
Written by: Kristin Vincenzo