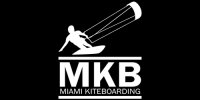 Miami Kiteboarding
The first and most professional kite school in Florida
Key, Biscayne - United States -
- 634 Votes
Summary
Crandon Park's is the Home of the Ericson Tennis Open.
It's beautiful Three-mile long lagoon style beach, protected by 13 lifeguard towers is consistently named among the top ten beaches in the nation.
Miami Kiteboarding School is operating the Kitesurfing Concession located on the North Entrance of the Park, by the nature center.

Riding Conditions:
September till May, with pick wind season from February to May. Good spot with North , NE, East, SE and South winds.= Accurate Ikitesurf wind meter on the spot .
Kitesurfing Insurance required for private rider – temporary pass available at the school.
Teaching under management of Miami Kiteboarding exclusively.
Flat and shallow waters offer the perfect conditions for easy, comfortable and quick learning, as well as astonishing riding spot.
Courses/Instructions
The school offers all services for a kiteboarder: Lessons Downwinders Waterstart simulator with engineered tow bar mounted on boat Jetski supervision Beach Front SHOP and retail sales Kids program from 8 to 16 Private lessons are lessons one on one with your instructor, they are $150/hr. We have discounted prices for packages of multiple hours. 3 hours private are $425 6 hours private are $790 9 hours private are $1150 15 hours private are $1790 Semi-private lessons are lessons that you take for yourself, but your are willing to be placed with another student matching your level. They are $100/hr per person. We have discounted prices for packages of multiple hours. 3 hours semi-private are $300 6 hours semi-private are $570 9 hours semi-private are $790 15 hours semi-private are $1190 Dual/Couple lessons are lessons that you take with someone you know. They are $75/hr per person. We have discounted prices for packages of multiple hours. 3 hours dual are $225 6 hours dual are $430 9 hours dual are $650 15 hours dual are $1045 We use radio helmets, we have shallow water, lagoon-like spot, warm water all year. Come see us at Crandon ;)
Equipment
North - Done - Airush - Ozone - Slingshot - Starkite
Best Season
October til May
Facilities
Retail shop
Bar/Restaurant
Wifi
Teaching from a boat
Children's Lessons
Map