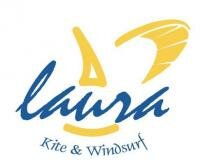 Escuela De Kite Y Windsurf Laura
Laguna Garzon, flat water and waves, Lessons ,rentals and bar
Laguna Garzón - Uruguay -
- 45 Votes
Summary
This is the most popular spot for kitesurfing and windsurf in Uruguay, search at the webpage www.windguru.cz, South America in Uruguay country, LAGUNA GARZON for the stats. As a reference, we have winds between 10 and 15 knots 5 days a week. Unique virgin natural reserve with warm clean water and ideal waist depth lagoon for practicing kitesurfing, very good wind conditions, easy access and proximity to all kinds of complementary programs, excellent local and international food offer, safe solitary beaches with white sand.
Courses/Instructions
We are an IKO Center and we provide our students with IKO certification. Lessons are given by one IKO instructor every 2 students, using one kite. Course prices are: 2 lessons USD 250 4 lessons USD 450 Lessons are approximately 2 hours long, unless there is only one student in which case they are 1.5 hours long. Private and individual lessons are USD 90 per hour. Equipment rental is USD 40 per hour. Assisted rentals are USD 70 per hour. We recommend bringing water shoes and wetsuit, sunscreen, sunglasses, a cap and towels. For enquiries and reservations please call 094 42 0704 or 094 043 800 International dialling: +598 9442 0704 or +598 9404 3800.
Equipment
Laura`s Kite and Windsurf School , Garzón Lagoon, route 10 km 190,500 Maldonado, Uruguay , South America, Contact info: www.kiteywindsurflaura.com/ fcb : Escuela Laguna Garzón/
[email protected]
/ Ph. +598-94420704 / +598-94043800 We recommend Hale Lau B&B facilities www.halelau.com . It belongs to the same owner of the Kiteschool, and you can always get a good price and organized transportations, food and get good day to day reports and recommendations.
Best Season
From October to March winds are stronger and constant. Normally they blow from East/North-East up midday, 15 / 25 knots proximately, some stronger days they they come up to 30 knuts. The water temperature is very nice, you can ride without wet-suit, but is better to wear short 2mm. When days are cooler (South winds) you have to wear long 3/2 mm , specially when kitesurfing is on the sea.
Facilities
Retail shop
Bar/Restaurant
Wifi
Powerboat Course
Teaching from a boat
Children's Lessons
School Training Courses
Recreational Courses
Professional Courses
Map