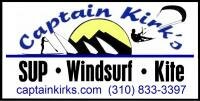 #1 Captain Kirk's Kitesurfing & Water Sports
Higher Experienced Instructors & Latest Gear.
Long Beach - United States -
- 9 Votes
Summary
Captain Kirk's is the longest running Kitesurfing school in South California. We are the biggest retail store in the West Coast offering Kiteboarding, Windsurfing, SUP lessons and huge selection of equipment rentals & repair. We have everything you need under one roof - and we even own our own Beach Resort in southern Baja at La Ventana. We provide the highest quality lessons from master instructors using only the safest gear in the industry. Our easily accessible School & Center is located in Belmont Shore, Long Beach. Instructors provide one on one closely supervised instruction for all our students in an excellent and safe area. We are the only school in California affiliated with C.O.N.I. (The National Olympic Committee ) and strictly adhere to the nationally recognized teaching standards for Hydrofoiling and hydrofoil race.
Courses/Instructions
IKO certified instructors, beginner to advance classes.
Equipment
We only carry high quality state of the art equipment and teach with the latest gear in the industry. Our instructors have 25 years of experience and are very experienced teaching with LEI (leading Edge Inflatable- Tube type Kites) and foil kites on twintip, hydrofoil or surf board. Our highly trained instructors provide comprehensive lessons for all student levels from beginners to the advance riders. We are the only specialized Foil Center in North America powered by world leader Foil Brand, Flysurfer Kiteboarding. We also provide LEI lessons from F-One, Cabrinha & Ozone.
Best Season
Early February thru October in Long Beach, California. Early October thru March in Baja California
Facilities
Retail shop
Wifi
Powerboat Course
Teaching from a boat
Children's Lessons
Map