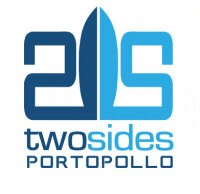 2 Sides Center Porto Pollo
Palau - Italy -
- 8 Votes
Summary
The Windsurfing and Kitesurfing school, is located at the entrance of wonderful Isuledda. Far from other schools, the ideal place to learn in safety and tranquility. The most beautiful corner of our beloved Porto Pollo, sheltered by the strong west gusts. A green lawn with our comfortable poufs to relax. From our lawn you can admire the evolutions of the freestylers on the flat waters of the Eastern bay, as well as the riders who like to jump on the chops of the windward Western bay. The school 2Sides is part of the Action 4 Amputees Association, the first in the world with the aim of bringing physical disabilities closer to the windsurfing world For all those with phisical disabilities, courses and institutional activities are completely free!
Courses/Instructions
The first Kitesurfing lesson on the ground takes place at the center of our private area on Isuledda, so you will not be surrounded by the crowd of the other schools. The subsequent lessons will be offshore with our supporting raft and bluetooh radio on your helmet, to constantly talk to your Kite instructor! You have the opportunity to be transported in the Maddalena islands to unique spots, in a large kitesurfing area, for exciting sessions with the latest North Kiteboarding equipment, specific for the learning phase.
Equipment
The new North Kiteboarding Official Center in Porto Pollo
Best Season
The best periods are May to middle June and September to the end of October
Facilities
Teaching from a boat
Children's Lessons
School Training Courses
Recreational Courses
Professional Courses
Map