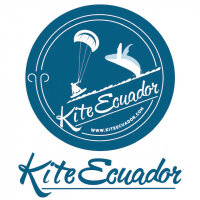 Kite Ecuador
Happy kiteboarding & kitesurf
Santa Marianita / Manta - Ecuador -
- 139 Votes
Summary
Learn With The Best If you're ready for Kitesurfing Lessons, KITE ECUADOR puts at your disposal the best team of instructors, the best material, and the best infrastructure so you can learn and enjoy a unique sport. Located 10 minutes walking downwind from a small tourist fishing village, Santa Marianita, Manta, Ecuador. It has a 'point Break ' that provides excellent waves, the ideal spot to practice kitesurfing, SUP or surfing. It is well known by kitesurfers and kiteboarders for its ideal climatic conditions. With an extension of 3 km of beach, Santa Marianita is an enchanted place.
Courses/Instructions
A great place to start is with our 2-hour fun course. This will give you the basics of controlling the kite, and teach you about the gear involved with Kitesurfing. You will fly a trainer kite, and learn how to set up a 4 line inflatable kite. You'll learn about wind direction and wind speed, and some of the technical aspects of kitesurfing, like the power zone and wind direction. Depending on your control of the kite, we may get in the water and start body dragging. Next, you can transfer to our 4-hour adventure. You may upgrade at any time to the longer courses if you're having fun and enjoying your lessons. During the 4-hour adventure course, you will get to experience the real power of the kite in the water! You'll learn how to generate power, body drag upwind, and water relaunch the kite. Depending on your control of the kite, you may learn how to control the kite with one hand, and learn about self-rescue. If you want to get up on the board, then you can move on to our 8 to 10 hour Freeride Independent Course. This course takes place over 3 to 4 days and will teach you all of the steps needed to become an independent kiteboarder
Equipment
DUOTONE KITEBOARDING ION FANATIC
Best Season
The wind blows most of the year, from April to January to an average of 12-24 knots. Best month are from July to December.
Facilities
Retail shop
Bar/Restaurant
Wifi
Children's Lessons
School Training Courses
Recreational Courses
Professional Courses
Map