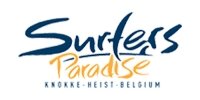 Surfers Paradise Kiteboarding School
short history
Knokke-Heist - Belgium -
- 20 Votes
Summary
In 1999 the first kites flew around at Surfers Paradise.. Pioneers as we are, short after that in the year 2000 our kiteschool was a fact ! Not only we organised the first belgium championships but in 2002 and 2004 we organised the PKRA worldchampionships! Don't hesitate to check us out at www.surfersparadise.be

C u at the beach !
Courses/Instructions
Our trademark is definately our high quality lessons, given in a relax uncrowded natural environment.
Equipment
freeride- freestyle- waveride we do/have it all! in all sizes ! Each year brand new material powered by Naish !
Best Season
opened every day from april till end of october ! School is closed from end of october till beginning of april
Facilities
Bar/Restaurant
Wifi
Powerboat Course
Teaching from a boat
Children's Lessons
Assistant Instructor
School Training Courses
Recreational Courses
Professional Courses
Map