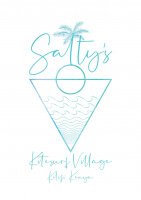 Saltys Kitesurf Village Kilifi
KILIFI - Kenya -
- 144 Votes
Summary
SALTY'S KITESURF VILLAGE IS A SUSTAINABLY AND ETHICALLY RUN ESTABLISHMENT ON BOFA BEACH, KILIFI. With beautiful tropical waters, calm lagoons and great waves out on the reef our Kitesurf center, beach bar and restaurant is perfect for kite surfers. We cater to all kitesurfing styles, holidays and also provide affordable accommodation to our visiting kite surfers. At Salty's, we believe that an awesome kite surfing holiday is the product of perfect location, yearly reliable winds and all great facilities! At our dedicated kite surfing center you can rent kitesurfing equipment or book kitesurfing lessons with our dedicated kite surfing team. We also have the best beach bar & restaurant in Kilifi, accommodation, free WIFI, chill-out areas, equipment cleaning, storage, rescue facilities and of course, great vibes! In Kilifi town, only 3km away, you can soak up the local atmosphere during a stroll down the streets, visit the fresh veg market, watch the boats move up and down the creek, hang out with the locals in tea rooms and enjoy local cuisine.
Courses/Instructions
Full range of IKO courses: Discovery (Level 1), Intermediate (Level 2), Independant (Level 3) & Advance (Level 4). We also teach Level 5 (Evolution): Freeride, wave riding, freestyle and hydrofoil. Additionally we provide supervised rental and equipment storage services.
Equipment
Kites - NEW 2021 F-one Bandit, Bandit S and Breeze (full range from 6m to 17m). Bars - NEW 2021 Lynx control bars and a series of short line bars (5m to 15m). Twin Tips - F-one: x1 Big One, x3 One (red & blue), Trax + Wainman Joke; Liquid Force Edge; RRD Bliss; North Team Series. Directionals - F-one: x2 Slice, Shadow, Pocket Foil Board (carbon wings) + Slingshot Foil; Indiana Kite Foil. Harnesses - Full size range XS-XL. 50N Buoyancy Aids - Full size range from XS-L. Helmets - Full size range from XS-L. Booties - Full size range from size 36-46. SUPs - Naish and Starboard + paddles.
Best Season
We have two main seasons: Kaskazi: Mid December to beginning March - Lighter wind. Kuzi: May to September - This is the better season for stronger wind and bigger swell.
Facilities
Retail shop
Bar/Restaurant
Wifi
Children's Lessons
School Training Courses
Recreational Courses
Professional Courses
Map