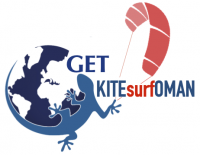 G.E.T Kitesurf Oman
GET Kiting in Oman
Sifah - Al Hail - Masirah Island - Oman -
- 16 Votes
Summary
Kitesurf Oman by Global Edventure Travel (G.E.T), a local and international travel company, based in Oman. Offering some of the best kiting conditions in the Middle East throughout the year at a range of locations. G.E.T Kitesurf Oman offers safe, reliable, supportive and fun options for all kiters needs. Our main HQ is located at our very own Jebel Sifah Beach Camp, our year round tourism camp offering excellent outdoor and adventurous activities. We offer a range of mobile teaching and kitesurfari options depending on the season. Our spots are fully supported with shade, refreshments, chill-out areas and camping options for those looking for the perfect 'kitesurfari' getaway. Our training and courses take place where the wind is blowing providing a range of flexible options.
Courses/Instructions
Discovery - Level 1 Intermediate - Level 2 Independent - Level 3 Advanced - Level 4 Supervision PRO Courses Contact us to make a booking. Offering 1 hour and multi hour courses.
Equipment
Kites: Nobile V-Ride 5m, 7.5m, 9m NAISH Boxer: 5m, 7m, 9m, 12m Flysurfer tubeless 15 m, 18 m x 2 Rebel Duotone (tube) 10m, 14m Flysurfer 9m2 Airush Lithium 10m, 14m Airush Diamond 7m2 Beginner boards: Nobile NT5 150x45 x 1 Nobile Flying Carpet x 1 Flysurfer Flydoor, 170 x 50 Flysurfer Flydoor, 160 x 44 Airush Freeride board: F1 ACID, carbon series, 132 x 40 (can be used for advanced also) Duotone 140 x 42 Advanced: Moses hydrofoil Arriba Arriba Harnesses: Prolimit Seat harness, XS - 2 piece Prolimit Seat harness, S - 3 pieces Prolimit Seat harness, M - 3 piece Prolimit Seat harness, L - 2 piece Prolimit Seat harness, XL - 2 piece Helmets: Prolimit size small x 1 pieces Prolomit size medium x 3 pieces Mystic small x 1 Mystic medium x 1
Best Season
We offer two seasons for the best conditions. Summer is the best season to visit between May and September, where we offer our services on the Island of Masirah, and several other 'wild' camping locations in the central-southern region of Oman. The kite-spots are ideal for all-levels of kiter with shallow turquoise blue lagoons on the west of the island and open, wave spots on the Indian Ocean eastern side of the island. Winter season we return to the northern shores of Oman and the Muscat and North Sharqiyah Governates, where the winds are less-consistent but still offer good conditions between October and April in places such as Al Hail, Al Azaiba, A'Sifah, Quriyat and Ras al Hadd lagoon.
Map