Star Kiteboarding
STAR KITEBOARDING 2022 COLLECTION:
42% DISCOUNT FOR IKO MEMBERS
THE STAR 2022 IS A UNIQUE KITE THAT PERFORMS EXTREMELY WELL IN ALMOST ANY ENVIRONMENT:
WAVE RIDING
The STAR reacts very well to bar input, can be steered one-handed, and has a very precise feel allowing riders to position the kite anywhere in an instant. The kite's excellent depower gives riders the option to surf with or without kite power. There is no need to look at the kite to know where it is, allowing riders to completely focus on the wave.
FREERIDE/OLD SCHOOL
This all-round beast turns sharp, jumps high, has incredible grunt, and catches well during mega-loops. Due to its great depower, sending the kite in overpowered conditions without losing your edge is easily achieved. Its power delivery is exponential giving the kite a superb vertical lift.
RACING/SPEED
The STAR has incredible upwind performance and the ability to fly on all points of sail. With small wingtips, a big projected area, and only 3 struts, we have achieved the highest power to drag ratio making the STAR a top competitor for racing on water and snow.
BEGINNERS AND KITE SCHOOLS
The STAR performance also excels in its user-friendly characteristics. Its profile is shaped in a way that makes the kite virtually impossible to stall and re-launches effortlessly. Due to the STAR'S total depower ability; this kite is very safe and easy to use.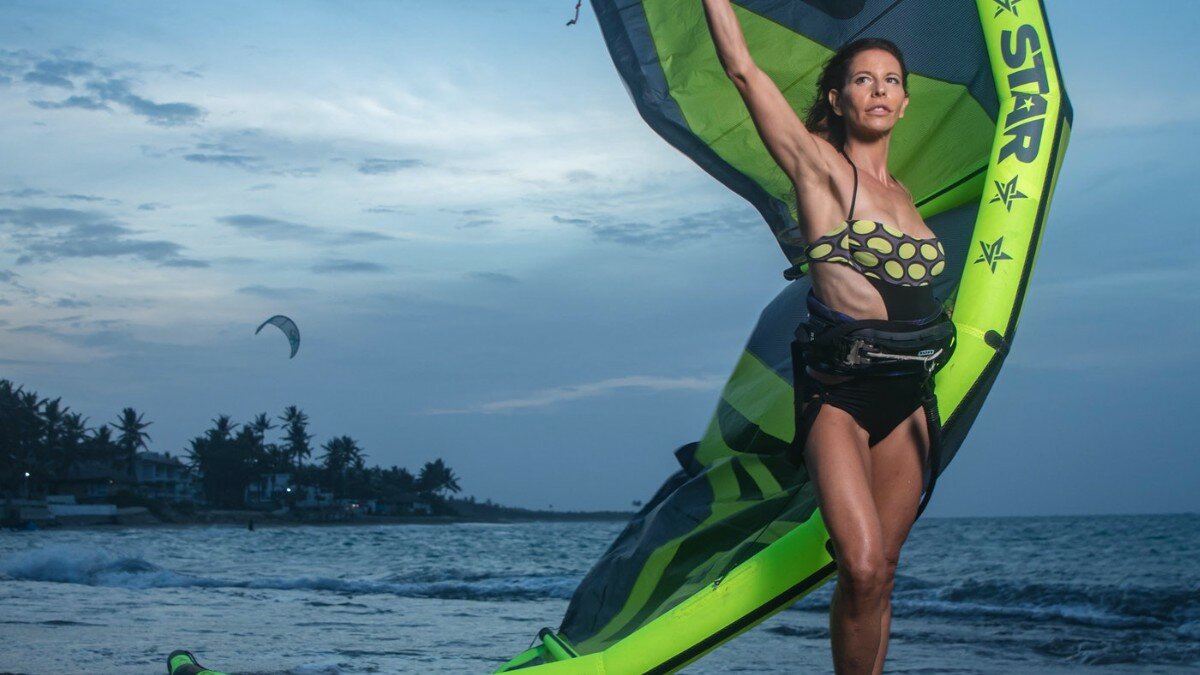 Photographer: Angel Bracho
@angelbracho.photo
Model: Marta Barrios
@madeleinhastray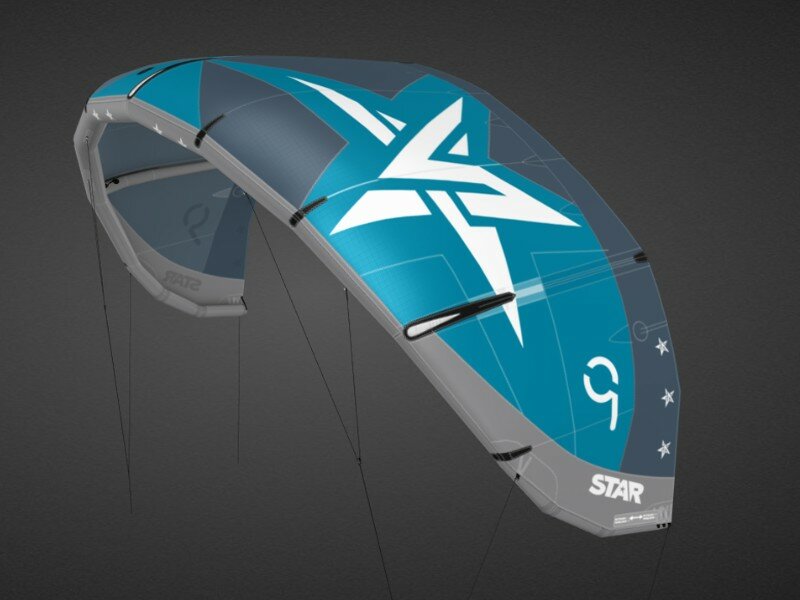 New Canopy: the 3x Ripstop has been replaced with an ultra-rigid 4x Ripstop from Teijin to guarantee the best durability and for maximum efficiency and responsiveness

New Dacron for leading edge and struts has been upgraded to a lighter and stiffer version which makes a big difference in the dynamics of the kite

New trailing edge is now Dacron free which makes the kite overall way lighter and more reactive

New less resistance pulleys for better and fast reaction

New central valve system and tubes

New instructions visible on the kite

New 4 color options, kite bag, and repair kit

New 14 meter light wind kite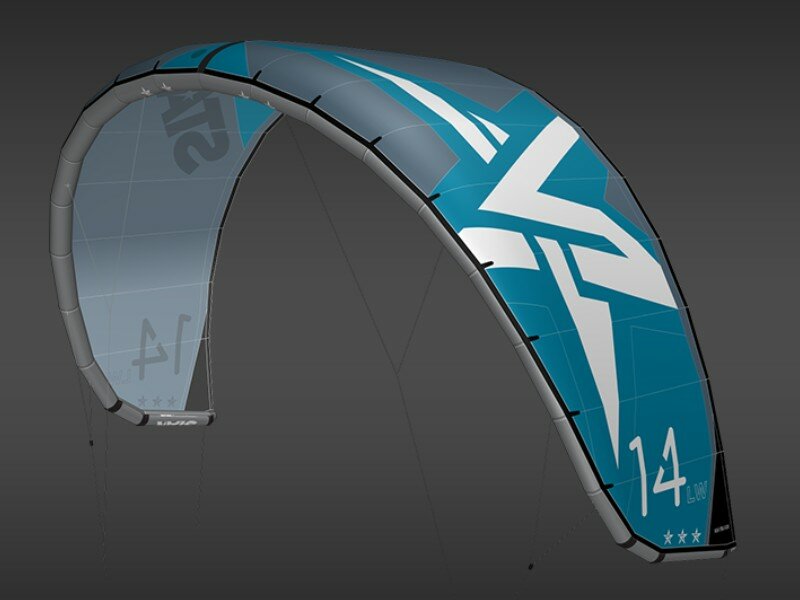 One strut design for light wind

High responsiveness for its size - due to the leading edge curvature that allows the kite to twist and turn faster

High canopy tension for minimal flutters

Efficient profile that gives forward pull rather than downwind drag

Easy for school and beginner but the design was also created for freeride twintip riders and foilers

Tetra 4X Canopy from Teijin Techno force - Ultra rigid canopy for maximum efficiency and responsiveness

Dimension Polyant DP 175LL Dacron - makes the inflatable frame of the kite very tight
Our STAR collection continues to guarantee endless sessions with sharp turns, high jumps and great power!
It holds the same beloved characteristics that makes it a winner in all areas, as a superb crossover - all terrain kite and a great choice regardless of your riding style or level.
The completely re-engineered ELITE V6 2022 bar matches the very best high end bars on the market.
Innovative quick release system for safety and rider control. Safety is paramount to Star. We design for rider safety.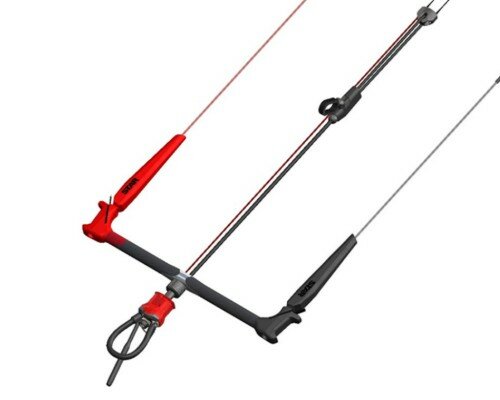 Automatic Click Reactivation of the quick release

One line heavy duty safety line with anti-twist safety ring to connect leash

Easy rotation swivel to untwist front line

Quick Release made of High strength and well known material from the USA : DuPont™ Zytel® and LEXAN™

Thermo form EVA grip – slick and durable

Soft Eva bar end – direct connection to the metal core for direct feel

Line DHPS 300 from Europe – Line stretched and splices marked under tension for better accuracy

Line loop locked with Brummel locked spliced non stitched for better durability

Trim system using Clamcleat from Europe

Main trim and Depower made of full spliced rope from Samson

Short leash

2 bar sizes 50cm and 55cm
How does it work?
Step 1: Generate your coupon to get 42% discount on a STAR 2022
Step 2: Wait for order instructions from the merchant regarding shipping.
STAR 2022 Kite Prices
5.5m = $1,390 -> $806 USD IKO Deal
7m = $1,450    -> $842 USD IKO Deal
9m = $1,560    -> $907 USD IKO Deal
10m = $1,620  -> $938 USD IKO Deal
12m = $1,770  -> $1,026 USD IKO Deal
14m = $1,830  -> $1,059 USD IKO Deal
Control Bar Elite V6 2022 Prices
V6 50cm = $650 -> $390 USD IKO Deal
V6 55cm = $650 -> $390 USD IKO Deal
Sales conditions
Payment accepted by credit card, Zelle (USA) and bank transfer.
Shipping
Shipping via DHL, UPS or FedEx with around 7 days for your gear to show up at your doorstep.
I have read and agree to the Terms of Use and Privacy Policy
You have successfully applied for this deal, the brand will email you shortly!
Apply for the deal now