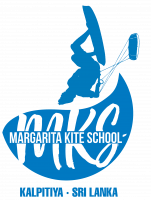 MKS Margarita Kite School
We are kitesurfing lovers and we like what we do
kalpitiya - Sri Lanka -
- 317 Votes
Summary
If you are looking for the perfect place to master kitesurfing, look no more. This kitesurf camp is located in Kalpitiya, the North West province, and is the main spot for kitesurfing in Sri Lanka. In this kitesurf camp, you will learn to kitesurf in one of the best, most beautiful spots in the world! Located in a rural area, you will live side by side with the local people, which you will find friendly, welcoming and hospital Our staff consist of professional IKO certified teachers and our equipment is due to the highest standards. We provide a various range of offers, to all level of kitesurfers. Our skilled staff will be with you from beginner to advanced. Rentals are possible. We also provide free storage of your own equipment. We offer boat rescue and support at any time.
Courses/Instructions
IKO Beginner course 9 H
Equipment
-kitesurf equipment We currently work with ZIAN Kiteboarding who provides us with excellent quality kitesurfing equipment. we have all the necessary sizes to cover all the wind ranges, every year we renew our kites to be able to offer the highest quality, all designed to fit any type of client making them enjoy to the fullest. -Facilities the school has a rescue boat to make 100% safe lessons and navigation We have a base on the beach to offer a rest area where customers can get food and drinks We have service transfer to the spot from our camps and different tailor-made hotels All designed so that our customers are 100% satisfied We organize kite trips and downwinds almost every day
Best Season
are two high seasons of Wind: Summer season: From There May to September: Average: 18-30 Knots Wind direction: Southwest wind Winter Season: From December to March: 14-20 Knots Wind direction: Northwest wind.
Facilities
Retail shop
Bar/Restaurant
Wifi
Children's Lessons
School Training Courses
Map