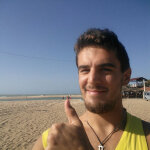 Davide Franco
Instructor Level 1
Claviere - Italy - Teaching in English French German Italian italian
85Training Hours - 4Votes - 250Teaching Hours - 0ATC - 0ITC
35660
Qualification
Member since
14 August, 2014
Qualifications
Assistant Instructor 3 Days
Instructor Level 1
Kiteboarder Level 3N
Additional Qualifications
Assistant Candidate
Stretching per Kiteboarders
La lunghezza delle linee
Feedback
| Feedback | Last 6 months | All-time |
| --- | --- | --- |
| Overall Rating | [0] votes | [3] votes |
| Teaching Hours | | 250 |
| Student Taught | 0 | 41 |
Rating Details
| Rating Details | Last 6 months | Votes | All-time | Votes |
| --- | --- | --- | --- | --- |
| Overall | | 0 | | 3 |
| Teaching | | 0 | | 4 |
| Facilities | | 0 | | 4 |
| Equipment | | 0 | | 4 |
| Safety | | 0 | | 4 |
| School Service | | 0 | | 4 |
REVIEWS
Reviewed 08 Aug 2016
3 Sessions Kitesurfing, basic techniques and waterstart
Very friendly and capable surf instructor speaking at least four different languages. Takes the time that is needed for every student even if the student is untalented :) we had a lot of fun with the instructor, it was an amazing experience and we learned a lot. Big props to the instructor!
| | |
| --- | --- |
| Teaching | |
| Facilities | |
| Equipment | |
| Safety | |
| School Service | |
Reviewed 24 Aug 2015
Best teacher of Sardinia
Davide Franco was the Best teacher I have ever had! He has a lot of sensitivity to adapt to the students. He tried very hard to give his best! Davide is a very hardworking instructor. I also appreciate his very positive attitude towards life and his great character traits. Many thanks for letting me know Davide. I like ihm very much ! Fortunately the school such great people like Davide!
| | |
| --- | --- |
| Teaching | |
| Facilities | |
| Equipment | |
| Safety | |
| School Service | |