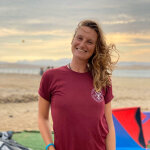 Astrid Pathuis
Instructor Level 1
AMSTERDAM - Netherlands - Teaching in Dutch English Spanish English
90Training Hours - 3Votes - 59Teaching Hours - 0ATC - 0ITC
117848
Qualification
Member since
27 February, 2019
Qualifications
Kiteboarder Level 3L
Instructor Level 1
Assistant
Additional Qualifications
Feedback
| Feedback | Last 6 months | All-time |
| --- | --- | --- |
| Overall Rating | [0] votes | [3] votes |
| Teaching Hours | | 59 |
| Student Taught | 0 | 4 |
Rating Details
| Rating Details | Last 6 months | Votes | All-time | Votes |
| --- | --- | --- | --- | --- |
| Overall | | 0 | | 3 |
| Teaching | | 0 | | 3 |
| Facilities | | 0 | | 3 |
| Equipment | | 0 | | 3 |
| Safety | | 0 | | 3 |
| School Service | | 0 | | 3 |
REVIEWS
Reviewed 14 Apr 2020
Highly recommend
Such an amazing instructor, made the whole experience so much easier and enjoyable, she was patient and very clear with her instructions.
| | |
| --- | --- |
| Teaching | |
| Facilities | |
| Equipment | |
| Safety | |
| School Service | |
Reviewed 01 Mar 2020
Amazing kite experience!
With the help of Astrid and other kiters around at Paracas Kite Camp I managed to make great steps with kiting. At the end I was practicing my first tricks. Thanks to them I felt 100% safe at the water, knowing they would keep an eye and always help me to avoid beginner mistakes. Because of that I had a lot of fun on the water! Also, Astrid was a great instructor because she gave good explanations and is very helpful and thinks along. Also she gave me good recommendations what to practice after the lessons.
| | |
| --- | --- |
| Teaching | |
| Facilities | |
| Equipment | |
| Safety | |
| School Service | |