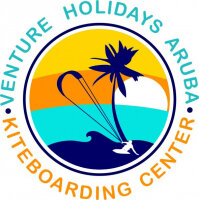 Venture Holidays Aruba
Noord - Aruba -
- 185 Votes
Equipment
We are teaching with Blade kiteboarding for the kites, Axis kiteboarding for the boards, and Prolimit for the harness, helmets and water shoes. We teach with BBtalking, it's a 2 way radio so the instructor and the student can talk together and stay connected the whole time.
Best Season
Aruba has an incredible wind season because it's all year around! The wind doesn't stop during the day mean that you can kite all day long, a real paradise ! Septembre and octobre can be less windy because of the uricane season.
Open Season
From the

1 Jan

to the

31 Dec



(For every years)
Wind/Weather
Wind, blue sky and sun everyday that's the weather of Aruba, it doesn't really change during the seasons. A Fantastic place to kitesurf all day and everyday ! With constant temperatures of 32 degrees C and 90 degree F, we have a little rainy season in November but the wind is so strong that the clouds goes away very fast so we are talking about quick showers, it never rain the full day.
Facilities
Retail shop
Powerboat Course
Teaching from a boat
Children's Lessons