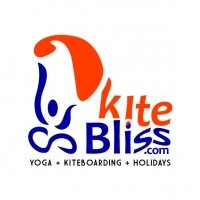 Kite Bliss
Bringing awareness to the Kite Community.
Itarema - Brazil -
- 58 Votes
Kite Bliss is a family-owned Boutique School that offers PROFESSIONAL Kiteboarding Coaching, Yoga, Guided Active Vacation and Transformational Holidays for people of all ages and levels. As long as you want (one day or one month), at our spot or abroad, in English, Spanish or Portuguese. Whether you are active or quiet, a beginner or veteran traveler, young or experienced, need inspiration for personal and professional growth or just want to have fun, there is a Kite Bliss Experience waiting for you. We are committed to shape knowledgeable, confident and blissful independent riders. All services are available for individuals, families and small groups and can be pre-booked, guaranteeing availability when you arrive.
Courses/Instructions
Kite Bliss training programs are based on IKO standards and more than 20 years' experience in wind sports.
It's a step by step process, where you will gain the necessary skills to move forward.

Learn to Kite IKO Courses:
Discovery Kiteboarder LEVEL 1
Intermediate Kiteboarder LEVEL 2
Independent Kiteboarder LEVEL 3
Advanced Kiteboarder LEVEL 4
Expert Kiteboarder LEVEL 5


Kite Bliss Experiences
Born, as an opportunity to take a break from work, a downtime to look after you, dare you to get out of your comfort zone and end up happier, more focused and even more productive.

Kite Bliss CAMP & RETREAT (2-Week Transformational Active Vacation):
DESIGN FOR: BEGINNER & INTERMEDIATE RIDERS
A valuable program designed for EVERYONE, between 16 and 80 years young, looking for experiencing wellness and their better self.

Kite Bliss FLAT DREAM
DESIGN FOR: INDEPENDENT, ADVANCED & EVOLUTION RIDERS (IKO Kiteboarder Level 3-4-5)
We take you to our favorites flat spot for an immersion experience to boost your kitesurf skills.
Equipment
We use CORE, Start, Liquid Force and Mystic Gear.
Best Season
From July 1st. - February 28th.
Best Months August, September, October, November.
Open Season
From the

1 Jul

to the

27 Feb



From the

1 Jul

to the

28 Feb



From the

1 Jul

to the

28 Feb



From the

1 Jul

to the

28 Feb



From the

1 Jul

to the

28 Feb



From the

1 Jul

to the

27 Feb



From the

1 Jul

to the

28 Feb



From the

1 Jun

to the

28 Feb



(For every years)
Wind/Weather
During windy season, Ilha do Guajiru offers wind from 25 to +35 knots, all daylong, almost every day.
With a 3 meters tide difference, every 6 hours, in the lagoon the water is flat at low tide and little choppy at high tide.
Facilities
Bar/Restaurant
Wifi
Teaching from a boat
Children's Lessons
Assistant Instructor