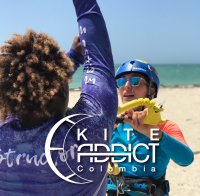 Kite Addict Colombia
Kite Addict Colombia
Mayapo - Colombia -
- 114 Votes
Welcome to Kite Addict Colombia, the first Kiteboarding School la Guajira – Colombia. You want to learn how to kitesurf, rent equipment, do kite trips or improve your jumps? Than you have found the perfect place to go! Our school is open all year round. Our wind season goes from December until October. With 20 years of experience in the world of kiting, our school has a team of instructors with extensive experience in the practice and teaching of the sport and counts with all the necessary official permits. Our services include private and group kite lessons in Riohacha and Mayapo for beginners, intermediates and advanced riders, equipment rental, kite Trips to Cabo de la Vela and Punta Gallinas for all levels as well as yearly events as Kite Camps or Kite Competitions. Lessons include private instruction, equipment, accident insurance and third-party insurance.
Courses/Instructions
Basic Kiteboarding lessons of 12 hours
Mini- course of 4 hours
Basic Kiteboarding lessons of 10 hours
Basic Kiteboarding lessons of 8 hours
Advanced lessons
Supervision
Equipment
Duotone 2019, 2020 Cabrinha 2019/ 2020 Cogua, Liquid Force
Best Season
From December until September
Open Season
From the

1 Jan

to the

31 Dec



(For every years)
Wind/Weather
Side-onshore winds between 15-25 knots and Off-shore winds between 15-25 knots.
Facilities
Retail shop
Bar/Restaurant
Wifi
Children's Lessons