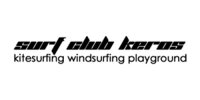 Surf Club Keros
Welcome to Surf Club Keros at Limnos Island
Limnos - Greece -
- 1039 Votes
Surf Club Keros is a Windsurfing and Kitesurfing school on Keros beach; a turquoise slice of paradise on the laid back island of Limnos in Greece. When we first came here, we liked the place so much, we decided to make it our home. The turquoise waters of Keros beach, the great waves of Gomati, the summer breeze and the local Greek cuisine were enough to keep us here. Whether you are visiting our beach for windsurfing, kitesurfing, or simply to have a great holiday, we can easily guarantee that you will have a great time! :) Join us in Spring, Summer or Autumn, and enjoy the great vibes and great conditions that each season has to offer. Welcome to Surf Club Keros, Keros beach, Limnos. Lots of Aloha, Rick, Giannis, Konstantinos, and the rest of the Surf Club Keros crew!
Courses/Instructions
IKO Level 1
IKO Level 2

group lessons
private lessons
Equipment
RRD kites and boards
Best Season
June, July, August and September are the months of the famous Meltemi winds.
Open Season
From the

1 Jun

to the

1 Oct



(For every years)
Wind/Weather
During summer months, Keros gets the annual metlemi wind which is usually 15-25 knots. During Spring and Autumn you can get South winds which are also great for Keros beach.
Facilities
Retail shop
Bar/Restaurant
Wifi
Teaching from a boat