Contribute information about spots
Add Spot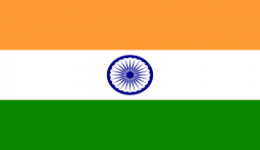 Kitesurfing in India
Beginner, Supervision, Advanced, Evolution
Wind: Light, Moderate
Spot: Flat, Shallow, Small Waves
India, land of mystique, unique history and one of the main destinations that pops up when talking about the trip of a lifetime. This country's vast terrains offer all kinds of nature scenes from beaches to deep mountains- snow and sun; making it an idyllic destination to many explorers who want to experience very new things. To add to your traveling experience, its unique culture filled with tasty cuisine and inspiring monuments, will add unforgettable moments to your trip. India is known for its excellent kiteboarding conditions and the many spots you can find to get you on your board and start riding.
If you are a traveler or kiteboarder- India is for sure a country that offers you a memorable trip. Whether you are a beginner or an advance kiter, you can find your place and progress within your kiteboarding career; and while you are out of the water, dive deep into its culture, absorbe its essence, visit the many temples and monuments and enjoy this lively and out of the ordinary country.
Capital: New Delhi
Currency: Indian Rupee
Level: Beginner to Professional
Winds: 15-25 knots
Kites Needed: 8-11m Small / 12-15m Big
Big Waves: 0-4ft yes and no depends where
Flat Water Spots: Yes and no depends where
Beach Break Spots: Yes and no depends on area
Wetsuit Needed?: No
Water Temperatures: 22-28°C
Uncrowded Waters: Yes
Kiteboarding Lessons Average: 20-50 USD
Average Good Meal + Drink Price: 2-15 USD
Nightlife: Not really
Amazing Downwinders: Not really
Best Season
The stronger south-west winds start April till September while the north wind blows from December till March.