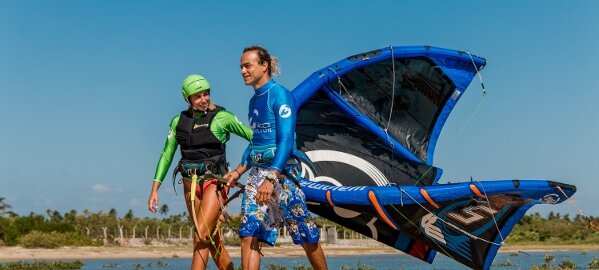 What can I earn as an Instructor?

A lot of people fantasize about the "dream job" where you can spend the whole day at the beach and enjoy your life while practicing your favorite hobby. Be certain in advance who you are and what you want. If you decide to work as a Kiteboard Instructor, it doesn't matter if you do it just for one season,  for your vacation or as a full time job, however you need a professional Instructor qualification. Of course this qualification will cost some money and you might wonder what you will earn as an IKO Instructor. IKO interviewed for you different IKO Affiliated Centers to get some interesting information, which will show you what an IKO Instructor can earn on average.
Accommodation and food
From school to school the accommodation for the employees varies. Some centers rent bungalows or they cooperate with the hotel on site. Some will propose you to  live there for free and get meals free of charge. Few schools offer accommodation however most of them will help you find one. Be aware that if the accommodation is included, you will most likely only receive commision and no fixed salary. If you pay for your place you might get a fixed salary and additional commission. Just check the environment, and the average lodging prices as well as food expenses before you decide which option is the most convenient.
Working hours
If you work as a permanent employee, you should be available in the school between 4 and 6 hours a day 6 days a week. It depends on the wind and the spot where your school is located. In some schools, you have the option to work just for a few hours a day when clients and wind show up.
Salary
Some schools offer fixed salary plus commission. The commission is between 10% and 30 % of the course revenue or of the daily receipts after all deductions. If working on a hourly basis you can expect between 10 and 22 US Dollars per hour but the schools offer this kind of work only rarely, maybe for some courses in the high season. Most of them are interested in a permanent employee. Salary also depends on  your Instructor qualification. Upgrade your level to Instructor Level 2 or 3, Assistant Trainer or Coach and earn more. The Assistant Trainer and Coach salaries are ensured by IKO. For 5 days course and with 8 candidates, you earn up to 1000 U$D running an AITC-Plus or an Evolution course.
Kiting and free time balance
The first reason why you want to work in a kite school is because kitesurfing is your favorite hobby and you will get a lot of free time to kite and have amazing experiences. You can do it before, between or after your classes with your own equipment. Some schools let you borrow theirs for free. All your colleagues will share your passion, and you will have a wonderful time and a lot of fun while working. Sometimes you go kiting with the whole team after work to enjoy the empty spot and sunset. Most of the school owners like to go kiting after work with their team.
Learning and teaching situation
While working as a Kiteboard Instructor you are not just teaching kiteboarding to your students, you also learn a lot for yourself and you improve your own style. Dealing with other people will give you a lot of experience. If you look for freedom, adventure, water, fun and great experience with other people then go for it. You'll certainly have great experience that will enrich your life! At the end, you receive so much more with this job. You create the lifestyle everybody is dreaming of and you live where people have vacation.