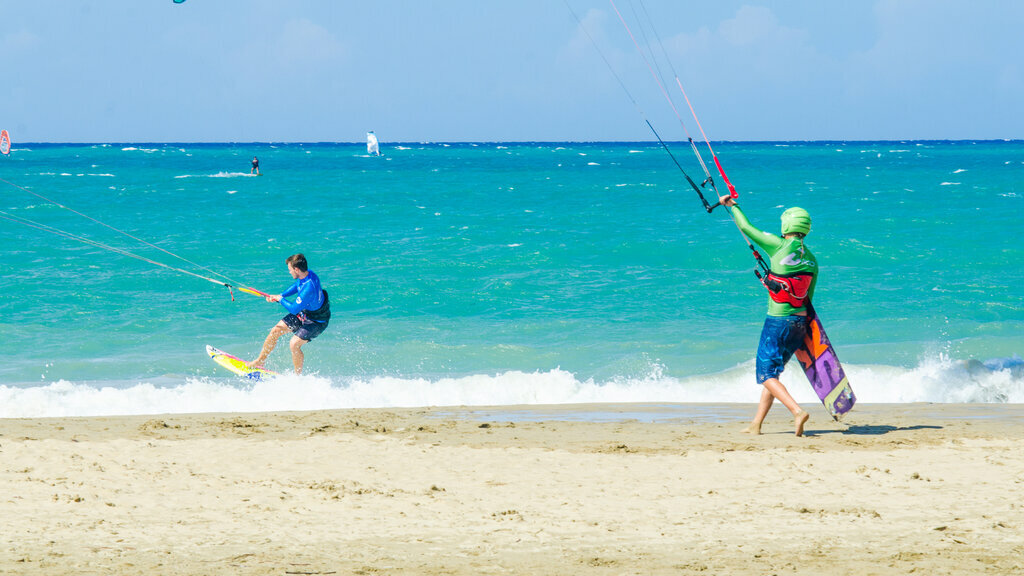 What Are the Different Kitesurf Disciplines and Evolution Paths?
Kitesurfing has come a long way since it originated back in the '90s. We have seen immense improvements in both kitesurf equipment and the manoeuvres pro riders are now performing. You may have watched kitesurfers and noticed that not everyone uses the same equipment nor rides the same way! Here in this article, I will help you differentiate between the main kitesurf disciplines to show you how diverse the sport has become.
What Is Freeride?
Freeride is the traditional and most popular way to kitesurf. It involves anything from cruising along to performing jump transitions, grabs, basic tricks and old school tricks such as the inverted jump or the dark slide. Freeride is also about exploring different spots all over the world and enjoying long kite excursions or "downwinders" along the coasts. It says it in the name, you are 'free' to ride however you like!
What Does It Feel Like To Freeride?
Freeriding is most likely the first style of kitesurfing you will ever try and for that reason, I think it's the most memorable. The first time you ever glide across the surface of the water using the wind to power you along will stay in your memory forever! The feeling is one of pure freedom and control as you edge on your board and carve in the water across the pull of the kite while throwing yourself in the air with timely rotations and stylish grabs along the way. 
What Equipment Is Required For Freeride?
The kites used for freeriding are very versatile and are a great option for riders looking to do a mixture of all disciplines. Freeride kites often have excellent depower, large wind ranges, great stability, and user-friendly setups.
The most popular kites in this category have what we call a "delta shape". These kites look like a "D" from the front and are rather flat in profile. They are great for freeriding as they create a lot of lift and huge hangtime when performing jumps and old school tricks. Delta shape kites also offer great upwind performance, which is a  necessity for a freeride kite as we often drift downwind when jumping. Therefore, we need a kite that can take us back upwind easily.   
The most popular shape for a freeride board is a "twintip". These are symmetrical boards that are very similar to wakeboards and can be ridden easily in both directions. 
A dedicated freeride twintip will boast a smooth ride due to the flexible tips, easy planing due to the flat and fast profile shape, and good all-around performance. Most freeride boards are ridden with straps which can be adjusted to suit the rider's foot size.
What Are The Ideal Freeride Conditions?
We can freeride in virtually all conditions such as choppy water, flat water, and even waves. My favourite conditions are when the waves start to form perfect kickers for sending jumps off! Some of the best spots in the world for freeriding include Cabarete (Dominican Republic), Tarifa (Spain) or the north coast of Brazil if you're into amazing week-long downwinders!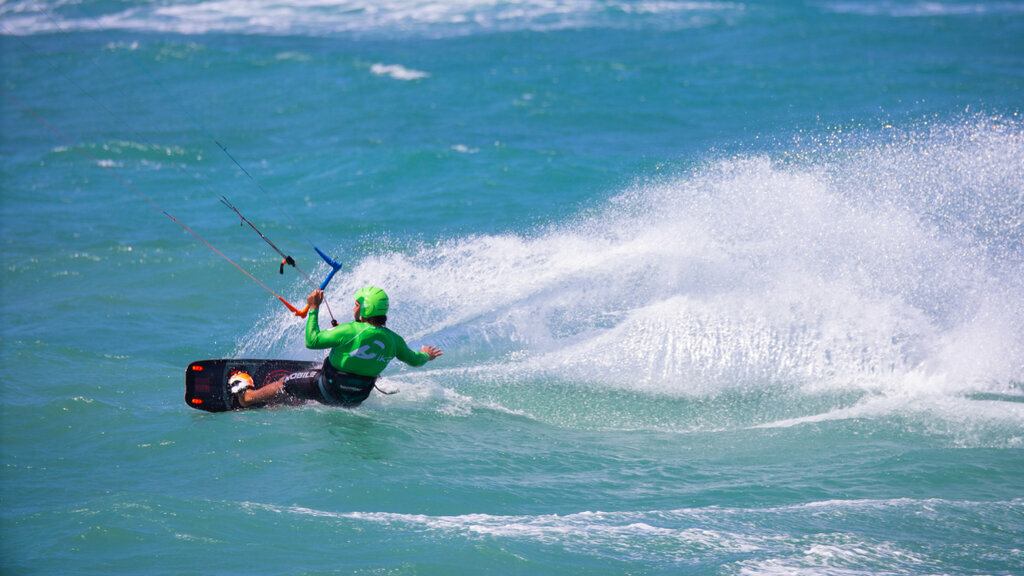 What Is Freestyle?
The freestyle discipline is heavily trick based and requires a strong dedication to learning new tricks and pushing your own limits. Riders perform high powered jumps, sometimes loop the kite all the way around ("kiteloop") and can "unhook" from the harness allowing them to complete tricks, spins, and handle-passes. 
One rider who stands out in this discipline is Aaron Hadlow (5x World Champion). He has been one of the main driving forces behind freestyle and wakestyle for many years and continues to push his limits and the sport forward to this day.
What Does It Feel Like To Do Freestyle?
Freestyle is without a doubt one of the most spectacular disciplines of kiteboarding. The ability to literally take-off from the water and send yourself flying into the air for an instant is parallel to no other sport. As you're about to steer your kite up, the adrenaline kicks in, the mind and the body get in sync as you focus on the manoeuvre. Then, as you lift-off, you feel weightless, defying gravity while at the same time spinning your body around, maybe grabbing with one hand the tail of your board as your head is upside down... Freestyle really legitimates the term "action sport" when we refer to kitesurfing! 
What Equipment Is Required For Freestyle?
The kites used for freestyle tend to have a "C-Shape" profile and squared-off wingtips. This makes the kite very fast and aggressive to steer which is ideal for kiteloops and unhooked tricks. Freestyle kites also provide excellent pop and slack, the slack in the lines allows the rider to complete tricks without having too much tension on the bar. 
Freestyle kites aren't ideal for beginners as they are less user-friendly and require more experience to control efficiently. 
On first impressions freestyle boards are very similar to freeride boards, however, there are some subtle differences between the two. They tend to be slightly wider and have a deeper rocker (side profile of the board). The extra width provides a more stable platform for landing, whilst the deeper rocker helps to dampen the impact on those heavy landings. They are commonly ridden with boots rather than straps to ensure the board doesn't come off their feet whilst performing high-speed tricks.
A popular freestyle board will be much stiffer than a freeride board, this makes the board more responsive and improves the pop. They are commonly ridden with small fins or even no fins on the underside to ensure that the board can slide along kickers and wake park features without catching. 
What Are The Ideal Freestyle Conditions?
Most of the freestyle riders out there will answer this question with "Butter flat water" (i.e. the water surface is flat, without waves). For this style of riding, the last thing you want to be worrying about is what the surface of the water will look like when landing. Flatwater makes it predictable and easy to generate the same pop and the same landing every time. This allows the rider to focus on the trick itself rather than the conditions around them. Some of the best destinations for freestyle are El Gouna (Egypt), Kalpitiya (Sri Lanka) or Cape Hatteras (USA) to name just a few.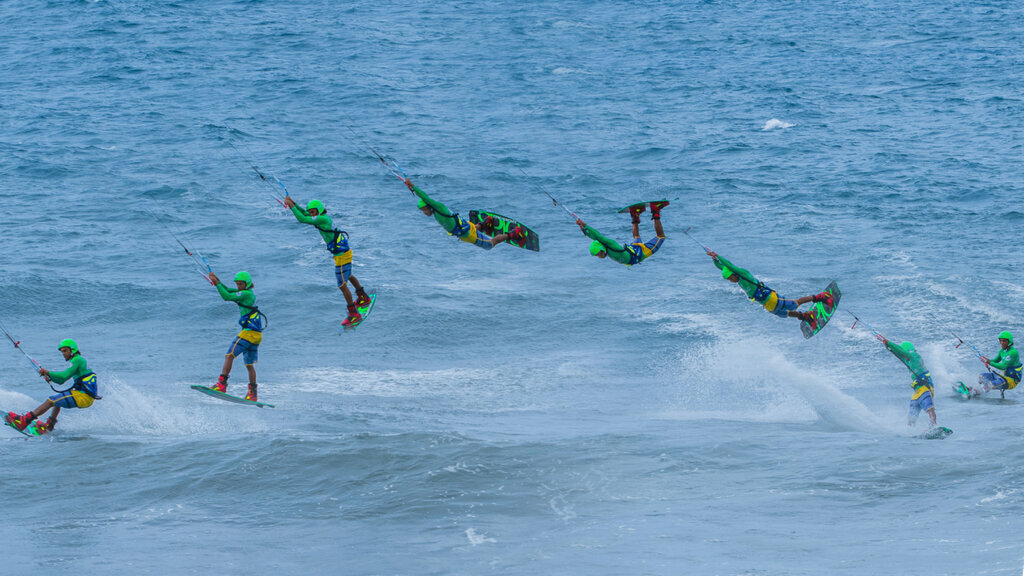 What Is Wave Riding?
Wave riding is extremely similar to regular surfing and especially tow-in surfing. Tow-in surfing uses a jet-ski to pull the rider into a suitable position for catching the wave. Kitesurfers use the kite to replace the jet-ski, talk about saving the planet and cutting down on fuel consumption! The second style of wave riding requires a very responsive, fast turning kite which allows the rider to play on the wave and perform sharp snappy turns and aerial tricks.
In November 2017 Nuno Stru used this technique to drop into the biggest wave ever ridden by a kitesurfer, the wave was a massive 62ft / 19M at Nazaré, Portugal.
What Does It Feel Like To Wave Ride?
Wave riding takes years to master. It's a very exciting yet technically challenging aspect of kitesurfing. The adrenaline rush you will get as the board accelerates down the face of the wave is unequalled and something you will continue to search for. The feeling of jibbing or doing S-turns in the waves while steering your kite left and right is particularly enjoyable too. 
What Equipment Is Required For Wave Riding?
A good wave kite becomes almost unnoticeable once riding a wave. The kite is there to provide power when we need it, but also to just sit back and allow us to surf when we don't need it. Therefore the most important aspect of a wave kite is the ability to "drift" which allows the kite to be stable and fly even if there's slack in the kite lines. 
A popular wave kite will also be able to turn quickly without powering up and pulling the rider off balance, this is why wave kites have a huge amount of depower.
Boards used for wave riding are mostly directional boards. They look very similar to traditional surfboards although there are some subtle differences that make kitesurf boards more durable and able to withstand higher forces created from kiting. These boards differ from surfboards because they have reinforcements in the fin boxes, strap inserts, and underfoot reinforcements to improve the performance on the wave face. Wave boards can be ridden with or without straps.
What Are The Ideal Wave Riding Conditions?
There is a huge variety of different waves to be surfed around the world, each spot has its unique features from the way the wave breaks to the power and size of the break. In general, we look for clean breaking waves that peel across from left to right or vice versa. Wind direction plays a vital part in the quality of a wave and also the ease of surfing on it, a cross-shore wind is ideal! Some of the best destinations in the world for Wave riding include Le Morne (Mauritius), Cape Town (South Africa) or Pacasmayo (Peru).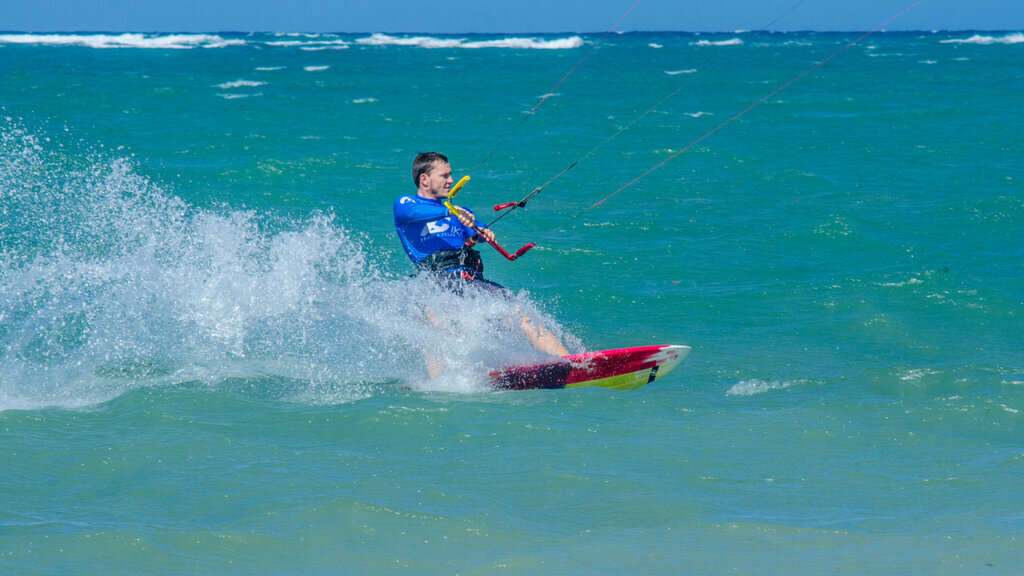 What Is Hydrofoiling? 
Hydrofoiling is possibly the most exciting and fastest-growing style of kitesurfing right now. A hydrofoil consists of a wing that is mounted onto a tall mast, which connects to the board. The wing provides lift which in turn makes the board lift completely out of the water for maximum efficiency, sometimes with the board floating up to one Meter above the surface!
One of the stand-out benefits is that foiling allows us to ride in much lighter winds than any other discipline, also the physical impact on the body is much lower in this discipline allowing people of a wider age range to ride and enjoy kiteboarding.
What Does It Feel Like To Ride A Hydrofoil?
Some people compare the feeling of hydrofoil to riding a magic carpet as you hover above the water on your board! Some others say it's just like floating on a cloud. Not having your board touching the water or hearing the water splash on the sides might be a bit unsettling at first, but when you get the hang of it the feeling of hydrofoil is highly addictive. Soon, you will be craving the occasional whistling of the foil as it slices through the water and creates pure joy on your face!
What Equipment Is Required For Hydrofoiling?
In all disciplines mentioned above, the most common style of kite used is an "LEI" (Leading Edge Inflatable). LEI's are inflated using a pump, therefore giving the kite its rigidity and easy relaunch characteristic. An alternative kite option is a "Foil" kite, these have "cells" which fill with air as the wind passes through them. Foil kites are preferred by some hydrofoil riders (especially racers) due to their high-speed performance, light wind capabilities, and size to power ratio. Both types of kites can be used for hydrofoiling. 
There have been huge developments in hydrofoils recently which has made this discipline more accessible and user-friendly than ever before! For learning, look for a shorter mast with a big front wing as this will generate a lot of lift and add stability. As you progress in this discipline, you can look to use a longer mast and also reduce the board size as you spend the entire time floating on the foil.
What Are The Ideal Hydrofoil Conditions?
In all honesty, it doesn't really matter too much! Once you can foil, the board is continuously above the surface of the water creating an effortless and cloud-like ride. For learning, flat water will aid the learning process but once on the foil there are endless possibilities, you can even ride them in waves! Some of the best spots worth mentioning to learn to hydrofoil are Providenciales (Turks & Caicos), Zanzibar (Tanzania) or Dakhla (Morocco).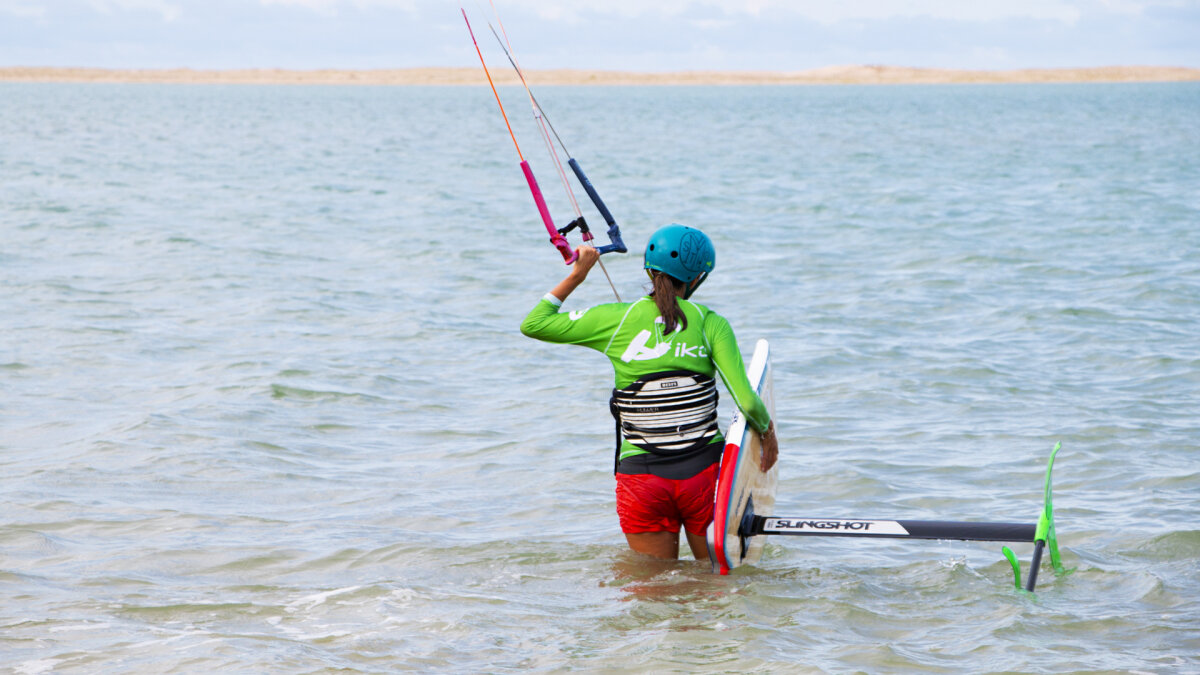 What's Right For You?
As you can see, there are many different ways to kitesurf and in this article, I have only scraped the surface. There are more styles such as snow-kiting and land-kiting but that's for another blog post! I would recommend learning to freeride first but once you can do the basics, there's no right or wrong order to learn. To learn any of the disciplines above, simply book in for a session with an IKO coach today.