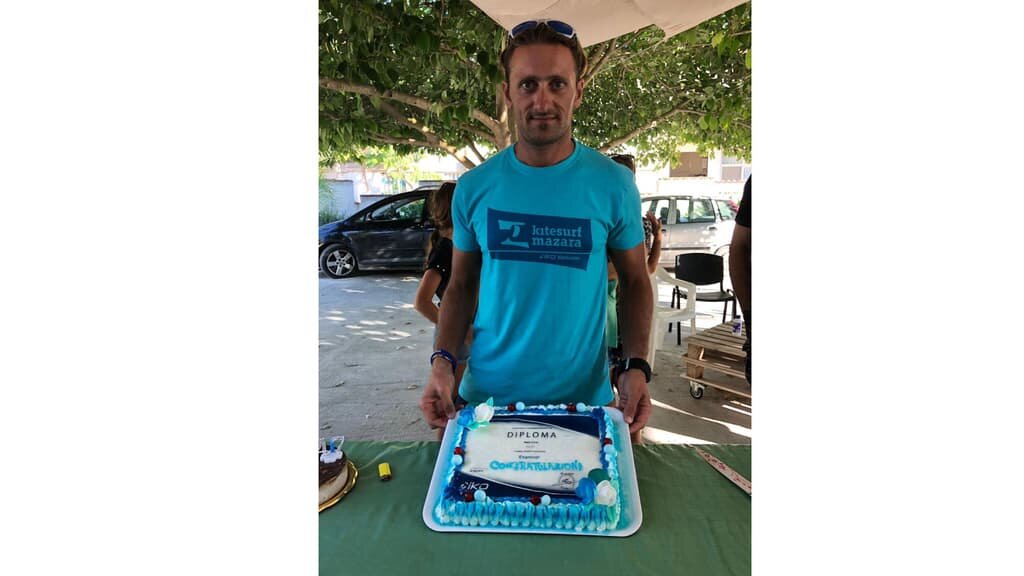 Mario Certa, Veteran Waterman and Passionate Kiter, Now Your New IKO Examiner!
We are pleased to announce that Mario Certa is now part of our team of IKO Examiners! Mario has been with IKO since July  2010 and has just recently passed his IKO Examiner Training Courses (ETC).
When you are an IKO examiner, you are THE person who trains IKO Instructors. Despite there being close to 5000 active pros, there are currently only 30 Examiners. This means it's a very elite title and it comes with a lot of responsibility. 
There are only a limited number of Examiner positions available, thus Candidates are selected from a pool of qualified applicants. Next to the prerequisites that need to be fulfilled, the IKO also checks if the individual is a good role-model for the sport and that they can be an asset to the development of the sport. Then there is a training procedure they need to follow successfully before becoming a certified IKO Examiner. 
As you can imagine, the process to becoming an Examiner is quite a lengthy one which demands dedication and passion for the sport. We would therefore like to celebrate the people that make up some of the core of the IKO starting with the most newly certified Examiner: Mario Certa. Here is an interview conducted with Mario to introduce him better to the IKO Community and get his impressions on his new responsibilities.
Who is Mario Certa?
It is undeniable that Mario has a strong passion for kiteboarding and after completing his examiner training last September, he can now train some lucky Instructor Candidates! Mario is 36 years old and lives in Sicily, Italy. He has a law degree and whenever he's not in the water, he is a soccer referee. In the winter months, Sicily gets quite cold so he trains himself by doing CrossFit.
Mario the Veteran Waterman Starts Kiting!
Before Mario started kiteboarding, he was already in love with watersports as he practiced scuba diving, spearfishing and swimming amongst some other sports. He spent more time underwater than above, so it is definitely true when he says: "The sea has always been my element."  At some point, he even tried windsurfing but this sport was unable to capture his heart. But then the year 2001 came and Mario had the opportunity to touch a kite for the first time and "wow… it was fantastic." 
So, in 2001, his journey in kiteboarding started when he took some kitesurf lessons from his cousin Danilo. In the years following his lessons, he was not a super active kiteboarder yet with 5 to 6 kite sessions a year. Then in 2007 Mario returned to the water and decided to start training more seriously and rewarded himself by buying his first brand new equipment.

From Instructor to Kite-School Owner to Examiner
Mario's passion for kiteboarding and teaching runs so deep that after completing his IKO Instructor Training Course, he decided to open up his own school and so Kitesurf Mazara was born. In 2014, Kitesurf Mazara became an IKO center and quickly after that, the first ITC in Sicily was organized. At this point, Mario was already a Level 3 Instructor yet he was amazed by the professionalism and skill with which one of our other IKO examiners (and Mario's ITC examiner in 2010) Mariano Lorenzetti conducted the ITC. From this point onwards, Mario decided that he would study hard to try to reach this level and he attended all the ITC's and spent his time studying to reach this goal. To him, it was an opportunity to update his knowledge and improve himself every time. 
Mario The Ambassador for Cabrinha
Next to running his own kite school, Mario is also active as an Ambassador for Cabrinha Italia. When Mario's good friend Alberto Rondina (PKRA Freestyle Champion) became Sales Agent for Cabrinha in 2014, he asked Mario to join the new team. This was a good opportunity as Mario got to try new equipment and give feedback on the safety and functioning of the equipment. Mario thinks "this is a great channel to bring our opinions back to headquarters." Alberto also organised for Mario to have the opportunity to meet Pete Cabrinha, one of the frontrunners in the kiteboarding market, in 2015. On this experience Mario comments "I spent two fantastic days with them".
Mario's Favorites
Mario's favorite discipline is freestyle, he likes to use boots and when there's no flatwater close by he loves to use the waves as a kicker. On occasion, he will also use a strapless surfboard or the hydrofoil but he says "as long as my body allows it, I'd like to keep them still far away."

The kite spot Capo Feto has a special place in Mario's heart, it's his home spot from Mazara. This is the place where he learned to kite, progressed a lot and learned most of the tricks that he does. Despite his love for his home spot, he is also open to kiting elsewhere and is always looking for the perfect spot.

When Mario teaches a Pro course, he finds that the theoretical part is important. However, the most interesting part for him is when the candidates experience flying a kite with short lines. The candidates, which are generally experienced kiteboarders themselves, are often skeptical at first. But after some good instruction, they smile like children as they play in the water with a kite on 10-meter lines: "You can see that they understand the difference it makes to use short lines for kite control, safety and space".

Mario's Best Kite-Memories
Every new place that Mario has explored for kiting serves as a beautiful memory. Yet, one of his best memories that marked his life was when he did his ITC in 2010 and became an IKO Level 1 Instructor. 
There are also memories that stand by you and grow with you as an instructor. 2 years ago, Mario was in the water teaching to three young boys. They were only 10 years old and kiting with them made him feel like a child again. A friendship was developed with one of these children Gaetano. They still train together every summer and his little protégé is now getting a lot stronger and even better in freestyle than Mario!
Finally, Some Thoughts From Mario
"I think that an Examiner is the one who knows a lot about many things and has the task of transmitting his/her knowledge in the best way. I already have a kitesurf school and I try to make the spot as safe a place as possible. In the future, I would like to work to help IKO grow even further and make kitesurfing safer for everyone. The IKO Standards are excellent and very important for this goal. I think that as part of IKO, we are very prepared for this and thanks to the help of everyone from Assistant Instructors, to Instructors, Assistant Trainers and Examiners, we can still grow so much and promote the development of this fantastic sport!"
The IKO is pleased to welcome Mario Certa as the 30th IKO Examiner. If you are a kiter looking to broaden your skill set and make a living out of your passion, check out the Pro Course Calendar for our next AITCs and ITCs (maybe in Italy with Mario?). If you are an instructor and would like to pursue a career as an IKO Examiner, keep certifying your students and progress to each level. You could be the next one featured on the IKO blog!