Kitesurf Vacations in December
A simple questionnaire to help you find your ideal kitesurf destination!
Kitesurfers usually don't waste time and plan their kite vacations in advance. It doesn't matter whether you go on vacation in the summer or winter, the important thing is that...THERE IS WIND!
We visit many different weather websites and kitesurf blogs to follow the seasonal forecasts of spots all over the world trying to figure out where there will be the highest probability of wind, the best wind to take advantage of, and how hot it will be in and out of the water. Still, in the end, we have to be honest...we're often very confused, and it's easy to get lost amidst all that information online and the kitesurf-worthy spots on the world map!
It's never too early to plan a kite vacation. The sooner you organize it, the easier it will be to find better offers and prices—especially for flights!...first come, first served, or in our case: "First booked, best traveled!"
December is often one of the most popular months for a nice kitesurf vacation because the winter holidays allow many people to get away from home and leave work for many days. Have you read blogs, researched spots, talked with kiter friends and joined groups on social media to get advice on where to go, but you're still undecided? After reading this article, you'll be able to choose the most suitable destination for your December kitesurf vacation according to your wind, water temperature, and riding preferences.
Ready to go? Answer the three simple questions outlined in the table below, marking your answers on a piece of paper or in the notes app on your mobile, and eventually you'll find your ideal destination!
Response table:
 

Answer to Question #1:

 

Answer to Question #2:

Answer to Question #3:
Question #1: Do you want to kitesurf with or without a wetsuit? 
Answer A: Wetsuit No!
Wearing a wetsuit is a pain for you; you don't even want to hear about it. You don't want to fight with the neoprene that's always a bit damp and, for social media lovers, December is the perfect month to post pictures of you kitesurfing in Bermuda, making all your friends who stayed at home with a wool sweater and warm socks extra jealous!
(Mark the letter "A" in the first box of the table.)
 
Answer B: Wetsuit Yes!
Wearing a wetsuit for kitesurfing is not a problem for you. You're comfortable with the wetsuit; it protects your skin from the sun and the cold and, after all, you're a little bit fond of it. For kitesurfing in incredible spots it's not much of a sacrifice!
(Mark the letter "B" in the first box of the table.)
 
Question #2: What kind of board do you want to kitesurf with?
Answer C: Twintip Board!
You're a freestyler. You love to jump and do evolutions (or you dream of doing them because you have just started kitesurfing),do mega loops or back-roll, and want to have some good sessions trying tricks with straps or boots. Maybe you want to break the jump record in the international WOO riders challenge.
(Mark the letter "C" in the second box of the table.)
 
Answer D: Surfboard!
You are a passionate surfer. You love the sound of the waves breaking and you look forward to that intimate adrenaline rush every time you see a nice set coming.
(Mark the letter "D" in the second box of the table.)
 
Question #3: How strong do you want the wind to be? 
Answer E: Between 12 and 25 knots
(Mark the letter "E" in the third box of the table.)
 
Answer F: Between 15 and 35 knots
(Mark the letter "F" in the third box of the table.)
So, where should you kitesurf in December? 
If your answers are: A, C, and E
Kenya and Sri-Lanka are the perfect kitesurfing destinations for you!
Wetsuit No
Twintip
Wind 15-18 knots
Air temperature 25°-30°C
Water temperature 22°-25°C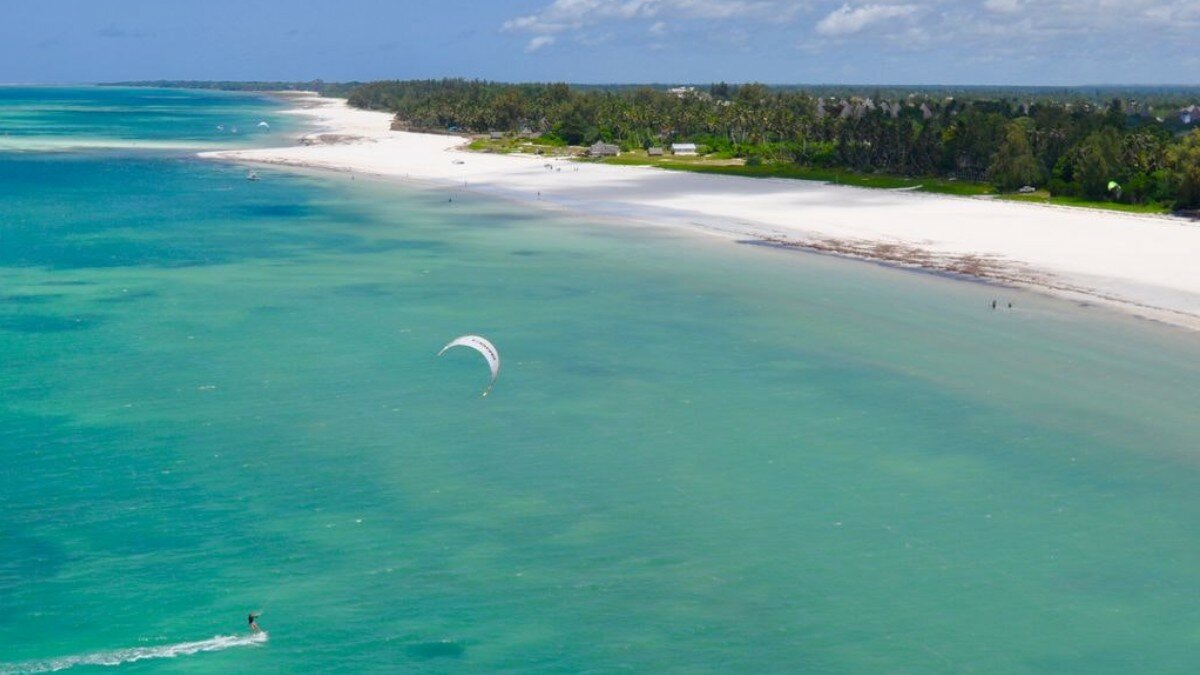 Photo: Diani Beach, Kenya
Diani Beach
Diani Beach is a peninsula that stretches for 25 km between Tiwi Beach and Chale Point with a very long coastline and white beaches, crystal clear water, colorful cliffs, pristine lagoons and side-shore wind. The spots are numerous and close by, for example, Galu Beach is at the end of Diani Beach, and a short distance away there is the popular Kenyaways Kite Beach and a few hundred meters offshore there is also Neptune Sandbar, a semi-deserted lagoon.
Watamu
This is a long, sandy beach where the wind "Kaskazi'' blows from December to April from NE, side/side-on. You can also find some waves depending on the swell, and there are many other spots to explore along the bay.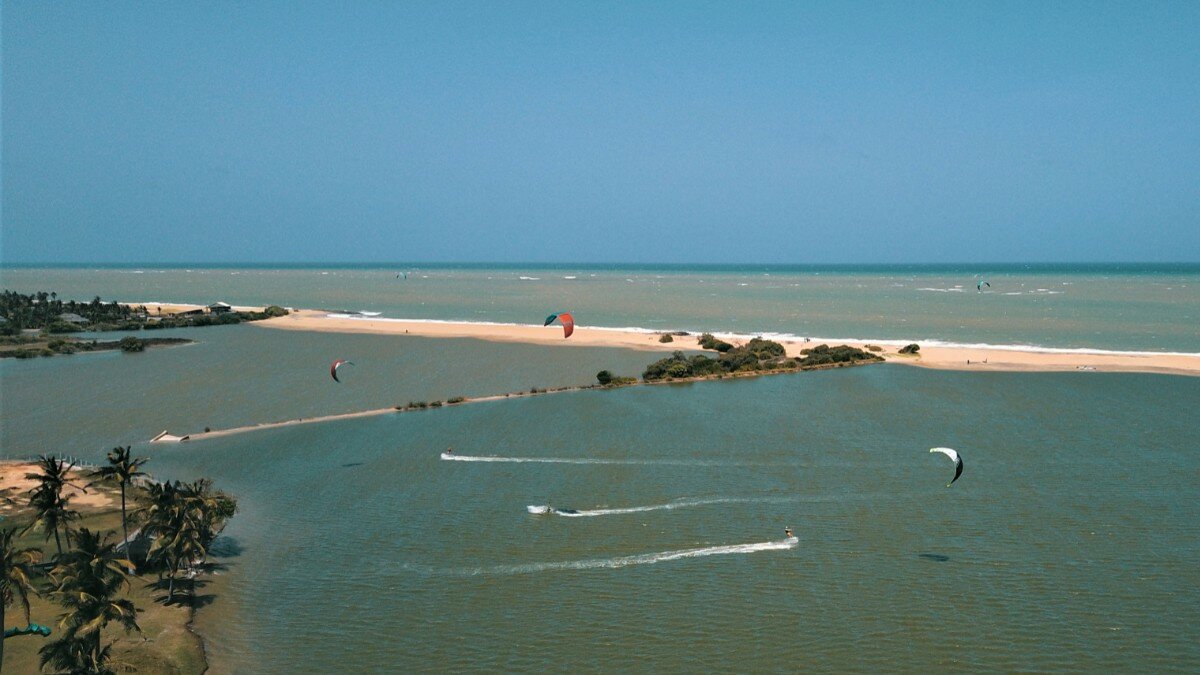 Photo: Kappalady Lagoon, Sri Lanka
Kalpitiya Lagoon and Kalpitiya Beach - Sri Lanka
It's a small peninsula in the northwestern part of Sri Lanka, about 250 km from Colombo's capital, where there is wind nine months a year. During the winter months, from December to March, the thermal wind in the afternoon blows from NE, side-shore, until sunset. A very quiet spot with a unique charm and incredible shades of blue, white sand and shallow water in many parts of the lagoon, flat or slightly rough. But you can also choose to ride in the open ocean, with small waves.
Kappalady Lagoon - Sri Lanka
At 20 km south of Kalpitiya, on the beach of Kappalady, along the west coast, you can often have beautiful kitesurfing sessions at sunset. This small lagoon is perfect for freestyle lovers, with very constant wind. You can also do a wonderful downwind from Kappalady lagoon to Kalpitiya lagoon with the on-shore wind. You are surrounded by palm trees and plantations of papayas and bananas, which make the landscape fascinating.
If your answers are: A, C, and F
Mexico is the perfect kitesurfing destination for you!
Wetsuit No
Twintip
Wind 12-25 knots
Air temperature 15°-35°C
Water temperature 25°-28°C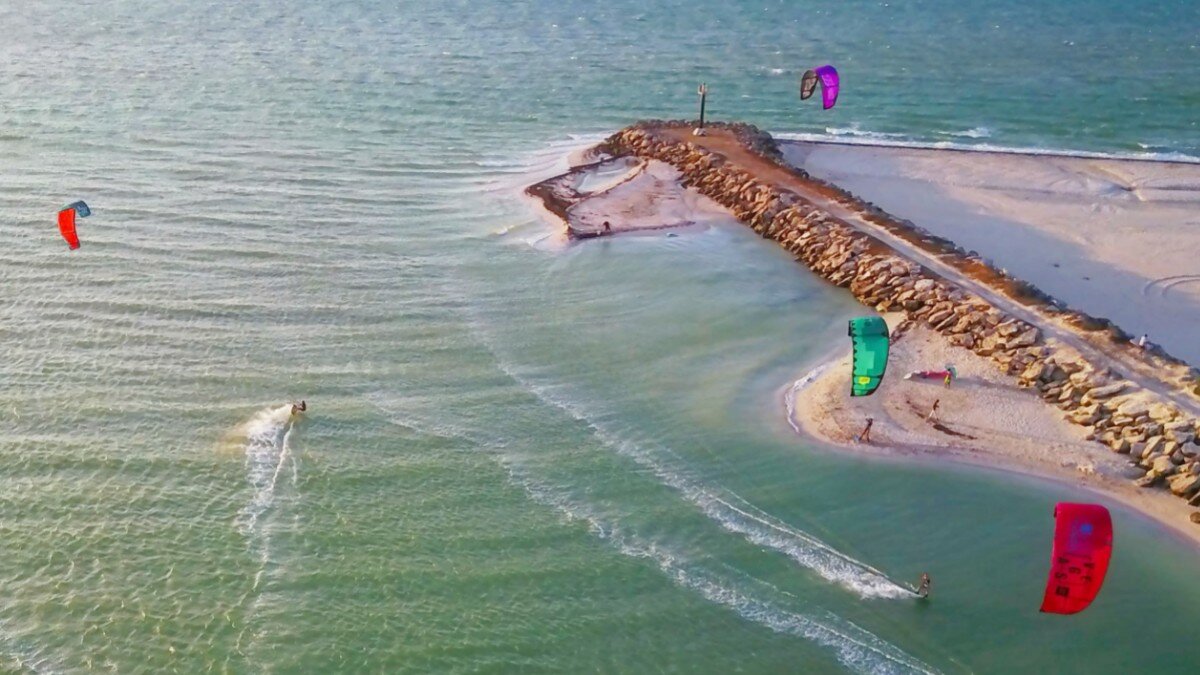 Photo: Chuburná, Yucatán, Mexico 
La Ventana/El Sargento, Baja California
It's a paradise for twintip lovers and foilers who can easily find deep water without having to go too far from the shore. You can even sail in wonderful waters on a bay shaped like a baseball glove. The wind here blows everyday thanks to the Venturi effect, created between the mountains of Cacachilas and El Cerralvo Island.
Isla Blanca
This island is located north of Cancun and is a large strip of sand in a shallow, flat seawater lagoon.
Tulum, Yucatán
Here the water is a bit choppy and, further offshore near the reef, has break waves with on-shore wind.
Los Barriles, Baja California
Located south of La Ventana, there are waves whose height spans from  1.2-1.8 meters to 2.5-3 meters!
El Cuyo, Yucatán
The water here is much warmer than on the west side of Mexico, with NE or E side-shore wind. You might experience some rough seas along with the occasional waves.
If your answers are: A, D, and E
The Caribbean is the perfect kitesurfing destination for you!
Wetsuit No
Surfboard
Wind 12-22 knots
Air temperature 27°-33°C
Water temperature 20°-28°C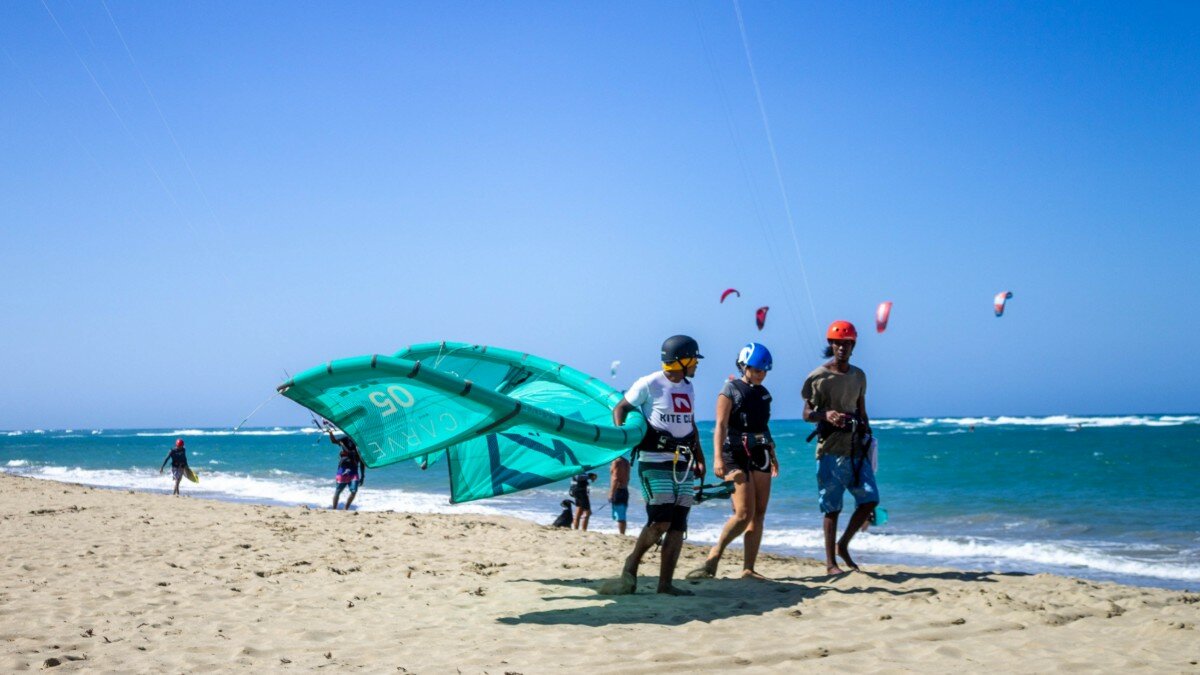 Photo: Kite Beach, Cabarete, Dominican Republic
Kite Cruise
An excellent option in the Caribbean is to enjoy a kite cruise, usually onboard a catamaran, sailing and seeking the wind in different spots and islands—all of which are beautiful.
Here you'll find the perfect mix of waves and flat water. Boca Grandi is on the eastern side of the southern tip of the island and is not protected by the reef, so it has good waves. Conversely, Baby Beach and The Fisherman's Huts  have completely flat water.
Bahamas
With over 700 coral islands, here you can choose between flat water and waves.
Cabarete, the "Mecca of kitesurfing" on the north coast, offers a wide variety of conditions. At the famous Kite Beach there is little rough water and waves offshore. At La Boca, on the other hand, you'll find flat water—and good waves at Playa Encuentro.
Tobago
The smallest island of Trinidad & Tobago, Tobago is located off the coast of Venezuela within the National Heritage Park of Pigeon Point on the Caribbean Sea. This turquoise water spot is protected by a coral reef with flat and little rough water where you can navigate between turtles and stingrays. The coral reef of Bucoo, on the other hand, offers beautiful waves. Small to medium waves or choppy seas can also be found at Lambo Beach, a wide, sandy beach on the coast.
Turks & Caicos
The pristine spots of Long Bay Beach in Caicos, Grace Bay Beach, or Chalk Soundin all offer beautiful waters with soft white sand.
 
If your answers are: A, D, and F
Brazil is the perfect kitesurfing destination for you!
Wetsuit No
Surfboard
Wind 23-30 knots
Air temperature 28°-35°C
Water temperature 24°-28°C
Jericoacoara
Northeast of Brazil, near Fortaleza, is an isolated fishing village built between sand dunes and reachable only by a 4x4. This unusual location has limited access due to the off-roading you must endure to get there . The wind is side-off. Organized kite-trips often leave from Combuco and go to Jericoacoara.
Paracuru
North of Fortaleza is a paradise of sand and beautiful lagoons. This small village developed around surfing and kitesurfing, becoming a destination for athletes who come here to train. The freshwater lagoons are ideal for freestyle maneuvers, while the sea offers beautiful waves.
If your answers are: B, C, and E
Cape Verde is the perfect kitesurfing destination for you!
Wetsuit Yes
Twintip
Wind 15-22 knots
Air temperature 19°-25°C
Water temperature 21°-25°C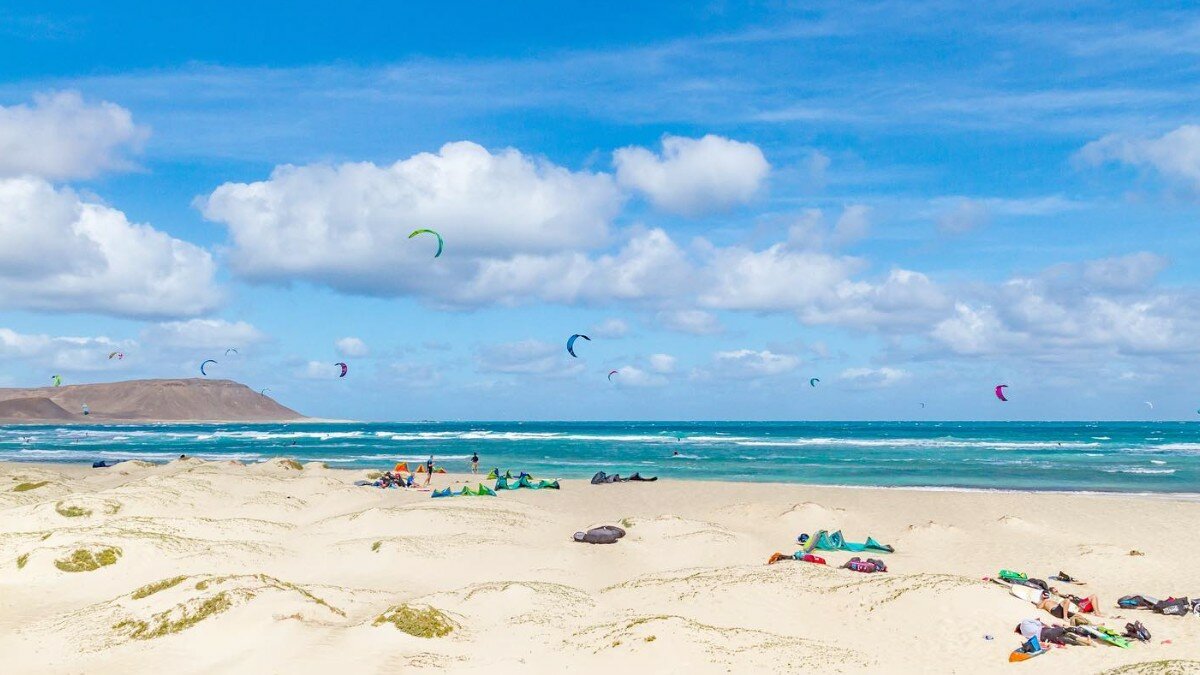 Photo: Kite Beach, Sal, Cape Verde 
Santa Maria, Sal
Southeast of the island is a long sandy beach surrounded by dunes with flat or slightly choppy water, tending to suddenly drop in sea level with side wind from the left.
Ponta Preta, Sal
Southwest of the island with medium to large swells you can find long, cooing waves breaking on rocky bottoms, with side-off wind from the right.
If your answers are: B, C, and F
South Africa is the perfect kitesurfing destination for you!
Wetsuit Yes
Twintip
Wind 20-35 knots
Air temperature 20°-30°C
Water temperature 10°-23°C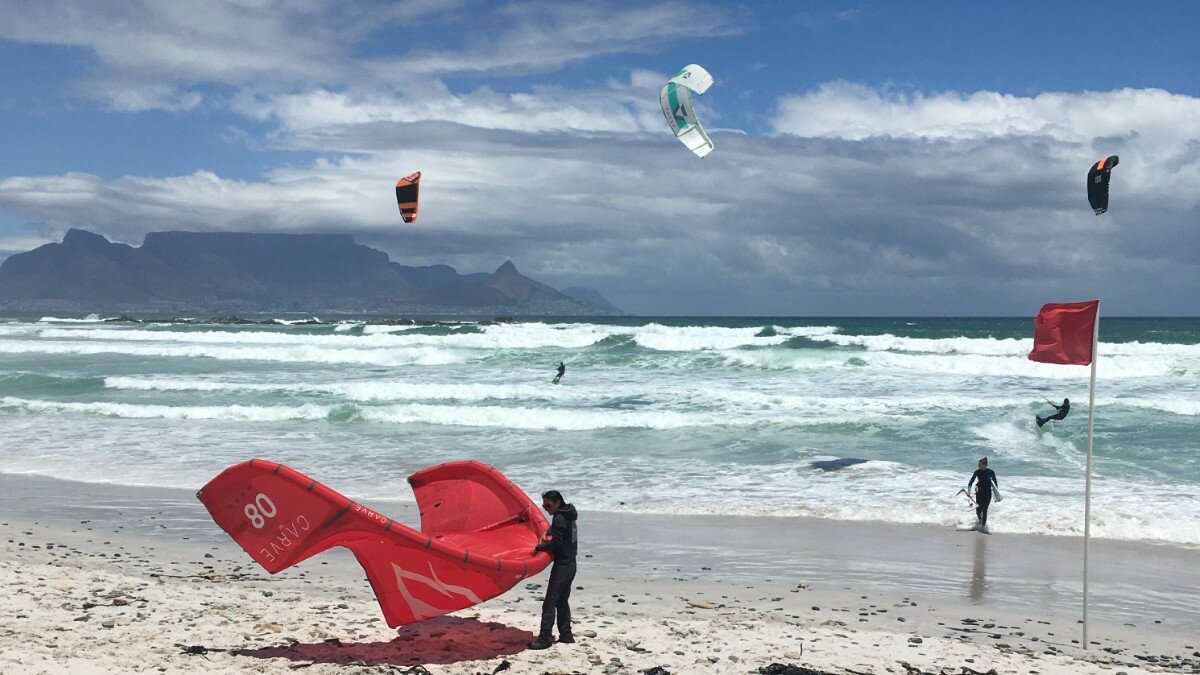 Photo: Big Bay, Cape Town, South Africa 
Cape Town
Blouberg, Big Bay, Sunset Beach, Dolphin Beach: all have crazy winds and breathtaking scenery with the spectacular Table Mountain as a backdrop.
West Coast
Melkbosstrand, Yzerfontein, Langebaan, Saldanha Bay, Paternoster: become immersed in the unique nature of South Africa with wind every day surrounded by unforgettable landscapes.
Cape Peninsula
Scarborough, Misty Cliffs, Witsand: picturesque spots with memorable waves.
East Coast
Hermanus, Struisbaai Harbour, Witsand: located in a flat water lagoon or open sea for waves, these are true gems of South Africa.
If your answers are: B, D, and E
Wetsuit Yes
Surfboard
Wind 15-25 knots
Air temperature 16°-28°C
Water temperature 20°-25°C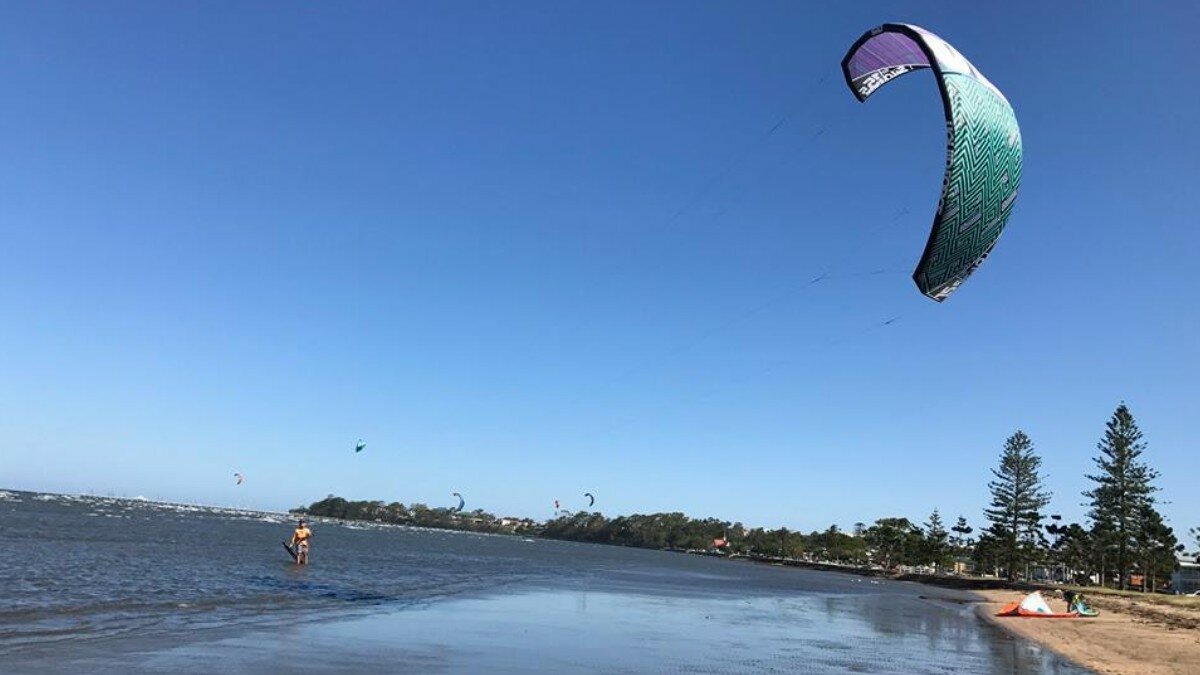 Photo: Arthur Davis Park, Queensland, Australia 
Currumbin
With N-NE winds, it's a flatwater spot with an excellent surf point break on the tip that can have super smooth waves.
Old Bar
A sandy spot with lots of waves.
Shearwater Esplanade
Here the ideal wind directions are N, E or S. Shearwater is one of the best flatwater spots on the Gold Coast.
Port Douglas
UNESCO World Heritage Site with excellent SE side-on wind.
If your answers are: B, D, and F
The Canary Islands is the perfect kitesurfing destination for you!
Wetsuit Yes
Surfboard
Wind 18-28 knots
Air temperature 16°-25°C
Water temperature 18°-21°C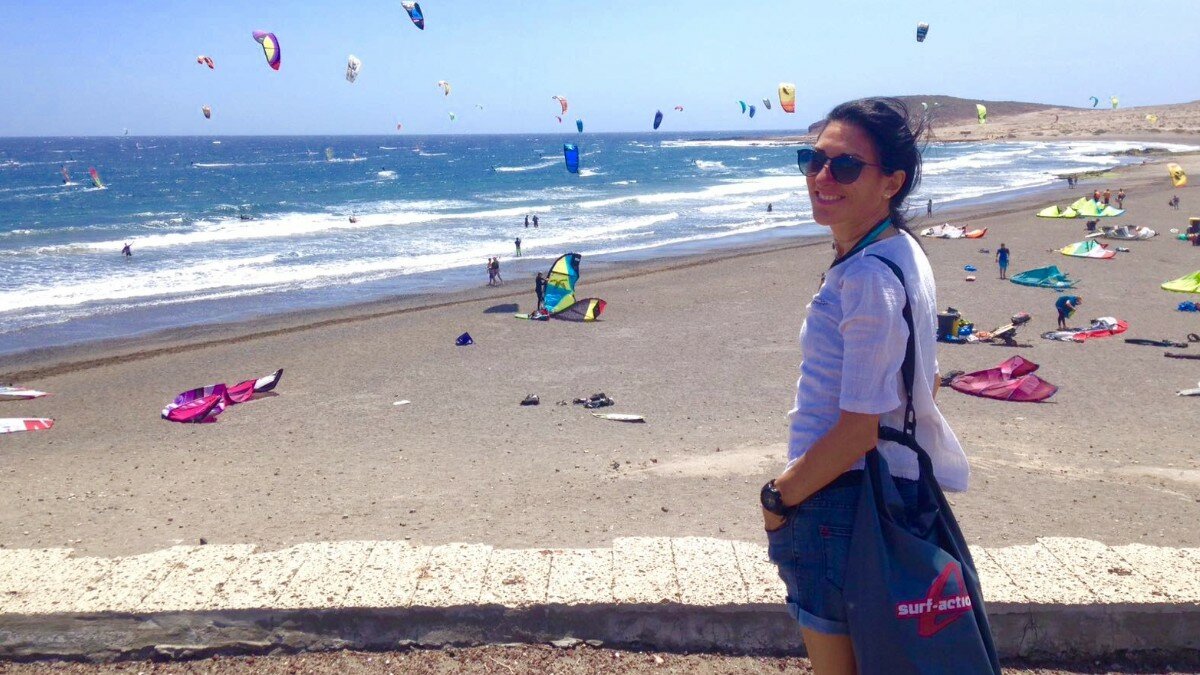 Photo: El Médano, Tenerife, Canary Islands, Spain 
A spot where you always have to add a few more knots than the weather prediction, with rough water, good waves, and mostly side-on wind from the left.
Flag Beach, Fuerteventura
A sandy beach with some volcanic rocks on the shoreline, rough water, nice waves, and side/side-on wind.
Costa Calma, Fuerteventura
A large lagoon that forms following the tidal cycle (so, check the tide table well and in advance), creating shallow water and a long strip of sand that divides the lagoon from the open sea where you can find rough water and nice waves with wind off.
Famara, Lanzarote
A coarse sandy beach perfect for waves with several peaks both offshore and wind side. From here you can also take a kite trip to the opposite island, La Graciosa.
Playa Vargas, Gran Canaria
In the eastern part of Gran Canaria, this spot has a sand and stone bottom with winds from N-NE and SW.